Brink by Jill Jones
Five Islands Press, $25.95 pb, 99 pp, 9780734053640
Poetry
Brink
by Jill Jones

&

Passage

by Kate Middleton
The poetic epigraphs that introduce all three sections in Brink, Jill Jones's tenth full-length poetry collection, are collaged fragments from the poems proper. Moodily, they skirt the edges of what's to come: 'I am to proliferate.' The poems then, in all their multiplicity, evoke and explore being on the brink – of knowing, feeling, sensing, and making sense:
... but there's a feeling
that can't be formalised or even spoken
as we pass in and out of and into again
the known, or the known knowns,
and the unknowns, the way things
brush past, or the way you fall
in haste, in love, what trickles onto
a porous path, as traverses of skin.
('Data, Twigs, Memory Lapses')
Jones is interested in 'words that sound like words', in how 'Twigs make their Ts'. A poem is a construct that can talk of itself and the world, simultaneously: 'It's communication ... / though you don't really know / if it's a system of messaging, / or a type of presence.' To Jones, it is both, in varying degrees.
The poem 'Edge Against Sign' alludes to this duality – of the sign and signified, these 'pests of language', the gap between them but their inseparability. The poem also wagers that past and present are not so easily delineated: all its phrases are sourced from Jones's first book, The Mask and the Jagged Star (1992).
In 'Speak Which', Jones's lyric mode is clear. The poem is an utterance: 'words tear' and 'form / is tested / as leaves fall // not itself / but what it / does // shapes in / the mind breath / unsaid'. An unsettled feeling then emerges about writing place (and the allusion to country is deliberate): 'trying to figure / landscape / and failing'. Antipodean poets have long occupied the land in their poetry, but as Jones points out, 'who do we / think / we are?'
Jones, 'being sneaky and queer within / and beyond spaces', is occupied with the contradictions of the contemporary world – its beauty, how to live 'without all the modest accounting', versus our destruction of it: 'We know plexiglass, expecto patronus / or police presence won't save us'. Her poems are always 'thinking the unthinkable today'. '[F]lowering and simply kidding', she has a dry sense of humour – perhaps not unrelated to living in Adelaide – most evident in 'Divination Isn't What It Was': 'I went out among leaf litter that seemed glum / ... Is the solar system being hacked?'
In the first section, the poems draw images and ideas together breathlessly, list-like: they 'spark and spit in the sky'. Some of these also split – literally down the middle – and shimmer/shimmy down the page. The second section continues with freewheeling poems, a number of which are knockouts, including 'Our Epic Want': 'Raw music stunned us, it hurt more than love.' In the final section, a range of notational, fragmentary experiments in sound and sense offer us a glimpse into the 'shadow language' of Jones's process. These give way to more existential, elegiac poems that memorialise: 'Our waxworks are dying ... We are terrifying But no longer awesome.'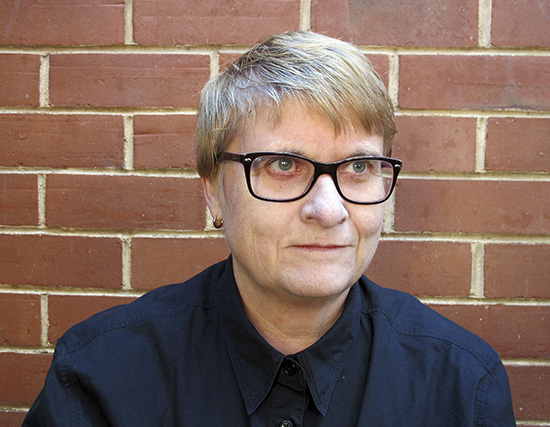 Jill Jones (photograph by Annette Willis)
The poems in Kate Middleton's third full-length collection, Passage, cover much terrain: untrodden land, moors, refuse, days, time, utopia, empire, ships, exploration, travel, saints, science, science fiction, colour, art, artworks, and animals – rats and whales, especially, but also lions, the oldest living tortoise, and a gynandromorph butterfly. Like her favoured rats, Middleton has 'success at roving' between these topics and themes: '(Follow them all the way down; refuse maps)'. Middleton trusts the intuitive, 'go on your nerve' approach, as Frank O'Hara put it, to writing: 'The body bears the text / of distances covered.' Poems, stanzas, phrases become islands: 'A Lilliput of words and meadows.'
In Passage, she writes charms, elegies, centos, erasures, eulogies, ekphastic poems. The sections are split into 'Past', 'Present', 'Future', and an additional 'Future'. Within these, poems aren't wedded to chronology. Sci-fi crops up in the past and fourteenth-century fantastical travel-writer Sir John Mandeville descends into the future: 'Paradise is / a loch / – and it / has / no bottom.' Middleton revels in getting lost: 'Lost is – and is not – a contagious / panic.' Many of the poems work 'in the borderland of dream // and memory // in the empty space of light between maps // of possible pleasure'.
The present is fleeting: 'Only the ever-changing calligraphy / of waves sweeping the shore / records the moment. Then it's gone.' There is, tellingly, only one poem in the 'Present' section. There, and elsewhere, 'memory is what is present '.
Passage mines dozens of mostly textual sources to then create 'puzzle patchworks'. The recurring sources (Dan Beachy-Quick, Siri Hustvedt, S.P.B. Mais's This Unknown Island (1932), BBC science news, art, varying texts about rats or whales) intertwine throughout so that themes interlock and give the whole form: 'the always-sharp meeting / point of water tumbles land / into shape'.
The 'Watching Science Fiction' sequence, which takes the television series Fringe as its inspiration, dovetails nicely with the poems about science: 'When you turn to your / science to explain it nothing pierces the mystery of loss / ... In some unwritten future there's a law of physics to explain it.'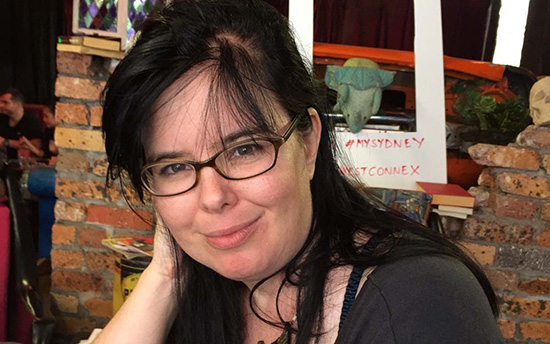 Kate Middleton
Grief and loneliness feature in these assemblages of found traces left by others: 'for what is loneliness but // awareness I am human? ... What is that awareness / but an act of praise?' To end the poem 'Prayer for Any Morning', Middleton writes: 'cherish the broken / monuments / days'. To Middleton, the poem is a monument, no matter how broken, in praise of imaginative exploration. Negotiating her own position toward her interests against a backdrop of climate change – 'toxic hailstones rain down upon you' – Middleton finds passage through time, text, tradition: 'With all that elegiac grace you clear a space for yourself.'
Both Jones and Middleton approach a kind of 'pure lyric poetry', as Marina Tsvetaeva defined it: both are performative, oral, musical, and foreground the lyric 'now' or moment of utterance. And yet both assemble their poems, much like collages. One poet is perhaps more sceptical and rightly critical of the world, and one is more in awe.