Fiction
Dunbar
by Edward St Aubyn
'Leir the sonne of Baldud, was admitted ruler over the Britaines, in the year of the world 3105' (Holinshed's Chronicles, 1577). Shakespeare's play King Lear is set in the long ago, the age of ballads and folktales. 'Amongst those things that nature gave ...' goes the ballad King Leir and His Three Daughters. The sea and the storm, beauty, generation, crops, weeds, sex, suffering, death: King Lear deals in those things that nature gave – time unredeemed.
'The tragedy of this play has been urged beyond the outermost limit,' wrote Coleridge. Samuel Johnson was so shocked by Cordelia's death that he could not endure to read the last scenes again until he came to edit them. Nahum Tate, in 1681, rewrote the play to give Cordelia a happy ending. His version of King Lear played for more than a hundred years.
Now, as part of the Hogarth Shakespeare project, Edward St Aubyn has reconceived the play as a novel, Dunbar – a satire on an ageing media mogul ousted by two nasty daughters. These daughters bed the old man's doctor. With Dr Bob's help, they have had Dunbar committed to a nursing home. There, Dunbar meets his fool, an alcoholic comic actor with the vulnerable genius of Peter Sellars. The daughters of Dunbar's first marriage are plotting to privatise his media empire. They have their pantomime villainy and implausible loan conditions. Meanwhile, the daughter of his second marriage is living happily on a ranch with her loving husband and a trust fund from her mother. But she is starting to wonder where her father is.
Dunbar is a clever, amusing, and occasionally radiant novel. As a version of King Lear, it probably has more in common with the well-ordered and enjoyable anonymous play The True Chronicle History of King Leir and his Three Daughters, Gonorill, Ragan, and Cordella. Shakespeare was one of the Queen's Men, who joined with Sussex's Men to perform this play at the Rose Theatre on 6 and 8 April 1594. He may well have acted in it. About a decade later, he came to write his own version.
In King Leir, the author gives the King a sly reason to test his daughter's love: he wants to choose her husband:
Then at the vantage will I take Cordella,
Even as she does protest she loves me best,
I'll say, Then, daughter, grant me one request,
To show thou lovest me as thy sisters do.
Accept a husband, who myself will woo ...
Shakespeare omits the King's reason for testing his daughter's love from his King Lear. He returns to the unreasonable simplicities of the chronicles and ballads: 'So on a time it pleased the King / A question thus to move ...' In doing so, he brings back into the story, as its driving force, what Coleridge calls, 'the intense desire of being intensely beloved'. Shakespeare's play originates, not in policy, but baffled feeling. It is Coleridge who first pointed out something wrong from the start with King Lear's love test: the map of his daughters' shares is drawn before they speak. Wrongness, suddenness, blindness, extremity – from the first, King Lear sets loose these forces.
What is radical in the play derives from such unreason. Self-dispossessing truth, loyalty to a fallen king, a servant's protest against torture, kindness to an enemy's dog – in King Lear, 'amongst those things that nature gave', these are unaccountable, unreasonable, hugely politic. A mad beggar, a son in disguise, leads his blind father to an imaginary cliff's edge. The father thinks that he falls, in his blindness, and lives, and calls it a miracle. 'Where have I been?' asks the King. 'Where am I? Fair daylight –'
But in Dunbar, as in the old play King Leir, the characters have plausible reasons to act as they do. There is no love test. Dunbar disinherits Florence when she wants no part of his business. She never stands alone, with nothing, mysteriously stubborn. The other daughters were raised badly. Dunbar himself had a culpable parent. Dunbar's Fool follows him because he needs alcohol. 'The art of our necessities is strange,' says King Lear. Like King Leir, Dunbar concerns itself with the art of power, and is more expedient.
In another way, St Aubyn keeps to the old King Leir and chronicle histories: he leaves out the story of Gloucester and his sons. Shakespeare found this story of a blind father, unreasonably betrayed by one son, unreasonably saved by the other, in Philip Sidney's romance novel Arcadia, and wove it into his King Lear. 'The incorporation of the two stories has been censured as destructive of the unity of action,' writes Schlegel. But, he adds, 'it is the very combination which constitutes the sublime beauty of the work', changing a story of 'private misfortune' into 'a great commotion in the moral world: the picture becomes gigantic'.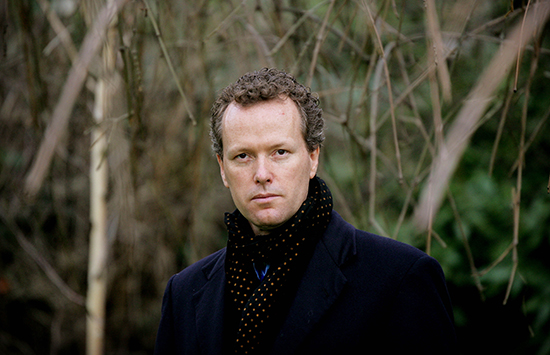 Edward St Aubyn (photograph by Timothy Allen)
In Dunbar, St Aubyn keeps versions of these characters where they shape King Lear's story. Out in the cold overnight, Dunbar meets, or perhaps imagines, a homeless man who helps him into a cave – a hint of Poor Tom, a hint of Paul Flowers. Dr Bob, the daughters' lover with secret ambitions of his own, is a type of Edmund, though, with his articulate self-pity and his nervy pill-popping, here Edmund is being played by a character from one of St Aubyn's Melrose novels. But Edmund's betrayal of his brother, and Edgar's banishment, and Edmund's betrayal of his father, and Gloucester's blinding on the stage, and Edgar's disguises – all of this goes.
It is a strange, deliberate diminution. Dunbar is the story of King Lear alone. Out of Shakespeare's gigantic picture of unredeemed suffering and radical wonder, St Aubyn has drawn a narrow, topical satire on the power and ethical blindness of a contemporary media mogul, who may prove complacent enough to find this flattering.
If St Aubyn has deliberately narrowed the range of the play – from a terrible vision of nature without god into a vision of some people with terrible natures – nevertheless he has kept, in Dunbar's walk through the night and snow, a memory of King Lear's discovery of the natural, which is the great awakening beauty of the play. It saves nobody, and justifies nothing, but is there. Into these passages of the novel St Aubyn pours his love for the play, much as Dunbar, loosed from the machinations of the plot at last, starts feeling the world pouring through him: 'When at last he dared to look up he saw a canopy of thin broken cloud and, behind it, the detached blue of the upper sky flooded with light ...' In these visions, and in St Aubyn's account of Lear's fool, the novel enters another register.