Politics
The White Queen: One Nation and the politics of race (Quarterly Essay 65)
by David Marr
David Marr's interlocking identities as consummate essayist, journalist of forty-five years, ferocious biographer, and staunch cosmopolitan increasingly eclipse his subject. He wears the condition honestly and inelegantly. 'I'm a grumpy old guy who hasn't found in twenty years another big life worth writing', he remarked in his 2016 Seymour Biography Lecture. Instead, 'I write little lives these days, of priests and politicians.' After his magnum opus, Patrick White: A life (1991), Marr adapted his biographical skill to mapping the littleness of a powerful few – each in the brevity of a Quarterly Essay. Pauline Hanson is his latest 'little life'. In The White Queen: One Nation and the politics of race, the two themes of his oeuvre – frustrated biographer of an ex parte national life and forensic reporter of political controversy – entwine as he sets out to prove that Australia is better than our irrepressible white queen.
Marr asks three questions: what are Hanson's politics; what is her constituency; and who are we as a nation? In a departure from his usual style, he interleaves the story of her nine political lives with copious survey data gathered from longitudinal and electoral studies. His aim is to construct 'a floor of fact under speculation about Hanson's people and her political appeal', because, overawed by her second coming, 'we are not facing the facts about Hanson and One Nation. What's driving them is the same as last time: race.' No one is more persuasive in proving this thesis than Hanson herself. Vile rhetoric runs like an oil spill throughout, from 1996 as Liberal candidate for Oxley to today as Senate power broker. Reproducing Hanson's words verbatim without the small-town patois, Marr makes their ugliness unavoidable. Hanson is a spoken-word magician: somehow her voice, uncritically relayed by the broadcast media, deafens us to what she is clearly saying.
Marr uses the phrase 'cameras swarmed' repeatedly when portraying Hanson's stunts, pratfalls, mischaracterisations; her stint in prison (2003), and her turn on Dancing with the Stars the following year. The obvious racism and her status as a simulacrum of a mythic hidden Australia are conjoined. One Nation's power derives from thoroughly postmodern performances in which confronting the taboo of racism is misconstrued as courage. Likewise, the act of broadcasting Hanson perpetuates the myth that she speaks for some great unheard. Her party won four per cent of the national vote in the 2016 election; support has since climbed to ten per cent. More than half her constituency derives from newsworthiness. The problem that Marr grapples with is parsing what her cypher reproduces: 'Is she a party of policy or protest? Hanson is a puzzle with consequences.'
One Nation 2.0 is intriguingly undifferentiated from the strata of either major party. The 2016 Australian Electoral Study shows that two-thirds of One Nation respondents identify as working-class. Contra received wisdom, seventy-three per cent reside in big towns and cities. A third are under forty-five, indicating rejuvenation in the base since the 1990s. Most of Hanson's original supporters were siphoned off the right flank of the Coalition. Yet contemporary supporters split evenly – forty per cent apiece – between former Coalition and Labor voters. Present-day Hansonism, it seems, is an unpredictable state of mind. An observation Marr makes of Hanson at a town hall in Tasmania, circa 1998, is illuminating: 'Race was the chilli in the mix. She won ovations every time she brought money and race together.' Add to this potent stew a punitive law-and-order streak – eighty-eight per cent of her supporters want to bring back the death penalty – and season with libertarian disdain for big business, welfare programs, and the political establishment.
The nexus of this complex allegiance is a militant form of moralism. Friedrich Nietzsche termed such a phenomenon ressentiment: the externalisation of envy and inferiority onto symbolic causes of all social wrongs. For One Nation supporters, migrants, dole bludgers, irredeemable criminals, ad nauseum, prevent the realisation of some Australian utopia based on the blueprint of a halcyon cultural past. Thus Hanson can say, with a straight face, 'I challenge anyone to tell me one thing that I've said that is racist.' Of course: she and her voters are articulating the politics of morality. Their moral category of the good just happens to exclude most races.
Marr, too, is concerned with the good life. The dynamics and histrionics of Australia's public morality are the subtext of his near-faultless investigative works: Dark Victory (with Marian Wilkinson, 2003), Panic (2011), The High Price of Heaven (1999), and The Henson Case (2008). The White Queen feels more personal. Marr needs to prove Hanson is not as 'big league' as Donald Trump and Nigel Farage, because 'this is a better country'. He summons yet more survey data – Mapping Social Cohesion by the Scanlon Foundation – to illustrate a happy, satisfied, optimistic Australia supportive of multiculturalism and imbued with a sense of belonging. 'Nearly all of us are somewhere else', he concludes, 'scattered around the centre, waiting for a government that will take this good, prosperous, generous country into the future.' Perhaps.
The salience of One Nation is a failure of representation. Of course it is. As are many non sequiturs in our national life. Of course, One Nation only exists because of the fractured nature of the Coalition. To defeat its first incarnation, John Howard had to co-opt One Nation's policies and institute a tradition of preferencing Hanson last. Her renaissance is a product of Malcolm Turnbull's Senate voting reform, the double dissolution in 2016, fear of terrorism, Islamophobia, and hostility to boat people. But there is more to the Hanson phenomenon than is suggested by Marr's classic liberalism, his constriction of politics and all its civic consequence to politicians. In a Nietzschean sense, there must first be some inner abyss into which one stares before something like One Nation can stare back.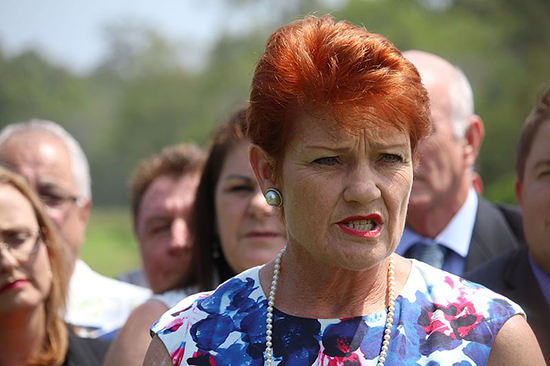 Pauline Hanson, Leader of the One Nation Party (Wikimedia Commons)
Alan Atkinson wrote in last year's Australian Book Review RAFT Fellowship Essay on the Australian national conscience: 'A nation could not know that it was really a nation, that it was fit to be a nation with its own place in the world, without knowing what it owed to human groups beyond its edges' (ABR, September 2016), Hanson is the antithesis of a national conscience so conceived. Seen as the long-lived, spiteful repudiation of inclusive and ethical nationalism, she and her party are not just an indictment on politicians angling after the racist vote. They are more than a handbrake on the majority will. Hansonism is symptomatic of a nation that has submitted to being hemmed in by exclusions because it has lost, or perhaps never fully found, a principled and emancipated place in the world. Politics matters for all the reasons that David Marr outlines in this masterful essay – but also in many more ways besides.