Memoir
In the Darkroom
by Susan Faludi
The subject line of the email ­– from a father in Budapest to his daughter in Oregon – is 'Changes'. 'I've got some interesting news for you,' writes Steven. 'I have decided that I have had enough of impersonating a macho aggressive man that I have never been inside.' Thus Susan Faludi, an author known for her books on feminism and the collapse of traditional masculinity, learns that her father has undergone sex reassignment surgery in Thailand. At seventy-six, Steven has become Stefánie.
Faludi has barely spoken to her father in twenty-five years. She remembers him as an 'imperious patriarch' with a taste for violence, who cultivated the persona of a rugged outdoorsman when not tinkering in his basement workshop. But this email is so startling that she soon boards a plane to Budapest, with notebook in hand. When they hug at the airport, Stefánie's breasts poke into Susan's. As they walk to the car park, people stare at 'the dissonance between white heels and male-pattern baldness'. Back at Stefánie's fortress-like home in the hills of Buda, they begin the strained process of becoming reacquainted. And Faludi, a superb reporter and researcher, begins a quest to decode her father's many riddles that will eventually span ten years.
A Hungarian Jew born into a wealthy, cosmopolitan family, Steven survived World War II by hiding out and passing as a gentile. Nearly half a million Hungarian Jews died in the Holocaust; Steven lost twelve of his relatives. After the war, he moved to the United States, adopting a new identity as a suburban family man who 'aggressively celebrated Christmas and Easter'. Estranged from his parents, he rarely acknowledged his Jewish upbringing.
When Susan was seventeen, her parents split up. Her mother took out a restraining order against Steven; one night, he broke into their home and stabbed her lover repeatedly with a Swiss army knife. After convincing the authorities that he was 'saving' the family from a trespasser, he escaped serious punishment. Steven moved to Manhattan, where he ran a commercial photo studio, then returned to Hungary after the fall of communism. It was there he began dressing as a woman.
In the Darkroom blends memoir and reportage with historical forays into subjects as diverse as the origin of the term 'identity' and the creation of the modern Hungarian state. It is a deeply serious book, but hilarious, too. Much of the humour comes at the author's expense, as the noted feminist grapples with a father turned happy hausfrau. Stefánie's favourite attire at home is a crimson bathrobe with angel-wing sleeves, which always seems to be falling open. She barges into her daughter's room to show off a skimpy new negligee and is constantly demanding sartorial advice. 'You write about the disadvantages of being a woman,' she tells Faludi, author of Backlash: The undeclared war against women (1991). 'But I've only found advantages.'
Stefánie is one of the most vivid, infuriating characters I have encountered for some time. A proud Hungarian nationalist, she brushes off questions about her Jewish heritage. Although she cultivates the persona of a respectable matron (style-conscious, with a fondness for sachertorte and pearl earrings), she is the same bossy patriarch underneath. I felt sickened when I read of her past violence towards her family, but I admired Faludi's complete absence of self-pity when describing the events of her childhood. 'I became an agitator for women's equality,' she calmly tells us, 'in response to my father's fury over his own crumbling sense of himself as a man in command of his wife and children.'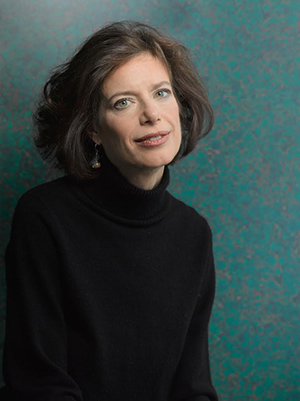 Susan Faludi (photograph by Sigrid Estrada)Faludi researches the history of male-to-female surgery and interviews members of the Hungarian Tranny Club (including Lorelei, a retired police officer who owns a copy of Mein Kampf). She reflects on Hungarian nationalism, with its virulent strain of anti-Semitism, and the particular blend of 'self-pity and brutality' that characterises Hungarians' view of themselves as the 'losers of history'. In doing so, she connects her father's new identity to the social forces that shaped him. We begin to see the importance of clothes in Steven's life. As a teenager, during the war, he briefly got around in grey overalls, impersonating a Luftwaffe mechanic. He later mounted an audacious rescue mission in a so-called 'protected house' for Jews while dressed as a young fascist.
At the centre of all Faludi's investigations is a burning question: what prompted Steven to become Stefánie so late in life? Did he cross-dress while married? Does his desire for acceptance as a woman relate to his having felt rejected by his parents as a boy? Has he spent his whole life trying on identities? Is he happiest when acting a role?
In the Darkroom brims with wonderful scenes. One of the best describes Faludi's attempt to interview Stefánie's gynaecologist about her father's new body. As she sits there, notebook in hand, the doctor and his patient talk animatedly in Hungarian. Then the gynaecologist asks Faludi, 'Have you tried fertility treatments?' The pair, it transpires, have been discussing the 'problem' of this forty-nine-year-old feminist, who is childless by choice.
By the end, though, it is clear that Faludi's most touching achievement is the completeness of her portrait of her exasperating father. For Stefánie, it turns out, is a survivor of heroic proportions – a brave, stubborn shape-shifter in pearl earrings.