Literary Studies
The Australian National Dictionary: Second Edition
edited by Bruce Moore
The appearance of a new dictionary is always exciting, and the publication of the second edition of the Australian National Dictionary is certainly cause for celebration. It is an impressive collection of some 16,000 Australian English expressions contained within two beautifully bound volumes of scholarly lexicography. It should certainly allay any fears about the continued place of 'tree-dictionaries' in this all-digital-all-the-time age of e-publications.
This dictionary is modelled on the Oxford English Dictionary and shares its historical orientation. Both works track the life story of expressions. Buttressed by quotations that shed light on these stories, each entry captures the history of meanings from the first appearance of the word. As an aside, consider what a whopping undertaking this would have been for the original makers of the Oxford English Dictionary in the 1800s. Just imagine having to document the life cycle of a word from the very beginning (perhaps even as far back as tenth-century Old English). Not surprisingly, this project took way longer than anticipated – five years into the venture and they had progressed no further than the entry for 'ant'. (You can read details about the history of the Oxford English Dictionary here.)
Even today, it is no small feat to track something as slippery as words and their meanings, and in this case the whole enterprise was made all the more complex because this dictionary team (based at the Australian National Dictionary Centre, of which chief editor Bruce Moore was director for many years) was searching out words and expressions unique to Australia. So it is not surprising that twenty-eight years have passed since the first AND was released.
As Bruce Moore writes in the introduction to the new edition, the classification 'Australianism' casts the net rather wide. The admission requirements were originally outlined by W.S (Bill) Ramson in the first edition: 'words and meanings that have originated in Australia, that have a greater currency here than elsewhere, or that have a special significance in Australian history'. This points to a second feature of this dictionary: its descriptive and democratic approach.
The call remains the same as in the 1800s – to provide an inventory of language, and to give equal treatment to all kinds of words (good ones, bad ones, new ones, old ones, perhaps ones that have long shuffled off the lexical coil). Of course, just how objective dictionaries can ever be is an interesting question. There are always societal values lurking in the background – think of what guides whether or not an item is included, the definitions that are given, and the usage labels that might be applied such as 'coarse', 'colloquial', 'derogatory', or 'slang' (and dictionary users themselves often interpret such descriptive usage labels as normative).
In this regard, the AND has always been more impartially descriptive than most. From the beginning, the intention was not to label words. As outlined in the introduction to the first edition, this kind of sensitive handling was judged unnecessary for Australian English, a variety that has always allowed 'easy movement between formal and informal usage'. Whereas other dictionaries employ a type of good-etiquette gauge that determines, say, the offensiveness of an expression without reference to context, the AND has always relied on citations to guide users in matters of appropriate usage – to quote Ramson, it's these that indicate 'if a word belongs mainly in colloquial use or to the slang of a particular group, and equally clear if it is for some reason taboo in some contexts'.
The current editorial team has continued this tradition and has not tagged entries with labels like colloq. or slang. However, they have on occasion branded words deemed derogatory, and this is understandable. Different eras have seen different pressures put on lexicographers to alter definitions or to even omit entries entirely. Early dictionary makers included religious and racial swear words (the obscenities of more modern times), but were reluctant to admit the sexually obscene words. In contrast, the twentieth century saw mounting pressure on editors to change, or omit, the racial and political definition of words. As Moore describes at the start of this second edition, '[i]ncreased sensitivity about the presence of offensive terms in dictionaries, especially racist terms, has been addressed by the use of the label Offens. in this edition. Derogatory terms are sometimes self-evident from their definitions, but if we have felt that further guidance about register for such terms would be useful, we have added the label Derog.'
Among the expanded inventory of words are two areas in particular. One draws expressions from Aboriginal language and culture, both important influences on Australian English. Many new entries come from Indigenous languages (among them bunji 'mate', minga 'tourist', tjukurpa 'the Dreaming', yidaki 'didgeridoo') and from Aboriginal English (including deadly, Invasion Day, secret women's business, songline, welcome to country).
The colloquial aspect has also been increased substantially. Alongside sedate terms-of-art from the world of economics and politics (aspirational voter, economic rationalism, negative gearing, scrutineer) you will find many quirky slangy expressions (bogan, ranga, reg grundies, rurosexual, seppo, trackie daks, tradie, even not happy Jan). Some entries appear so scruffy you might wonder at the wisdom of the editors to include them at all. But rest assured these expressions have been scrutinised within an inch of their lives – they wouldn't be there unless they 'had legs' (to quote John Simpson, former editor of the Oxford English Dictionary).
'Slanguage' is entering all dictionaries much faster today, and it is understandable that this dictionary places particular emphasis on the colloquial element. Right from the time English was first transplanted into this part of the world, an informal culture and colloquial style of discourse emerged as 'the mark of the Antipodean' (a description first used of the Australian and New Zealand accent). And as the standard language grows ever more global in nature, so our colloquialisms, nicknames, diminutives, swearing, and insults become even more important indicators of identity.
In this regard, one surprising omission from the dictionary is selfie, especially given that it was the Oxford Dictionaries 'Word of the Year' for 2013 (apparently the frequency of the word had increased by a whopping 17,000 per cent since the previous year). Social media sites are clearly what have given selfie its global profile, and its success has been astonishing – in the same year it was even crowned Dutch Word of the Year (no squeamishness about English loanwords in the Netherlands). Perhaps for this dictionary, selfie is not Australian enough to qualify, even though its Australian origin seems undisputed. Selfie has been traced back to a 2002 ABC Online forum posting. It certainly has all the earmarks of our dialect – a shorthand form of self-portrait photograph with that distinctive -ie ending.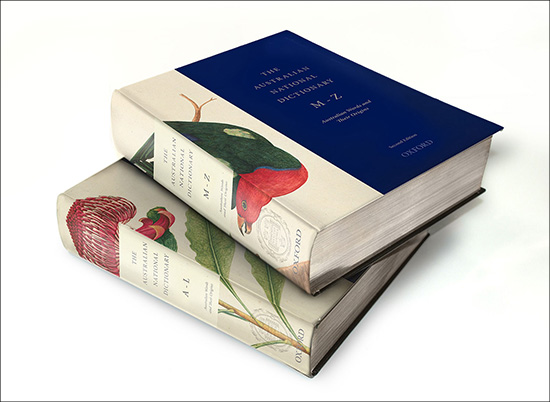 The Australian National Dictoinary, Second Edition (Oxford University Press)
I was drawn to the expression selfie because it nicely illustrates just how the business of lexicography has changed. When Ramson and his team sourced the entries for the first edition of AND, they employed a squad of trained readers (and thus relied on written language). In the lead-up to the word-processed version of the work, editing was done entirely on file cards and everything was handwritten. The big difference for this new edition is the wealth of electronic material – evidence for both new and old entries now comes from the Web (digitised and searchable printed books, journals and newspapers). It is a great resource for lexicographers, but it comes with challenges. Certainly, it is easier now to track words and to test their currency, but the ephemeral nature of the Web means that citation evidence doesn't always survive. Another challenge comes because the internet is such a hothouse for new words and, just like other internet 'memes', within a matter of hours newly minted expressions can have worldwide visibility. The internet gives even the scruffiest of them a cachet, a new respectability. So when are they released into the dictionary?
I am often struck by people's fascination with vocabulary. There are books and websites devoted entirely to the 'most irritating words', 'favourite words', 'dead words', 'new words', 'peculiar words', 'unusual etymologies', 'clichés'. Then there is the flurry of media attention that comes when dictionaries announce their word of the year – articles on the meaning of the winner, its origin, and even whether or not it's worthy of the award. But then, it is not really surprising: more than any other aspect of language, words are tied to people's identity, and dictionaries will always open nice windows onto culture, values, attitudes, and artefacts. Of course, for expressions to gain entry to this particular collection they must be Australian, and this makes these words, and all their twists and turns, all the more fascinating for us. I continue to be delighted by the entries I encounter here, among them two curiosities that have special significance for me – up to dolly's wax 'replete' (think of dolls with heads made of wax) and Mrs Kafoops (the female counterpart of Joe Blow).
The Australian National Dictionary really is a treasure trove of Australianisms. You are sure to come across some personal gems here.