Advances
News from the Editor's Desk - October 2016
BRAGGING RIGHTS
Advances was delighted to see that Ashley Hay's ABR Dahl Trust Fellowship essay 'The forest at the edge of time', published in our October 2015 Environment issue, has been shortlisted for the 2016 Bragg UNSW Press Prize for Science Writing. The Bragg Prize is for short non-fiction pieces of science writing aimed at a general audience. Also on this year's shortlist are pieces by James Bradley, Susan Double, Nicole Gill, Alice Gorman, and Fiona McMillan. The winner of the $7,000 prize will be announced on 10 November (along with two runners up who will each receive $1500). All the shortlisted pieces will feature in The Best Australian Science Writing 2016 edited by Jo Chandler which NewSouth will publish in November. Ashley Hay's essay can be read in ABR Online and she also recently recorded it for the ABR Podcast.
VALE INGA CLENDINNEN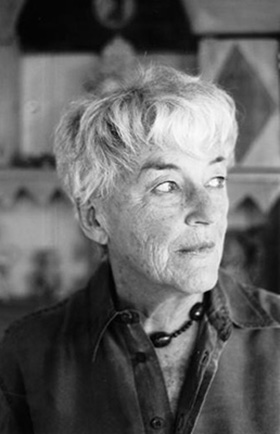 Inga ClendinnenAdvances was saddened to hear of the death of internationally acclaimed writer and historian Inga Clendinnen AO on 8 September at the age of eighty-two. An acclaimed scholar of Aztec and Mayan culture and society, Clendinnen also published on other major historical and personal subjects. Among her best-known works are Reading the Holocaust (1998), Dancing with Strangers (2003), and the powerful memoir Tiger's Eye (2000).
Clendinnen also wrote for ABR. Her first appearance was a one-page 'microstory' titled 'Lace', which was published in May 1994, and her last was in April 2008 as part of a special feature marking ABR's 300th issue. In her contribution she reflected on how she wrote her first books 'as offerings to the Mesoamerican Academy across the Water, which I imagined as very like Nine Mayan Lords of Death: nameless, aloof, implacable and almost certainly fatal' and her subsequent meeting (through a review published in ABR) with former ABR Editor Helen Daniel who introduced her to the 'Republic of Letters, Australian Branch'.
Clendinnen received a liver transplant in 1994 and, as Text Publishing director Michael Heyward wrote in an obituary published in The Australian (13 September 2016),
Three years later Inga dedicated Agamemnon's Kiss, a thrilling book of essays, to her unknown donor. It was her coda to everything life had revealed to her about writing and thinking. 'Now I know how I want death to come for me,' she wrote, 'strolling in the slanting rain of light through eucalyptus leaves, a strip of bark in my fingers, the gurgle of hidden magpies all around. I will say to Death, "A moment, friend." And then: "I'm ready now."'
ARTS ISSUE – 10 NOVEMBER
ABR will celebrate the launch of its annual Arts issue with a special event at the Monash University Museum of Art (Caulfield) at 6pm on 10 November. This event will also see the introduction of our new Laureate and the announcement of the Laureate's Fellow. Please see our website for more information. This is a free event but bookings are requested to This email address is being protected from spambots. You need JavaScript enabled to view it.
VALE RICHARD NEVILLE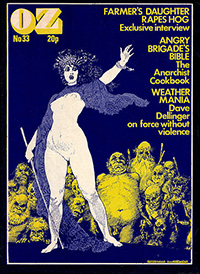 Oz magazine, no.33Advances was also saddened to hear of the death of Australian writer, editor, and social commentator Richard Neville on September 4 at the age of seventy-four. Neville was best known as a co-editor of the satirical counterculture magazine Oz, which was launched on April Fool's Day in 1963, and which was the subject of an infamous obscenity trial in the United Kingdom following the publication in 1970 of an issue edited by teenagers. As one of the young guest editors, Charles Shaar Murray, later reflected in an article published in the Guardian in 2001, 'This was a cultural war disguised as an obscenity trial ... The fact that, between verdict and sentencing, the Oz three were subjected to forcible haircuts was a valuable clue towards figuring out what their real crimes were.' Richard Neville appeared in ABR in September 2002 as part of a symposium published to accompany Morag Fraser's La Trobe University essay on the aftermath of September 11.
DOUBLE TAKE
Keen-eyed Island website visitors will have noticed a new addition to their Take Two subscription section. ABR is delighted to be partnering with Island, and other magazines including Griffith Review, Westerly, and The Lifted Brow to offer these special joint print subscriptions. The bundled subscriptions will be rolling out across our websites in coming months, so keep an eye out for more information.
FREE GIFT SUBSCRIPTION TO ABR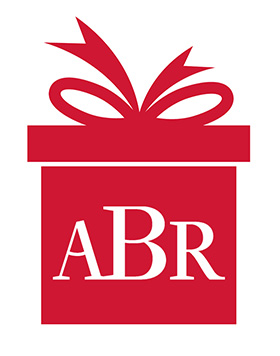 New and renewing subscribers have until 31 December to give a friend a six-month subscription to ABR (print or online). You can qualify for this special offer by renewing your current subscription even before it is due to lapse. Renew for two years and give away two free subs, etc. Why not introduce a young reader or writer to ABR?
All you have to do is fill in the back of the flysheet that accompanies this issue, or contact us on (03) 9699 8822 or This email address is being protected from spambots. You need JavaScript enabled to view it. (quoting your subscriber number, if you have one). We will contact the nominated recipient to establish whether he or she wants the print edition or ABR Online (thus we will need the recipient's email address). Terms and conditions apply.