John le Carré: The Biography by Adam Sisman
Bloomsbury, $29.99 pp, 672 pp, 9781408827926
Biography
John le Carré: The Biography
by Adam Sisman
Of all the stories John le Carré has invented – more than a score of novels, nearly all bestsellers – his own is perhaps the most fascinating. It is dominated by two characters, le Carré himself (real name David Cornwell) and his father, Ronnie.
Biographers naturally pay close attention to the influence of their subjects' parents, but seldom can they encounter such extremes as Adam Sisman does in this beautifully written and extremely detailed account, John le Carré: The Biography. David was abandoned by his mother at five and endured 'sixteen hugless years'. He was left to the tender mercies of Ronnie, a spiv, a philanderer who even groped his children, a conman who served time for fraud, but also an inventive and irresistible man who could light up a room. 'We was all bent, son,' one of Ronnie's 'court' later tells David, 'but your dad was very, very bent.'
Life didn't improve much when young David was sent to boarding school, where he endured a double life of outward conformity and inner rebellion that he subsequently likened to living in occupied territory. He suffered unbearable moral conflict between the school's code and loyalty to his father. Sisman writes: 'At school, David was being trained to run an empire; at home he was helping diddle widows out of their pensions.' At sixteen he fled to Switzerland and university. Even as an adult, David continued to suffer. His father exploited him, traded on his name as a successful author, and even pretended to be him in pursuit of nefarious schemes. At one point, Ronnie extorted $14,000 from David by threatening to sue him for libel.
Ronnie scarred David in myriad ways. But he also endowed him with gifts: charm, flexibility, mimicry, and the conman's unerring eye for detail – speech, landscape, character – so evident throughout le Carré's oeuvre. Perhaps above all, Ronnie gave his son a capacity for secrecy, for hiding in plain sight, for lying plausibly.
Sisman moves with aplomb between le Carré the author and Cornwell the man, probing some uncomfortable areas. All his life, le Carré has cultivated an air of mystery, especially surrounding his time with MI5 and MI6. He has drawn repeatedly on his own life in his novels, reimagining and reshaping encounters and events that then tend to replace the originals in his own memory. But he is also a careful researcher who has endured discomfort and risk for the sake of verisimilitude.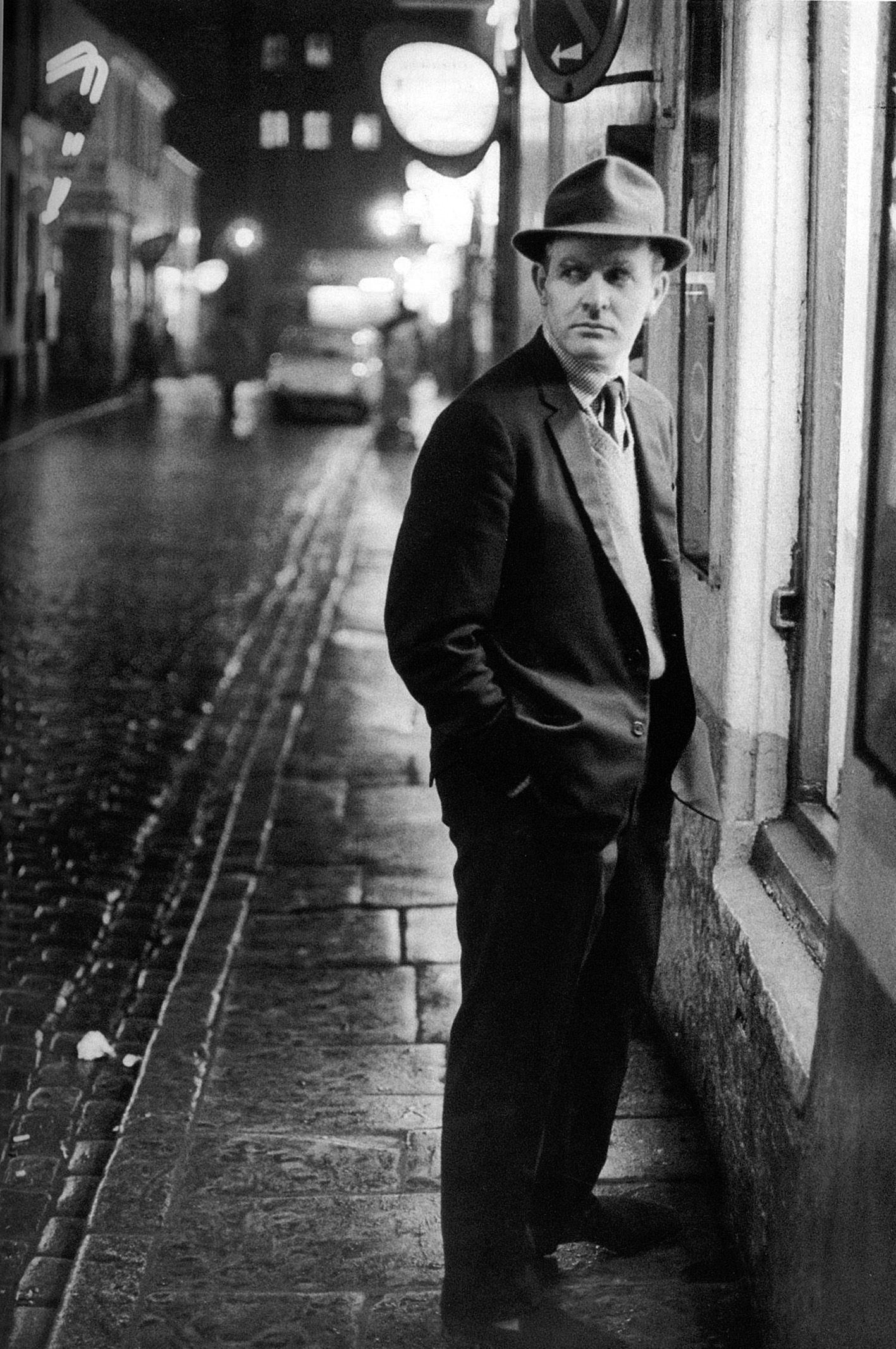 David Cornwell posing as a spy in London in 1964 for Life magazine shortly after being outed as the author of The Spy Who Came in From the Cold (Ralph Crane/The LIFE Picture Collection/Getty Images)
It was his realism that drew me to le Carré. He created a new mould for the spy thriller in depicting intelligence work as less about derring-do than patience and perseverance, finding and placing the jigsaw pieces. Above all, he is convincing in depicting the extent to which internal politics and rivalries shape the business, and in the way he conveys all the doubts, ambiguities, and complexities of real life. The diffident and vulnerable spymaster George Smiley is one of the great literary creations. A portly, myopic cuckold who is also brilliant, tenacious, and politically astute, he could scarcely be more different from the traditional model spy exemplified by James Bond.
Many critics and fans thought le Carré's career would end with the fall of the Berlin Wall, so closely was he identified with the Cold War, but, as Sisman observes, he had a knack of being ahead of the news with novel after novel. There is an element of autobiography in most of them – above all A Perfect Spy (1986), in which Cornwell set out to exorcise his father. He later said this book 'alleviated my suffering'. Writing, it seems, acted as psychotherapy.
Cornwell's friend Nicholas Shakespeare provides an excellent summary of the man Sisman reveals: 'In his company I felt exhilarated and engaged. I found him courageous, generous, complicated, competitive, touchy, watchful, suspicious and incineratingly honest, although perhaps not in every single instance about himself.'
Where le Carré belongs in the literary pantheon is still debated. Blake Morrison called him 'the laureate of Britain's post-imperial sleepwalk'; Ian McEwan said he deserved the Booker Prize; David Mamet has described him as one of the greatest novelists in English. Others have dismissed him as a mere genre writer, not least Anthony Burgess, who said that Cornwell's talents 'cry out to be employed in the creation of a real novel'.
There can be few doubts about the merits of Sisman's portrayal, however, which is a model of the biographer's art. Inevitably, it slows in the second half in fitting the events and characters of the books into Cornwell's life, which is sometimes necessarily speculative.
Writing about a living subject adds complications, such as having to defer to his wishes; Sisman notes that he has done so occasionally. Cornwell is unreliable because of his large number of false memories and conflicting accounts, exacerbated by his occasional desire to obfuscate. This is not bad faith, Sisman says, so much as evidence that Cornwell, like all of us, edits his past.
Sisman observes that the book is a work in progress; he invites anyone who may have something to contribute to write to him. Perhaps, unusually, this fascinating book is an interim volume, with a more complete revelation to follow. It certainly whets the appetite.