Highlights of the Year
Arts Highlights of the Year
To highlight Australian Book Review's arts coverage and to celebrate some of the year's memorable concerts, operas, films, ballets, plays, and exhibitions, we invited a group of critics and arts professionals to nominate their favourites – and to nominate one production they are looking forward to in 2016. (We indicate which works were reviewed in Arts Update.)
Robyn Archer
I'll begin with Bleach* Festival's The Inaugural Annual Dance Affair and TIDE (forty-eight hours on a sand bar), by Gold Coast's resident contemporary dance company, The Farm. Then, Brink's beautiful Aspirations of Daise Morrow (Arts Update) – purely Australian, elevated by Patrick White – a quartet of actors intertwined with the Zephyr Quartet. Melbourne Festival/ANAM's Quartetthaus and astonishing Bartók, Secull House, and Richard Tognetti on Haydn: all at close quarters. Finally, the core quartet in Toni Morrison and Peter Sellars's Desdemona (Arts Update). Epic narrative exquisitely delivered.
Ben Brooker
The one play I regret not writing about this year was Dream Home, Melbourne playwright Emilie Collyer's surreal, bitterly funny skewering of the Great Australian Dream of home ownership. Subsequent productions may find this near-faultless indie première a hard act to follow.
My highpoint of Adelaide's festival season was UK performance artist Bryony Kimmings's Fake It 'Til You Make It. Exploring depression in men through the lens of her partner's experience of it, Fake It effectively streamlined Kimmings's stylistic eclecticism in what seemed a joyous reinvigoration of the confessional performance art genre. Adelaide was also lucky to have hosted PP/VT (Performance Presence/Video Time), a survey of past and present Australian performance artists at the Australian Experimental Art Foundation. A surging international interest in experience-orientated art made the exhibition a timely and illuminating exercise.
Technically, Neil Armfield's King Lear at Sydney Theatre Company – with Geoffrey Rush in the title role – is happening this year but, as I won't get to see it until January, it's my nomination for the show I'm most looking forward to seeing in 2016.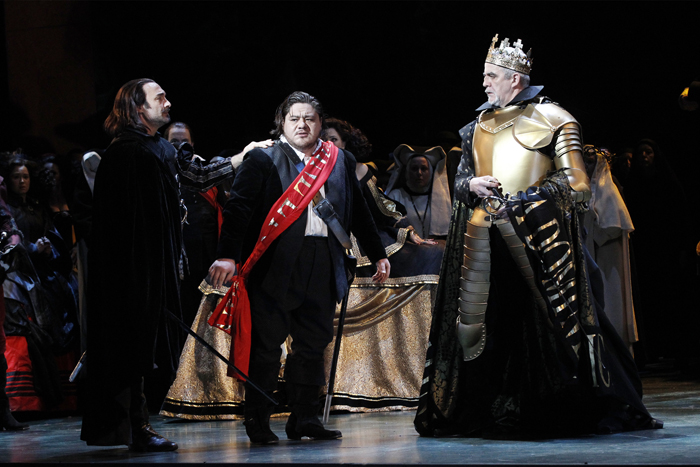 José Carbó as Rodrigo, Count of Posa, Diego Torre as Don Carlos and Giacomo Prestia as Philip II in Don Carlos (photograph by Jeff Busby)
Tim Byrne
In a reversal of last year's dominance by Melbourne's independent theatre sector, this year saw the re-emergence of the major companies; the behemoths can still produce electrifying art. Opera Australia gave us grand spectacle as political intrigue with Elijah Moshinsky's chilling production of Verdi's Don Carlos (Arts Update). It married epic reach with spiritual intensity and contained several unforgettable images.
Malthouse Theatre, in a co-production with STC, brought us Caryl Churchill's ingenious treatise on modern human interaction, Love and Information. Exploring the sometimes seismic chasms between our words, it was a dazzling example of content dictating form. Alison Whyte, as a prehistoric museum exhibit, was the funniest thing on stage all year.
Finally, MTC's production of Simon Stephens's Birdland was an unmitigated triumph. In what was surely the performance of the year, Mark Leonard Winter sucked the oxygen out of the auditorium as a petulant rock star in free fall.
If he manages to find a theatrical language for the quivering sensuality and the stony implacability at the heart of the horror, Matthew Lutton's 2016 production of Picnic at Hanging Rock for Malthouse should prove irresistible.
Lee Christofis
It is always refreshing when dance dares to be political. Lina Limosani is a fearless choreographer who calls her timely Dystopia, created for gifted final-year students at the Victorian College of the Arts, a '"genre mash-up" of tragi-comedy, contemporary dance and slapstick'. It is riotously black and impeccably paced as it moves towards a cyclone of rage launched on a bunch of wickedly ostentatious, born-to-rule fashionistas by a desperate underclass they have exploited for ages.
Driven by more personal forms of anger and ferocity is Tim Harbour's Filigree and Shadow, for The Australian Ballet, with an enveloping, post-Stockhausen score by Berlin-based group 48nord. Made up of dazzlingly articulated and ever-changing groupings, this is Harbour's most inventive and polished choreography to date.
Diana Doherty and the Adelaide Symphony Orchestra's engrossing performance of the Concerto for oboe and small orchestra (1956) by Czech composer Bohuslav Martinů, was, intellectually and aesthetically, the most perfect performance of my year. Given that its 1956 world première was played by the Sydney Symphony Orchestra and its Czech oboist, Jiří Tancibudek, who commissioned it, why is this masterpiece so rarely played in Australia?
And the most interesting work for 2016? A Midsummer Night's Dream by Liam Scarlett, Artist in Residence at The Royal Ballet, a co-production by Queensland Ballet and Royal New Zealand Ballet.
Alison Croggon
Malthouse Theatre's Antigone, directed by Adena Jacobs, was a fascinating experience: I'm not sure I moved for the duration of the show. Here the power of the state over the human body was brutally drawn. Featuring stellar performances and a stunning, physically palpable sound design from Jethro Woodward, it's one of the few times in the theatre that I've felt genuine terror creep up my spine.
The MTC's production of British playwright Simon Stephens's Birdland, a dark parable about celebrity and the neo-liberal self, was theatre at its most exhilarating. At the centre of Leticia Cáceres's bold, intelligent direction was an icily mercurial performance from Mark Leonard Winter as an amoral rock star, backed by a pitch-perfect ensemble cast.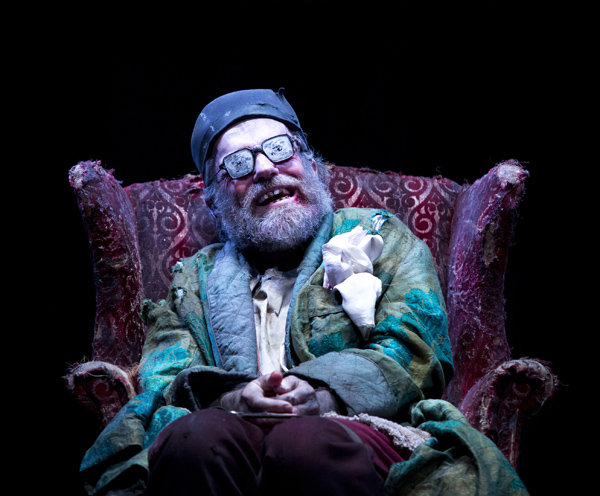 Hugo Weaving in Endgame (Sydney Theatre Company, photograph by Lisa Tomasetti)
Brett Dean
The opening scene of Barrie Kosky's remarkable new staging of Handel's 1738 oratorio Saul at this year's Glyndebourne Festival signals an immediate intent. With its hyper-realistic, Ron Mueck-like severed Goliath's head in front of a crowded banquet table of vivid, painterly opulence, it cried out, 'Hi, my name's Barrie and you're never going to forget this show!' Surging between fantastically exuberant and touchingly intimate yet always entertaining, the stellar cast led by baritone Christopher Purves's biting beauty in the title role was matched for pulsating élan by the Orchestra of the Age of Enlightenment under Ivor Bolton.
Wuppertal, Germany, is arguably best-known for its iconic suspension railway and for being the home of Pina Bausch's Dance Theatre. Since her death in 2009, the company has continued exclusively to honour the legacy of Bausch's extraordinary body of work – until September 2015, when the company commissioned three New Works. The first-ever work not conceived by Pina Bausch to be danced by the company was the enigmatically beautiful Somewhat still when seen from above by emerging British choreographer Theo Clinkard. Clinkard acknowledges the artistic provenance of the huge personalities he is working with, but in the subtlest and tenderest of ways coaxes new connections and possibilities of expression from them. It is fitting that, in a piece that is in some ways about the sheer hard work involved in the creative process, he also shines a telling light on the backstage crew of this great company.
Ian Dickson
The year may not be quite over, but it would be difficult to imagine that it will produce any theatre that could better the Sydney Theatre Company's magnificent Endgame (Arts Update). Andrew Upton's production, Nick Schlieper's set and lighting design and the supporting cast were all superb; but it was Hugo Weaving's outstanding Hamm that made this one for the ages.
It is good to see that there have been several successful Australian operas of late, and Fly Away Peter (Arts Update) is definitely one of them. Elliott Gyger and Pierce Wilcox have made a powerful lyrical work out of David Malouf's novella and they were well served by Imara Savage's production and a talented cast and crew.
The Greek Festival of Sydney's celebration of Mikis Theodorakis' ninetieth birthday took the form of a performance of his vast choral work Axion Esti that was stirring and deeply moving.
Julie Ewington
Robert MacPherson: A Painter's Reach (Brisbane's Gallery of Modern Art): a decade after the last survey, this intelligent interpretation of MacPherson's inventive, rigorous, playful painting was sheer delight.
Reparative Aesthetics: Rosângela Rennó and Fiona Pardington (University of Sydney Gallery): a poignant pairing of artists from Brazil and New Zealand by art historian Susan Best, in a model of curatorial decisiveness.
Internationally, it was a line-call between Okwui Enwezor's pugnacious All the World's Futures at the Biennale of Venice and Carolyn Christov-Barkargiev's lyrical Istanbul Biennial, Tuzlu Su/Saltwater: A Theory of Thought Forms. Saltwater wins for its exquisite hardcover catalogue, a wonderful compendium of essays, texts and artists' drawings.
In 2016: 20th Biennale of Sydney (15 March–5 June 2016). Since 1973 the Biennale has made an incalculable contribution to Australian cultural life. The focus on the rich performative strands in contemporary art promises to be fresh and exciting.
Morag Fraser
In midwinter, Austrian bass-baritone Florian Boesch and Scottish pianist Malcolm Martineau performed Schubert's three great song cycles, Die schöne Müllerin, Schwanengesang, and Die Winterreise, over three consecutive nights, in perfect ensemble (Arts Update). It's late spring now, yet whole phrases, cadences, and crystalline variations still haunt me. It's Schubert, of course – his incomparable lieder etch so deeply. But this performance, not uncontroversial, was also indelible – and fresh. Over the three intense nights I learned much I thought I knew already – about music's way of distilling profound emotion. This was Schubert for a new generation. Unforgettable.
Equally memorable was Loin des hommes (Far from Men), David Oelhoffen's Algerian civil war film, based on Albert Camus's L'Hôte (The Guest). Viggo Mortensen's hypnotic performance had its perfect foil in Reda Kateb's role as his Arab prisoner. And the cinematography was breathtaking.
In 2016 I look forward to seeing (not live, alas) the Met's latest production of Berg's Lulu, with sets by the extraordinary William Kentridge.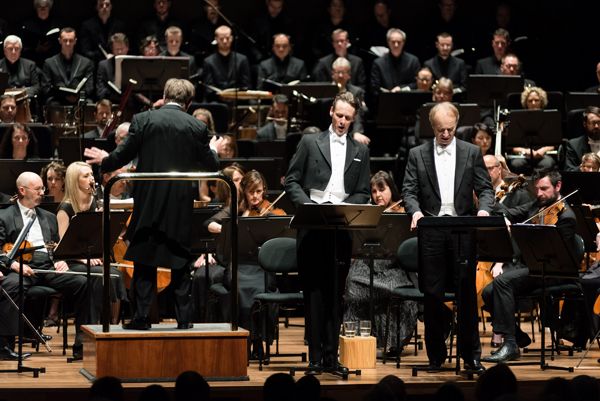 Ian Bostridge, Dietrich Henschel and the Melbourne Symphony Orchestra (photograph by Daniel Aulsebrook)
Andrew Fuhrmann
Dance Massive again provided a host of highlights, but among the many exciting festival premières it was Anouk van Dijk's Depth of Field that left the strongest impression. Lit by a perfect Melbourne sunset, this enthralling outdoor event brought something unexpected and joyful into the peak-hour world: a real, if momentary, urban transformation.
Heading back inside the theatre, I was dazzled by the wonderful Malthouse/STC quick-change production of Caryl Churchill's Love and Information. Nothing was wanting in director Kip Williams's interpretation of one of the great plays of the twenty-first century, which included riveting performances from the likes of Zahra Newman and Alison Whyte.
Finally, I was deeply moved by composer Elliott Gyger's adaption of Fly Away Peter, the David Malouf classic about World War I. With unstinting energy and imagination, Gyger has given powerful new form to the troubled lyricism of Malouf's tale of savagery and innocence.
And next year? I'm looking forward to seeing another classic Australian novel transformed for the stage – Picnic at Hanging Rock at Black Swan and Malthouse.
Colin Golvan
I loved The Tempest (Arts Update), produced by Bell Shakespeare, particularly its wonderful farewell speeches, in this case offered on behalf of the bard as well as the retiring director John Bell and presented with grace and beguiling charm – 'Let your indulgence set me free.' I also admired Love and Information by Caryl Churchill, which reminded all fortunate enough to see it of the great energy and excitement a live cast can bring to the telling of simple and yet occasionally majestic stories about ordinary lives.
As for music, garlands for the piano recital of Garrick Ohlsson at the Melbourne Recital Centre as part of the Great Performers Series. Ohlsson is a performer of interesting contrasts – a big man with a subtle touch. And a special bouquet for the Tord Gustavsen trio at the Melbourne International Jazz Festival (Arts Update). Gustavsen captures with confiding intimacy the complex rhythms of his improvised music – otherwise described as 'the slow burn'.
Next year I am looking forward to being surprised and enthralled by a gem or two from somewhere along the magic Sturt Street corridor.
Fiona Gruber
When Katherine Mansfield was dying of tuberculosis, she visited Gurdjieff's controversial Institute for the Harmonious Development of Man in Fontainebleau; her desperate search for a cure forms one thread in the rich and complex world of Alma De Groen's play The Rivers of China (Arts Update), which also involves a futuristic plot where women have all the power, and where a man wakes up in hospital after a mysterious accident, convinced that he is Mansfield. The play, first seen in 1987, was finally revived at Melbourne's Theatre Works earlier this year by Don't Look Away.
Benjamin Britten's enormous, moving War Requiem with the MSO and tenor Ian Bostridge was profound and superb at Melbourne's Recital Centre in June (Arts Update).
In another of the city's temples of culture, the NGV, Heartlands and Headwaters, the magnificent exhibition of John Wolseley's meditations on wetlands and climate change, was a celebration of one of the country's greatest painters and an extraordinary bravura performance in the art of watercolour on a giant scale.
Patrick McCaughey
The Whitney Museum of American Art has transformed itself by moving, daringly, from its Marcel Breuer fastness on Madison Avenue to Gansevoort Street in the Meatpacking District at the foot of the Highline. Between the Hudson and the City, Renzo Piano has given them an astute and brilliant new museum. They opened with six floors of their collection, titled America Is Hard to See. The Whitney strives always to show American art as an extension and reflection of American life. They succeeded.
MoMA's Picasso Sculpture is the most original as well as the most comprehensive account of the Magus in three dimensions. He stopped and started in sculpture, but remained the alchemist turning base materials – wire, string, cardboard, scraps of wood, kitchen utensils, toys, wing nuts – into astonishing works of art.
Jan Senbergs's 2016 retrospective at the National Gallery of Victoria will surprise everyone.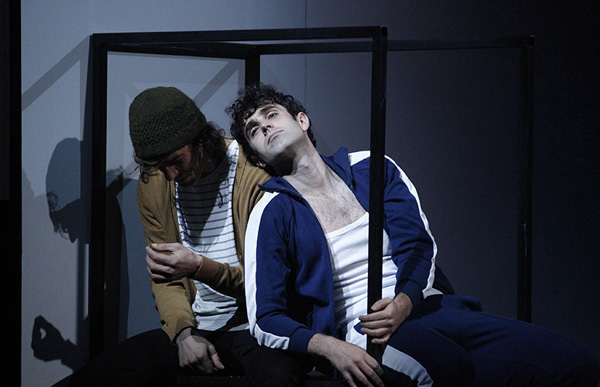 Mark Leonard White in Birdland (Melbourne Theatre Company)
Brian McFarlane
Though there were several engagingly humane Australian films – Last Cab to Darwin and Holding the Man (Arts Update) among them – three British films stay most tenaciously with me. In Mr Turner, director Mike Leigh, taking leave of the contemporary world he has often compellingly surveyed, turns his gaze on the great nineteenth-century artist. Its Turneresque opening image, with Timothy Spall's Turner silhouetted on the horizon, suggests that we may never come to know him in full.
Enthralled by my recent first reading of Vera Brittain's heartfelt memoir, Testament of Youth, I was prepared to be dissatisfied with the new film version. But this screen account of a lost generation during and after World War I rendered its essential concerns – pacifism, feminism – with poignant acuity, and in Alicia Vikander's Vera, a great writer is fittingly memorialised.
The National Theatre's production of London Road has been made into a film, moving fluidly through the lives of those affected by the murder of five prostitutes in Ipswich, 2006. This may seem unlikely material for a musical, but the way it makes music from the banalities of everyday anxieties is a breakthrough for the genre.
Primrose Potter
Of the many wonderful performances I have seen this year, these three really stood out in spades. The Australian String Quartet with Dutch cellist Pieter Wispelwey playing Mendelssohn's Cello Concerto at the Dunkeld Festival was absolutely stunning. Both the Quartet and Pieter Wispelwey, playing Guadagnini matched instruments (his was made in 1760), produced the most beautiful tone in a salon the perfect size for chamber playing. Wispelwey's musicality and playing is unmatched by any cellist I have ever heard, and over the last seventy-five years I have heard most of the famous cellists. It was an amazing performance.
Melbourne Opera's production of Donizetti's great opera Maria Stuarda (Arts Update) was a standout; it showed how beautiful the bel canto style of singing is. Two great international sopranos Rosamund Illing and Elena Xanthoudakis sang the roles of Elizabeth and Mary, Henry Choo was in fine tenor voice as Leicester. Hearing it in English added to the impact: the audience could understand the abuse the two queens hurled at each other in Act Two. The singing was of the highest standard, and the experienced maestro Richard Divall held it all together, with the orchestra playing better than ever before. It was an unforgettable performance, one that other opera companies could well try to match.
In The Australian Ballet's production of Frederick Ashton's The Dream, the dancing, costumes and sets were of the greatest beauty. It is a lovely ballet at the best of times, and this time it really shone. Chengwu Guo was Puck, with thrilling elevation and finesse; Oberon was danced by Kevin Jackson, who partnered Madeleine Eastoe as Titania. Their partnering is legendary, and as this was Madeleine's final ballet before retiring, it gave an extra lustre to their pas de deux. Frederick Ashton's choreography is as fresh and delightful as ever, and it was an electrifying and enormously satisfying performance by the best dancers.
John Rickard
The Australian Chamber Orchestra's Reflections on Gallipoli (Arts Update) program brought together the talents of Richard Tognetti, deviser Nigel Jamieson, and director Neil Armfield, drawing upon Australian, English, and Turkish music and combining stark photographic images of the horrific battlefield with moving readings by actors Yalin Ozucelik and Nathaniel Dean. Eschewing any nationalistic heroics, it was harrowing, yet, in the music of lament, still offered the salve of beauty.
The operatic event of the year for me was the Victorian Opera's stunning concert performance of Bellini's I Puritani (Arts Update), with conductor Richard Mills, Orchestra Victoria, and an excellent cast led by the superb duo of soprano Jessica Pratt and tenor Celso Andres Albelo Hernandez. Bel canto singing of this calibre is all too rare.
I look forward to hearing Pratt in the 2016 Victorian Opera production of Lucia di Lammermoor, the role which has established her reputation in Europe.
As for films, one could hardly go past David Oelhoffen's Far from Men, with marvellously matched performances from Viggo Mortensen and Reda Kateb. Set at the beginning of the Algerian war in a landscape of desolate beauty, it provides a lesson in the art of story-telling – unhurried, searching, cumulative in its effect.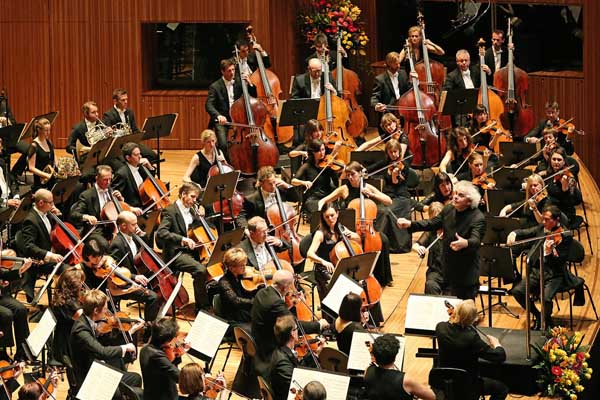 Simon Rattle conducting the Australian World Orchestra, at the Sydney Opera House (photograph by Prudence Upton)
Peter Rose
Timidity among programmers has long deprived local audiences of the works of Anton Bruckner. Hats off to the Australian World Orchestra (in its third formation) for giving us the Eighth Symphony (Arts Update). Simon Rattle, though clearly ill like his wife, Magdalena Kožená (who withdrew after the Sydney concerts), led a shattering performance – proof, if we needed it, that this is one of the greatest of all symphonies.
Director David McVicar has done much to raise standards at Opera Australia in recent years. Sandwiched between his two new Mozarts came his elegant production of Gounod's Faust (Arts Update). I saw this in London eleven years ago, with the starriest of casts (Gheorghiu, Alagna, Terfel, Keenlyside, Koch), but the February opening night in Sydney was even better, with sensational performances from Michael Fabiano and Nicole Car as Faust and Marguerite.
The Melbourne Recital Centre has transformed musical life in Melbourne. Of the many fine pianists who have played in the Elisabeth Murdoch Hall, Paul Lewis has made the deepest impression with a series of Schubert concerts, and, more recently, a Beethoven–Brahms program for Musica Viva. The incomparable Opus 111 sonata capped a performance of the greatest refinement.
Looking ahead, the Met's new Tristan und Isolde beckons in September, with the mighty Nina Stemme and Australian tenor Stuart Skelton singing the role of Tristan for the first time. In the coup of the year, the Tasmanian Symphony Orchestra will present these two great Wagnerians in a concert with excerpts from Tristan und Isolde in November 2016.
Dina Ross
2015 was the Year of Women, marked by superlative writing and mesmerising performances. First came a welcome revival at Red Stitch of Annie Baker's The Flick (Arts Update). Baker's pared-back script managed to be moving, funny, tender, bleak, and hopeful at the same time. Superlative performances by Ngaire Dawn Fair, Ben Prendergast, and Kevin Hofbauer, along with Nadia Tass's sure-footed direction, made this a welcome return season.
Stand-outs in MTC's Neon season of new, experimental Australian drama included Patricia Cornelius's visceral portrayal of brutalised women, SHIT and Elbow Room's We Get It. Here, writer Marcel Dorney and his feisty troupe of actresses used the framework of a crass TV game show to showcase the dark underbelly of stardom. Fast-paced, witty, and searingly raw, the play combined satire and bitter comedy to underpin the female struggle to reach the top in a man's world.
At Malthouse Theatre, Caryl Churchill's Love and Information tore across the stage at breakneck speed. A cast of eight embodied more than 100 characters in a series of random vignettes. And anyone who saw Maria Mercedes perform as Maria Callas in fortyfivedownstairs' Master Class (Arts Update) was treated to an acting class in masterful technique. Ladies, take a bow!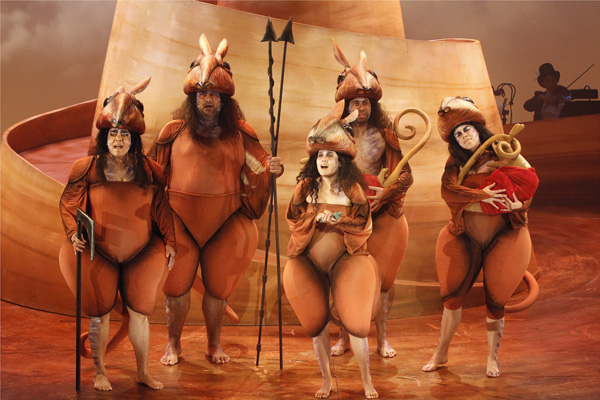 The Rabbits (Opera Australia/Barking Gecko Theatre Company, photograph by Jeff Busby)
Michael Shmith
The musical highlight of 2015 was the intense and rewarding Schubertiade with Florian Boesch and Malcolm Martineau at the Melbourne Recital Centre in early July. The performances of Die schöne Müllerin, Schwanengesang, and Die Winterreise were peerless, with immaculate singing and playing.
Later in the year, two operas caught my imagination. Stella, by G.W. Marshall-Hall, received its first full staging since 1912. Melbourne's Lyric Opera should be praised for exhuming this neglected and significant piece of urban romanticism. The Melbourne Festival should likewise be commended for its co-commissioning of The Rabbits (Arts Update), by composer Kate Miller-Heidke and librettist Lally Katz – a charming, lucid, and ultimately dark work inspired by Shaun Tan and John Marsden's children's book.
The Australian Youth Orchestra also shone brightly in 2015 with its concert of Debussy and Mahler under the expert tutelage of the English conductor Mark Elder.
In 2016? Der Ring, of course.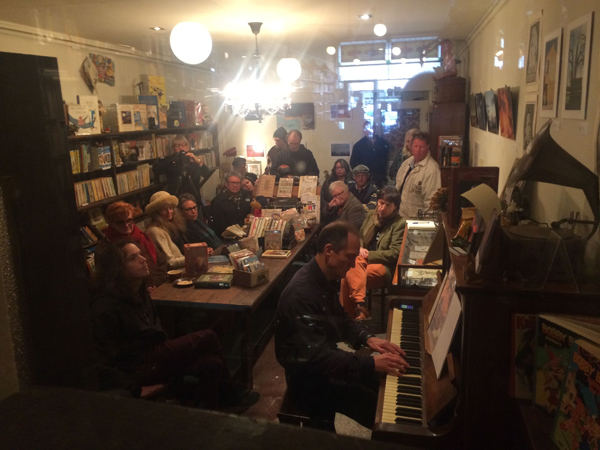 Michael Kieran Harvey performing at The Known World Bookshop, Ballarat
Doug Wallen
Australia gets more music festivals every year, and most of them suffer from an oversaturation of offerings. But two festivals in 2015 encouraged me to absorb live music as nourishment rather than distraction. Pitched as a 'festival of the ecstatic', the inaugural Supersense program spanned Melbourne's Arts Centre and Hamer Hall. In a matter of hours I got to see Marc Ribot's rambunctious finger-picking, Chris Abrahams's wraithlike piano layering, and Gurrumul's reworked gospel standards, among other highlights. More ambitious by comparison, Ballarat's Festival of Slow Music (Arts Update) spanned nine days and ranged from marathon all-night stands to child-friendly sets in museums and gardens. The programming was kaleidoscopic in genre and impressively international for a budding festival in regional Victoria.
As nice as it is to slow down, though, Melbourne synth-punk quartet Ausmuteants delivered my favourite performance of 2015 with a brashly accelerated set opening for Regurgitator at the Prince Bandroom.
My most anticipated tour of 2016 comes courtesy of US indie rock band Waxahatchee, an unfiltered emotional outlet for songwriter Katie Crutchfield.
Terri-ann White
It's a rare experience to attend an arts festival in an Australian capital city and be offered works from our geographical region animating the threads of tradition and innovation that often have a more pronounced tension in non-Western cultures. Darwin is most likely the only contender for such programming in their annual arts festival. Outstanding works at Darwin in 2015 under Andrew Ross's direction were Prison Songs, a stage work adapted from the SBS documentary about Berrimah Prison in Darwin, starring the peerless Ernie Dingo and Shellie Morris, full of humour and piercing pain. Cry Jailolo is an exquisite, eerily beautiful dance work by Indonesian choreographer Eko Supriyanto, working with untrained young men from a 'tropical paradise' community being ravaged by ecological degradation. It also travelled to Adelaide for the OzAsia festival. I was pleased to be able to attend a one-off performance, The Food of Love, by Indonesian singer and ethnomusicologist Ubiet with Brisbane-based musical wonders Topology (the festival's resident music group), involving song cycles from poems by, among others, Randolph Stow set to music by Robert Davidson.
Next year I am particularly looking forward to the first work by Force Majeure's new artistic director, Danielle Micich, a Perth choreographer I have admired for years.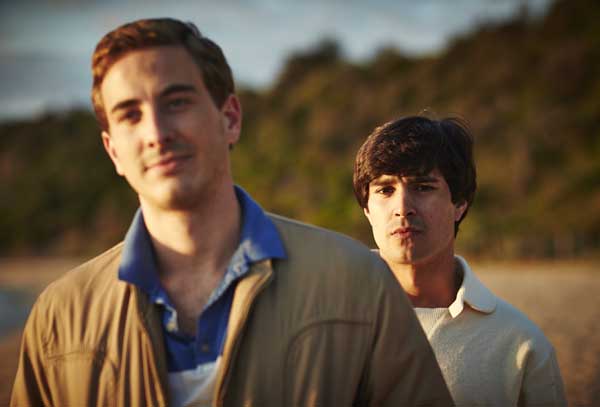 Ryan Corr as Timothy Conigrave and Craig Stott as John Caleo in Holding the Man
Kim Williams
2015 was memorable for so many things that selection is painful. In January there was the sublime miniature Kiss & Cry at Carriageworks for the Sydney Festival, created by Jaco Van Dormael and Michèle Anne De Mey and the Charleroi Danses company. In this absorbing, wholly satisfying production we had a living fairy tale cum dream narrative. In a glorious original amalgam – which united video, the intimacy of a radio play, and a magic lantern show – a beautiful, fragile, exquisitely moving theatre piece unfurled before our eyes where the wonder of theatre, imagination and virtuosic execution by masterful performers united, as if alchemy truly lived.
Neil Armfield's film of Tommy Murphy's superb screenplay based on Timothy Conigrave's Holding the Man held me spellbound in laughter, tears, and heartfelt solidarity with the courage of the storytelling about the passionate romance between Conigrave and John Caleo. This was cinema to make one burst with pride on every level – performances, cinematography, editing, design, music, writing and, above all, consummate direction.
There were many remarkable music pleasures in this year, especially the recent Musica Viva recital by piano virtuoso Paul Lewis (a musician's musician) of a really demanding display program of Beethoven (Opus 109 and 111) and Brahms (Ballades, Opus 10 and Intermezzi opus 117). It was the type of deep, thoughtful rendition of a fine program that reminds one as to the necessity of live concert experience. As did Richard Tognetti's ACO Gallipoli program in April – mesmerisingly good.
In the next twelve months I intend to celebrate with Ensemble Offspring (and their dynamic artistic directors, Damien Ricketson and Claire Edwardes) their inspiring twenty-year commitment to contemporary music generally and to the music of this land especially. Bravi, bravissimi!
Jake Wilson
This year's best films demand to be seen several times over. George Miller's spectacular Mad Max: Fury Road (Arts Update) moves so fast that one viewing is hardly enough to register all the details of its intricately grotesque fantasy universe, imagined from the ground up by the most gifted of all Australian filmmakers. Hou Hsiao-hsien's enigmatic The Assassin is a very different kind of 'action' movie, but one that likewise reduces conventional exposition to a minimum, keeping us alert to the slightest breath of wind in between the rare moments of swift, decisive violence. Even after three viewings I would struggle to summarise the plot of Paul Thomas Anderson's shaggy-dog comedy-mystery Inherent Vice, based on the equally convoluted novel by Thomas Pynchon. But narrative is incidental to the film's pleasures, which centre on colour, framing, rhythm, and a cast of eccentrics led by Joaquin Phoenix as a perpetually stoned private eye.
In 2016, I'm especially looking forward to the return of Twin Peaks. A soap opera like no other, it has influenced practically all ambitious television made since.