Theatre
Night on bald mountain
Goats are ubiquitous in the work of Patrick White. Start looking for them and they appear everywhere, staring out, page after page, with wise, tranquil eyes, pellets scattering like secrets into dust.
White bred goats, of course, Saanen goats, or tried to, while living at Castle Hill, and it is clear that the goat-mind made a profound impression. 'One day I'm going to write a novel about goats with human beings to make it appear more "moral",' he wrote to his American publisher in 1953, 'but only to enjoy the great luxury of writing about the goats.' And he nearly did, two years later, when he wrote of a doomed explorer coming upon a desolate interior populated only by wild goats, descendants of a fabled Ur-goat:
All was, indeed, headed downward. The world was slanted that way, a herd of goats clinging to it. The hoofs of these animals clicked, their horns slashed, their pellets spattered, as they slit the scrub open, or nibbled at the blades of grey grass. Yellow eyes looked only once at the rider. Then the goats were dashing down, down, down, deeper than all else. Soon their bobbing tails were lost.
The rider and his party follow them down. And yet, in the moral universe of Voss (1957) even goats must yield to the obliterating naïveté of the explorer and his epic dream-genius. Voss, in the end, is not a book about goats.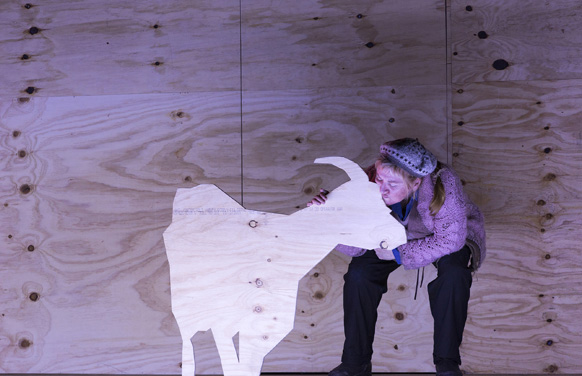 Miss Quodling (Julie Forsyth) and one of her goats (photograph by Pia Johnson)
It is in a play, Night on Bald Mountain, and not a novel, that White finally managed his caprine homage. The play, first performed in 1964, is about a domineering husband and his wilful, dipsomaniac wife, a couple whose mutual loathing ultimately destroys more than just their own happiness. On the slopes around their isolated mansion, a herd of goats, honest creatures and blissfully uninhibited, roam free among the runty apple trees and sad rose bushes, waiting only for the end of time.
In this fine new Malthouse Theatre production, directed by Matthew Lutton, the theme of eternal goatish enthusiasm – a kind of music, or a way of breathing – is deployed to beautiful effect. The evening's highlight is a brilliant performance by Julie Forsyth as Miss Quodling, the ancient goatherd whose rambling dithyrambs, full of pity, exaltation and dread, bookend the play. This rough, oracular spirit, herself part goat in wisdom and simplicity, is a remarkable creation, and it is hard to imagine a better interpreter than Forsyth.
The play is a tragedy but an unusual one, a brooding, restless work full of narrative ambiguities and jagged tonal shifts, awkward exposition, and toppling melodrama. For all its virtues, Bald Mountain is a difficult play to make sense of, and Lutton poses as many questions as he answers. It is a thoughtful, even mature treatment, and Lutton never forces a naturalistic explanation where the script can't support it. His emphasis, sensibly, is on the rhythm and music of White's words.
'The theme of eternal goatish enthusiasm ... is deployed to beautiful effect.'
Indeed there is something operatic in the experience. Designer Dale Ferguson has created a sort of monumental, bare, timber ziggurat, which doubles as both house and mountain. High up on the edifice's top level, gifted Danish double bassist and singer Ida Duelund Hansen provides accompaniment with an original suite of melancholic landscape songs, an ethereal, whistling music in striking counterpoint to David Franke's abrasive sound design.
Like Neil Armfield's Belvoir St production in Sydney eighteen years ago, this production will surprise and baffle. How could it have taken fifty years for this play to get a professional Melbourne première? One reason is that White himself suppressed Bald Mountain during his own lifetime, telling Armfield that he thought the play was 'dishonest'. It is hard to know what he might have meant by this. The bitter falling-out with director John Tasker, the play's first director, probably had something to do with it. Bald Mountain may also have come to represent for White the sins of the theatre combined, particularly the seductions of collaboration.
It could also be that White felt the play showed his influences too plainly. Ibsen and Strindberg are clearly present, and we see in this production Lutton emphasising particularly the Strindbergian, impressionistic dreamlike qualities of the first act. The great triad of Eugene O'Neill, Tennessee Williams, and Edward Albee also shadow Bald Mountain. O'Neill's Long Day's Journey into Night, a play that White once called 'a lumbering bore', is an unavoidable comparison, and Melita Jurisic's mannered performance only emphasises the kinship. If we do want to know what White meant by 'dishonest', it's only because the play itself seems to beg an explanation.
Nikki Shiels is well cast as the youthful, wholesome Sister Stella Summerhayes, the nurse fatally caught in the warring couple's crossfire. She has measured out to perfection Stella's mix of innocence and experience, but even her nuanced performance can't make sense of the play's bizarre dénouement. White simply did not prepare the way – in naturalistic, psychological terms – for Stella's final breakdown. So she cannot be treated as one of Strindberg's psychosexual suicides. Instead, her climactic fall has more in it of a ritualised offering, a gesture toward reconciliation. Stella becomes the scapegoat, if you like, of Bald Mountain. Is Lutton's ziggurat actually closer to a Mesoamerican temple, a palace of bloody sacrifice, a place where innocent hearts are torn out?
It has been suggested that Professor Hugo Sword, the authoritarian professor of English studies tormented by artistic ambition, is Patrick White's revenge on A.D. Hope, who famously dismissed White's The Tree of Man (1955) as 'pretentious and illiterate verbal sludge'. That thrust wounded White badly, and he in turn described Hope as an 'embittered schoolmaster and a poet of a certain distinction'. This is a neat fit for Professor Sword, whose poetic effusions are at one point described as 'the sludge of an uncreative ... lascivious ... literate mind'. When we first meet Peter Carroll's Sword, he is wearing a similar wide-brimmed fedora to the one worn by Hope in the portrait by Loui Seselja. He even has the same smug, forced smile of the famous old professorial goat.
'Like Neil Armfield's Belvoir St production in Sydney eighteen years ago, this production will surprise and baffle.'
Carroll conveys the meanness and desiccation of this haunted, erudite eroticist, but he doesn't naturally radiate the sort of cool, almost Apollonian authority that is supposed to explain Sword's power over Miriam and Stella (White himself imagined Michael Redgrave in the role). What Carroll does bring, however, is an intimation of Sword's poisoned, gothic soul. The final scenes of the second act, with Miriam drunk again, howling, losing her shape, drooping heavily, elderly and angular, while Hugo, all furious insect activity, disposes of the contraband grog, are powerfully done.
One should also note among the storm and stress, Sue Jones' s hilarious, note-perfect performance as Mrs Sibley, the housekeeper. But the night is really about goats, or rather Miss Quodling, their guardian in this world, and Julie Forsyth is the outstanding embodiment of this idyllic, soulful creature. It was Thelma Herring who first described Night on Bald Mountain as Patrick White's 'goat-song', an apt description which points us past the swirl of influences, surfaces, and compromises toward the play's deeper, animating spirit, which is tragic and uncomforted, and expresses an almost primordial longing for that simplicity and naturalness of being, which finds its best and most noble expression in the goat.
This is a fascinating production which doesn't flinch from the real difficulties posed by the script; but neither does it hesitate in celebrating the play's triumphs, its high emotion, its comic interludes, and, most of all, its magnificent, rhapsodic enthusiasm.
Patrick White's Night on Bald Mountain, directed by Matthew Lutton and presented by Malthouse Theatre, runs at the Merlyn Theatre until 25 May 2014. Performance attended 8 May 2014.