Was there ever an Australian poet who drank so deep of that turbid spring, enthousiasmos, Aristotelian enthusiasm, as Dorothy Porter? From the grungy vitality of her early collections, to the exuberant embrace of popular genre fiction in her five verse novels, to the high, passionate tone of her lyrics, libretti, and later collections, she was never less than rhapsodic. Such enthusiasm is contagious, and there is an oddly addictive sense of perpetual drama in her verse. This is especially so in the celebrated novels, where her poetic daemon was at its most formidable. It is not surprising, then, that three of these novels have been adapted for the stage, with Wild Surmise, originally published in 2002, the latest.
Alex is an astrobiologist. She scans the stars, searching for life with feverish intensity. Her first obsession is Europa, Jupiter's icy moon, but she soon falls for another ice queen, Phoebe, a glamorous but emotionally unavailable astronomer specialising in black holes and cruel quips. Back on Earth, Alex's husband, Daniel, who teaches a course on Romantic poetry, has his world blown apart when he discovers both his wife's infidelity and that he has terminal cancer.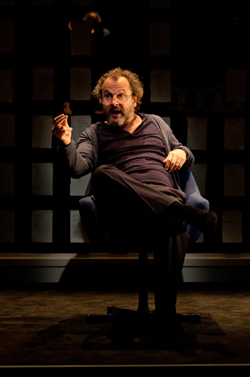 Humphrey Bower in Wild Surmise (Photography by Pia Johnson)Devised for the stage by Jane Montgomery Griffiths and directed by Marion Potts,this production captures the drama and energy of Porter at her best. Griffiths's adapted text is smoothly done, using some deft edits and transpositions to maintain a strong sense of scenic continuity across the almost 150 short poems that make up the book. Awkwardly orbiting one another around a long, transparent wall, both Griffiths, who plays Alex, and Humphrey Bower as Daniel handle the verse with impressive ease, and from beginning to end it is a thoroughly entertaining performance. Despite this, however, and despite the heavy melodrama of the plot, it is a production that lacks emotional impact.
It is tempting to blame this on deficiencies in the source text, on the alienating effect of Porter's superheated metaphors, reckless use of the pathetic fallacy, similes of questionable value, sneering adverbs, and, perhaps most infuriating, carelessness in her treatment of the subject matter. Even under intense psychosexual stress, would an astrobiologist, of all people, ever say something so nonsensical as 'light years too late'? And yet, rereading the book now, it is striking how much unaffected sentiment Porter is able to generate in spite of, or because of, her wanton bad taste.
Porter memorably characterised her epiphanic turn toward longer narrative forms as a self-conscious rejection of 'good' writing in favour of 'bad', a move that recalls Orwell's praise for those authors who 'it is quite impossible to call "good" by any strictly literary standard, but who are natural novelists and who seem to attain sincerity partly because they are not inhibited by good taste'. This points to the chief problem with this adaptation: its failure to find an adequate theatrical frame for Porter's poetic disinhibition, the source of her emotional authenticity.
Why failure? Sappho, I think, provides a useful hint. Both Potts and Griffiths, who collaborated together on Griffiths's one-woman show, Sappho ... in Nine Fragments (2010), are most attracted to, or motivated by, the textual lacunae in Sappho's literary remains, the suggestive, fragmented edges. These are artists who revel in ambiguities and absences. Porter, on the other hand, the enthusiast, appears determined to celebrate the words we do have, and to hell with those we don't. Indeed, much of her oeuvre, including Wild Surmise, can be read as an attempt to find new metaphors through which to refashion Sappho 31, to explore again and again the physical symptoms of lust, love, loss, and jealousy. The tension between presence and absence, between Porter and her two interpreters, stalks this production like the malevolent octopus in Europa's shadow, tending to subvert our full emotional involvement.
The glass wall, for instance, though an effective means of suggesting the separate spheres in which the protagonists move, among other associations, has the more immediate result of pushing the text away from us. Poems such as Alex's 'Radiation' and Daniel's 'Shellgrit', strong verses figuring a visceral sense of desperation, are performed beneath glass, like slides in a microscope.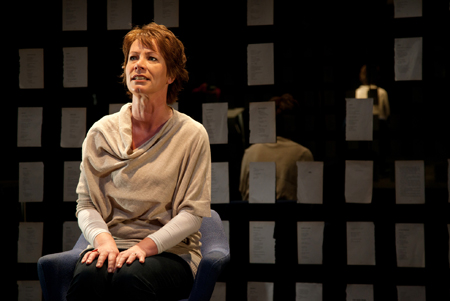 Jane Montgomery Griffiths in Wild Surmise (Photograph by Pia Johnson)
In the end, our main loss is a sympathetic sense of Alex's presence, sympathy being what we really mean by 'enthusiasm'. We struggle to feel the truth of Alex's passion for Phoebe. Griffiths, though she delivers Porter's verse with an affecting kind of respect, even love, never manifests the fever, Alex's very sensual yearning. It is one thing to speak of Venus 'smothered in lava', her oceans 'boiled away', but another to make it physically present. Set in contrast to Bower's barrelling, belly-slapping, harrumphing, heart-hurting Daniel, Alex seems to assume a somewhat subordinate place in the story, dimming – though by no means extinguishing – the best light in Porter's romance.
Wild Surmise, adapted by Jane Montgomery Griffiths, directed by Marion Potts, based on the verse novel by Dorothy Porter. Malthouse Theatre, performance attended 15 November. The season runs until 2 December.