Advances
News from the Editor's Desk
Miles and the mindset
How refreshing it was to read – on the announcement of the 2012 Miles Franklin Literary Award's shortlist – that The Trust Company, which administers the Miles, has written to the judges 'authorising them to use their discretions to modernise the interpretation of "Australianess" (sic) beyond geographical boundaries to include mindset, language, history and values, as in keeping with the current Australian literary landscape'. This decision follows much debate and consultation, some resistance, and a slow process of liberalisation since the mid-1990s. It is hard to imagine that doctrinaire interpretations of the notorious phrase 'Australian life in any of its phases' will ever again result in books with a clear Australian flavour, cast, or sensibility being excluded from the nation's pre-eminent literary prize.
Patrick Allington – ABR's inaugural Patrons' Fellow – wrote about these issues at length in our June 2011 issue; his article '"What is Australia, anyway?" The Glorious Limitations of the Miles Franklin Literary Award' is still available. In this issue he comments on this welcome new development.
Meanwhile, of the thirteen longlisted titles, five have been shortlisted for this year's Miles. They are Tony Birch's Blood (University of Queensland Press), Anna Funder's All That I Am (Hamish Hamilton), Gillian Mears's Foal's Bread (Allen & Unwin), Frank Moorhouse's Cold Light (Vintage), and Favel Parrett's Past the Shallows (Hachette Australia). The winner, who will receive $50,000, will be announced in Brisbane on 20 June.
ABR at the Boyd
This time next month ABR will be ensconced in The Boyd, at 207–229 City Road, Southbank. We're looking forward to taking part in the official opening on Saturday, 7 July. To introduce our readers and supporters to the new office, and to welcome those unfamiliar with the magazine, we are planning a series of talks and readings throughout the day. Readers and speakers will include Joel Deane, Morag Fraser, Lisa Gorton, Elisabeth Holdsworth, and Chris Wallace-Crabbe. Full details will appear in our July–August issue and on our website.
National Biography Award
This year's National Biography Award, the country's premier award for biographical writing and memoir, has gone to Martin Thomas, author of The Many Worlds of R.H. Mathews: In Search of an Australian Anthropologist (Allen & Unwin). Mathews was one of Australia's most significant, tenacious researchers of Aboriginal languages and culture. Dr Thomas, ARC Future Fellow at ANU's School of History, received $26,000.
Peter Rose (chair of the judging panel), speaking on behalf of his fellow judges, Bernadette Brennan and Hilary McPhee, commented: 'Martin Thomas's study of a "magnificent obsession" struck us as a fine and urgent example of biography as retrieval, biography with a clear moral message, one we encourage all readers to explore.'
The judges also praised the NBA's benefactors, Geoffrey Cains and Michael Crouch, for increasing the prize money and for giving all six short-listed authors $1000. Would that all substantial literary prizes rewarded unsuccessful shortlisted authors – especially when the organisers encourage them to attend the ceremonies, often not knowing the result. Surely this is something that the Miles Franklin Literary Award – following the NBA and, earlier, the Prime Minister's Literary Awards – should seriously consider.
2012 Seymour Biography Lecture
Now in its eighth year, the Seymour Biography Lecture – sponsored by John and Heather Seymour, presented by the National Library of Australia, with support from ABR – goes from strength to strength, and adds to the fertile conversation about this protean, adaptive form. Last year's lecture, by Robert Dessaix, continues to reverberate (we published it in April 2012), and he will repeat it during the Brisbane Writers' Festival.
This year's lecturer – in keeping with the laudable alternation of local and overseas writers – is Jeffrey Meyers, who has written some forty books, including biographies of Katherine Mansfield, Ernest Hemingway, Robert Lowell, Joseph Conrad, and F. Scott Fitzgerald. Professor Meyers' interests are by no means exclusively literary: among his other books are lives of Humphrey Bogart and Gary Cooper, and a dual biography of Errol Flynn and his son.
Jeffrey Meyers will deliver the Seymour Lecture at the National Library on Thursday, 13 September, then repeatit at The Boyd, in Melbourne, on Monday, 17 September – part of our new events program. Full details will follow.
Community of readers
Volatile markets, disappearing chains, ubiquitous eBooks, and queasy tidings from the Hellenes don't seem to be inhibiting local publishers – quite the reverse. There is something vivifying about a crisis. Hot on the heels of the first tranche of Text Classics – inexpensive paperbacks, often fascinatingly introduced by other writers – comes another fine imprint, the Giramondo Shorts. These are new titles, not reissues. William Heyward reviews one of the first titles, Eliot Weinberger's Wildlife. Advances is particularly looking forward to reading The Recluse, by Evelyn Juers, who shared the Prime Minister's Award for non-fiction in 2009.
Ivor Indyk, Giramondo's publisher, told Advances: 'The new Giramondo series is designed to take advantage of the new printing technologies to produce attractive short-form books – essays, novellas, memoirs – that will appeal to a literary readership. There's an ideology behind it too, a commitment to a community of readers, and to a relaxed kind of curiosity – hence Les Murray's quote, which each book carries, "it is time perhaps to cherish the culture of shorts".'
Changes at ABR
Amy Baillieu is the new Deputy Editor following Mark Gomes's departure. Amy, who holds a BA and a Master's in Publishing and Communications from the University of Melbourne, joined us some years ago as a junior editor. Last year she became our Philanthropy Manager.
During his three years with ABR, Mark Gomes made an immense contribution to most aspects of the magazine. Mark joined us as an APAEditorial Intern and soon became Deputy Editor. When he left ABR to become an editor at the National Gallery of Victoria, he went with everyone's best wishes.
At our recent Annual General Meeting, two of our ten serving members left the ABR board: Anna Goldsworthy and Paul Hetherington (our longest-serving board member). We thank them for their contribution and look forward to publishing them in the future. Indeed, Paul Hetherington will return next month with a review of Michael Sharkey's new collection of poems, Another Fine Morning in Paradise (5 Islands Press).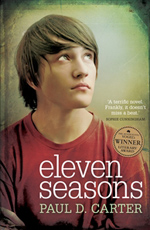 Eleven reasons to subscribe
ABR follows its former volunteers' careers with much interest, and we were thrilled to learn of Paul D. Carter's success in this year's The Australian/Vogel's Literary Award, worth $20,000, plus simultaneous publication. Paul, who volunteered for us in 2009, worked on his coming-of-age novel for some years. Amy Baillieu reviews Eleven Seasons in this issue. Courtesy of Allen & Unwin, we have ten signed copies to give to sprightly new subscribers.
Also this month, fifty renewing subscribers (thanks to Palace Films) will win double passes to Elena, the new Russian thriller directed by Andrey Zvyagintsev. Phone us now to claim your prize: (03) 9429 6700.
CONTENTS: JUNE 2012