Advances
Advances - April 2007
New Partner for ABR
Let's be candid. Producing a magazine of this kind is not easy in a country with a small population and one where the life of the mind (even if not 'the least of possessions', to quote Patrick White) rarely commands the attention or glamour often associated with sporting events and other fashionable distractions.
ABR is fully aware of this challenge and mindful of the speed with which literary or cultural magazines – however old, however worthy – can wane and disappear. In recent years much effort has gone into the development of a series of partnerships with key institutions. ABR readers will be familiar with the range of these partnerships, which have grown in scale and efficacy – for all parties, not just ABR. Our aim here is severalfold: to improve the magazine; to promote it better; to reach new readers; to preserve ABR for future generations of writers and readers; to draw on our partners' intellectual and creative capital to produce the finest, sharpest literary review this country can sustain.
Accordingly, we have much pleasure in announcing that ABR has a new sponsor, Ord Minnett, a leading wealth management group whose history spans nearly 150 years (three times as long as ABR's). This is a major development for ABR. Ord Minnett becomes our exclusive corporate sponsor.
Ord Minnett, which has fifteen offices throughout Australia, will be closely involved in ABR's patrons' scheme, an important venture into the area of cultural philanthropy. We will launch our patrons' scheme in several states later this year:
Ord Minnett is delighted to be the inaugural corporate sponsor of ABR,' said Dr Steve Christie, Head of Ord Minnett Private Wealth Management. 'Both Ord Minnett and ABR have long, proud traditions of working for Australians, both in the capital cities and across regional Australia. The natural fit between our two organisations is obvious.'

Ord Minnett recognises the importance to Australia of a proudly independent Australian champion of literary excellence. We believe that literacy, education and an appreciation of the ideal of excellence can only benefit Australians, including our clients. ABR promotes all those ideals.'
Calibre – the race begins
Given the national interest in the first Calibre Prize and the extraordinary response to the eventual winner, Elisabeth Holdsworth's 'An die Nachgeborenen: For Those Who Come After', there can be no doubt about the importance of this new prize, which is intended to foster superlative new essay-writing in this country.
ABR and the Copyright Agency Limited (CAL) have much pleasure in announcing the second Calibre Prize for an Outstanding Essay. The winner will receive $10,000, making it one of the world's most lucrative essay prizes.
Once again, all non-fiction subjects are eligible, from memoir to literary studies to politics to natural history. The terms and application form are available on our website, or from the ABR office: This email address is being protected from spambots. You need JavaScript enabled to view it.. The closing date is August 31, and the winner will be announced in December 2007.
Meantime, Elisabeth Holdsworth's essay, published in the March issue, is still available from our office.
Alex Skovron wins the 2007 ABR Poetry Prize
Melbourne poet Alex Skovron is the recipient of the third ABR Poetry Prize. We published his winning poem, 'Sanctum', in the March issue along with the five other shortlisted poems by Robert Adamson, Ross Clark, Stephen Edgar, Anthony Lawrence and Kathryn Lomer. The winner receives $2000.
Alex Skovron was born in Poland and emigrated to Australia in 1958. He has published four books of poetry, most recently The Man and the Map (2003). He has also published a novella, The Poet (2006). His several prizes include the Anne Elder and Mary Gilmore Awards, and the Wesley Michel Wright Prize for Poetry. His poem 'Boy' was shortlisted for last year's ABR Poetry Prize. On receiving the judges' congratulations for his dark, suggestive poem, Alex Skovron commented: 'I'm delighted and honoured to be this year's recipient of the prize. I wrote the first version of "Sanctum" in July 2004. It's an oblique, shadowy piece, an offbeat portrait framed within a telling that's imbued with at least some of the delirium of its protagonist. The other protagonist is, of course, language.'
The long and the short
We're not the only ones in the awards business right now. Each day, shortlists pour from our costive fax machine. Six books have been shortlisted for the National Biography Award. They are John Bailey's Mr Stuart's Track (Macmillan), Gillian Bouras's No Time for Dances (Penguin), Peter Doherty's The Beginner's Guide to Winning the Nobel Prize: A Life in Science (Miegunyah Press), Peter Edwards's Arthur Tange: Last of the Mandarins (Allen & Unwin), Meg Stewart's Margaret Olley: Far from a Still Life (Random House) and Jacob G. Rosenberg's East of Time (Brandl & Schlesinger), which seems to have been winning prizes since the dawn of time. The winner will be announced on March 27, while this issue is with the printer.
More on Miles
No nominations yet for the Miles Franklin Beat-up Award, so that bottle of red is ageing nicely in the cellar. Meanwhile, eight works have been longlisted for the Miles Franklin Award. A total of fifty-five works were entered. It's a smaller longlist this year: Peter Carey's Theft: A Love Story (Knopf), John Charalambous's Silent Parts (UQP), Sandra Hall's Beyond the Break (HarperCollins), Kate Legge's The Unexpected Elements of Love (Viking), Richard Flanagan's The Unknown Terrorist (Picador), Gail Jones's Dreams of Speaking (Random House), Deborah Robertson's Careless (Picador) and Alexis Wright's Carpentaria (Giramondo). The shortlist will follow on April 19.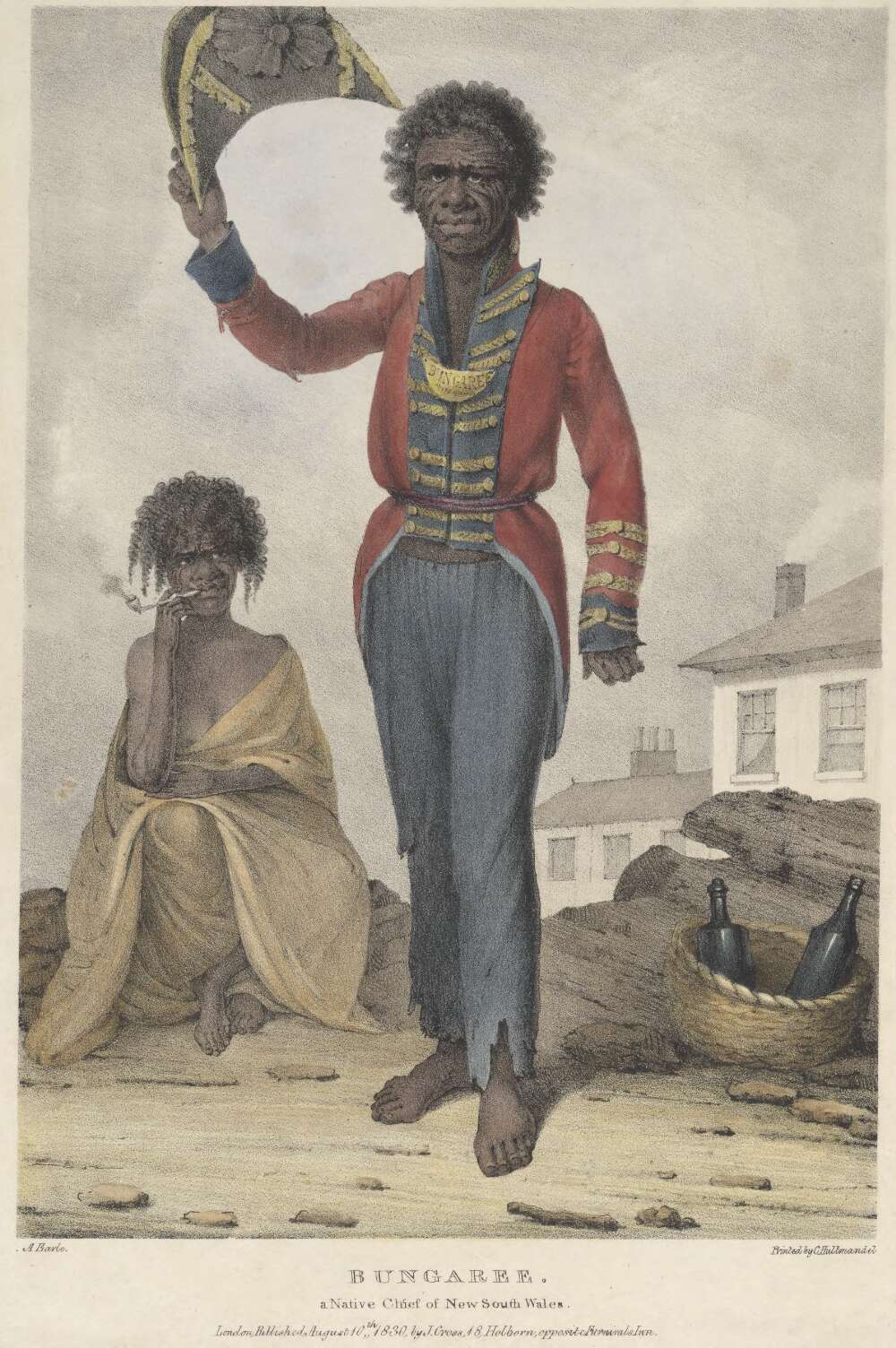 Note on our cover image
Augustus Earle (1793–1838)
Bungaree, A Native Chief of New South Wales
(London: J. Cross, 1830)
hand-coloured lithograph; 31 x 20 cm
Rex Nan Kivell Collection NK2652
Pictures Collection an6016167-2
National Library of Australia
Augustus Earle, artist and traveller, was born in London in 1793 and arrived in Sydney in 1825. In New South Wales, he travelled widely and sketched in the Illawarra district, Port Stephens and the Hunter River, the Blue Mountains, Wellington Caves and Port Macquarie. Returning to London in 1830, he published Views in New South Wales, and Van Diemen's Land, which featured this portrait of Bungaree. He joined HMS Beagle as artist supernumerary in 1831, befriending Charles Darwin. The Australian Dictionary of Biography (ADB) notes that Earle died in 1838, of 'asthma and debility', and describes him as 'a professional artist who painted highly competent portraits, landscapes, and genre scenes of colonial and shipboard life', adding that his Australian and New Zealand paintings of the later 1820s (now held in the National Library's Rex Nan Kivell Collection) have both historical and artistic importance.
Of Bungaree, a man from the Broken Bay group north of Sydney, the ADB notes that 'Various governors and colonels' gave him 'discarded uniforms and a cocked hat; in this garb he lived and slept. He affected the walk and mannerisms of every governor from Hunter to Brisbane and perfectly imitated every conspicuous personality in Sydney.' He accompanied Matthew Flinders in the Investigator in 1801–02 and was thus the first Aborigine to circumnavigate Australia. A valued communicator, he was commended by both Flinders and King for his bravery and character. He died in 1830 and was buried at Rose Bay.