Already, Anu Singh's story is grimly familiar. Now free again, just thirty-one, she has entered the popular pantheon of malefactors. Her attractive face appears in the newspapers, taut with self-justification. There is talk of a documentary. Notoriety, even a kind of celebrity – that amoral nirvana – is hers.
If Singh's deepest motivation for killing Joe Cinque (the victim in the title of Helen Garner's new book) remains unclear, the facts about her descent are all rehearsed in Joe Cinque's Consolation. Singh is the daughter of two Indian doctors. A bright student, she grew up in Newcastle, then moved to Canberra to study law at the Australian National University. Even when her nervous equilibrium began to suffer, she did well at exams. Garner describes her as 'a drastic dieter and a driven frequenter of gyms, obsessed with physical imperfections both real and imagined'. Proud of her waistline, Singh declared that she would rather be dead than fat. She was a committed recreational drug user: alcohol, cannabis, speed, ecstasy, cocaine, acid, crystal meth. (It's a miracle, really, that she retained her six-pack.) By 1995, when Singh met Cinque – an equable, malleable young civil engineer – she was using drugs daily. She developed eating disorders and became convinced that she was suffering from an incurable muscle-wasting condition. Apparently at Joe's suggestion, she began taking ipecac in order to purge. Ants, she fancied, were crawling beneath her skin.
Then, purportedly, Singh decided to kill herself. It was all rather protracted, and everyone in Canberra seems to have known about it. Many students at the ANU were aware of her intention, for Singh was needful and keen for an audience. Finally, in late 1997, with help from a docile and passive friend, Madhavi Rao, she learned how to inject herself with heroin and told the addicts who supplied her with it that she was planning to commit suicide and that someone was 'going with her'. (Another witness later claimed that Rao was aware that Singh planned to take someone with her.) The two women organised a dinner party, and a second when the first failed. Several students attended these macabre celebrations. One woman, informed that the purpose of the dinner was to allow the hostess (whom she had never met) to kill herself, decided to go along. It's a wonder they didn't record it on video.
The second dinner was on a Friday night. In a febrile state, Singh slipped Rohypnol into Joe Cinque's coffee. That weekend, she injected Joe with heroin several times. When he fell into a stupor, Rao seems to have taken fright and tried to distance herself from her domineering friend, though she returned to the flat and saw Cinque on the bed in a pitiable condition before fleeing (just one of the contentious acts in this story). Finally, even Singh became frightened. Chastised over the telephone by a dealer, and reminded that she might be charged with murder, she finally rang the paramedics, if evasively, refusing for crucial minutes to divulge her address. By the time the paramedics arrived, Joe was dead, having choked on his own vomit. Both women were charged with murder. Their first, joint trial, before a jury, was aborted (for reasons that should have been made clearer in this book, complex though they doubtless were). Singh, shrewdly opting to be tried by judge alone, was later convicted of manslaughter; Rao acquitted.
Helen Garner's involvement in this scarcely credible tale of wilfulness and will-lessness and worse seems to have been accidental, as was the case in the so-called Ormond Affair, which began with an almost reflex private letter from Garner to the embattled Master. Garner, as ever, is candid about her own dilemmas and circumstances. When a journalist tells her about the crime in early 1999, during Anu Singh's second trial, her marriage to Murray Bail has just ended and she is wary about becoming involved ('I was a woman at the end of my tether'). Reluctantly, she does so: 'I knew I had to get out of my own head, to find some work to do.' She heads off to Canberra and describes her motives in a remarkable passage:
I wanted to look at women who were accused of murder … to gaze at them and hear their voices … to watch the expressions on their faces … to find out if anything made them different from me: whether I could trust myself to keep the lid on the vengeful, punitive force that was in me, as it is in everyone.
What Garner discovers in Canberra shocks her. We don't expect her to like the accused. 'Anu Singh raised my girl-hackles in a bristle,' she admits. She watches Singh put up her hair in court and is surprised by her poise. The student world bewilders her: 'My imagination supplied, with distaste, a cartoon version of the scene: a candle-lit table of glossy students in their twenties, flashing their brilliant teeth and lashing about with their manes of hair.' Thus Garner caricatures our stereotyping imaginations. She is fascinated by the imbalance in the defendants' friendship, and wonders about these 'female doublings' and 'symbiotic power arrangements that are called friendships'. The trial leaves her feeling confused, unable to unpick the ethics. She is conscious of 'perving' on other people's tragedies.
Gradually, Garner steeps herself in the trial and becomes friendly with the Cinques. A letter from Singh, written while she was in custody and admitted as evidence, gets under her skin:
Confusion and repulsion at Singh's tone and crime give way to 'a contagion of horrified grief'. Garner is in court when Justice Crispin, after an amazing Freudian slip, clarifies his verdict and finds Singh not guilty of murder but of manslaughter because of diminished responsibility due to psychological disturbance. Like everyone present, Garner listens in awed dread as Joe's mother rages at Anu Singh; and she hears it all again when Madhavi Rao is acquitted.
Books such as Joe Cinque's Consolation often dignify the parents' agony and indignation. In Maria Cinque we have one of the great stalwarts in this literature of loss. She is always there in court – listening, occasionally hissing and weeping, raging when she must. 'They were keeping vigil,' Garner says, marvelling at the Cinques' stamina. Which is what Garner becomes conscious of doing. Even when she wavers, away from the court, and wishes she could stay out there in the sunlight; even when she meets with silence from Singh and Rao and recalls similar rejections when she wrote The First Stone (1995) – she knows she must go on: 'I was in the story now, and I would have to stay in it till the end.' For what are these books but tributes to the dead, swipes at our forgetfulness, minor consolations for the living: the parents and siblings and friends who feel devastated and betrayed? One thinks of all the unattested lives, the little murders.
In the book, as in court, attention is drawn to Mrs Cinque, who looms like a kind of moral rock in the company of these legal wizards and temporisers – not to mention the psychologists and psychiatrists for the defence who set out to mitigate Singh's responsibility (the Crown psychiatrists were not permitted to interview Singh). Garner, uneasy at first in Mrs Cinque's presence and intimidated by her rage, is increasingly drawn to her. She longs to know her better, but is afraid she won't be strong enough. When Garner is invited to stay for dinner after one interview, the reader almost wants to go with her, to experience that graciousness and character and resilience. Mrs Cinque makes you ashamed of the vapidity of modern society, with its endless indulgences and extenuations – its flaky moral relativism.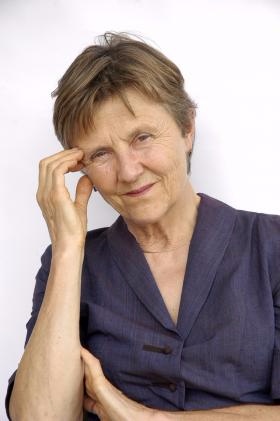 Helen Garner
(photograph by Nicholas Purcell)There is an elemental scene in court when Mrs Cinque lashes out at the fates. Garner says that 'such power dwelt in her that others shrivelled in her presence, became wispy, insubstantial … there rose from the depths of her a tremendous, unassailable archetype: the mother'. This ritual, this 'pietà', is surely one of the great moments in Australian reportage.
'Wispy' and 'insubstantial' are just two of the epithets that spring to mind to describe the law students who give evidence in both trials. A crucial one is Mr T., Anu Singh's supplier, who is given immunity to spare his mother's feelings. Like many of them, Mr T. is now a qualified lawyer. Another student lashes out at a barrister and says he feels 'harassed and nitpicked'. He doesn't enjoy giving evidence, and finds it all rather 'distasteful'. Garner is struck by their demeanour: 'resentful, wry, even defiant … like sulky children.' One student, told he is free to go, is neatly characterised thus: '"Cheers," he replied, and shambled off.' A young journalist tells Garner that she and other contemporaries of Singh at ANU, though 'distressed' by the killing, are now 'over it'. Garner is struck by people's acceptance of the idea of multiple suicides and of their collective refusal to become involved. All it would have taken was one call to the police or the Cinques or a university authority, and Joe (who seems to have been on the verge of leaving Singh) would surely have escaped. Their indifference and disengagement are breathtaking. It all reminds one of Claire's dark line in Edward Albee's A Delicate Balance: 'We're not a communal nation, dear; giving, but not sharing, outgoing, but not friendly.'
Pleasingly, Garner has not resorted to the fictive amalgams of crucial characters that were features of The First Stone. This is a work of great passion and of countervailing humanity – a book of witness, if you like. Garner involves herself intensely, almost physically, as when she longs to turn the clock back and 'grab [Rao] by the arm … drive like the wind to another city … get her away from voracious Anu Singh, her nemesis'. Garner says and reveals things about herself that few authors would. She is honest about drug use in her past and about the hurt she caused in her own sexual history. That's why we like her: she is so unguarded, incautious.
Garner is alert to nuances and details. She watches Mrs Cinque's tears disappear into the weave of her jumper; when a court official hands her Justice Crispin's final judgment, Garner notices that it is still warm from the printer. A good listener, Garner draws on Mrs Cinque's dreams, including a profound one in which Joe asks her what happened to him and she has to remind him. Determined to be impartial, Garner visits the Singhs. Anu's father offers to pay for the publication of her book and asks what's in it for them. (Interestingly, Mrs Cinque had tentatively sounded out Garner about the possibility of a portion of any profit going towards the creation of a scholarship to help people: 'I want people to remember him. Something in his name.')
Conscious of 'a big, ragged hole between ethics and the law', Garner ponders notions of responsibility, reparation and retribution. She questions her lifelong opposition to capital punishment. She feels for the Cinques, 'hauling behind them the fact of their son's murder, unsatisfied and unavenged. They would have to cram the huge foul beast into their house.'
The book closes with a brilliant series of interviews and vignettes. Garner visits Justice Crispin in his chambers, and, on hearing his explanations and clarifications, feels the anger seeping from her, and also feels compassion for this judge who has lost a child of his own and endured many calumnies. Finally, she settles down with Maria Cinque and watches a tender video of Joe, while the beautifully observed father, unable to bear it, smokes furiously in the next room.
In an exquisite irony, upon publication of this book Anu Singh was released from prison, where she had completed a Masters in criminology. In a letter to Good Weekend of August 7, she expressed surprise that Garner hadn't allowed her to explain ('from my perspective') what happened that night. 'How can I avoid personal "responsibility" when I live every day with the knowledge that it was my hand that killed Joe?' (my italics).
Joe Cinque is dead, as Helen Garner keeps intoning, and one can only imagine the nauseated outrage of his family.