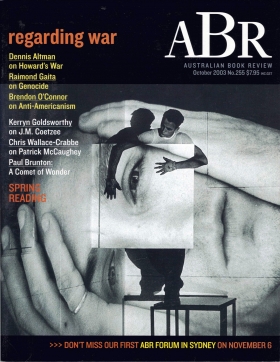 October 2003, no. 255
Kerryn Goldsworthy
Something like a double helix of dialectical thinking winds its graceful way through these 'eight lessons'. Ideas and theories about the nature of human (and other) life and how to live it, about the workings and the relative merits of logic, reason, belief, and faith, are sketched, rehearsed, debated, and set in ...
Robin Grove
There were seven of them, as in a folk tale. The family was too poor to put shoes on their feet. They lived in a village called New. Hard though life was, they knew it would be worse without Kindly Leader, who was carrying the land into prosperity and joy. At present, however, the seven sons had little to eat.
Tony Birch
Towards the end of his informative introduction, Robert Manne, the editor of Whitewash: On Keith Windschuttle's fabrication of Aboriginal history, outlines the collective intention of the book's nineteen contributors. He refers to Windschuttle's The Fabrication of Aboriginal History (2002), a revisionist text dealing with early colonial history and violence in nineteenth-century Tasmania, as 'so ignorant, so polemical and so pitiless a book' ...