Writers Festivals
Attending a poetry festival is not normally considered a life-threatening event (not even if you are prone to deep vein thrombosis from constant sitting) but when I told my family I was going to Struga, I was greeted by worried looks and expressions of deep concern. Struga is in the Republic of Macedonia. Just days before, Macedonian hotheads had set fire to a mosque in Prilip (not that far from Struga) in revenge for the death of a Prilip policeman in a road-mine explosion planted by Albanian terrorists. The hair-trigger tensions in that country were clearly dangerous, and possibly escalating.
...
(read more)
A friend describes the sensation as being in the movie set of your own life: everything is familiar, but not quite right. Auckland feels like an Australian city that has simply slipped a little, like the accent, to the east. There are hints of Hobart in the crisp sea and the misty sketched-in headlands. And of Sydney, in the over-abundance of harbour, the narrow streets of Ponsonby, which drop away towards the water, the houses filled with quiet light. Perhaps all Pacific cities look pretty much the same these days: here is the casino, the observation tower, the thirties picture palace turned into a Singapore-style mall, the narrow lane with outdoor tables under braziers; the same stands of Westpacs and McDonalds and Lush cosmetics stores. Perhaps what differentiates one city from another now is the sheer volume of traffic forced through its streets.
...
(read more)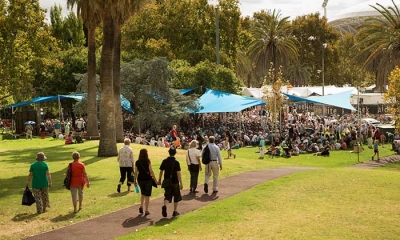 Have you ever noticed how otherwise intelligent journalists find it almost impossible to write seriously about Adelaide Festival's Writers' Week? Predictably, they seem compelled to joke about the prodigious quantity of booze consumed – but perhaps they have never attended a business or an academic convention. Then well-known visiting writers apparently must be called 'literary lions' – an alliterative cliché suggesting that these writers are somehow not really human. There is usually some marvelling at the miracle that for once the big names (the lions) haven't dropped out – as though there have been no Writers' Weeks since 1976, the last time they did drop out. And inevitably there is an awkward, giggly tone to their articles, suggesting acute discomfort or embarrassment.
...
(read more)