Theatre
Prayer Machine
A flawed but fascinating production
Red Stitch Actors' Theatre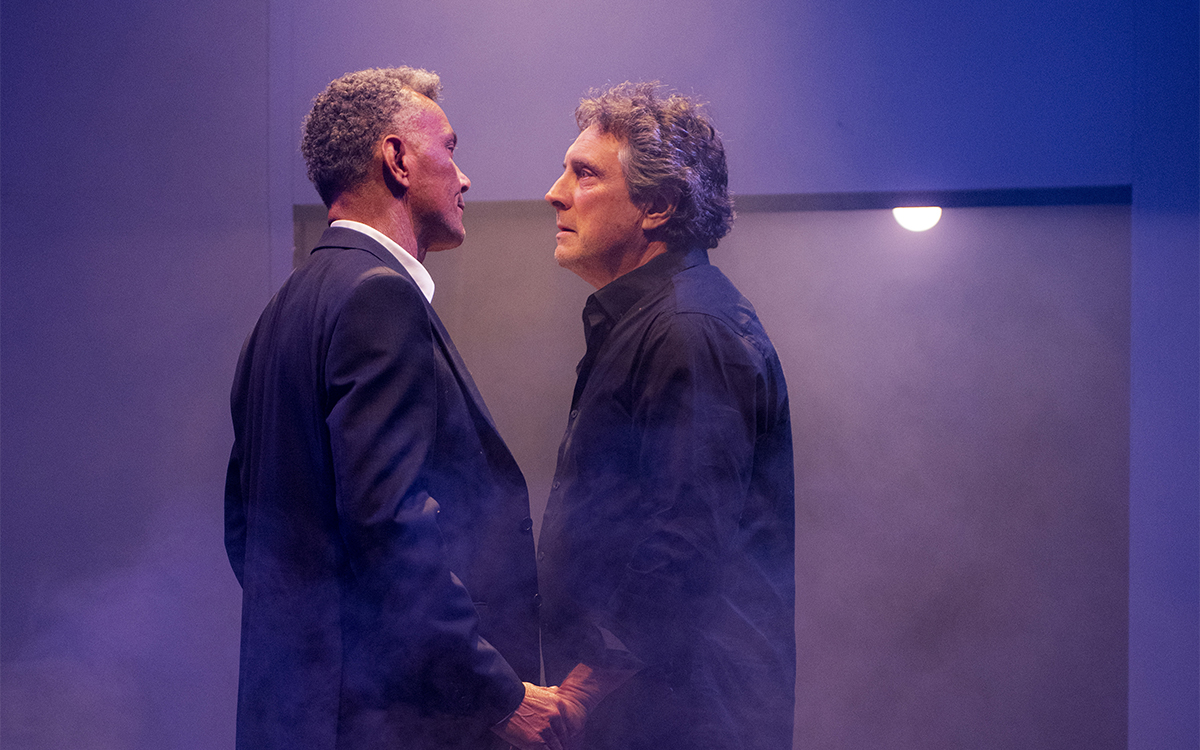 A Buddhist prayer wheel is a cylinder stuffed with sacred mantras and set on a spindle. Turning the cylinder is supposed to produce the same benefit as chanting the texts aloud. For true believers, contemplation of the endless turning of the wheel can be an aid to meditation and a way of drawing nearer to enlightenment. In nineteenth-century Europe, however, the wheel – dismissed by missionaries as a prayer machine – became a popular symbol for the withering effects of technology on the soul: an image of a hand-held mechanical device elevated to the medium of spiritual agency.
Australian writer Eric Gardiner's Prayer Machine, produced by Red Stitch, is a brooding, grey-toned play about two middle-aged men – former high-school lovers – who reconnect after half-a-lifetime apart. In five scenes of muted adagio, they discuss old times, explore their mutual attraction, and try to predict what the future may hold. Cantona (Joe Petruzzi) is the needier of the two. He has been incapacitated by his longing for romantic reunion. His life has been on hold. The other, Peterson (Patrick Williams), is more ambivalent. He has a wife and children and a flourishing stock portfolio. Although he admits that he sometimes finds worldly success oppressive, he is not present – not fully present – in the way Cantona wants him to be.
For Peterson, their clandestine hook-up in an ugly hotel room is a way of going off-grid and getting away from himself. In one striking moment at the end of the first scene, he says he wants to put the lamp on its side so he can watch their shadows – black and massive – float across the wall while they make love on the bed. For Cantona, the overlapping shadows signify two lovers becoming one soul. Peterson, however, will have none of this. The shadows, he says, are blank nonentities. And that's what he wants to be, too, if only for a night. His reunion is a trip into the dark backward and abysm. What he craves is temporary dissolution in a past that he doesn't remember.
Gardiner's script – aphoristic, protracted, and at times pretentious – still feels like a work in progress. This production is nonetheless made tolerable by the fine performances of Petruzzi and Williams. Petruzzi, who recently had great success at Red Stitch with Joanna Murray-Smith's lyrical monologue American Song, plays Cantona as a case of arrested development. He gives the impression of a child trapped in the bulky prison of a man. We are told that Cantona works as a waiter at a local restaurant, but he is a waiter in a more profound sense. He is waiting for his life to start, though he does not believe that it ever really will.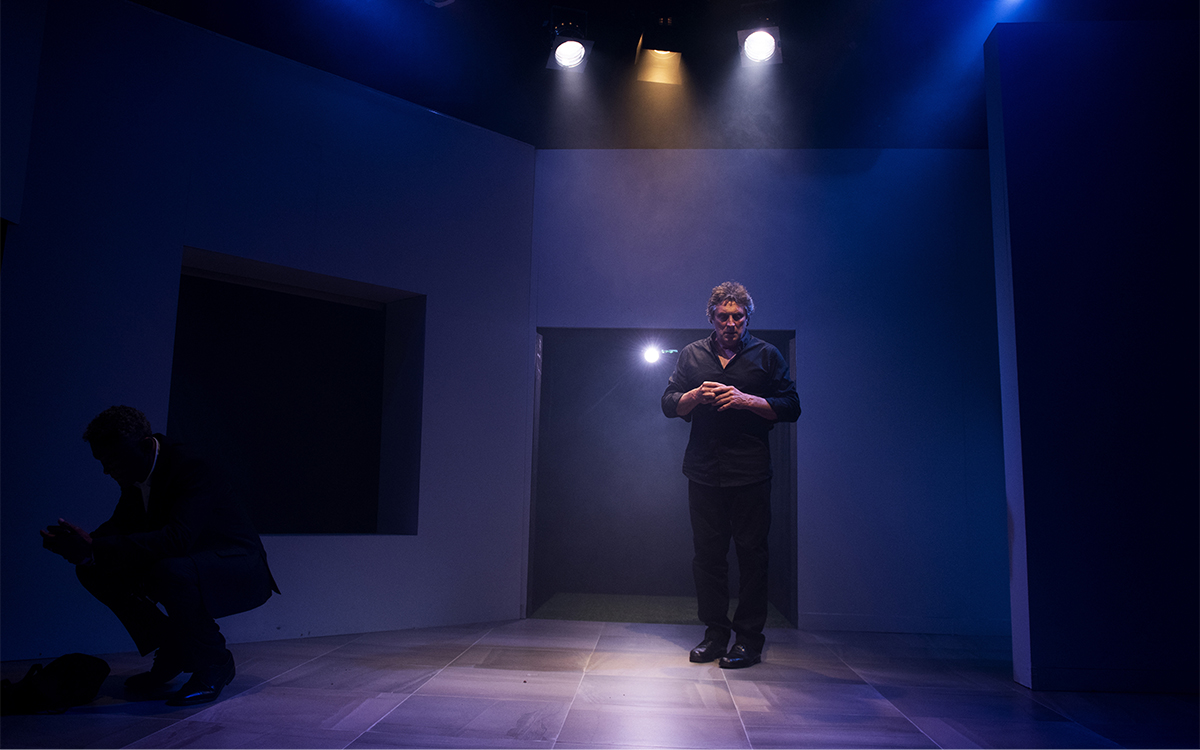 Joe Petruzzi as Cantona in Prayer Machine (photograph by Jodie Hutchinson)
Cantona is unsuited to modern life, with its superficial frenzy and perpetual movement. It is not that he is nostalgic, exactly, but his mind is always somewhere else: in a dreamworld where time has stopped, a place where he and his one-time lover are forever. Peterson, on the other hand, is, if anything, too well suited to the present. Peterson describes himself in terms of ecological specialisation: he has adapted to high-speed flows of information and money. He is at home in a world shaped by instantaneity and perpetual displacement. To achieve this evolutionary feat, however, he has had to narrow his emotional range. He boasts that he no longer dreams and that he cannot make new memories. He appears indifferent to his family. And he remains coolly aloof in his relations with Cantona.
It's a sharp, highly controlled performance by Williams. Even as he flicks the conversation between apparently random topics, he remains in charge of the situation. It's a performance with a sort of thin, shimmering quality. Williams smiles and smiles, with the confidence of one who knows that he knows all that he needs to know. And he waves his mobile phone around like a magic wand. The phone itself is not a prayer machine, but it is part of the prayer machine way of life. His phone is the device through which he has alienated the desires of his heart. Everything he needs is in his phone, he says, holding it aloft.
At times, Williams seems like an advanced cyborg or higher-order replicant, and Prayer Machine does have a distinctly uncanny ambience. It is marked by discords and discontinuities. The first two scenes have a restrained naturalistic polish. The last three scenes, however, are stranger, more jagged, more awkward. All kinds of odd matter float to the surface. There's even a bizarre monologue about a traumatic school camp – a classic example of what David Mamet would call a 'death of my kitten speech' – that seems to belong to a different play entirely. Ultimately, despite the shift in tone, the play never makes the transition from compelling scenario into drama of substance.
Krystalla Pearce's direction is subtle but effective. The lighting and sets – Rachel Lee and Bethany J. Fellows respectively – are perhaps drearier than is necessary to convey the featureless anonymity of the nowhere places in which Cantona and Peterson arrange their meetings. And the play is too long. At eighty minutes, Prayer Machine is not a marathon, but there is really only sufficient material here for a chamber play.
Prayer Machine was created as part of Red Stitch's INK program for developing new plays. And it's terrific that the company was able to produce this work by an emerging Australian writer, despite the delays and distractions of the last two years. Whatever its flaws, Prayer Machine is a fascinating exploration of the connections between pop culture, nostalgia, technology, politics, and love under the fragmenting affective regime of hypercapitalism. Gardiner is certainly a playwright worth taking seriously.
---
Prayer Machine (Red Stitch Actors' Theatre) is written by Eric Gardiner and directed by Krystalla Pearce. The season continues at Red Stitch, East St Kilda, until 28 November 2021. Performance attended: 17 November.