Theatre
Titus Andronicus
Bell Shakespeare
What can you do with Shakespeare's Titus Andronicus, a play full of murder, mutilation, and rape, culminating in a mother eating a pie filled with her sons' ground-up body parts? For centuries it was dismissed as the early aberration of a genius, a sop to the bloodthirst of Elizabethan audiences (the play may have been performed as early as 1590). Since Julie Taymor's film Titus (1999), it has become a testing piece for directors, some of whom consider its violence particularly relevant to our times.
In Adena Jacobs, Bell Shakespeare has found a director with the courage to mould the play to a new vision, one that explores the monstrous nature of the human body and the fearful power of parents over children. In 2018, for the Sydney Chamber Opera, Jacobs directed The Howling Girls, a libretto-free opera based on reports of the uncontrollable screaming of five women after the 9/11 crisis in the United States. Eugyeene Teh designed that opera and works again with Jacobs to create the projections, soundscape, and imagery for a confronting series of tableaux drawn from Shakespeare's play. Jacobs has also directed productions of Oedipus Rex and The Bacchae and what she called 'a theatrical poem' version of Frank Wedekind's Mine-Haha, or On the Bodily Education of Young Girls for her company Fraught Outfit. This version of Titus Andronicus might also be called a theatrical poem, probing the imagery of the play rather than its savage action, so that Shakespeare seems more like Euripides than a Renaissance writer.
Each tableau/scene is given a surtitle. The first is 'The Mother'. Titus Andronicus, played by an androgynous Jane Montgomery Griffiths, stands tall in a long skirt among a group of child effigies, while Melita Jurisic as Tamora, the defeated leader of the Goths, cowers in a corner. Titus is both grieving mother – twenty-one of his twenty-five sons killed in battle – and punitive father. He soon sacrifices one of Tamora's sons and impulsively strikes down another of his own for daring to contradict him. The second tableau, 'The Snuff Film: Lavinia's Rape and Mutilation' thankfully shifts the most violent acts out of sight in a child's cubby house where Lavinia, in a red riding hood, is dragged by the masked sons of Tamora. In 'The Sleeping Beauty', she appears wrapped in plastic and strapped to a hospital gurney with a cone-shaped mask covering her face, while Titus and his brother Marcus (played by Josh Price) declaim about honour and justice. The victim, Titus's only daughter, must be silent while projections behind the scene imply the dreadful nature of her wounds as blood pours from a mouth, over and over again. 'The Baby' focuses on the birth of Aaron and Tamora's baby, which is delivered to Aaron by a crone (Catherine Văn-Davies in a grotesque rubber mask), who later performs an anti-erotic striptease revealing her vagina as the source of a wad of indeterminate detritus. By the end of the play, we've seen Titus and Saturninus knocking over child effigies with bowling balls, a baby threatened with hanging, and, of course, the enacting of Tamora eating her sons' bodies.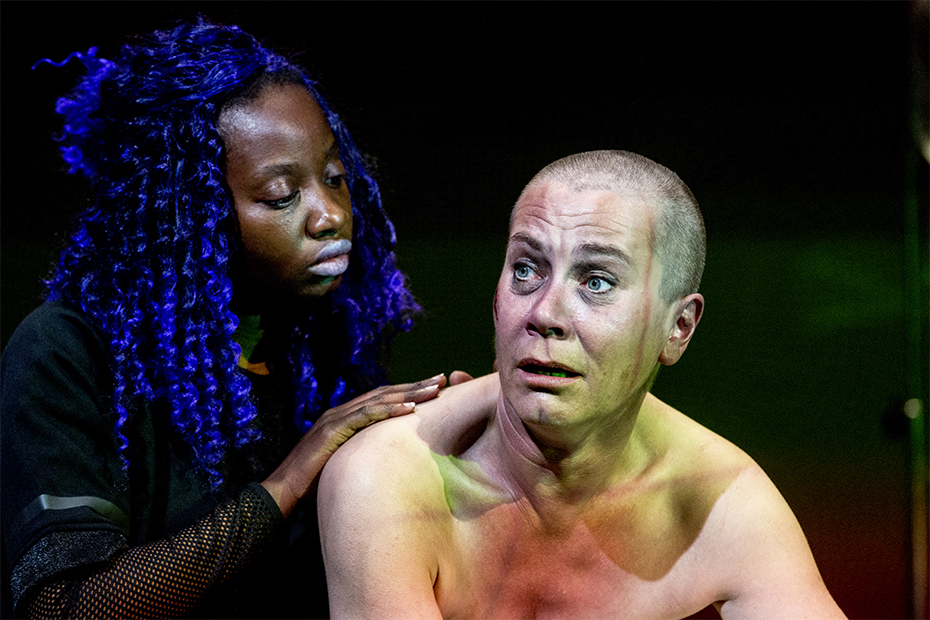 Tariro Mavondo as Aaron and Jane Montgomery Griffiths as Titus in Titus Andronicus (photograph by Brett Boardman)
Here, gender is arbitrary. The crop-haired Montgomery Griffiths wears prosthetic breasts, which are later peeled away to reveal her real breasts; one of her bare legs is buckled into a leather brace, suggesting Titus's warrior role. The silent Lavinia (played by Jayna Patel), deliberately unsexualised, wears what looks like a hospital uniform. The crone delivers Aaron's baby from a prosthetic womb that is later strapped on by Aaron, its father, played by a woman. Tamora's sons appear to be children behind those masks, rather than grown men who can rape and murder. The only adherence to the particular indications of the text is the choice of Tariro Mavondo to play Aaron, the manipulative blackamoor. This gives the play's references to black devils a racist resonance.
The projections at the back show close-up images of the skin of various actors from cameras positioned on the stage, the gaping of bloody mouths, and the explorations of an endoscopy camera. At various points, actors are smeared with shit, bloodstained urine, and blood. The abject nature of the human body is inescapable. All the while there is a humming soundscape behind the action.
Shakespeare's play might well have been lost behind this bombardment of imagery but for the magnificent presence of Montgomery Griffiths, who delivers every line with intelligence and clarity. She has such authority on stage that she commands attention through all the distractions of visual and sound projections, even when her voice must compete with other sounds. It is a joy to watch such a confident performer of Shakespeare's verse.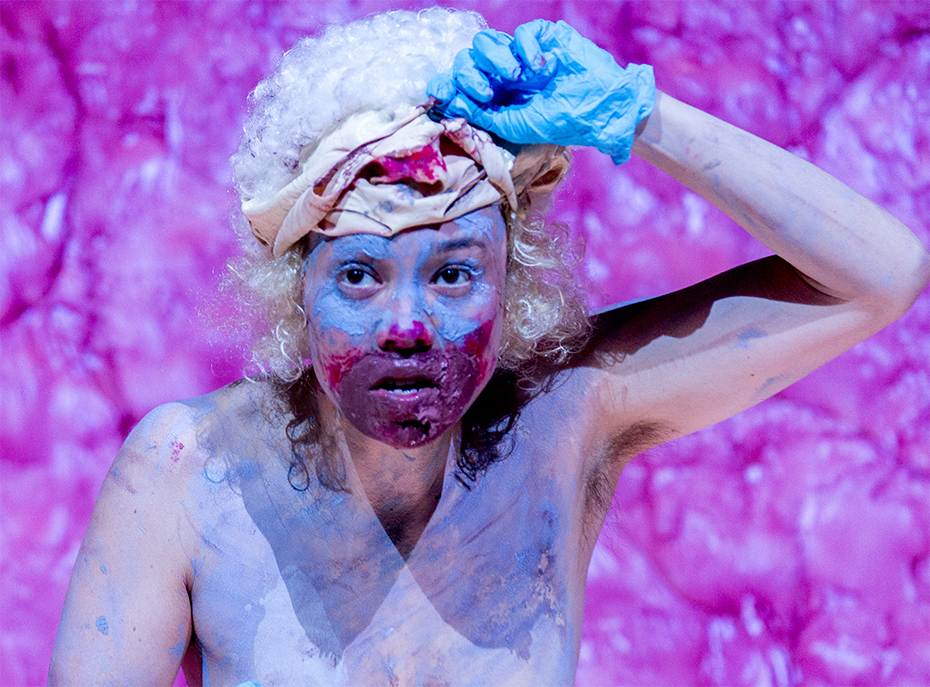 Catherine Văn-Davies as Clown in Titus Andronicus (photograph by Brett Boardman)
What can it all mean? The stylised nature of this production mutes the violence of the play. Its monstrosity lies in the vulnerable human body rather than in the rapid disposal of individual characters. Their moral states are hardly an issue in a play whose main characters seem bereft of humanity, so this production's refusal to invite sympathy for any character appears totally appropriate. Here we see no explicit rapes or murders, no trunkless heads or disgusting cannibal pies. The grotesquerie is all within the body, with its pink and bloody interior, its bleeding stumps or haggard faces. These de-eroticised bodies have a frightening quality, partly because of their clinical distance from individualised human beings. When Chiron and Demetrius, known as Rapine and Murder by the end of the play, are no more than figures in rubbery masks, somehow eating them is no longer horrific. Lavinia, Titus's only daughter – the last surviving victim – is dispatched in a casual gesture at the end. After all, she was only another body to be disposed of.
In her director's note, Jacobs links the gruesome elements of Titus Andronicus to those of fairy stories, suggesting that these stories teach children that violence and pain are inevitable features of human life. The nightmare quality of what she presents on stage, then, might be seen as an exposure of our deepest fears: for children, the threat of parental cruelty; for adults, the fear of the fragility of our bodies.
See this production of Titus Andronicus if only for Montgomery Griffiths' performance. But don't take the children.
---
Titus Andronicus is being performed by Bell Shakespeare at the Playhouse, Sydney Opera House, from 27 August to 27 September 2019. Performance attended: 30 August.