In some ways, the title of this forty-year survey is at odds with Juno Gemes herself. There is nothing quiet about Gemes's vision or her passion for telling stories that challenge preconceptions and cultural norms. Perhaps where the notion of 'quiet' comes from is in her subtle narratives, which are wrapped in concepts of the ordinary. Then there are images that leave no doubt about the artist's intent.
The Quiet Activist features nine bodies of work, the majority of which deal with the struggle of Aboriginal peoples to be seen and heard, but the survey is no more one-dimensional than the artist. It taps a multifarious seam of creative thought that is underpinned by a deep commitment to humanity. It is also demonstrative of Gemes's respect when conveying stories that are not her own; much of her work exudes a thoughtfulness and depth that comes from a collaborative, consultative approach.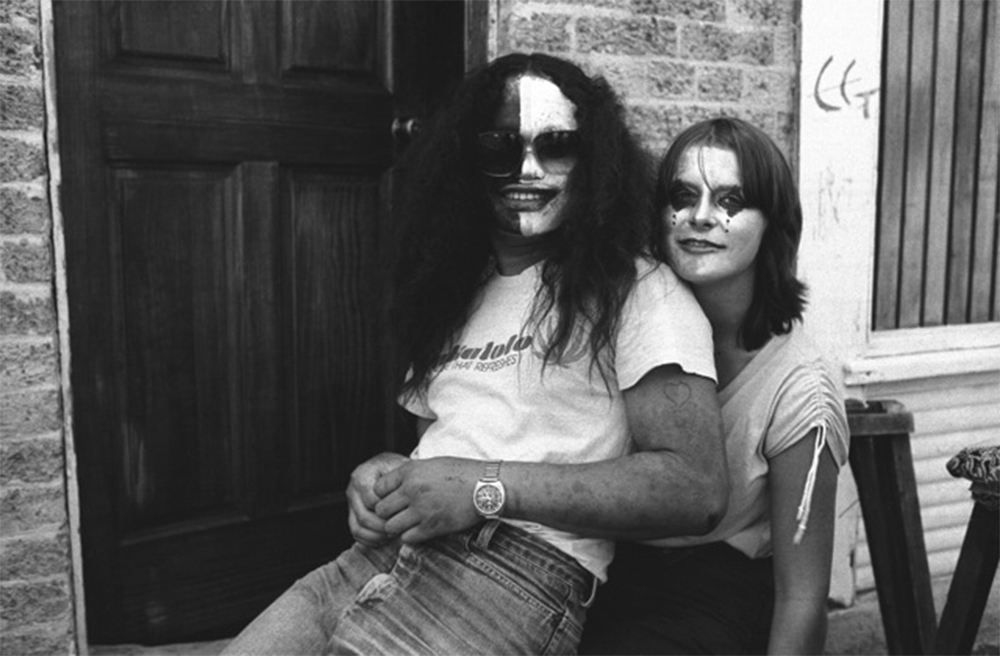 KISS Party Time 1977, Juno Gemes
Over a career spanning more than forty years, Gemes's work has ranged wide, from experimental filmmaking and theatre in the 1960s, to protest work sustained for the best part of three decades. The eyes of an outsider can often reveal the gaps in a country's historical narrative. In 1949, Gemes came to Australia from Hungary as a child of postwar Europe. As an adult she became curious as to why Australian history seemed to begin with the arrival of the First Fleet. Mindful how 'Aboriginal peoples were invisible and ignored', Gemes determined to play her role in bringing to light a forgotten people. Not that hers was a straightforward journey: the oeuvre reveals the twists and turns that have resulted in such a complex archive, a collection that is reflective of a life well lived, rich with the curiosity, and courage, of an artist who doesn't take 'no' lying down.
Gemes's first encounter with photography came in 1964 with Nothing Personal by James Baldwin and Richard Avedon, a book that would become seminal in her own work. Later she photographed Baldwin on the roof of a hotel in London, a photo shoot that was the product of a serendipitous meeting. One of the treasures in the survey is Gemes's personal memorabilia, including a scrapbook documenting her portrait session with Baldwin. In the vitrines there is also her thirty-year-old print book that features notes, sketches, and information on various photographs, giving a unique view into the mind of a working photographer.
In the late 1970s, Gemes gained firsthand insights into Aboriginal Australia, working on the film Uluru as a researcher. Immersing herself in a 'fringe camp on the outskirts of then racist Alice Springs', Gemes says it was 'the steepest learning curve of my life', a profound experience that led her to embrace photography as a vital conduit. More so than the moving image, photographs for Gemes became a way to break through what she saw as 'this barrier of invisibility'.
One of the most compelling aspects of Gemes's documentation of the Aboriginal communities in which she worked is the sense of longevity and continuity. She hasn't parachuted in, taken a few snaps, and left to move on to the next thing. She's stayed, investigated, explored, returned, commiserated, raged, and celebrated with those who have trusted her with their story. Gemes's pictures of the Uluru handback in 1985 provide a solemn yet mystical commentary on the cultural traditions and the significance of the occasion. Her photographs of the twenty-fifth-anniversary celebrations are images of joy. They express the power of the women elders while also capturing their playfulness. The photograph of Daisy Walkabout winning the Billycan Race is priceless.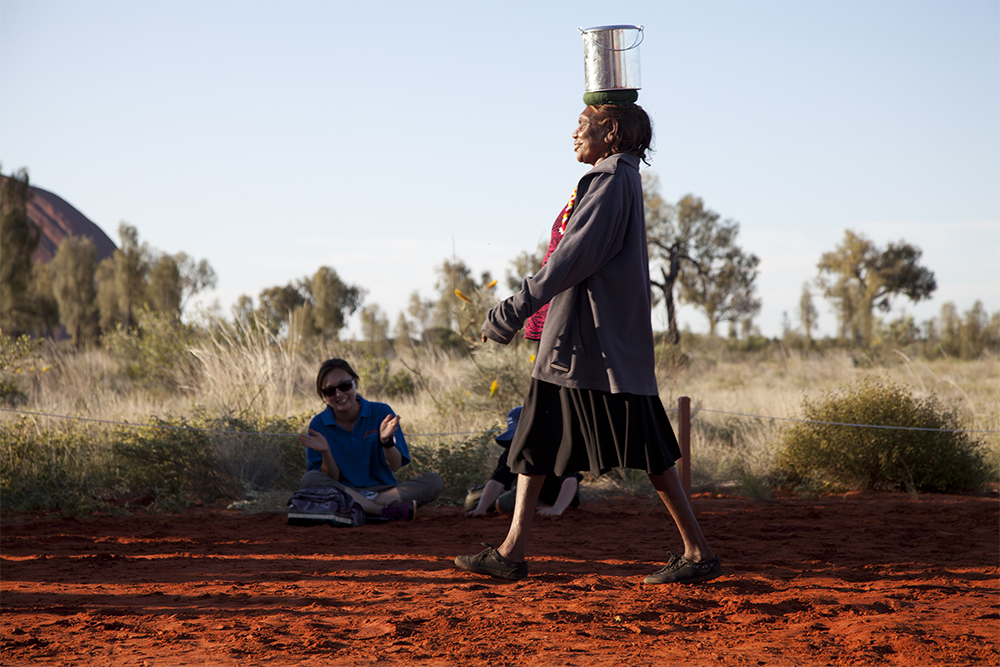 Daisy Walkabout wins Billycan Races, Juno Gemes
Gemes's work is not only about activism, although this is a central theme. It also captures a side of Aboriginal culture that is rarely seen. Consider the photograph taken in 1977 in Redfern during NADOC celebrations where a young couple are wearing KISS make-up. No one ever talks about young Aboriginal people loving rock n' roll. 'That's so true,' says Gemes in conversation. 'There was a house band on Galiwin'ku [Elcho Island] too and they used to play Patti Smith!' It is these human connections that resonate in Gemes's work.
A feature of the survey is a collection from Proof: Portraits from the movement 1978–2003, an exhibition for which she has received international acclaim. This toured for five years and gave Gemes her first solo show at the National Portrait Gallery in 2003. The series comprises portraits of extraordinary Aboriginal people: academics, political activists, artists, poets, and dancers. Included are two striking portraits of Marcia Langton, one taken in 1982 in Brisbane at the National Land Rights Action March, and a contemporary portrait photographed in 2003. These portraits of Langton convey both the strength of individual character and of a resolute people.
Another engaging series is the conceptual Terra Ancien/Terra Nova (2003–7), where Gemes's training as a theatre director (she is a NIDA graduate) is evident. In highly stylised tableaux, Gemes creates a narrative of white settlement from the perspective of a young English couple who are thrown into this wild, unfamiliar country. One of the most provocative and powerful images in this collection is that of a young woman, pregnant, naked, and squatting as if to give birth, the backdrop a dramatic desert landscape. 'I may cop a bit a flak for this one,' says Gemes, her eyes twinkling at the prospect.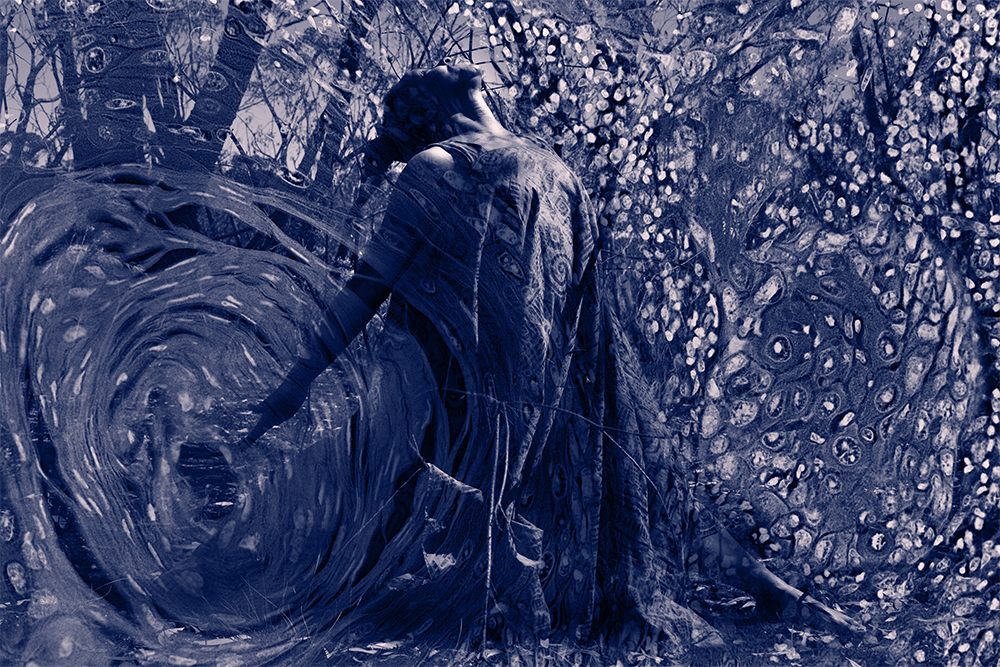 Love Cancer, Aku Kadogo and Juno Gemes
Also on show is The Language of Oysters, a meditative, lyrical commentary on life on the Hawkesbury River, where Gemes lives. Her most recent work is included, a collaborative multimedia piece called Love Cancer, which combines performance art with still photography. Here, Detroit-born dancer and academic Aku Kadogo performs in bush settings that Gemes has photographed and over which the actual cells of cancer have been layered. It is visually exciting, challenging work. At seventy-five years of age, Gemes shows no signs of slowing down.
Juno Gemes: The Quiet Activist, A Survey Exhibition 1979–2019 reveals the diversity of Gemes's practice. More than this, the collection resounds with the rhythm of creative exploration undertaken with an open mind, a journey that has positioned Gemes as one of our most important historical chroniclers. We are fortunate to see through her eyes.
---
Juno Gemes: The Quiet Activist, A Survey Exhibition 1979–2019, curated by Rhonda Davis and Kate Hargraves, is being displayed at the Macquarie University Gallery as part of the Head On Photo festival until 28 June 2019.