It is not entirely hyperbolic to claim that for more than half a century, Dario Fo and his partner in life and performance, Franca Rame, were the theatrical conscience of Italy. In a variety of theatrical forms and with a series of different companies, they toured the country, playing to huge and varied audiences who responded to a style that could be called a combination of the Giullare, the medieval strolling players, and Brecht, with a bit of Feydeau thrown in to the mix. The Giullare used music, mime, dance, acrobatics, and improvisation to put their stories across and, like Fo and Rame, were constantly in trouble with the authorities they satirised. Although politically dedicated to the left, Fo and Rame attacked the hide-bound, bureaucratic nature of the Italian Communist Party as much as the still fascistic far right. This irreverence did not come without cost. In 1973, Rame was abducted, tortured, and raped by men whose connection to the right-wing authorities was pretty obvious. Far from stopping her, she turned the experience into a devastating monologue.
In much the same way, Fo took actual events and built plays around them. 'Our theatre is a throwaway theatre '[un teatro da bruciare],' he said, 'a theatre which won't go down in bourgeois history, but which is useful, like a newspaper article, a debate or political action.' Accidental Death of an Anarchist – first performed in Milan, in 1970 – has turned out to be anything but throwaway. It is Fo's most performed work, but it too was taken from an actual event. On 12 December 1969 a bomb exploded at the National Agrarian Bank in Milan's Piazza Fontana, killing seventeen people. An anarchist railway worker, Giuseppe Pinelli, was picked up by the police in connection with the bombing, and three days later was seen to fall to his death from a window of the Milan police station. The three officers who interrogated him were put under investigation, but it was concluded that the death was due to 'accidental causes'.
Fo takes this event and satirises the ludicrous attempts the authorities made to cover up the obvious, using transcripts of the investigations and police reports. He introduces a character called the Maniac who exposes the brutal absurdity of the police response. He called the play a 'tragic farce'. On the one hand, he has said that his theatre 'shouldn't just be a documentary theatre of cold information … There must be a vast mechanism to make people laugh about dramatic events.' But he also said that at the first performances, 'Pinelli, or rather his corpse and with it the corpses of the massacre were a constant presence on stage.' To succeed, the play has to work on two levels. The farcical one must always be linked to the underlying seriousness of the situation.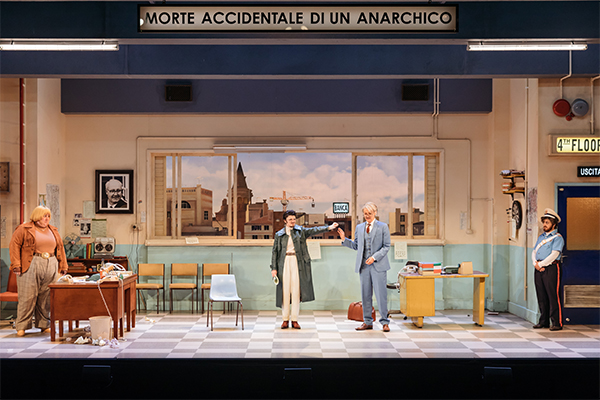 The set of Accidental Death of an Anarchist. (Photo by Daniel Boud)
Fo realised that, as the actions on which the play is based receded in time and as it was performed in other countries, some of the political details would be lost. In the introduction to an English version he writes, 'the English public … cannot feel the real, tragic, tangible atmosphere which the Italian public brought with them when they came to the performance. It can share this … by substituting for the violence practised by the powers in Italy … equally tragic and brutal facts from the recent history of England.'
It is this relevance that Sarah Giles's lightweight, facile, and occasionally amusing production misses out on completely. Although it is billed as an adaptation, Giles and Francis Greenslade's version is pretty much a direct translation. Ironically, Fo's script, which cries out for modification, is treated with misguided reverence – a respect that the Sydney Theatre Company no longer affords Anton Chekhov.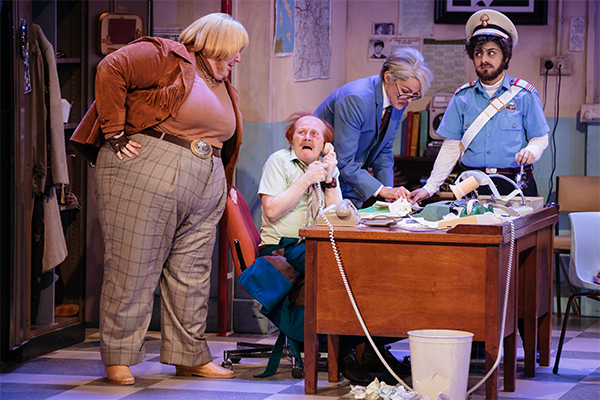 Part of the cast of Accidental Death of an Anarchist. (Photo by Daniel Boud)
Fo was always intent on breaking down the fourth wall between actors and audience and his performances were full of ad libs and direct address, but the Sydney Theatre Company stick rigidly to the script, as though they were playing a traditional Whitehall farce. This is a pity since the play has been cast from strength, and if these actors had been given freer rein, something of the play's ultimate power might have come across.
As it is, Julie Forsyth's none-too-bright Bertozzo and Bessie Holland's thuggish Pisani have their moments, but there should be a threatening quality to the police. We need to feel that, underneath the humour, there is a real sense of brutality. Caroline Brazier holds her own as the Superintendent, but Amber McMahon is a disappointment as the Maniac. What Fo looked for in actors was what he called "souplesse": 'What distinguishes great actors from average actors is their 'souplesse' … They don't show that they are exerting themselves. They make you forget they are acting.' McMahon works very hard, as does the rest of the cast, but never dominates the proceedings as she should. This lack can be put down to Giles's direction. Had McMahon been allowed to establish a rapport with the audience by ad libbing and directly addressing them with more than a couple of asides, the Maniac would have become the link between actors and audience that Fo intended.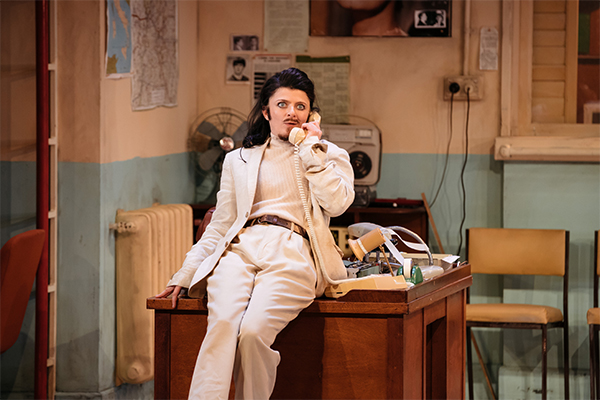 Amber McMahon as the Maniac in Accidental Death of an Anarchist. (Photo by Daniel Boud)
It is a pity in a time of increasing authoritarian brutality around the world that the power and relevance of Fo's remarkable play should be so comprehensively missing in this production.
Accidental Death of an Anarchist, presented by the Sydney Theatre Company, is being performed from 10 September to 27 October 2018. Performance attended: September 14.
ABR Arts is generously supported by The Ian Potter Foundation and the ABR Patrons.