Although his natural humility would make him dislike my saying so, Tim Winton is these days omnipresent in our national culture. Anywhere you look there is bound to be a new book, a television or film adaptation, or a stage adaptation, as with the State Theatre Company's revival of That Eye, the Sky, adapted by Justin Monjo and Richard Roxburgh from Winton's 1986 novel and first performed by Burning House Theatre Company, with David Wenham and Hugo Weaving, in Sydney in 1994. It is easy to forget Winton was only twenty-five when he wrote That Eye, the Sky, part of a flurry of short early works that, in hindsight, look like a kind of apprenticeship for Cloudstreet (1991), the 'slab of a book' – since adapted for radio, stage, television, and opera – that confirmed Winton as a major Australian author.
That Eye, the Sky, like Cloudstreet, is an ebulliently vernacular story of a working-class family in crisis, grounded in what Tom Burvill has called 'the myth of the loveable Anglo-Celtic Aussie battler'. Both are poised between the hard-scrabble of life in suburban or semi-rural Western Australia and the metaphysical realm, with its promise of consolatory faith. Characters on the cusp of adulthood are key (as Gail says in one of the short stories in Winton's The Turning [2005], 'every vivid experience comes from your adolescence').
That Eye, the Sky, in the way of formative novels, is the more overtly autobiographical of the two. Its narrator is Morton 'Ort' Flack, a curious but obtuse twelve-year-old whose father, Sam, is paralysed by a car accident. A mysterious vagrant, Henry, enters their lives and offers to care for Sam, a saintly intervention that leads to the Flacks' conversion to Christianity ('Jesus, fix us up,' pleads Ort, 'we're breakin' to bits here'), save for Ort's troubled, sexually precocious sister Tegwyn.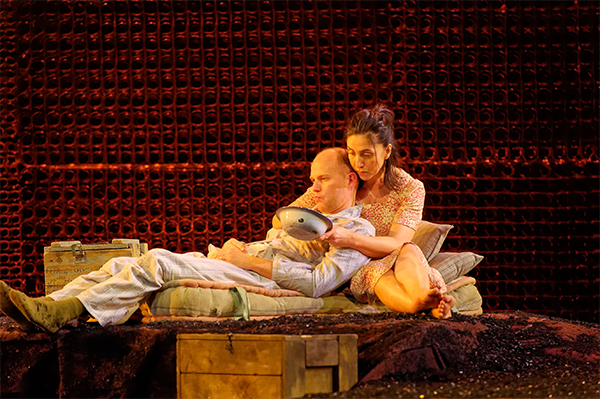 Bill Allert as Sam and Elena Carapetis as Alice in That Eye, The Sky (photo by Chris Herzfeld)
Monjo and Roxburgh have compressed these events – all drawn from Winton's own childhood, as described in his memoir The Boy Behind the Curtain (2016) – into a play that runs a little over an hour and a half. It is, let me say immediately, not a good adaptation, which is why it has rarely been revived in the twenty-five years since it was written. To be fair, this is only partly Monjo and Roxburgh's fault (Monjo also adapted, with Nick Enright, the stage version of Cloudstreet first seen in 1997 in the celebrated production by Company B Belvoir, directed by Neil Armfield). That Eye, the Sky, a deeply interior novel, is not a natural fit for the stage, its plot a loose, roiling series of incidents that lacks the centrifugal force necessary for it to succeed in the theatre. While it carries the essence of Winton's exuberant style, the play's ultimate effect is flattening. It asks little of its characters, who barely change, and even less of the world – permissible perhaps in a novel as richly textured as its source material, but unforgivable in a work of drama.
The condensing of the novel's events, though unavoidable, is similarly problematic, leaving insufficient room for the characters to live and breathe. In this context, relationships feel thin or false, especially the one between Henry (Christopher Pitman) and Tegwyn (Kate Cheel), freighted in the novel with psycho-sexual intrigue but here reduced to unedifying spectacle. That the play is, at the same time, curiously unwieldy – I wondered, for example, why the characters of Mr and Mrs Cherry, the Flacks' unlikable neighbours, were not excised, given how little stage time they have – speaks volumes about the misguidedness of this adaptation.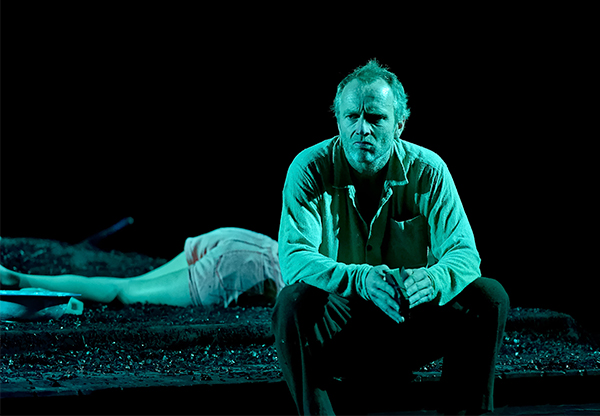 Christopher Pitman as Henry Warburton in That Eye, The Sky (photo by Chris Herzfeld)
I had hoped that director Kate Champion, who provided the choreography for Armfield's Cloudstreet, would bring some much-needed formal spark to this production, but it remains tinder-dry throughout. Its physicality extends little beyond Ort, played with youthful brio by Tim Overton, running seemingly endless laps around Geoff Cobham's set, a sprawling mound of dirt and detritus aproned by a pool of water, which seems to have been designed as though no actor would ever actually have to use it – one reason, I suppose, why this production's pacing feels so off, and so at odds with the breathlessness of Winton's prose. Overton, Pitman, and Cheel – as well as Ezra Juanta in the role of Fat Cherry, Ort's rambunctious best friend – inject some life into the text, but for the most part the cast appear lost, defeated.
However unpromising the material, perhaps Champion simply wasn't given the free hand to make of this adaptation something more than the lifeless husk we're left with. Certainly, her previous directorial and choreographic credits suggest an artist not averse to risk or formal invention. But by the end of what seemed a long hour and forty minutes in the theatre, I found myself yearning for something – anything – from left field to enliven the play's rudderless, one-thing-after-another dramaturgy. It's always a bad sign when you find yourself caring less about the characters than the actors – wasted, and in imminent danger of falling over something, if not the set, then the stumbling block that is this most ill-conceived of adaptations.
That Eye, the Sky, presented by the State Theatre Company, continues at the Dunstan Theatre, Adelaide Festival Centre until 16 September 2018. Performance attended: August 28.
ABR Arts is generously supported by The Ian Potter Foundation and the ABR Patrons.