'No one has a monopoly on suffering,' says Wajdi Wehbe (Camille Salamé), the barrister representing Lebanese Christian mechanic Toni Hanna (Adel Karam) in his law suit against Palestinian Muslim refugee Yasser Abdallah Salameh (Kamel El Basha). Wehbe's statement is intended to address what he perceives as an imbalance in the level of sympathy and support offered to the (minority) Lebanese Christian community. To what degree suffering can excuse, not just explain, retaliatory violence lies at the heart of The Insult.
Toni is a very angry man – later we find out why – and hates the influx of Palestinian workers in his Beirut neighbourhood. His pregnant wife, Rita Hayek (Shirine Hanna), urges him to move back to their hometown Damour. They are rebuilding there, she says; they would have more room for the baby. But he summarily dismisses her idea. It helps to know that in 1976 during the Lebanese civil war, Damour's Maronite Christian community was attacked and massacred by left-wing Muslim militants aided by the Palestinian Liberation Organisation (PLO).
At home and in the auto shop, Toni constantly has the radio or television tuned to Christian Party supporters spouting nationalist rhetoric not dissimilar to that of Pauline Hanson's One Nation. It is clear that Toni's antipathies are deeply rooted in the complex religious and historic divisions of the Middle East.
Yasser is an engineer, a proud and ethical man reduced to acting as foreman of a repair crew made up of refugees like himself. When water cascades from Toni's improperly installed drainpipe, Yasser demands its replacement. Toni's defiant reactions seem disproportionate. When Yasser confronts him, Toni speaks the fateful, provocative words – 'I wish Ariel Sharon had wiped you all out' – and Yasser retaliates. An apology is sought but not forthcoming. Violence escalates.
It is also important to note that the Damour massacre happened as a reprisal for the Karantina massacre earlier in 1976, when the predominantly Palestinian Muslim slum area of Beirut was overrun by the right-wing, predominantly Christian Lebanese Front. Over 1,500 people, mainly Muslims, died in that massacre. One reprisal follows another, seemingly without end, and hostilities linger long after the war is officially over. This is the other message of The Insult and its writer/director Ziad Doueiri.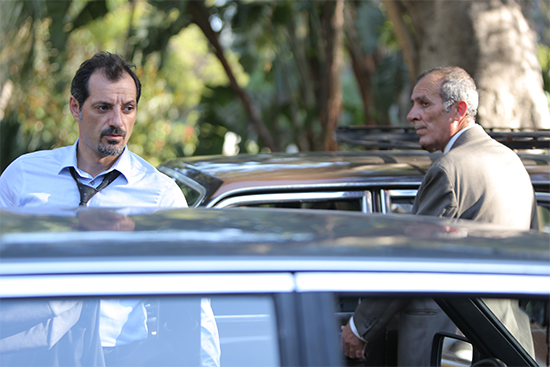 Adel Karam as Toni Hanna and Kamel El Basha as Yasser Abdallah Salameh in The Insult (Palace Films)
In an interview with KCRW's Kim Masters, Doueiri admitted that The Insult is based on words he said to a tradesman. Doueiri joked about being a hothead, but unlike his characters, he heeded his partner's advice and apologised to the person he insulted. I suppose an apology does not make for a dramatic enough story, although in less Hollywood-influenced hands, it might. Doueiri worked under Quentin Tarantino on a number of his films and is an admirer of that auteur's histrionics. Had Doueiri kept his subject contained to the personal, rather than allowing it to escalate to catastrophic proportions, his film might have resonated with the emotional depth of A Separation (2011), Iranian director Asghar Farhadi's excoriating vision of selfish behaviour and self-justification.
Doueiri has been a vocal opponent of the Boycott Divestment Sanctions (BDS) movement that advocates cutting off all ties with Israel, his argument being that pro-Palestinian Israelis will be penalised by such actions. Moreover, his earlier feature, The Attack (2012), was banned in twenty-two Arab countries because he shot it in Israel with an Israeli crew. It is illegal for Lebanese citizens to visit Israel, and it was likely that The Insult would also be banned in Lebanon. Although this did not happen, Doueiri expresses surprise that the film has been banned in Palestine, a great disappointment to co-lead Kamel El Basha who is the first Palestinian Arab actor to win the Volpi Cup (best actor) at the Venice International Film Festival. Compared to the dramatics required of his co-stars Karam and Salamé, El Basha does give an understated and nuanced performance – his twitching cheek enough to indicate the degree of his discomfort – but it is difficult to believe that his award was not, at least partially, politically motivated.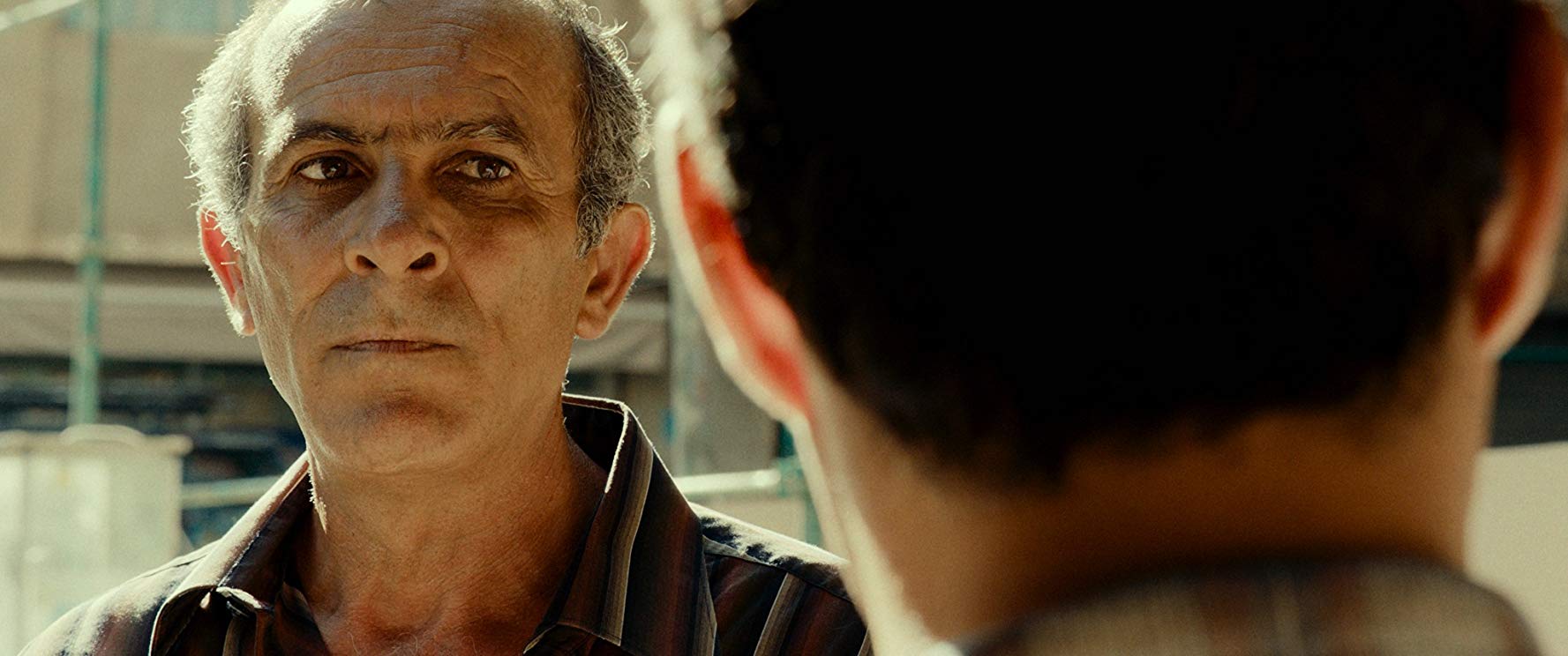 A still of Kamel El Basha in The Insult (Palace Films)
'It pays to be Palestinian,' shouts Toni as he is dragged from the courtroom the first time his claim against Yasser is dismissed, exacerbating an already incendiary situation.
I don't pretend to understand Middle Eastern politics, but I do begin to understand why The Insult has picked up accolades and awards, including an Academy Award nomination for Best Foreign Language Film. Doueiri serves up the complexities of the Palestinian/Lebanese conflict in a palatable, dare I say simplistic, and occasionally overwrought manner that is likely to appeal to both conservative audiences or those who prefer an optimistic rather than an open-ended outcome. In this opinion I am out of step with most reviewers who, like Peter Travers of Rolling Stone, believe that 'even at its most blunt and obvious, this is a movie that stumps for empathy. Who can argue with that?'
The Insult, writer/director Ziad Doueiri, Arabic with English subtitles, 110 minutes, distributed by Palace Films, Australian release: 30 August 2018.
ABR Arts is generously supported by The Ian Potter Foundation and the ABR Patrons.