The Kites of Tianjin was the fifth and final set of performances by composer and multi-instrumentalist Adam Simmons in his series The Usefulness of Art, inaugurated back in March 2017 with Concerto for Piano and Toy Band. It has proven to be an ambitious cycle, with each concert unveiling a recent or newly composed work, written specifically for a large ensemble.
In composing these new works, Simmons has intentionally drawn from his own life, and The Kites of Tianjin is no exception. Its genesis lay in a visit Simmons and Australian-Chinese musician Wang Zheng-Ting made to the city of Tianjin, in China, in April 2018. Tianjin is renowned for its 'Wei Kites', created by Wei Yuantai (1872–1961), and Simmons and Ting found themselves hosted by his great-grandson Wei Guoqiu, who continues the tradition today.
The Kites of Tianjin is a seven-part suite that highlights the playing of Wang Zhen-Ting, a specialist in the ancient Chinese instrument sheng, a reed instrument comprising a series of vertical pipes, often referred to as the Chinese mouth organ. Kites, in particular, assigns the principal role to wind instruments, a direct reference to the movement of air that brings a kite to life, and which allows a musician to produce sound.
The central metaphor for the composition is the function of breathing in our lives. Simmons remarked at the outset that his entire instrumental education has been about learning how to breathe. If earlier concerts in the series explored art, travel, and ideas, focusing on our place in the world, Kites intentionally narrows this focus: instead of what's my place, it posits how can I be?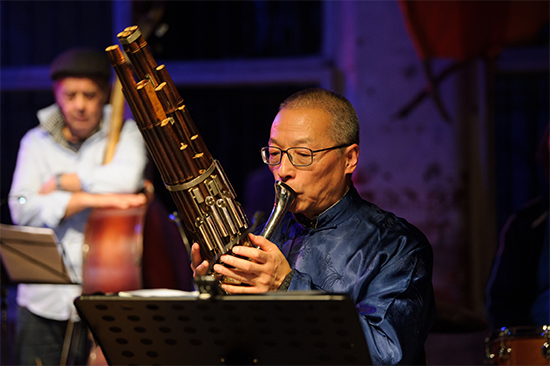 Musician Wang Zheng-Ting playing the sheng, a reed instrument comprising a series of vertical pipes (photo by Sarah Walker)
The mise-en-scène for this production was one of elegance and simplicity: a sequence of colourful overhead quilts, resembling kites, designed by Rachaeldaisy; along with variety of mostly blue costumes for the musicians, designed by Christine Cranshaw. Jean Poole's abstract projections were used sparingly throughout.
Kites began with minimal ambient sounds, generated by five flutes played in unison, over which Ting gently improvised. To this, a rich palette of sound was added: marimba and percussion, trombone, space drum and guitar. Flutes gave way to saxophones, as the fifteen-piece ensemble merged into one, producing an array of Chinese-tinged melodies. The fourth movement of the work, a genuine highlight, featured an extended duo between Simmons and Ting, their instrumental voices intertwined, fragile, and delicate.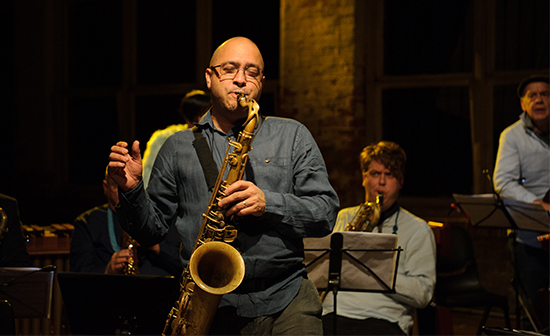 Composer and multi-instrumentalist Adam Simmons (photo by Sarah Walker)
Ting's playing throughout was a marvel. He is internationally renowned on his instrument, having graduated from the Shanghai Conservatory of Music, and having more recently completed a PhD in Ethnomusicology at the University of Melbourne. His approach has helped redefine the art of improvisation on the sheng, a traditional instrument largely alien in a jazz context. Simmons has previously drawn upon Ting's talents for this 2017 release Wu-Xing: The Five Elements (Fat Rain Music).
The emphasis throughout Kites was on ensemble passages and group interplay, rather than on individual soloing. Guitarist David Brown produced choppy rhythms throughout, while Carmen Chan's marimba floated percussively over the wind instruments. At one point, saxophonist Gideon Brazil and trumpeter Gemma Harbury left their seats to fly kites across the stage area, mirroring the swirling wind-like patterns of the music. The final movements built up layers of infectious rhythms, drawn from Chinese song, joyous and free-spirited. If the art of flying a kite is one of catch and release, Kites celebrated the simple childhood delight found in release, as the music literally took to the air over Tianjin skies.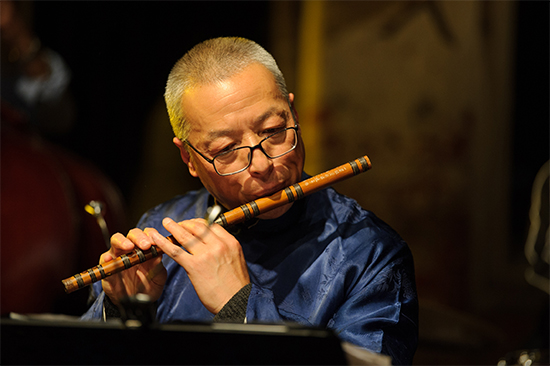 Musician Wang Zheng-Ting (photo by Sarah Walker)
The performance ended as it began, slowly falling back to earth, with each instrument dropping away. Saxophones gave way to flutes, gently meshing with Ting's playing. As each instrument faded, the sound of the musicians breathing took its place, until all that was left was the measured drawing of breath, in and out, posing the question: how can I be? We listened, as audience, to the sound of breathing, ever so gradually hushed, until all that was left was silence and darkness.
The extended applause that greeted the performance's end seemed like a recognition of the monumentality of Adam Simmons' Usefulness of Art series. Inspired by a direct quote from Rodin, 'I call useful all that gives happiness', his cycle of large-scale compositions has raised fundamental questions about the role of art in our society, and the ways in which art might bring us together. For this occasion, the performances by Wang Zheng-Ting and members of the Adam Simmons Creative Music Ensemble were flawless. For those of us fortunate enough to have attended the series, there was a sense that, for composer and audience alike, we had reached the end of a long and fascinating journey. And, like any journey, we had arrived changed from when we set out.
The Kites of Tianjin by Adam Simmons, performed by Wang Zheng-Ting and the Adam Simmons Creative Music Ensemble, fortyfivedownstairs, 26–29 July 2018.

ABR Arts is generously supported by the Ian Potter Foundation and the ABR Patrons.