J

ulius Caesar
, first performed in 1599, dates from the period when Shakespeare was leading up to
Hamlet
, and its central figure Brutus, the conscientious assassin, is a bit of a rough draft for the introspective side of the Prince of Denmark, whereas Richard II, four years earlier, had been for his actorishness. The play is often first encountered in middle high school. It is one of Shakespeare's most popular plays: not only does it have the spectacular central event of the onstage killing of Caesar ('Et tu, Brute' and all that), but it contains some of the greatest pieces of rhetoric Shakespeare ever wrote. Mark Antony's 'Friends, Romans and countrymen, lend me your ears' (the funeral oration that turns into rabble-rousing) is just the most famous example.
If Shakespeare had written nothing but Julius Caesar, he would still be the greatest of all the recreators of the glory of Rome and that intensity of restraint – so much fire, so much ice – that you get in Cicero's speeches ('O tempora. O mores!'), which is given an apparitional power in Cassius's speech seducing Brutus to sedition. 'Why, man, he doth bestride the narrow world / Like a Colossus, and we petty men / Walk under his huge legs and peep about / To find ourselves dishonorable graves.' Which is one reason why T.S. Eliot said Shakespeare got more history out of Plutarch than someone else would have got out of the British Museum.
Julius Caesar is kicked on tremendously by the fact that these speeches, which have such grandeur in themselves, also further the action, and that action results in civil war, so that politics is brought alive by its transfiguration into drama of the most stirring sword-and-sandals variety.
All you need for Julius Caesar are three, preferably four, leading men, drawn from the best pool available to you. In Joseph Mankiewicz's 1953 film, which tends to be the yardstick, we have James Mason as Brutus, John Gielgud as Cassius, and the young Marlon Brando as Mark Antony, fresh from A Streetcar Named Desire and proving what a staggering classical actor he would have been if he'd stuck to Shakespeare. The Caesar is the veteran American actor Louis Calhern, and his wife Calpurnia is played by Greer Garson, while Portia, Brutus's beloved, is Deborah Kerr.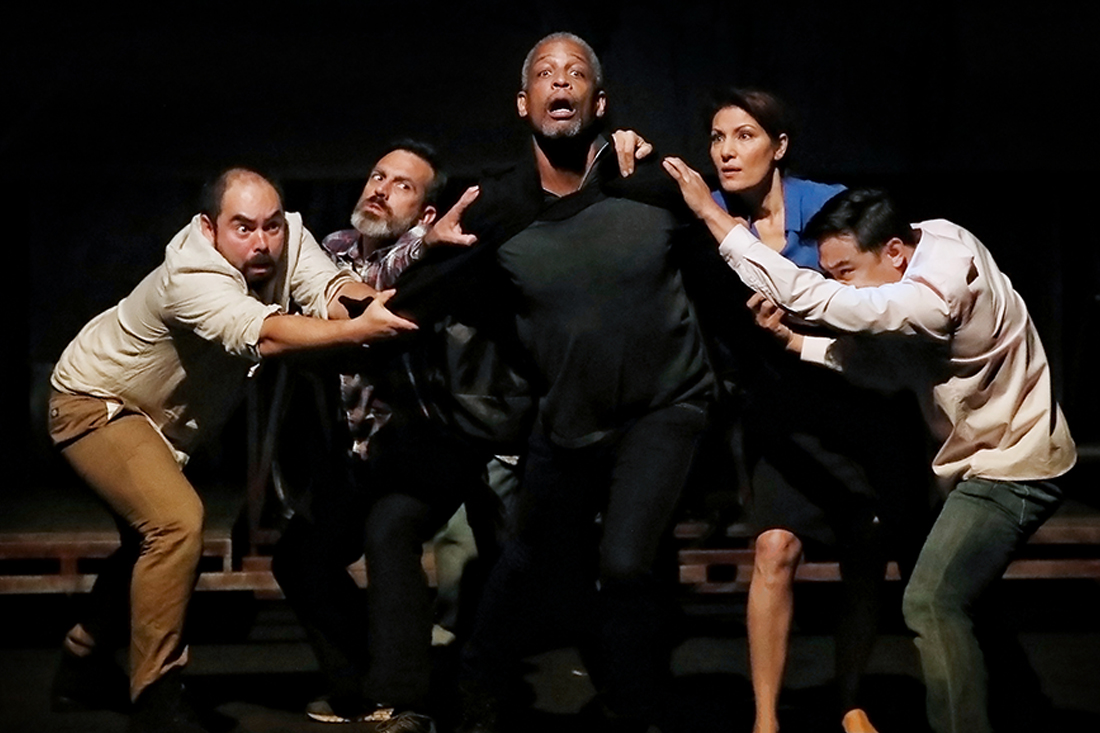 Julius Caesar cast, (from left) Ivan Donato, Russell Smith, Kenneth Ransom, Neveen Hanna, and Jemwel Danao (photo by Prudence Upton)
Well, Bell Shakespeare's production of Julius Caesar is at least a lot easier to take than their truly awful Antony and Cleopatra in April 2018. This is a very basic Julius Caesar, often visually drab and verbally flat beyond belief, but it does have one enormous advantage in Kenneth Ransom's Caesar. Caesar is the pivot of this play, but he is not the main character. However, in James Evans's production, Ransom simply takes over because he is in a different universe of dramatic skill and histrionic presence.
Any black American actor playing Caesar is bound to bring to mind Barack Obama, and in Ransom's case, this is highlighted by his handsomeness and his natural gentleness of manner.
It's a performance of considerable grace and authority. Ransom breaks from the metronome of the pentameter to create swirling unpredictabilities of rhythm and music, but the effect is mesmeric and has enormous authority. He is the only figure on stage who seems dressed for his part, simply because he makes the black jacket worn loosely over his shoulders as imperial as any toga in the world. This is an instinctively patrician performance, and Ransom uses his distinctive, rather high tenor voice to such effect that you do wonder why anyone would get rid of a king figure like this (then again, perhaps that's the point).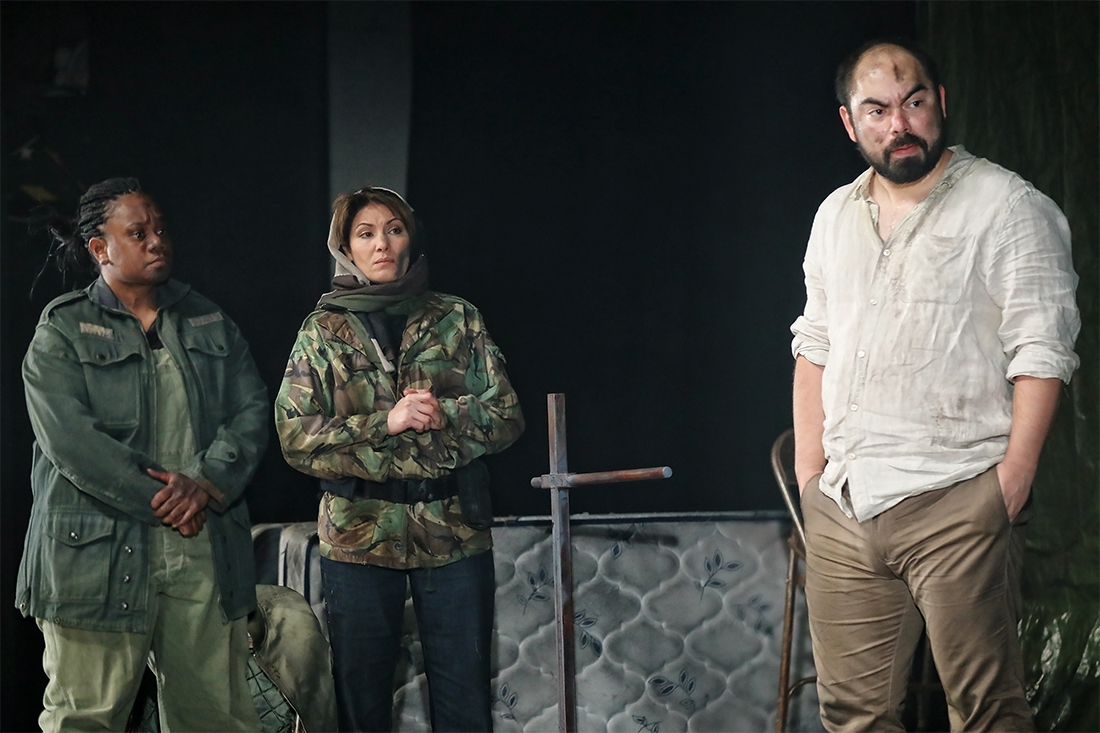 Julius Caesar cast members Ghenoa Gela, Neveen Hanna, and Ivan Donato (photo by Prudence Upton)
Elsewhere, there is not a great deal to entertain anyone interested in drama. Ivan Donato's bald, shuffling Brutus, looking like someone playing Casca in rehearsal clothes forced to go on as the lead, catches little of the character's compulsive, meditative self-involvement, or the blindness of his integrity. Nick Simpson-Deeks as Cassius has a natural affinity for Shakespeare's language – he can handle blank verse and drive an argument through it – but the performance lacks weight and depth, despite its potential: you never feel, as you should, that the one flaw in Cassius's political ruthlessness is that he is in love with Brutus.
Sara Zwangobani as Mark Antony is a less natural Shakespearean, with her flat, emphatic vowels, but she actually has more dramatic authority than Simpson-Deeks. In 'O, pardon me, thou bleeding piece of earth', Antony's soliloquy over Caesar's dead body, she hits almost all the right notes, and it's also a clever touch directorially, from the generally mousy James Evans, to have the interval break just after Antony has caught the crowd's attention with those famous opening lines of the great funeral speech and then to continue it in the second half.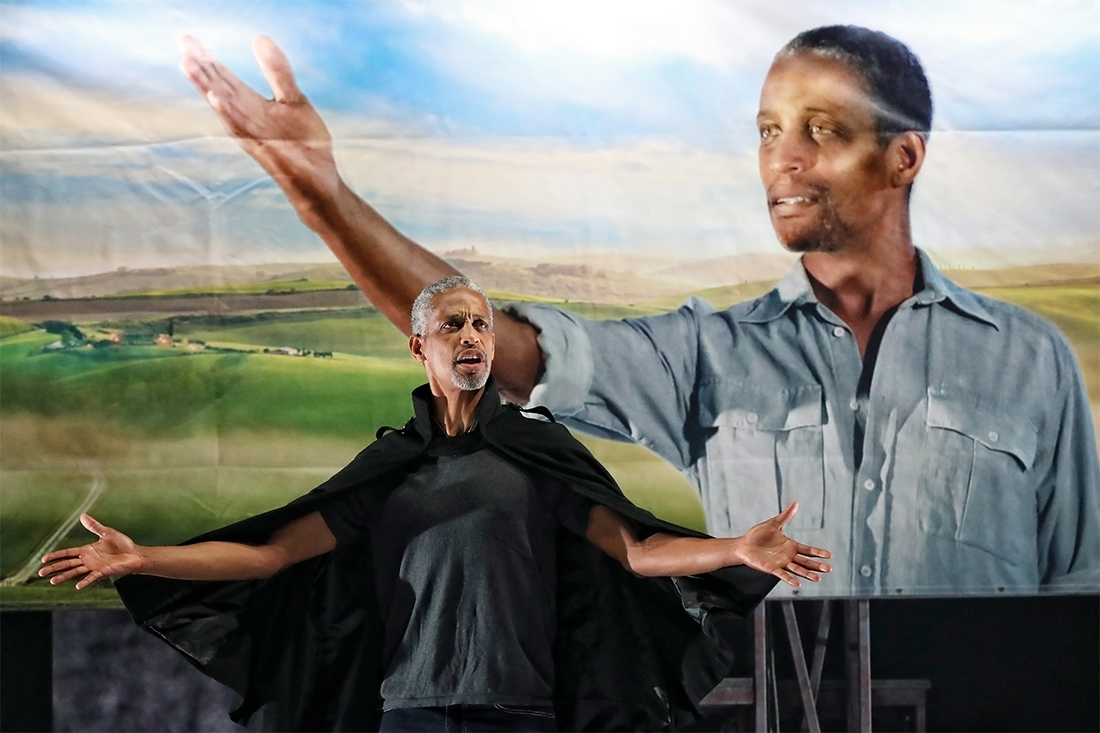 Kenneth Ransom as Julius Caesar (photo by Prudence Upton)
The latter half, beginning with 'Friends, Romans, countrymen', is better and shows signs of actual direction, which was noticeably lacking earlier on. Zwangobani, standing on the metal scaffolding, which is the basic skeletal structure of such set as there is, gives as good a rendition of the speech as would be possible with her vocal equipment and her ear. It doesn't have the music of Shakespeare, but it has all the body blows. And that's something in a production where both Brutus and Cassius are effectively AWOL. It's true too that her Antony maintains a low-burning presence throughout the rest of the play so that she makes a greater impact than anyone other than Ransom, even if we long to be watching someone like the younger Ben Mendelson, who was Antony to Robert Menzies' Brutus in Benedict Andrews' STC production in 2005.
But what we get too often from Bell – and this production does show it, a bit disablingly – is young actors stumbling through a Shakespeare they seem never to have seen performed. As John Cleese said once, no one would know how to do Shakespeare if they had not seen how he was done. But Ransom knows how it's done, and it's his show. In the final scenes play, he actually channels 'Caesar's spirit, ranging for revenge', taking over the roles of a variety of characters making wrong judgements in the confusion of battle.
This directorial decision has no real justification – and distorts and obfuscates the band of brothers heroism of the penultimate action – but it does have the signal advantage of expanding the role of the one actor in this production with the authority to do justice to one of Shakespeare's most energised depictions of politics and slaughter.
Julius Caesar by Bell Shakespeare Company, directed by James Evans, is being performed at the Fairfax Theatre in the Melbourne Arts Centre 18–28 July 2018. The extensive national tour culminates in Sydney: 23 October to 25 November. Performance attended: 21 July.
ABR Arts is generously supported by The Ian Potter Foundation and the ABR Patrons.