Marius Petipa's ballet La Bayadère (The Temple Dancer), written in 1877, could be seen as the grandparent of Bollywood musicals. It has all the ingredients: Solor, a prince who loves Nikiya, a low-caste temple dancer; a conniving Brahmin high priest who lusts after her; Solor's father, who has promised him to another man's daughter, Gamzatti; a treacherous maid who kills Nikiya by way of a poisonous snake; and hours of dancing, opium trips, a wedding, and an angry god who brings his temple down on all and sundry. Lively music spiced with orientalist tempi and colours pushes the ballet along nicely.
La Bayadère is one of the biggest successes in the Russian repertoire, and one too often misrepresented, especially during the Soviet era. The music is by Ludwig Minkus, Ballet Composer of the St Petersburg Imperial Theatres, highly regarded for writing in various melodic styles, and for uncluttered orchestrations. (He first collaborated with Petipa on Don Quixote in 1871.) By the time it reached the West in 1960, La Bayadère's dances had been rewritten or excised, the music compromised, as it was in John Lanchbery's brassy arrangement for Natalia Makarova's first full-length production in the West, in 1980.
Paradoxically, Bayadère is said to be the ballet that introduced 'symphonism' – choreographic composition that matches the complexity, harmony, and quality of symphonic writing – in Russia. The trend had begun in the Romantic era, in La Sylphide in 1836, and Giselle in 1841, originally in the 'white acts', as they are named, after scenes with large ensembles of ballerinas in white tutus. The Kingdom of the Shades, the white act of La Bayadère, is the embodiment of symphonism. As it follows Solor's opium binge after Nikiya's death, it is both the ballet's centre point and its idealised love scene. The dream begins with a slow, serpentine procession of twenty-four ballerinas repeating a deceptively simple phrase – step, arabesque, back bend – down a ramp and across the stage until they fill it and our vision, before they form rows, shimmering en pointe, and begin even more dances. This scene is a rarity, and a rich experience that veteran New Yorker critic Arlene Croce described as 'dancing to be felt as well as seen … Petipa has given it a long time to creep under our skins'. The love duet and a grand coda end the Shades scene.
Artists of Queensland Ballet perform in La Bayadère (photograph by David Kelly)
Greg Horsman's new interpretation of Bayadère for Queensland Ballet relocates it to British India in 1855. The aristocratic bride, Gamzatti, is replaced by the brash Edith, daughter of the governor-general of India, the consequence of a treaty signed after a battle. Edith, on discovering that Solor and Nikiya are lovers, stabs Nikiya, observed only by her father. The falling temple that usually ends the ballet is replaced by a bedroom scene, in which Edith fails to seduce Solor, Edith declares that she murdered Nikiya; Solor strangles her, and British soldiers rush in and kill him. Apotheosis!
Four years in the making, the Queensland Bayadère is a severe reduction in scale and dramatic integrity, even though most of the original choreography and set pieces remain virtually intact, and are danced by very skilled dancers. The accomplishment of the Shades, which defines the work, in this context saves it from becoming just another Bollywood show.
Humour in ballet can be a choreographer's curse, as it can in any art form, and so it was here. Horseman is a classicist at heart, and so it is perplexing to see his comic scenes –in the palace, the accursed wedding in the viceroy's home, and the opium den – look slap-dash and under-directed. The lack of dramaturgy and critical artistic direction became very clear. Nevertheless, the audience lapped it up, accommodating many incongruities and improbabilities, such as a greasy opium den scene, and the wedding, being played for laughs.
Sets by Gary Harris, brightly coloured, and economically decorated with intricate details, were appropriate foils to the lavish colour palette he chose for costumes. Musically, conductor Nigel Gaynor's attempts to bring Britain to Minkus were pleasant enough, and well played by the Queensland Symphony Orchestra, but his interesting idea to add Indian instruments to Minkus's orchestration was too limited to make a valuable effect.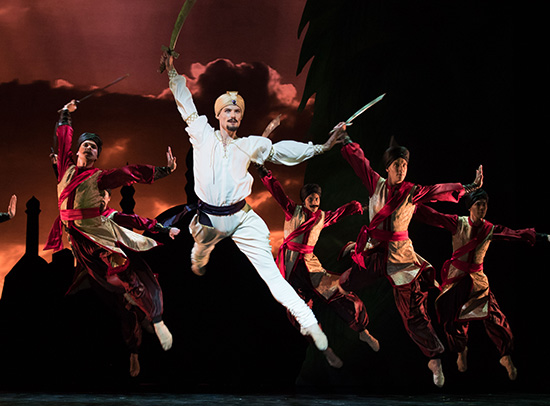 Soloist Joel Woellner performs in La Bayadère (photograph by David Kelly)
On 20 March, Laura Hidalgo invested Nikiya with sincerity and nobility. Her Solor, the charming Victor Estévez, was hampered by the small Playhouse stage. Lucy Green is a fine dancer and capable actor, so it would be interesting to see her play Edith as an honourable gone bad, not just a brat. The three soloist Shades – Yanela Piňera, Mia Heathcote, and Teri Crilli – danced with lushness, delicacy, and rigour, respectively. The 21 March leads, Piňera and Joel Woellner, were exceptional, as were all the Shades and another fine dancer–actor Georgia Swan in the massive role of Edith. The evening's exiting surprise was artistic director Li Cunxin's taking the stage to promote Woellner to senior soloist, and Swan to soloist after their splendid performances. 'A double happiness,' Li called it.
La Bayadère is presented by Queensland Ballet at the Playhouse, Queensland Performing Arts Centre, Brisbane, from 16 to 31 March 2018. Performances attended: 20 and 21 March.
ABR Arts is generously supported by The Ian Potter Foundation and the ABR Patrons.