The unspeakably upsetting image of the three-year-old Syrian boy Alan Kurdi lying dead on a Turkish beach inspired a number of visual or artistic responses after it went disturbingly viral in 2015. Among the most high-profile, and certainly among the most provocative, was Ai Weiwei's. The exiled Chinese artist recreated the scene for his own black-and-white photograph, in which he lies face down in the sand instead of Alan, who drowned after the boat meant to transport him and his family to Greece was overturned by a wave.
Ai has also confronted the question of refugees in such memorable large-scale artworks as Sunflower Seeds, Fairytale, and, at the 2018 Sydney Biennale, Law of the Journey. But this new documentary is surely the culmination of Ai's preoccupation with the plight of refugees in the twenty-first century.
For Human Flow, Ai spent a year filming the progress of refugees in twenty-three countries and at various crisis points around the world, including Greece, France, Iraq, Afghanistan, Pakistan, Bangladesh, the Gaza Strip, and the US-Mexico border (one imagines any attempt to reach Manus Island or Nauru would have been rigidly rebuffed). Talking heads include the refugees themselves, as well as various NGO representatives and at one point, oddly, Princess Dana Firas of Jordan. It is mostly a quietly reflective, undemonstrative film, with Ai himself flitting in and out, occasionally talking (most often in conversation with the displaced), and often clutching his iPhone, with which he passively films.
This solemn spirit – created in part by many passages of silent observation of camps and people travelling en masse on foot (the film is not narrated) – does not mean that the film shies away from almost unbearably distressing scenes. For example, the churned-up, decomposing body of an adolescent lies in the dust in Mosul, Iraq. We see a man sobbing by the makeshift graves of several of his relatives. A woman appears to vomit with anguish as she describes her family's ordeal. One of the film's most moving scenes has two young brothers crying into each other's arms, lamenting their circumstances and pledging their mutual devotion.
Human Flow successfully illustrates the utter tedium of this life and the extraordinary patience shown by asylum seekers (not that they have a great deal of choice). Ai shows throngs of people waiting quietly and seemingly interminably to board a boat or a bus; in another scene, they sit cramped and huddled, waiting for some administrative process or other. A young girl fortunate enough to have made it to the shelter of Berlin's Tempelhof Airport, where hangars were converted into living spaces, laments that she is 'the most bored she has ever been in [her] life'. Ai, who is often more journalist than artist, does an admirable job of depicting this least spectacular challenge that refugees must face.
What is spectacular is the imagery. The film opens with footage of the deep blue of the Aegean shot by drone from above, a technique also used to show vast refugee camps in various desolate places, this mobile aerial view capturing an uncomfortable form of beauty. Footage of a sandstorm in the Kenyan desert is also stunning. Such vistas offer a stark contrast with close-ups of the chaos and squalor of tent cities.
The intensity of these visuals is one of a few ways in which Human Flow invites comparison with that other great documentary event of the past year, Ken Burns and Lynn Novick's series The Vietnam War. Another is the film's reluctance to engage in any serious depth with the geopolitical tensions involved or the wider historical trajectory that led to the crisis, preferring instead to concentrate on the human stories.
Accusations that Ai is layering on the aesthetics of trauma and despair too thickly are valid, but some of the intimate and anxious exchanges between family members represent the core of the documentary. On the other hand, there is the occasional lighter moment, as when a group of smiling and boisterous Gaza schoolgirls verbally spar with the filmmaker, or when a mother and her young daughter playfully argue over the collection of balloon animals the girl is clutching.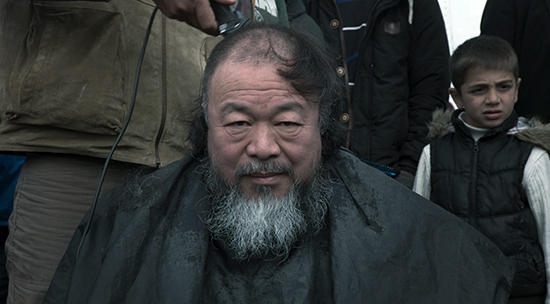 Ai Weiwei at the Idomeni Camp, Greece, in a still from Human Flow (Roadshow Entertainment)
Another criticism might be that at nearly two and a half hours long, the film drags at certain points, and could have been more penetrating if Ai had edited out certain sections that add little. Scant time or examination is given to the question of the US-Mexico border or the refugee camp at Calais known as the Jungle. A mere glimpse of these locations seems inadequate. The film may have been better served by not addressing them at all.
Some, possibly including Ai himself, would describe Human Flow as a polemic. Others on the hawkish side of the political divide might call it propaganda. However, regardless of the lack of a detailed picture of the ethno-socio-economic complexities of the global refugee crisis, the only possible response to this heartbreaking film is one of emotional and even physical exhaustion. If you see it, you'll need to take a few moments at its end before you can start breathing again.
Human Flow (Roadshow Entertainment), 140 minutes, directed by Ai Weiwei. In cinemas 15 March 2018.
ABR Arts is generously supported by The Ian Potter Foundation and the ABR Patrons.