The Royal New Zealand Ballet's world première of The Piano: The Ballet, inspired by Jane Campion's Oscar-winning film The Piano (1993), began the company's program for 2018. It is the second ballet on the subject by Jiří and Otto Bubeníček, former and highly decorated principal dancers at Hamburg Ballet. Their first was a one-act work for Ballet Dortmund in 2014. Its success encouraged the Czech twins to spend twenty wintry days driving a campervan around New Zealand. They filmed and recorded everything from the country's natural grandeur to expressions of Maori culture.
Some of their video and sound recordings now populate the sets and soundscapes. Production values are high, and the settings are generated by projections on three mobile screens of glistening forests, beaches, waterfalls, and interiors backed by wallpaper, yards, or shimmering fern glades. A few sticks of furniture and emblematic props make up the domestic scenes: a dead tree, a large axe, and the piano that symbolises the medium of expression, solace, and emotional freedom of the ballet's protagonist, Ada, a mute Scottish pianist sold into marriage to a white settler-forester she has never seen.
This Piano opens as the film does, with roiling grey waves and the sounds of wind and spraying foam. Tall screens with curved outer edges define the space, then slide apart to reveal Ada and her illegitimate young child, Flora, sitting on a boat among sailors. Behind them is Ada's piano, boarded up in a wooden box. The music here is the haunting beginning of Charles Ives's The Unanswered Question. Right away it is clear that Jiří Bubeníček's choreography will follow Campion's screenplay faithfully, with extended scenes designed to crystallise the essence of characters and events. His dances are agile and driven. One immediately reads the joys Ada and Flora share through swift, whirling dances; or Ada's rigid stance and furious gaze when her cold, land-acquiring husband, Alistair, abandons the piano on the beach; rapid staccato movements as she rages against his selling the piano to the earthy, illiterate forester Baines; and fussy, fluttering moves that dissolve into elegant curves as Ada discovers that she loves Baines, even though he has seduced her before returning the piano to her. Best of all are the lovers' pas de deux and Ada's dances around the piano, caressing it, sliding against it in ecstatic moves, which Baines imitates after he hears her playing the piano with a heightened passion.
These scenes are brilliantly orchestrated by music director, designer, and producer, Otto Bubeníček, and all the more powerful musically by way of excellent, well-amplified, commercial recordings. Otto's choices, with the exception of Jiří's selection of Ives to open and close the ballet, succeed because he delivers entire sections of chamber music and concerti, all of which seem to pump air under the dancers tackling Jiří's testing choreography, whether in classical, contemporary or Maori-influenced idioms. Two examples from the second act illustrate the intelligence of Otto's approach: first, Ada's declaration of love to Baines, filled with tender embraces that flourish into a rhapsodic, circular duet, works perfectly with the sublime slow movement from Shostakovich's Piano Concerto No. 2 in F. Ada and Alistair's brutal fight over her affair, is danced to the shrieking, agitato movement from Schnittke's String Quartet No. 2, which continues as Alistair chops off Ada's right index finger with the axe. Other composers are Schumann, Stravinsky, Arensky, Debussy, Schumann, Shostakovich, and Pēteris Vasks, interspersed with traditional and contemporary Maori dance and song, sensitively contributed by Maori choreographer Moss Patterson, some newly commissioned from local artists.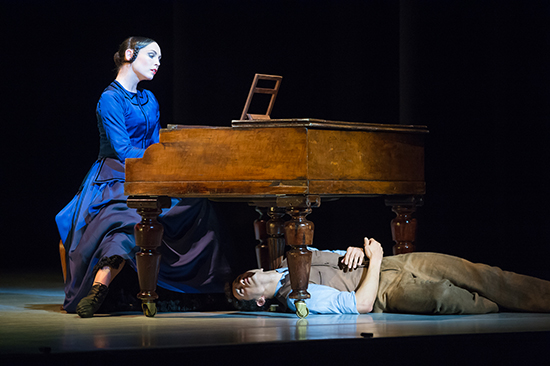 Abigail Boyle and Alexandre Ferreira in The Piano: The Ballet (photograph by Stephen A'Court)

Creating The Piano was a daunting prospect for a company in transition. Patricia Barker, the company's third artistic director in ten years, was appointed in June 2017, and there are many new dancers. The company rose to the challenge on the night, and the première was warmly received. Principal ballerina, Abigail Boyle created an appealing and compellingly disturbing Ada. Her Flora, charming twelve-year-old Hazel Couper, like the sensitive young Alexandre Ferreira playing Baines, was outstanding. Paul Matthews did well in the under-developed role of Alistair. The second cast galvanised itself around dynamic guest artist Nadia Yanowsky from Dutch National Ballet; it was a more electrifying performance. Yanowsky's tragic Baines was Massimo Margaria, and Loughlan Prior, a fine match for Yanowsky, made more sense of Alistair. The second evening cast was cheered long and lustily during repeated curtain calls.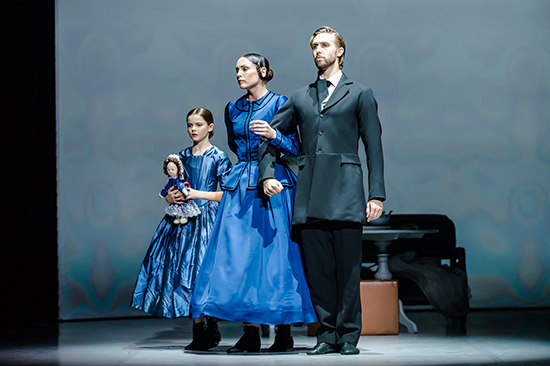 Abigail Boyle and Paul Mathews with Hazel Couper in The Piano: The Ballet (photograph by Stephen A'Court)
This is a good production that includes too many episodes from Campion's film. For instance, Reverend Campbell's community concert featuring a shadow play of the gruesome Bluebeard's Castle story was rushed, hyper-active, and barely legible from the front. And what appeared to be a funeral procession to a beautiful Maori hymn pass by detachedly. Crucially, Jiří Bubeníček's entrapment in the international trend to choreograph almost every note of music – which plagues the ballet world – meant that the first act became clogged, the group dances excessive.
This is a fine and engaging first reading. With rigorous editing, it would be a better tribute to Campion, her acclaimed film, and New Zealand.
The Piano: The Ballet (Royal New Zealand Ballet), premièred at the St James Theatre, Wellington, on 23 and 24 February 2018. Performances attended: 23 and 24 February. It will tour to Napier 2–3 March, Auckland 8–10 March, Dunedin 16 March, Christchurch 21–23 March, and Palmerston North 28 March.
ABR Arts is generously supported by The Ian Potter Foundation and the ABR Patrons.