One of France's great treasures, the five-hundred-year-old, six-panel tapestry series called The Lady and the Unicorn, is in Australia for four months, courtesy of some fortuitous inter-museum contacts, and deft work by the Art Gallery of New South. A loan of such significance usually takes years to negotiate. This one was finalised and mounted at warp speed (one might say). Don't miss it; it is rare for textile works of such renown and fragility to travel. France has only lent its Lady and the Unicorn twice before – to New York's Metropolitan Museum and to Japan's national art centres in Tokyo and Osaka.
The tapestries themselves are beautiful, enigmatic, elevated. Luminous in their dark room, they float above the reflective pool of a glassy black floor (the AGNSW installation is a triumph), otherworldly, and as disconcerting as the mythical unicorn itself. You might walk slowly past and simply marvel at their textured intricacy and splendour, but you are unlikely to do only that. There is such play, such a blending of the naturalistic with the allegorical in these great panels, that any child would stop to peer and wonder at their detail, be transported into their world of myth, of story, of women, beasts, and nature, freighted with mystery. And anyone who has ever sat with needle and thread over an embroidery sampler, or who has knotted warp thread onto sticks and passed wool under and over, will have some inkling of the technical finesse of these works. They are, simply, masterpieces – of imagination and execution.
The tapestry panels, twenty running metres when combined, are also manna for art historians. Created at the pivot of the Medieval and Renaissance periods (and currently dated at 1500), they are encyclopedias of encoded religion, sociology, class, industry, anthropology, natural history, politics, and literature, with the bonus for researchers that there still remains much to be discovered about them. Their existence was scarcely recorded until the nineteenth century, when they were mentioned as hanging at the rather forbidding Château de Boussac in central France – grand works befitting an elevated social status, but also serving the practical purpose of insulating chill stone walls. If you have ever felt you might die of cold during a French winter, you will appreciate their function.
In the 1840s they enjoyed good literary press. Prosper Mérimée and George Sand both enthused about them – 'those curious enigmatic tapestries' Sand called them in her novel Jeanne. Later, Rainer Maria Rilke riffed on them in prose excursions. After the Château de Boussac was sold in 1837, the tapestries were moved around. Some panels were stored and damaged, by rats and damp. It is part of their charm now that they wear their long history – of neglect, conservation and restoration, and shifting technologies – 'on their front', in their very fabric. As with the France's other textile miracle, the Bayeux Tapestry (in fact an embroidery), you can see where holes have been lovingly patched and sections pieced. The lower, damaged areas, reworked with nineteenth-century dyes, have faded gently. Is it ironic that the medieval artisans used a superior dye technology? Art can make you humble ...
I used the phrase 'lovingly patched' above. This is why: I once spent a blissful day in New York's Metropolitan Museum and The Cloisters with Tina Kane, an American-Australian textile conservator who had worked for twenty-five years on the Met's Burgos Tapestry. Tina could point to the sections she had woven. Her expression was eloquent. It takes more than patience and technical expertise to weave life back into a great work of art. (Tina, who was often in Australia, was mourned by all who knew her when she died in 2015, and especially by her colleagues at the Australian Tapestry Workshop. She would have been delighted to see The Lady and the Unicorn in Australia.)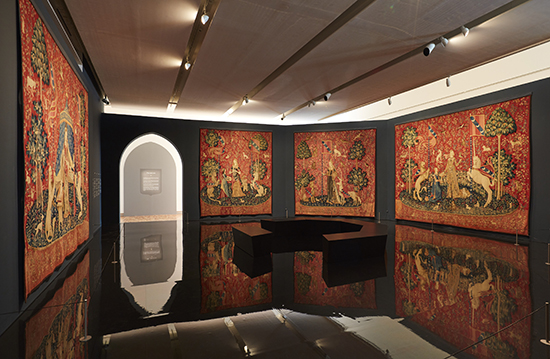 The Lady and the Unicorn installation at The Art Gallery of New South Wales (photograph by Felicity Jenkins)
There has been much speculation about the provenance of the tapestries. For years a romantic myth traced them back to a tragic Ottoman prince, Djim (1459–95). Djim's story (betrayed by his brother, shuffled between the Knights, Pope and French king, then poisoned) is romantic enough to have annexed conspiracy theories the way a ship acquires barnacles, though one does wonder how, in his short, fraught life, he could have been in one place long enough to acquire, let alone accommodate and appreciate, twenty-plus metres of tapestry. The Djim theory was debunked when it was established that the tapestries were probably woven in 1500, five years after his death. ('Probably' is a characteristic qualification in Lady and the Unicorn scholarship.) It now also seems established, by analysis of the tapestries' heraldic devices and through complex genealogical documentation, that the panels were commissioned by a prosperous Lyon family of lawyers and magistrates, the Le Vistes.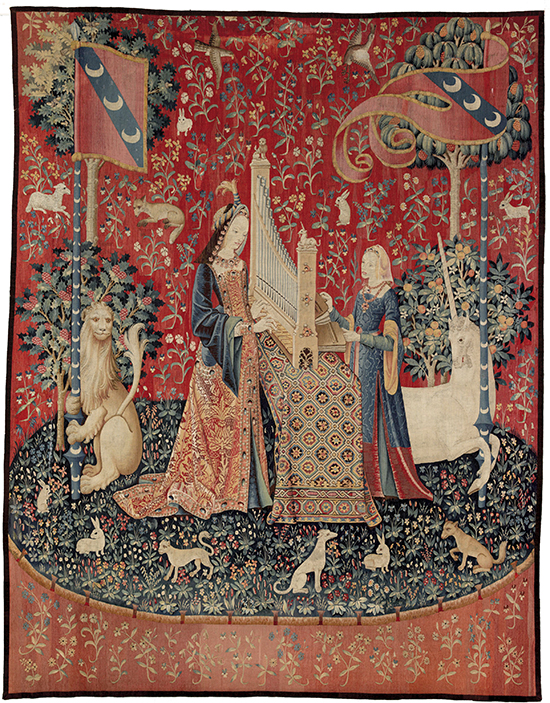 Hearing ca.1500, from The lady and the unicorn series, Musée de Cluny – Musée national du Moyen Âge, Paris (photograph © RMN-GP / M Urtado)
The AGNSW exhibition is well bolstered by its scholarly (and modestly priced) catalogue, written by the director of the Musée de Cluny, Elisabeth Delahaye (who was in Sydney for the opening celebrations). Her The Lady and the Unicorn is an updated successor to the 1989 La Dame à la Licorne catalogue written by Cluny's then Ancien conservateur général, Alain Erlande-Brandenburg. These are beautiful books, and invaluable if you want to learn where, when, by whom, how, what a genet is (a spotted feline), who the lady was, and what on earth the unicorn signifies. You might also chase up the Metropolitan Museum's 1998 catalogue of their Unicorn Tapestries (gifted to the Met in 1937 by John D. Rockefeller). And if that prompts you to pursue the mythical white beast further though its long history and multivalent symbolism, I recommend a beguiling 1930s book, The Lore of the Unicorn by an English scholar called Odell Shepard (Dover Publications, 1993). Imagine David Attenborough, but in vivid prose, anatomising a creature that never existed, but which human beings seem to find utterly necessary. Odell's epigraph is from The Tempest: 'Now I will believe that there are unicorns'. So will you.
The AGNSW adds another perspective to the unicorn myth by concurrently showing Arthur Boyd's The Lady and the Unicorn portfolio in its Australian galleries. But you should know that Boyd created his graphic, sexually charged series in collaboration with the poet Peter Porter (one of four volumes they produced). Images and poems were published together in 1975, in a volume 'expanding a legend that exists because we need it'. Porter's 'Epilogue' poem in the volume contains these lines:
With the threads of patience
A fallen world restates itself
Among the thousand flowers.
Here is the harness of Eden
Where roams the ancestral Unicorn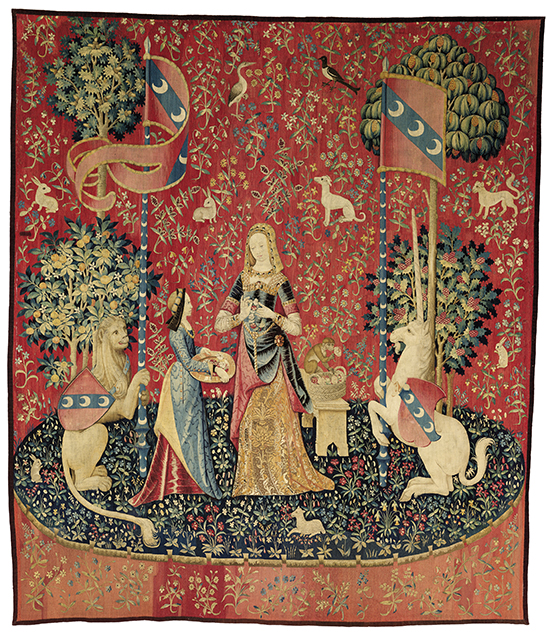 Smell ca.1500, from The lady and the unicorn series, Musée de Cluny – Musée national du Moyen Âge, Paris (photograph © RMN-GP / M Urtado)
The fifteenth-century weavers' 'threads of patience' produced a world flecked and sparkling with nature. It sparkles still, and not only because some of the tapestries' yarns were silk. There is delight, in the making and seeing of the flowers (the millefleurs) in the tapestries' red field and the lady's blue corral. There is wit and life in the tapestries' many creatures. They are never simply decorative. The lion leers; he goggles, pokes out his tongue; he looks away, knowingly. Above him, a falcon threatens a heron, vulnerable on her back. Monkeys sniff. Rabbits, even in their repetition, have individuated verve. The unicorn rears; he lays his paws in the Lady's lap. Is he the lover, the Christ figure, the victim, the healer? We don't know, any more than we know who the lady is, or what is going on behind her impassive visage. In the allegorical panel we now call 'Taste' (the scholarship is almost conclusive on the panel's meaning), she is a Botticelli beauty. 'The lady claims her carnal innocence,' writes Peter Porter in the 'Epilogue' poem. In 'Sight', she has the disconsolate expression of the girl at Manet's Bar at the Folies-Bergère. In 'Hearing', she is fully engaged on the organ's keyboard while her attendant, smaller by hierarchy, not perspective, looks bored as she squeezes the bellows. Their garments are bejewelled, indicative of status and period, and so craftily woven that every fold in them is registered. Their hairstyles alone merit a thesis. (Porter: 'Her hair is braided like Christ's crown.') The weaving skill – intermeshing of colours to create shades, reversing and thereby creating holes that become the fine lines of the unicorn's haunch, or the fox's snout – is astonishing. And for such a collective enterprise – from the first drawing to the enlarged cartoon to the many hands weaving – the tapestries create an extraordinary impression of unity and cohesive artistry.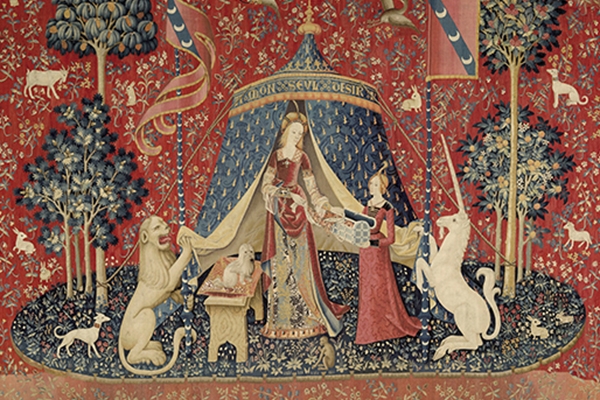 My sole desire, ca.1500, from The lady and the unicorn series, Musée de Cluny – Musée national du Moyen Âge, Paris (photograph © RMN-GP / M Urtado)
Before you reach the tapestries' special exhibition room, you have to walk through the Gallery's light-filled atrium. On the walls are large paintings, all dots and shimmering symbolism, by Australian Aboriginal painters. They are the perfect prelude to the tapestries, utterly different yet related in that they are so joyously the products of another coherent symbolic culture. Most (all?) are painted by individual artists, but does that matter? Downstairs, in the Dutch Golden Age exhibition, there is a room of Rembrandts. You could spend months marvelling at them. But they come after a parade of such evident Dutch mastery (the Franz Hals!) that you begin to understand, again, how much art, even at its most sublime, is the product of an enabling culture, not just of individual genius. Then you wander back upstairs and learn from the Cluny tapestries and from the ancillary displays (ideal for weaving fanatics and for children – or adults – fixated on animals) about the vital connection between fifteenth-century French aspirant society, traditions of patronage, the industrial conditions of late-medieval French and Flemish weavers, and the consequent creation of a work as magnificent – and tantalising – as The Lady and the Unicorn tapestries.
Take your time. And remember that even now, for all our pell-mell, cyber-driven trajectory, it takes master craftspeople a day to weave a few square centimetres of textile magic. And yet they go on doing it. With determined joy.
The Lady and the Unicorn is at the Art Gallery of New South Wales from 10 February to 24 June 2018.
ABR Arts is generously supported by The Ian Potter Foundation and the ABR Patrons.