Translation can be an art or a craft; seldom simple, it is often unappreciated. We tend to forget that the global community of ceaseless interconnectivity could not exist without translation, or bilingualism. Without translation there is Babel, but with its quiet, endless grinding, translation brings down walls and creates porous cultures that cannot help but influence one another.
The current exhibition at the Los Angeles County Museum of Art, Found in Translation: Design in California and Mexico, 1915–1985, ponders this theme. The exhibition features more than 250 items, a combination of crafts, photographs, films, and posters. It explores the dialogue of mutual influence in architecture and design between Mexico and California. There are four main themes: Spanish Colonial Inspiration, Pre-Hispanic Revivals, Folk Art and Craft Traditions, and Modernism.
That California has been influenced by Mexico is not surprising; after all, California used to be part of Mexico. After the Mexican-American War (1846–48), Mexico lost more than half of its territory to the United States, including what is now California. Currently, California has more Mexicans than any other city in the world, after Mexico City. The relationship between Mexico and California is interesting and complicated, and much of the role of this exhibition is to problematise and explore that complexity through the joint prism of design and architecture.
What is truly emblematic of Mexico and California? Where do these ideas of legitimacy originate? The exhibition questions notions of authenticity and representation. For example, the Folk Art and Craft Traditions section features an exquisite tapestry by the American textile designer Cynthia Sargent. The accompanying notes explain that Sargent and her husband founded the Bazaar del Sábado, one of the most iconic arts and crafts markets in Mexico City, an emblem of authentic Mexican identity. It is fascinating to see that such a paragon of 'Mexicanness' is in fact the result of this dialogue between Mexico and California; a translation, or back-translation, of themes and ideas that were exported to California and then returned to Mexico. The Spanish Colonial Inspiration section reveals a similar dialogue of influence. At the turn of the nineteenth century, the architectural style that was considered truly Mexican was Colonial. It developed during the three hundred years of Spanish occupation and was seen as a blend of Spanish and local influences. The Neocolonial style of architecture that emerged in the early twentieth century evoked the Colonial. Elements of it travelled to California, where it was interpreted as 'Spanish Colonial revival', effacing any association with Mexico. The Spanish Colonial revival became enormously popular, reflecting Hollywood glamour and celebrity. It was later exported to Mexico in the 1930s as the California Colonial (Colonial californiano). This reintroduction of a style that originated in Mexico prompted a backlash amongst Mexican architects and designers, who started to favour a modernist approach that eschewed the California colonial. Jardines del Pedregal, a suburb in the south of Mexico City, became an excellent example of this, with homes by Mexican architect Francisco Artigas, whose new minimalist modernism he later exported to California, albeit with little success.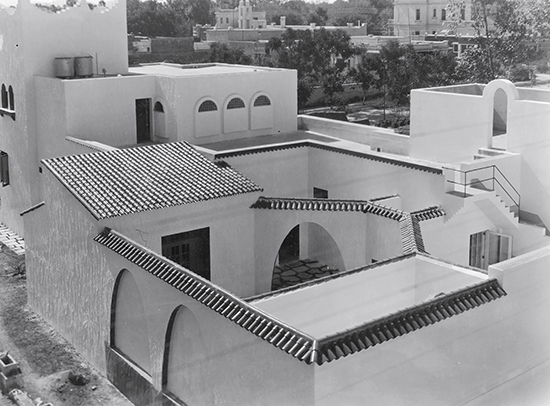 Luis Barragán, Gustavo R. Cristo House, Guadalajara, 1929 (2017 Barragan Foundation, Switzerland/Artists Rights Society (ARS), New York)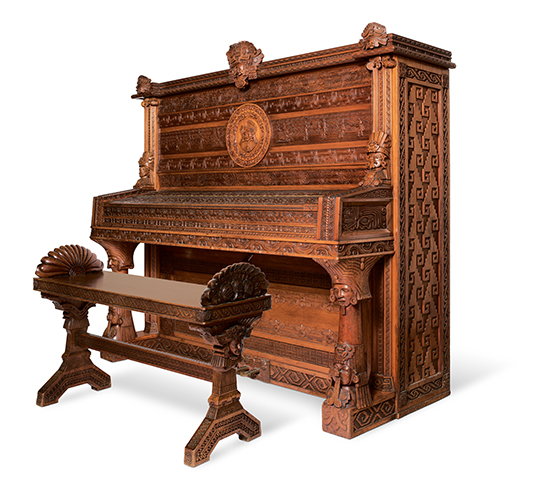 Antonio Peñafiel, Neo-Zapotec piano, c. 1895, (Collection of Lance Aaron and family, photograph by Adam Schreiber)
The Pre-Hispanic Revival section shows another approach to authenticity in California. It features examples of revivals of decorative styles typical of the cultures that lived in Mexico prior to the Spanish conquest. There is an enlarged photograph of the Plumed Serpent Portal at the California Building in 1915, an imposing doorway flanked by two sculptures of Quetzalcóatl, the feathered serpent God of Aztec mythology. Photographs of Sunnylands in South California, a private estate built in the late 1960s, showcase a massive, circular fountain on its driveway, a replica of the Image of Mexico fountain at the National Anthropology Museum in Mexico City, which has the history of Mexico carved on its four sides. Not surprisingly, the vast majority of Mexicans would perceive these examples as excessive, an exaggerated attempt to portray a sense of cultural identity. Consequently, few instances of this approach are found in contemporary Mexican architecture and design.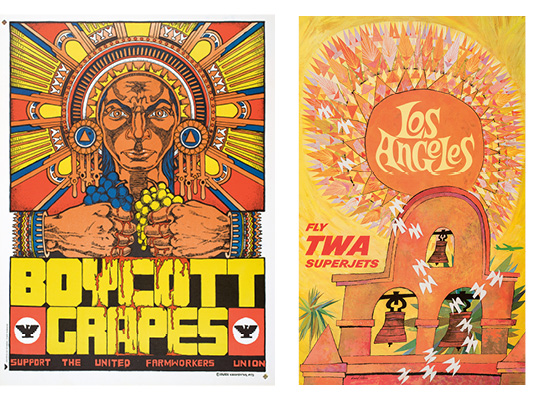 Left: Xavier Viramontes, Boycott Grapes, 1973, Oakland Museum of California (All of Us or None Archive, gift of the Rossman family, © 2017 Xavier Viramontes). Right: David Klein for TWA, Los Angeles, mid-1960s, Los Angeles County Museum of Art, gift of Martha and Bruce Karsh in honor of the museum's 50th anniversary, © Estate of David Klein, (photograph © Museum Associates/LACMA)
Found in Translation is an enjoyable, thought-provoking exhibition. One element I found less satisfying was the subtitle: Design in California and Mexico, 1915–1985. California is a state, Mexico a country composed of more than thirty richly diverse states. To position them as equal suggests an uneven relationship between the two, which simplifies Mexico's standing in relation to California, portraying it as homogenous, when it is anything but. This disparity is addressed in the catalogue, a splendid hardcover edited by the exhibition's curator, Wendy Kaplan. The book discusses the complexity and diversity of Mexico in relation to California, but this valuable commentary was not as evident in the exhibition itself.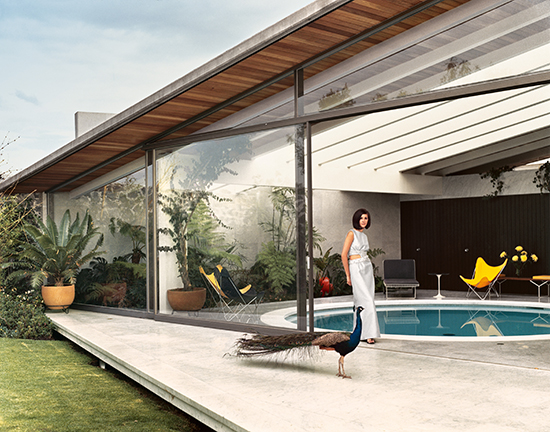 Francisco Artigas and Fernando Luna, House at 131 Rocas, Jardines del Pedregal, Mexico City, 1966 (photograph by Fernando and Roberto Luna)
Found in Translation: Design in California and Mexico, 1915–1985 continues at the Los Angeles County Museum of Art until 1 April 2018.
ABR Arts is generously supported by The Ian Potter Foundation and The ABR Patrons.