Tristan und Isolde, the opera in which Richard Wagner really took art in a new direction, is often described as the most important musical work of the nineteenth century. No lesser authority than Kobbé calls it the most influential opera in all musical history, while the great Wagner conductor Christian Thielemann says it is 'the peak of operatic art, the opera of operas, the incunabulum, the key work. Tristan is the sum of everything and the exception to it'. Finished in 1859 and first performed in 1865, Tristan earns this encomium because of its intensity, its inwardness, the way it distorts the rules of harmony – especially the famous Tristan chord which opens the prelude and is not resolved for some four hours. The work's full effect took decades to unfold, inspiring Nietzsche, Freud, Thomas Mann, Mahler, Schoenberg, Debussy, and many more.
Tristan tells the ancient Celtic tale of a Cornish knight who falls in love with an Irish princess as he accompanies her across the sea to marry his king. Deceived into drinking a love potion, they are consumed by unhinged rapture and – naturally, given Wagner's romanticisation of death – both perish.
Wagner described the themes in program notes for the 1861 Paris performance of the prelude. He wrote that 'there was no end to love's longing, yearning, rapture and distress: the world, power, fame, honour, chivalry, loyalty, friendship – all were dispersed like an insubstantial dream. Only one thing remained alive to them: desire, insatiable desire, a longing ever renewed, ever thirsting and languishing. And from this, no salvation but death – annihilation, never again to waken.'
Characteristically, Wagner had few doubts about his genius. He wrote to Mathilde (the wife of his patron Otto Wesendonck) with whom he was obsessed: 'Child, this Tristan will be amazing! That last act!!! I fear the opera will be banned – unless a poor performance makes the whole thing a parody of itself. Only run-of-the-mill performances can save me! Really good ones would be bound to send people mad.' Some have seen in Tristan Wagner's recreation of his own obsession with Mathilde, with Otto as the hapless King Marke. As musicologist Charles Osborne observed, Tristan is unique in opera in its concentration on the inner lives of its protagonists. Tristan and Isolde are not like Romeo and Juliet or Abelard and Héloïse, but rather abstractions whom Wagner needed in order to embody on stage his ideas about a yearning which is as much for death as for love.
So Tristan presents many difficulties, demanding superb principals and a refined orchestra, a sympathetic conductor, and considerable stamina for performers and audience alike. Most of this Melbourne Opera provided in a tremendous account at Melbourne's Palais Theatre on 5 February. The official opening night three days earlier had to be cancelled when Lee Abrahmsen (Isolde) succumbed to a throat infection, her understudy having withdrawn some weeks earlier. The company was able to provide replacement tickets to the next two performances.
Neal Cooper and Lee Abrahmsen in Melbourne Opera's Tristan and Isolde (photograph by Robin Halls)
All the cast but Tristan (Neal Cooper) were singing their roles for the first time, and were admirable. Abrahmsen was more than that – she was superb. She has a smaller voice than is traditional, but a pure, clear, and consistently lovely tone, with ample power when needed. Achingly vulnerable in Act I, enraptured in Act II, ravaged by desolation in Act III, Abrahmsen was thrilling.
The other figure central to its success was conductor Anthony Negus, a noted Wagnerian, who drew a consummate performance, subtle, flexible, and finely tuned, with ideal orchestral balance, impeccable pianissimo playing, and beautiful judgement of phrase and line. I have never heard the Melbourne Opera Orchestra play so splendidly.
Negus took a swift but lyrical approach, never allowing the drama to lag. The lighter voices of the lovers and Negus's delicate shadings made this a particularly intimate account, all the more rewarding for that.
Cooper is not really a Heldentenor, and his singing showed signs of strain at times as he husbanded his voice for the many clarion top notes in Act III, but he managed all of these and some lovely singing: ardent and anguished. Steven Gallop, a fine and powerful bass, was noble in character and voice as the betrayed King Marke, while Sarah Sweeting and Michael Lampard shone as Brangane and Kurwenal.
Director Susan Chaundy and her team again managed a sensitive production on a low budget, with spare but imaginative sets, clever use of video as backdrop, and intelligent lighting and costuming. There was one misjudgement in Act I, when the video showed we were heading into the surging sea, looking at the bow complete with steersman and rudder – a nautical novelty.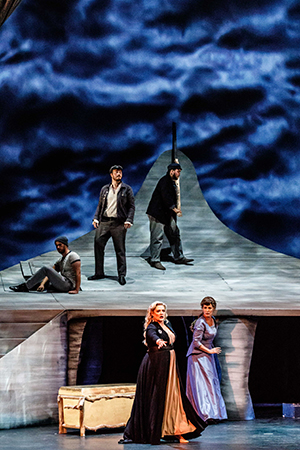 Lee Abrahmsen, Sarah Sweeting, and the chorus in Melbourne Opera's Tristan and Isolde (photograph by Robin Halls)A power surge meant the surtitles went out for a while in Act II, potentially a serious problem in an opera where philosophising is at the heart, but they came back too soon, showing the text 'premonition of holy twilight is redeeming the world'. What on earth might that mean? But the sublime music sweeps such absurdities aside: Wagner and the Melbourne Opera triumph.
Tristan and Isolde (Melbourne Opera), continues at the Palais Theatre, St Kilda, Melbourne, until 7 February 2018, followed by a single performance at Monash University on 10 February. Performance attended: 5 February.
ABR Arts is generously supported by The Ian Potter Foundation and The ABR Patrons.