The opening sequence of Happy End, the latest film from French director and provocateur Michael Haneke, is a funny–shocking series of domestic events captured via a livestreaming social media platform like Snapchat or Instagram. It shows the bedtime routine of a depressed, emotionally vacant woman. A pet hamster falls victim to an experiment with antidepressants. Then the woman too falls unconscious. A mordant textual commentary on the unfolding video turns out to have originated from the woman's thirteen-year-old daughter, Eve (Fantine Harduin), who has effectively broadcast her mother's murder.
The sequence gestures back to many favourite Haneke themes: the corrosive effects of indifference, poisonous inter-generational relationships, the mundanity of depression, and the indignity of death. Later in the film Eve will drug herself, recalling another cheerful Haneke trope: shocking reprisal, the cyclical revisitation of violence. The livestream sequence is also a tapestry of Haneke's formal strategies: laboratory-style shots that put the banal horror of everyday life under the microscope; diegetic sound only; elliptical storytelling; sinister vérité footage. The screen-within-a screen is a persistent Haneke motif. Against the soporific cinema that Haneke has made it his artistic mission to resist, here it forces spectators to foreground their involvement. What is it we are watching?
The sequence is like a capsule of the auteur's themes and strategies. Which is in turn a good description of Happy Ending – a kind of Haneke's Greatest Hits from a career-long laceration of bourgeois film viewers and their onscreen counterparts.
Happy End then focuses in on the domestic affairs of the Laurents, a rich Calais construction family that lives together in a kind of plush multi-generational compound. Eve has to move in with her absent father, Thomas (Mathieu Kassovitz), who lives with his new wife, Anaïs (Laura Verlinden) – also mechanically indifferent to the now-motherless adolescent – and with their infant child. In another ice-cold entry in her catalogue of mercilessly pragmatic women characters, Isabelle Huppert plays Thomas's sister Anne, who oversees the family's affairs and their large-scale development company, with her volatile son Pierre (Franz Rogowski) as underling and dubious inheritor. Depressed curmudgeon patriarch Georges (Jean-Louis Trintignant of Haneke's Amour [2012]), is facing dementia and a miserable, lonely decline, but is considered too robust for the assisted suicide he craves. In this, Happy End recycles the euthanasia theme of Amour, though tonally it is very different. Georges' lot means that he too could not care less about the dynasty that surrounds him.
'Welcome to the club, Anne says to Eve during her first dinner with the Laurents. Eve looks horrified but somehow unsurprised. The burgeoning sociopath has found her true home. Improbable as it seems, the young murderess becomes a sympathetic, vulnerable character.
The Laurents experience a series of banal and calamitous tragedies, to which they respond largely without empathy. Another surveillance tape affectlessly records an avalanche on one of their construction sites which injures one of their workers. The legal proceedings that follow showcase their grim indifference. When their dog bites the small daughter of their servant Jamila (Nabiha Akkari), they placate her with a box of chocolates. A background of worker strikes and the Calais refugee crisis remains precisely that – background.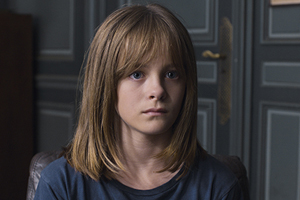 Fantine Harduin as Eve in Happy End (Transmission Films)
The lives of servants, members of the working class, displaced refugees all happen offscreen. Mostly we spend time with the Laurents as they go about their bourgeois business. 'As long as I can remember,' Haneke says in an interview, 'I've seen this lack of compassion towards suffering and misery that we in the west are partially responsible for, due to colonisation. It's a form of autism. I don't exclude myself from this.' The Laurents are accomplices in a culture that more broadly holds human dignity in contempt.
Throughout his career, Haneke's explicitly stated intention has been to provoke spectators with the ethical problems inherent in the viewing situation, to 'rape the audience' into imagination and self-reflection (his own words). Although his films taunt the viewer with glimmers of convention – the tease of a genre set-up; characters with seemingly recognisable human motivations – they inevitably hold back on viewing pleasures, connective narrative tissue, and generic coherence. And forget about anything resembling narrative or moral closure.
Happy End is no less forthcoming on any of those fronts, and yet it does offer something both recognisable and easier to absorb: black bourgeois comedy in bright, white, beautifully lit spaces. Make no mistake, the jokes are dark, but however black things get there seems to be an endlessly renewable appreciation for a certain style of arty haut-bourgeois satire, and this surely constitutes a particular form of viewing pleasure. One name for it is 'cold comfort'.
There are moments of warmth, particularly between the two most seemingly sociopathic characters in the films – Eve and her grandfather – who form a strange conspiracy. They dish out their family's worst but are also a source of mirth and mordant diagnosis. Trintignant is unforgettable in the closest thing that comes to a family-bonding scene, a series of revelations and a conversation with Eve in his office; tiny movements of his head and his arm hint at something one can't help but feel is profoundly human.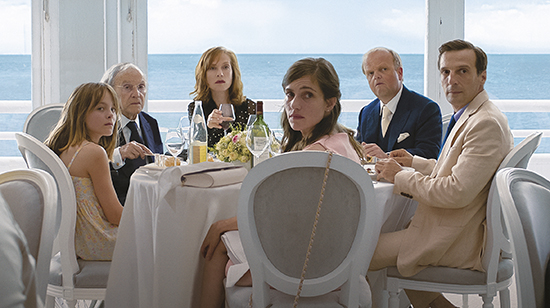 The cast of Michael Haneke's Happy End (Transmission Films)

It is no spoiler to reveal that the 'happy end' of the title of Michael Haneke's latest film is ironic. There are no happy endings in Haneke. However, in a manner of speaking, Happy End is happier than the philosopher–auteur's signature work, his notoriously 'sadistic' brand of social-critique cinema. There are ideas he has touched on in more horrible ways before, but in Happy End they are offered in an almost charming degustation. Those who have followed Haneke's career closely may well be disappointed to find that the audience gets off so lightly and that the material isn't so fresh. But frankly, neither is the rotting stock in the larder of bourgeois malaise. If 'family' implies a structure ostensibly constituted by relations of care, love, fellow feeling, there is no hope for the Laurents. The concept of family itself becomes the film's biggest and darkest joke.
Happy End (Transmission Films), 107 minutes, written and directed by Michael Haneke. In cinemas 8 February 2018.
ABR Arts is generously supported by The Ian Potter Foundation and The ABR Patrons.