If the number of reviews and interviews are indicators of a new book's impact, Tony Birch's novel The White Girl has landed like a B-format sized asteroid. Birch's publisher estimates a substantial number of reviews and other features since publication. I've consulted none of them. Usually I can't help myself from immersing myself in any and all artefacts of literary reception. With The White Girl I wanted to stay with the work, stay with Odette Brown and with Sissy, stay on the fringes of the fictional town called Deane, stay on that train to the big smoke – stay with The White Girl and reflect on where it took me.
Set in early 1960s country Australia, The White Girl opens with Odette Brown rising with the sun, 'as she did each morning'. One might call Odette a matriarch, but I simply want to refer to her as a woman I am familiar with. Odette (I am resisting the urge to refer to her as 'Aunt') is an Everywoman, an every Koori, Murri, Nyoongar, Nunga, Goorie, and every other kind of us-woman. Odette thinks deeply and does what needs to be done. She loves her family, those living and the ones who have already passed. Getting to know the deceased members of Odette's family reminds me of my knowing since childhood my own maternal great-grandmother, although she passed away two months before I was born.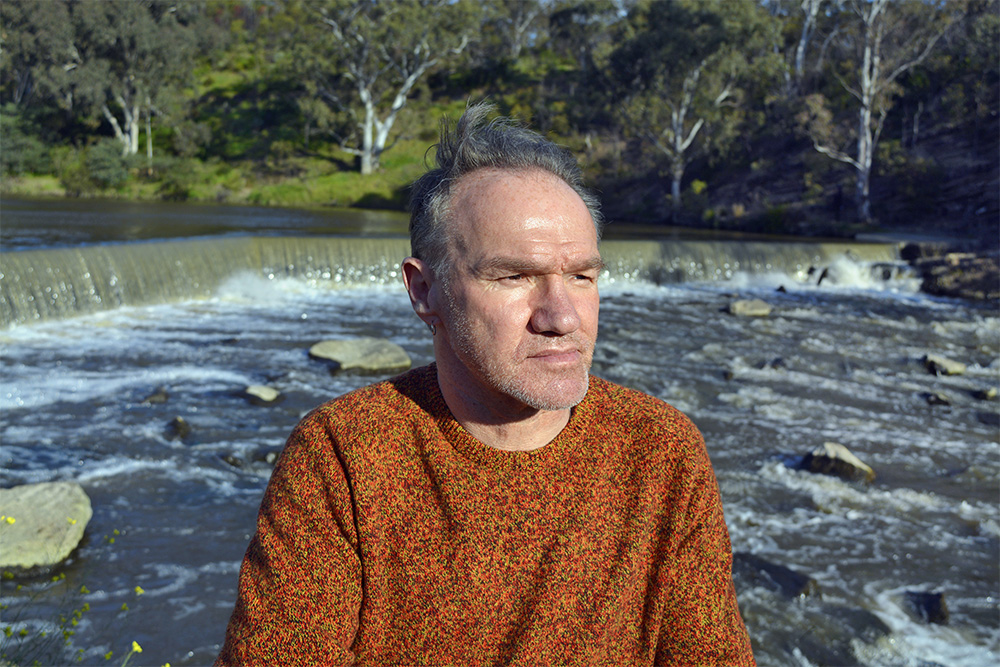 Tony Birch by the Yarra River at Dights Falls Abbotsford (photograph by Michael Rayner)
What, though, is The White Girl about? I've heard writers answer that question with a well-rehearsed, cut-and-dried response or, at the other extreme, say that it's about many things. Out of respect for the complexity of that question, there is only one thing I can say with an element of confidence. This novel is about family love, where family includes shared ancestry (Odette, the missing Lila, and Sissy), those who are chosen (Millie and Yusuf Khan, Alma and Jack Haines), and sometimes those not chosen. Thematically, The White Girl extends family love beyond home and hearth into the brutality of colonisation. Few of our families were left untouched by the genocidal and repugnant policy of removing children from their Aboriginal families. In portraying an Aboriginal family, it isn't possible to avoid the tentacles of that brutality. Forced removals were empowered by legislation, auspiced by bureaucracy, and zealously conducted by the constabulary. In building a story around a woman like Odette, Birch both humanises Aboriginal womanhood and infers the violence to which we were subjected. He introduces Odette and readers to the new copper in town:
The figure emerged from the fog. Odette first noticed a pair of black shoes, spit polished and almost gleaming, a task the dishevelled Shea was hardly capable of. She looked up at the policeman's face, at a man years younger than Bill. His skin was opaque. Like death. The policeman removed his cap. His hair was cut brutally close to his skull.
Officer Lowe has volunteered to be posted as head of the police station of 'a piece of scrub like Deane', not just he wants to police its citizens but also for the grandiose title of Guardian of the district's Aboriginal population, one he finds 'enticing and apt'. If Lowe is a familiar copper – impervious to the horror experienced by others and keen to lord it over those within his tiny dominion – the man he has come to replace, Bill Shea, also seems familiar: slovenly, drunken, past caring. The beauty of the latter for Odette and all her people is that Bill generally minded his own business as long as it took him to the bottom of his whisky flask. Lowe, though, is on a mission: 'he would begin with auditing each of the Aboriginal children under his guardianship, with a view to deciding the best outcome for their future welfare'.
The notion that a white police officer would understand Aboriginal children better than their own families was as absurd in the 1960s as it was in the 1860s – as it is now on the verge of the 2020s. If The White Girl achieves anything in addition to its literary merits, it will be to puncture the widely held fallacy about the place of 'good intentions' in governments' stealing children from their Aboriginal families and ancestral country.
Despite the impoverishment of Odette and her ancestors, she is portrayed as that powerful Aboriginal Everywoman – the one who carefully considers every event, every moment, the one who is always weighing up action and reaction, the one who suffers the losses of loved ones, especially those losses that on the surface make the least sense, in this case the disappearance of her own daughter, Lila, who is Sissy's mother. Odette is the one who makes a home with her bare hands, the one who creates enterprise and income from nothing but skill and guile, the one who provides. The one who senses danger and is bold enough to devise an escape plan. It is this plan that takes Sissy and the reader on the necessary journey away from Deane and away from Lowe. Odette's canny mind makes sense of the title for us.
There is so much to say about The White Girl, like the bathtub that makes you want to sink into one. This bathtub, craftily acquired by Odette's late husband, is a small but powerful signifier of love and enjoyment of life. Grandmother and granddaughter labour to ease the harshness of life with water boiled over a hand-made fire; they wash each other's hair at this tub. Here is love, caring. There are other signifiers of love and enjoyment of life throughout The White Girl, just as other moments remind us of the repression of Aboriginal exuberance and vitality.
Tony Birch has stated that this work took him eight weeks to write. All credit to him for bringing a lifetime of knowledge about Australian history, social policy, and cultural identity to this book, a deceptively simple story about family love that is rich in humanity and purpose, and hope. The White Girl is worth your time and will reward you over and over again.