Theatre
'Hamlet' and 'The Floating World'
Over the past ten years, Melbourne and Sydney have experienced a revolution in the aesthetics of theatre – perhaps only the second major one since 1945. After World War II, the British helped to get us back on our cultural feet, the high point being the establishment of the Australian Elizabethan Theatre Trust in 1954. Along came a bunch of Poms or Pommie-minded locals to show us how to do theatre 'properly'. The gift was well received – until a swelling group of younger locals decided to storm the fort.
Stepping into leadership positions in Sydney was a strident group of 'Neo-Nationalist' theatre-makers, including John Bell, Richard Wherrett, and Ken Horler (the Nimrod triumvirate), as well the more internationally inspired Jim Sharman and Rex Cramphorn, followed by the gifted Neil Armfield. Explorations of Australian identity, its origins and character, dominated an explosion of home-grown writing. While the content was different, this new generation of directors followed in the tradition of its predecessors, considering it their duty to respectfully serve the intentions of their authors, however they might be gleaned.
Similar things happened in Melbourne in terms of a shift in content and themes, led by the Australian Performing Group (APG), a more anarchic rabble of actors, writers, designers, and directors. Their work was often openly combative and political. While scripts were mashed in rehearsal, some of the better ones survived largely intact. One of the most significant works to emerge was John Romeril's The Floating World (1974), starring Bruce Spence as Les Harding, the survivor of a Japanese concentration camp ('a brilliant performance', according to Katharine Brisbane).

Against the backdrop of the anti-Vietnam War movement, The Floating World follows Harding's descent into hell on a Women's Weekly 'Cherry Blossom' cruise. Flashbacks from World War II overwhelm him. A study of post-traumatic stress disorder avant la lettre, it is a powerful text offering great acting opportunities.

Disappointingly, Griffin Theatre's new production of The Floating World – with Peter Kowitz as Les Harding – never gets off the ground. Director Sam Strong is respectful of the script; he does not tamper with it. But he has asked his actors to deliver their lines at such a volume and pace that for me it became a major assault on the senses. I put up a wall around myself in defence, blocking the work from entering my body. Other experienced theatregoers agreed with me. Yelling is not acting. It impedes the suspension of disbelief, and none of us felt any compassion for Les Harding's downfall.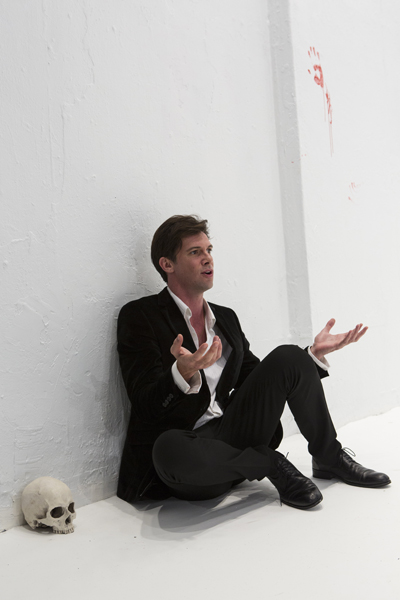 Toby Schmitz as Hamlet (photograph by Brett Boardman, Belvoir St Theatre)
By the early 2000s, the Neo-Nationalist theatre movement was taking its first hits from a new generation of wannabe theatre-makers: initially Barrie Kosky, then Benedict Andrews and now Simon Stone. These three currently enjoy star status. Unlike colleagues of theirs such as Sam Strong, at the heart of their work is a shift in the definition of 'primary text' from that which is initially presented on paper to what we see on stage on opening night. The playwright's contribution might be regarded, at best, as a springboard or skeletal frame. I am not against this, but you tamper at your own risk.
Simon Stone's production of Hamlet is playing at Sydney's Belvoir St Theatre. While not flawless, it is a brilliant example of this new, let us call it 'meta-theatrical' approach. Stone strips bare Shakespeare's text, leaving only the bones of a (Freudian-driven) family feud. Stone fleshes out the audience's experience by demanding an intense commitment from the actors to those words that have survived, combined with an Olympian leap of imaginativeness in the physicalisation of their roles. It is a style drawn largely from Berlin. Audiences there generally know the 'original' texts very well, and enjoy what we might call 'double readings': the version on stage, vis-à-vis memories of it before the 'auteur' man-handling.
Shakespeare's audience, literate or not, was practised in the art of 'looking with its ears'; this explains the intensity of Shakespeare's imagery. Young people today, inured to television, cinema, video games, social media, and YouTube, are more inclined to 'listen with their eyes'. In Stone's 'Dallas-style' Hamlet, half of Shakespeare's text has disappeared. Yet the work remains engaging, some of it more intense than I have witnessed ever before in a Hamlet production. But then, I too am enjoying a 'double reading'. So is this a production for the masses or connoisseurs? I leave the question open.
Toby Schmitz's Hamlet is the most emotionally distraught I have ever seen. Unlike Peter Kowitz's portrayal of Les Harding's descent, this Hamlet's journey into psychic disintegration takes you by the throat and does not let you go. Schmitz is more than ably supported especially by Robyn Nevin's chardonnay-swilling Gertrude, John Gaden's rigid stepfather, Claudius, Anthony Phelan as Hamlet's deceased father (on stage most of the night), and Greg Stone's scarily articulate Polonius.
The production is not perfect. Stone pays a price for his radical approach, especially in the duel scene between Hamlet and Laertes (Thomas Campbell), dramatically the play's high point. Stone's solution is wimpish. Because we've already had a pistol, we can't have swords. Rather than seeing a real fight, we are somehow relocated inside Hamlet's haemorrhaging, afflicted brain. Unfortunately, this encirclement of Hamlet by brooding, bloodied apparitions – sans the sword-fight – knocks the top off the play's highest peak, a weak ending. Imperfections aside, the production overall is gripping and passionate.
It also moves what might have been a fashion moment (think The Lost Echo, The War of the Roses, Baal, The Seagull, Death of a Salesman, and, more recently, Miss Julie) up a notch to a new way of doing things. No going back from here.
Griffin Theatre's production of The Floating World, directed by Sam Strong, runs until 16 November 2013 at the SBW Stables Theatre. Performance attended 10 October 2013.

Belvoir St Theatre's production of Hamlet, directed by Simon Stone, runs until 1 December 2013 at the Upstairs Theatre. Performance attended 16 October 2013.