States of Poetry - Poets
States of Poetry - New South Wales | About Susie Anderson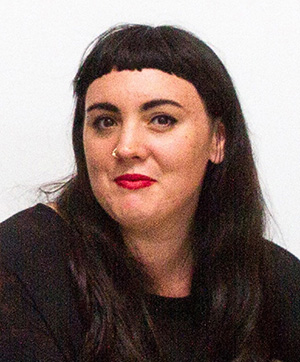 Susie Anderson is a writer and multimedia artist based in Sydney, Australia. A descendent of the Wergaia and Wemba Wemba people from north western Victoria, her practice is concerned with the distances between place and people, themes she explores through prose poetry and media based works. Susie has performed and presented widely at literary festivals and events in Australia and abroad, and in 2015 co-ran an event of collaborative poetry performances at the National Young Writers Festival in Newcastle. Selected publications include Alien She, Keep Brave, Shabby Doll House, The Lifted Brow, For Every Year and Voiceworks Magazine. Susie was a recipient of a Wheeler Centre Hot Desk Fellowship in 2014.
Susie also makes work as part of the arts collective sociocreative trust, most recently Elsewhere, an exhibition at Redrock Books & Gallery in 2015, and Speak Easy, a curated dinner and performance at the 2016 Festival of Live Art in Melbourne.
State Editor's notes
'Susie Anderson moved from Victoria to New South Wales fairly recently. She writes strikingly easygoing, relaxed prose poems. They are confessional and deceptively off the cuff – as though presenting thoughts and actions unfolding in real time. Her unaffected voice, typically keen to reveal her quirks and shortcomings to the reader, is endearing in its honesty' writes ABR's States of Poetry - New South Wales State Editor Elizabeth Allen. Read her States of Poetry introduction here.
States of Poetry
'the bus'
'egress'
Recordings
#42 States of Poetry 2016 NSW Podcast | Introduction and 'small town apocalypse' by Susie Anderson
#43 States of Poetry 2016 NSW Podcast | 'time conquers all' by Susie Anderson
#44 States of Poetry 2016 NSW Podcast | 'the bus' by Susie Anderson
#45 States of Poetry 2016 NSW Podcast | 'minimum spend' by Susie Anderson
#46 States of Poetry 2016 NSW Podcast | 'egress' by Susie Anderson
Further reading and links
Susie Anderson's Blog
Three Poems by Susie Anderson published in The Lifted Brow