Commentary
This Is America
A historical perspective on the Capitol assault
On the morning of 6 January 2021, President Donald Trump addressed a crowd of his supporters outside the White House for more than an hour. The president urged protesters who had already begun gathering along the National Mall to go to the Capitol Building where both houses of Congress were about to start the process of certifying the results of the electoral college, formalising Joe Biden's victory in the November 2020 election. The election had been stolen, Trump told them: it was time for them to take it back and march on Congress: 'You will never take back our country with weakness,' said the president.
In the previous days, right-wing Facebook groups and other social media forums were flooded with users announcing their intention to overturn Biden's victory, pictures of automatic weapons often accompanying their posts. Prior to Trump taking the stage, the president's son Donald Trump Jr had stirred up the crowd by attacking and threatening the Congressional Republicans who refused to break the law and reject the outcome of the election. Included among the various 'traitors' to Trump and his dwindling inner circle was Mike Pence. The previous day, the vice president had told Trump directly that he not would use his role in the Senate to appoint new electors and wrote in a formal letter to the President that, 'as a student of history who loves the constitution', he simply could not overturn the election. Of course, any such intervention would likely be rejected by the Supreme Court anyway and might wreck Pence's presidential chances in 2024, should Trump and his wing of the Republican party disintegrate.
Speaking to the riled-up crowd on Wednesday morning, Donald Trump Jr issued a warning to Pence and his fellow Republican traitors: 'We are coming for you.' At MAGA rallies, Republicans who have appeared to cross the president or to have fallen out of favour with him are often the subject of the most aggressive vitriol. Mitt Romney – the sole Republican who voted for Trump's removal during his trial in the Senate – is often the subject of aggressive public harassment; he was even accosted by Trump supporters that morning en route to Washington. Yet, even Trump's most ardent backers risk running afoul of the president and the MAGA world. Former Attorney General Jeff Sessions – who was one of Trump's first and most outspoken advocates, and whose loyalty until the bitter end was both futile and embarrassing – was fired and publicly mocked by the president, before losing his efforts to regain his long-held Senate seat (Trump endorsed former college football coach Tommy Tuberville). Sessions's unforgivable sin was that he had recused himself from the Russia investigation, citing impartiality concerns, as he had worked on the Trump campaign and had met with Russian officials in that capacity. Sessions, like Pence, had little choice but to betray the president – if he wanted to stay on the right side of the law. Trump's habit of sacrificing political allies on the pyre of self-interest is nothing new. That Pence, McConnell, and the majority of Congressional Republicans are now exiled from Trumpworld is, however, extraordinary and highlights the president's increasingly desperate political isolation.
Speaking alongside Donald Jr, Eric Trump, and their partners on Wednesday morning was Trump's personal lawyer, Rudy Giuliani. In his characteristically erratic and unhinged manner, Giuliani continued the work of previous speakers by provoking the crowd: 'This election was stolen,' he told them. 'Let's have trial by combat.'
What happened next was the most shocking political violence to come out of an established democracy in living memory and there should be no confusion as to how this came about, and who is to blame. When Trump's mob descended on Congress, it was not the first time that the Capitol building had been attacked – the British did so in 1814, Puerto Rican nationalists in 1954 – but it was the first time a sitting American president had directed such an attack.
While Michael Flynn, Paul Manafort, Michael Cohen, Rick Gates and other Trump associates, may have lost family relationships, any remaining semblance of public respect, and (briefly) their freedom, on Wednesday Trump's supporters lost their lives. One woman died as a result of gunshot wounds, while three others died from separate medical emergencies. One Capitol police officer died as a result of injuries sustained in the mêlée, and a homicide investigation is now underway.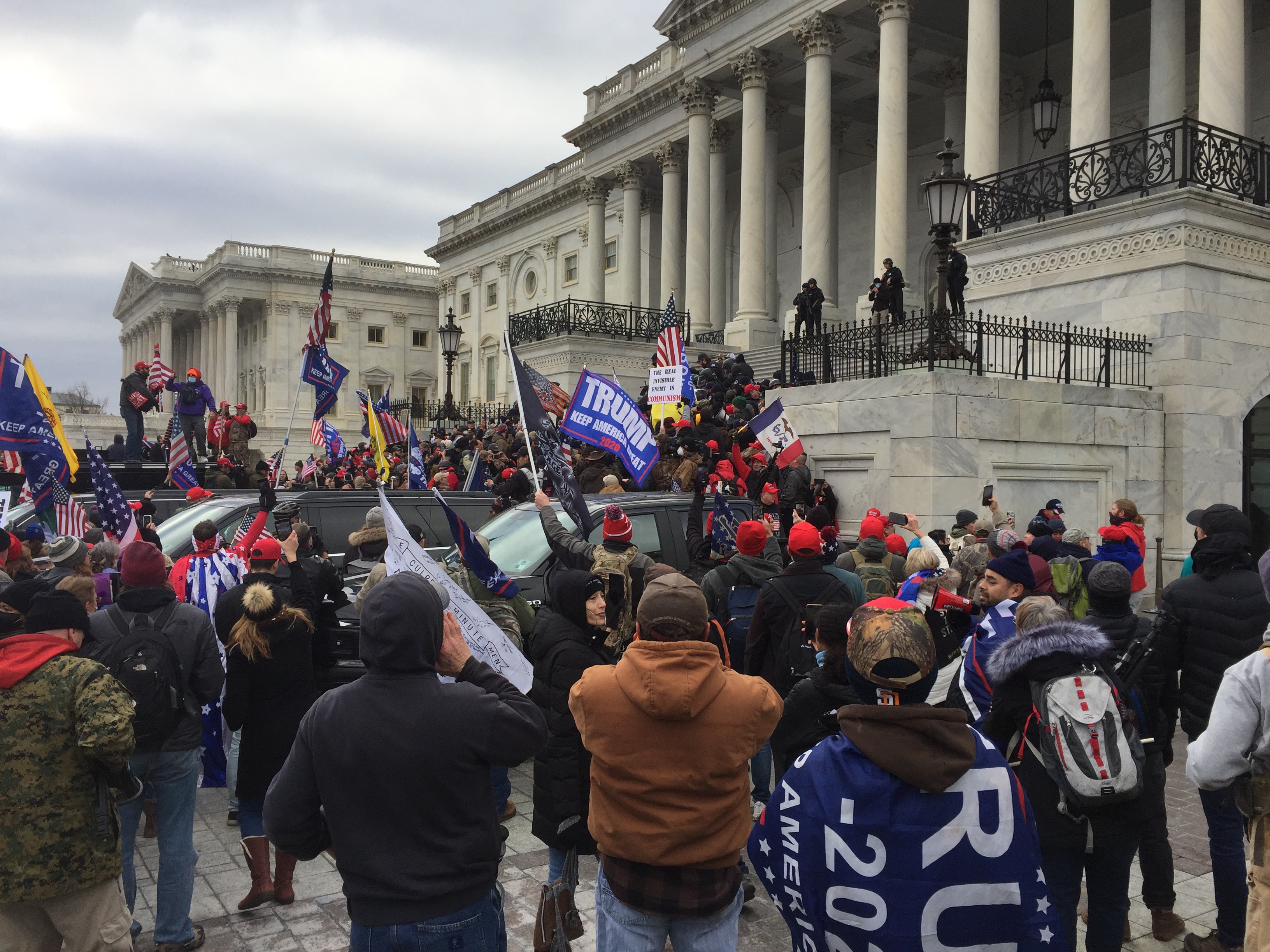 Trump supporters marching on the US Capitol on 6 January 2021 (TapTheForwardAssist/WikimediaCommons)
Despite only delaying Congress's task of counting the electoral college's votes (a normally unremarkable procedure) by a matter of hours, this failed insurrection, and the president who incited it, have wounded an already battered and bruised body politic. It was the manifestation of a dangerous and fanatical form of ignorance that Donald Trump has fostered and manipulated since announcing that he would run for the Republican nomination in June 2015. If it were not for the very real threat this attack posed to the lives of lawmakers, Capitol police, staffers, and government employees, it would be absurd. The sight of a pale, bespectacled man almost entirely clothed in animal skin sitting meekly on a Senate hallway bench, or of a deranged Viking/shaman in sweatpants screaming from the Senate president's rostrum for Mike Pence to show himself, would be comic if they weren't so terrifying – that is, if five people hadn't lost their lives and if these two protesters didn't represent the continuation of a shameful American tradition of anti-democratic violence and white grievance politics that has killed thousands more over the past two centuries.
Prior to this week, Trump's best historical analogue has been Abraham Lincoln's successor, Reconstruction-era President Andrew Johnson, a bigoted and vindictive white supremacist who valued personal loyalty over all else, who promoted violence against his opponents, who was impeached, and who left office in disgrace. Perhaps parallels with Confederate president, the traitor Jefferson Davis, now seem more appropriate. Yet, despite four years of the bloodiest conflict the United States has ever seen, with three-quarters of a million Americans dead and countless more wounded, Confederate forces never managed to storm the US Capitol. Until 6 January 2021, the Confederate battle flag never entered the Capitol building. Trump has achieved what Davis never could. While Trump has not (yet) formed an alternative government, he is responsible for inciting a violent attack on the US government, directly inciting right-wing extremists to storm Congress and prevent the peaceful transfer of power. While President Trump maintains control over the US military, the national guard, and a fiercely loyal cadre of right-wing supporters, the danger of a successful authoritarian takeover of the US government remains. For the first time since Reconstruction, American democracy stands dangerously close to the abyss, and it is Reconstruction – the twelve-year period of American history following the end of the Civil War and prior to the rise of Jim Crow – that so clearly demonstrates the fragility of American democracy during periods of deep ideological division and violent white supremacy.
Despite the Civil War being fought explicitly over the issue of slavery, Confederate surrender in April 1865 did little to ensure that the freedom promised to enslaved Black Americans would be respected. In the twelve months following the end of hostilities, Southern legislatures (controlled by former Confederates) introduced a series of draconian laws, known as the Black Codes, whose principal purpose was to return the absolute control over Black daily life and labour to former enslavers. President Johnson supported these measures and vetoed Congressional attempts to overturn the Black Codes.
White outrage at the defeat of the Confederacy, at the presence of African American soldiers, and at the political organisation and activism of Black communities, led white supremacists to commit horrific mass killings and sexual violence in both Memphis and New Orleans in May and June 1866. Despite Congress wrestling control of Reconstruction from President Johnson in 1867, white supremacist violence continued throughout this period. The Ku Klux Klan, as well as other organisations such as the White League, the Knights of the White Camelia, and the Red Shirts, emerged from the ashes of the Confederacy and undertook a co-ordinated policy of reversing the accomplishments and achievements of African American communities through extreme violence and intimidation. During Reconstruction, these groups routinely attended polling places, intimidating Black and white Republican voters. These were the historical antecedents of the Proud Boys, the Oath Keepers, and the Boogaloo Boys, groups that participated in Wednesday's attack on the Capitol building and to whom Trump subsequently declared his love, describing them as 'very special'.
Insurrections are nothing new in American history. Following a co-ordinated campaign of voter intimidation in Louisiana in 1872, and the orchestration of the worst episode of racial violence in US history (the Colfax Massacre of 1873), the Crescent City White League besieged and occupied the Louisiana State Capitol in September 1874, attempting to reverse the outcome of the state election and install a new, white supremacist government. It took three days and the intervention of the US army to reinstate law and order, but the damage was done. Two years later, white supremacist paramilitary organisations were back out in force, intimidating Black voters and ushering in the rise of Jim Crow. With little opposition from the federal government or others, these groups became increasingly integrated into Southern society and law enforcement; with this came widespread Black disenfranchisement, intimidation, and lynching. In cities where Black communities managed to retain some civil and political rights well into the Jim Crow period, white paramilitary activity continued. In Wilmington, North Carolina, in 1898, a white supremacist mob successfully mounted a coup d'état; overturning the democratically elected local government (which included both Black and white political leaders), killing hundreds of members of the local Black community and expelling thousands more.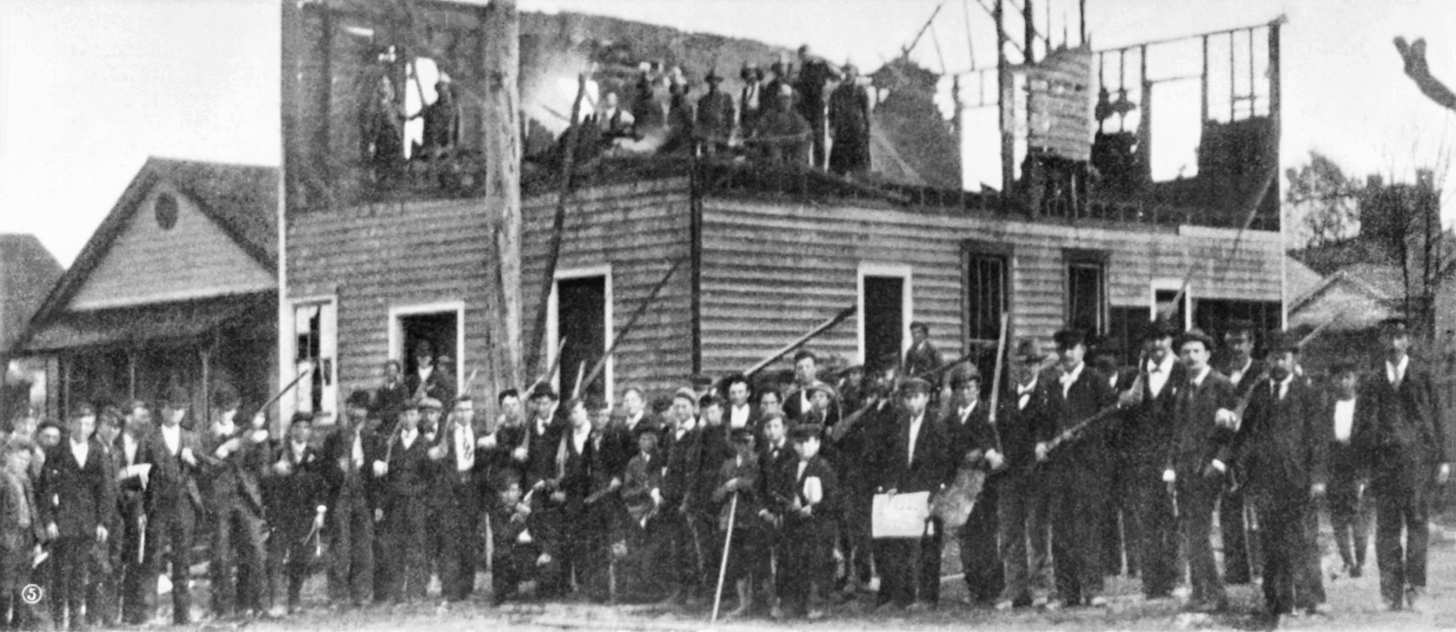 Mob posing by the ruins of The Daily Record in Wilmington, 26 November 1898 (Wikimedia Commons)
Immediately after Wednesday's attack on the US Capitol building, President-Elect Biden called on Trump to end the siege and denounced the violence, writing on Twitter: 'Let me be very clear: the scenes of chaos at the capital do not represent who we are.' In a short video statement, Biden referred to America as having been 'so long the beacon of light and hope for democracy'. 'America,' Biden insisted, 'is about honour. Decency, respect, tolerance – that's who we are, that's who we've always been.' As well-meaning as such sentiments may be, they are fundamentally misguided. To view the assault on the US Capitol as the climax of a dramatic, but brief, period of authoritarianism in the US is a potentially dangerous mistake. This attack was just the latest iteration in a long-lasting tradition of anti-democratic, white supremacist violence that has plagued the Republic since, at least, the Civil War.
Reverend William J. Barber II, the prominent Black civil rights campaigner, told his congregation after the event that for many Americans (including Black, Latinx, and Native Americans), 'we've seen this many times … we've seen this kind of mob mentality. Maybe it wasn't in the Capitol building, but it was in our sacred spaces and on public streets.' While the Confederate battle flag never flew over the US Capitol, it did fly over the state Capitol building of South Carolina in Columbia from 1961 until 2015. It wasn't finally removed because of a time-honoured American tradition of decency, but because, as a symbol of hate, it's place over the seat of government finally became untenable when Dylan Roof, a young white neo-Confederate, walked into Charleston's historic Mother Emanuel AME Church and murdered nine Black worshippers. To ignore uncomfortable truths about one's own nation's history is not solely an American problem – something we in Australia must recognise – yet American exceptionalism is a uniquely stubborn obstacle in the way of any meaningful historical reckoning in the United States. To ignore the histories of anti-democratic and white supremacist violence is to do an injustice to those who have suffered and who continue to suffer today as a result of it.
But that is also not the end of the story. There are other uniquely American histories which are truly inspiring – one need only look again to Reconstruction. Despite horrific instances of violence and intimidation, formerly enslaved people seized the opportunities of the era to vote, enter politics, shape institutions, build communities and assert their vision for a radical and inclusive American republic. Their stories are inspiring not because they fit neatly into a grand narrative of American exceptionalism; they are inspiring because their stories are themselves the inspiring exception to a difficult and confronting history. During Reconstruction, more than a dozen African American men were elected by coalitions of Black and white voters in the South and sent to the US Capitol building to serve in the House of Representatives, while Mississippi voters sent both Hiram Rhodes Revels and Blanche K. Bruce to the Senate.
Reconstruction remained the last time voters in the South elected an African American Senator – until (ironically) January 6, when Raphael Warnock defeated his Republican rival in Georgia's special run-off election. Warnock, whose mother grew up picking cotton under Jim Crow, who has worked over the past four years registering voters as part of the New Georgia Project, and who preaches at Martin Luther King Jr's former church in Atlanta, will be Georgia's first Black US Senator. Alongside the victory of Jon Ossoff (Georgia's first Jewish US Senator), Warnock's historic election has flipped the Senate and granted the incoming administration the opportunity of passing meaningful pieces of legislation in the year ahead.
There is no single American story; the history of the United States involves an intricate combination of the laudable and the awful, the inspiring and the infuriating, the enlightened and the ignorant. On January 6 we witnessed it all.
---
This article, one of a series of ABR commentaries addressing cultural and political subjects, was funded by the Copyright Agency's Cultural Fund.
Supporting Australian writers and readers
Australian Book Review – now sixty years old – stands for independent, reasoned journalism. Never has it been more important. Help us to support Australian writers by making a tax-deductible donation. ABR Patrons sustain and enhance this unique critical resource.

DONATEBECOME A PATRON