ABR's Calibre Essay Prize winners in conversation with Peter Rose
Monday, 7 August 2017 (6 to 7.30 pm) at The University of Sydney (NSW)
Australian Book Review is delighted to present the winners of its prestigious Calibre Essay Prize this year, Michael Adams and Darius Sepehri, in conversation with ABR Editor Peter Rose at Sydney Ideas. Both will read extracts from their Prize-winning essays, and discuss the themes of grief and mortality found in both pieces.
When: 6 to 7.30 pm, Wednesday 7 August 2017
Where: New Law LT 106, Level 1 Sydney Law School Annex, Eastern Avenue, The University of Sydney
Bookings: This is a free event but bookings are essential.
For more information, visit the Sydney Ideas website.
---
Elizabeth Jolley Short Story Prize ceremony
10 August, 2017
Australian Book Review will announce the winner of this year's Elizabeth Jolley Short Story Prize at a ceremony at Potts Point Bookshop in Sydney at 6 for 6.30 pm on Thursday, August 10. Hear readings from the three shortlisted stories before a special guest announces the winner (who will receive $7,000).
When: 6 for 6.30 pm on Thursday, August 10
Where: Potts Point Bookshop,14 Macleay Street, Potts Point,Sydney, NSW
To confirm your attendance, please RSVP to This email address is being protected from spambots. You need JavaScript enabled to view it.
---
Munich to Berlin: Art, music, & literature
Australian Book Review in Germany
June 2–15, 2018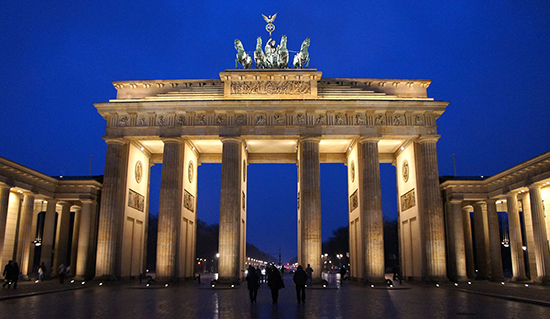 The Brandenburg Gate, Berlin (Wikimedia Commons)
Australian Book Review is delighted to offer a fourteen-day tour to Germany for readers, ABR supporters, and friends. Explore some of the great German cities with like-minded ABR readers and supporters, enjoying outstanding performances of opera and orchestral music, visiting a selection of superb art galleries and exploring Germany's literary heritage from Goethe to Nietzsche and beyond.
The tour is led by Australian Book Review's long-time Editor Peter Rose and Christopher Menz, a former gallery director who has much experience as a tour leader. ABR has engaged Academy Travel, a leading Australian small-group cultural travel company, to manage the tour.
Enquiries and Bookings
An itinerary for the
ABR
Germany tour can be found

here
. For more information about the
ABR
Germany tour please visit the
Academy Travel website
or contact Frederick Steyn at Academy Travel on (02) 9235 0023 or 1800 639 699 (outside Sydney) or
This email address is being protected from spambots. You need JavaScript enabled to view it.
Endorsements from ABR's 2016 US tour.
'My recent experience travelling on the east coast of the United States with the inaugural ABR tour group was a truly exceptional one. The knowledge and expertise of the tour leaders meant our itinerary took us to places, and even introduced us to people, not usually accessible to ordinary travellers. In all, it was truly memorable!'
'ABR's small group tour to the United States in 2016 focused on literature, history, art and theatre. The program was well-thought-out, varied and balanced. The tour leaders were attuned to particular interests of individual group members and helped them where necessary to further explore those interests in the different venues we visited. One of the excellent features was the number of private viewings and guided tours specially tailored for our group.'