August
The 2016 Jolley Prize ceremony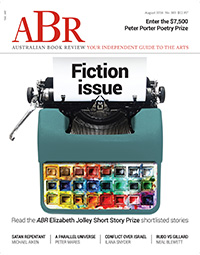 This year the prestigious ABR Elizabeth Jolley Short Story Prize attracted almost 1,400 entries from thirty-eight countries. The 2016 Jolley Prize is worth a total of $12,500, with a first prize of $7,000 and supplementary prizes of $2,000 and $1,000. ABR is delighted to announce the shortlist for the 2016 ABR Elizabeth Jolley Short Story Prize:
'Ash' by Anthony Lawrence (NSW)
'Glisk' by Josephine Rowe (Vic)
'The Water Calligrapher's Women' by Jonathan Tel (UK)
Join us at the Melbourne Writers Festival at 4 pm on Saturday, August 27 to hear readings from the three shortlisted stories before a special guest announces the winner (who will receive $7,000) and formally launches the August Fiction Issue, in which the stories will appear.
When: 4pm, Saturday August 27, 2016
Where: ACMI The Cube
Bookings: This is a free event but please rsvp to This email address is being protected from spambots. You need JavaScript enabled to view it.
ABR gratefully acknowledges Mr Ian Dickson's generous support for the Jolley Prize.
---
September
How do we live with ourselves? The Australian National Conscience
An evening with Professor Alan Atkinson, the inaugural ABR RAFT Fellow.
As a modern idea, national conscience dates back to the anti-slavery campaign of the late eighteenth century. Its origins were Christian, yet they arose from notions of national character. Alan Atkinson's suggests that, in an age of reviving nationalism, when several of the world's main problems depend on the will of governments, national conscience has a new relevance and a new urgency.
When: 6pm, Monday 5 September, 2016
Where: Law School Foyer, Sydney Law School, Eastern Avenue, University of Sydney
Bookings: This is a free event but please book your seat via the Sydney Ideas Events Page.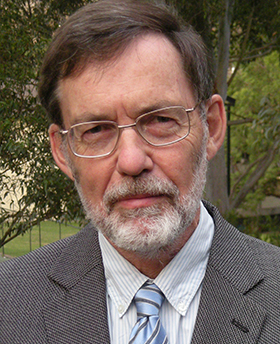 Alan Atkinson is the inaugural Australian Book Review RAFT Fellow. This major public lecture is the culmination of his Fellowship. Funded by RAFT, the Fellowship is intended to produce a substantial article concerning the role and significance of religion in society and culture. The Religious Advancement Foundation Trust (RAFT) was established to promote religion in the broader community, in particular the three Abrahamic faiths, for the benefit of individuals and society.