On March 23, before a big audience at Collected Works Bookshop in Melbourne, Morag Fraser announced the two winners of the 2017 Peter Porter Poetry Prize (worth $7,500). The winners, chosen from a field of nearly 1000 entries from twenty-two countries, are Louis Klee (Vic) for his poem 'Sentence to Lilacs' and Damen O'Brien (Qld) for 'pH'. The winners each receive $2,500.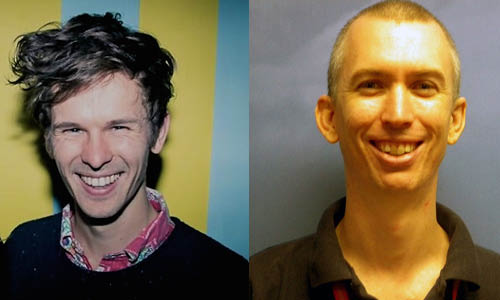 2017 Porter Prize winners Louis Klee and Damen O'Brien
The other five shortlisted poets – Ronald Dzerigian (USA), Anthony Lawrence (NSW), Michael Lee Phillips (USA), Jen Saunders (NSW), and Jessie Tu (NSW) – each receive $500. The seven shortlisted poems appear in ABR's March 2017 issue.
The judges were Ali Alizadeh, Jill Jones, and Felicity Plunkett.
ABR Editor Peter Rose commented: 'The Porter Prize – now in its twelfth year – is dear to our hearts at ABR. Year after year it goes on generating hundreds of new poems around the world. This year's field was by far the largest to date. We thank everyone who entered and heartily congratulate our two winners and the other five shortlisted poets.'
About the winners
Louis Klee lives in Melbourne and is currently studying in Cambridge. He has studied playwriting at NIDA and is an MFA writing candidate at the VCA. He earned a Bachelor of Philosophy at the ANU. His poetry has appeared in Meanjin, Cordite, and Gargouille, among other places, and his plays have been shortlisted for prizes such as The Silvergull Award. He is currently working on his first full-length collection of poems.
Damen O'Brien is a Queensland poet. His work has been published in Cordite and The Courier Mail, and has won or been highly commended in the WB Yeats Poetry Prize, the Nillumbik Ekphrasis Poetry Award, the Philip Bacon Ekphrasis Prize, the Ipswich Poetry Feast, and the FAW Tasmania Poetry Prize.
Please read our Frequently Asked Questions page before contacting us with queries about the Porter Prize.
Click here for more information about past winners and to read their poems.
Click here for more information about the 2017 judges.
We gratefully acknowledge the long-standing support of Ms Morag Fraser AM, and the support of ABR Patrons. The print is donated by Mr Ivan Durrant in honour of Georges Mora.