Jennifer Down was named the winner of the 2014 ABR Elizabeth Jolley Short Story Prize in front of a packed house at Melbourne Writers Festival on Saturday, 30 August. Ms Down, a Victorian writer, received $5,000 for her story entitled 'Aokigahara'.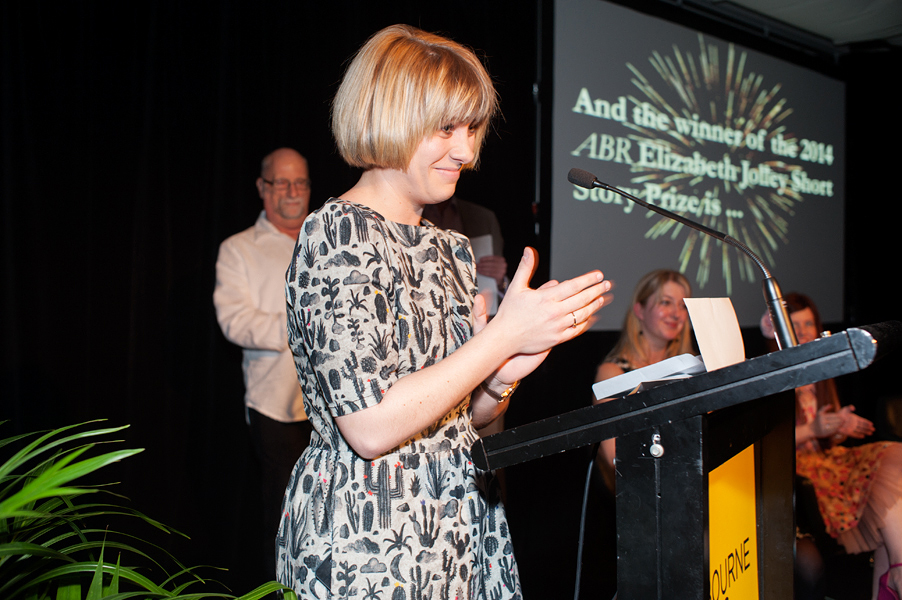 Jennifer Down at the announcement ceremony (photograph by Torunn Momtazi)

The Jolley Prize – one of Australia's most lucrative and visible awards for short fiction – attracted about 1,200 entries. The judges – Patrick Allington, Cassandra Atherton, and Amy Baillieu – shortlisted three stories:
Jennifer Down – 'Aokigahara' First place: $5,000
Faith Oxenbridge – 'Doisneau's Kiss' Second place: $2,000
Cate Kennedy – 'The Art of Life' Third place: $1,000
All three stories appear in full in our September Fiction issue.
The judges also highly commended two stories which we will publish in coming months: Gregory Day's 'The 900s Have Moved' and 'The Great Dying' by American writer Larry O'Connor.
We will begin seeking entries in the sixth Jolley Prize in December 2014.
Readers' Choice Award
To celebrate the Jolley Prize (and to find out which of the three shortlisted stories our readers like most), we are also presenting the Readers' Choice Award. You have until October 20 to nominate your favourite story. To do so, simply email us with the title of the story you wish to nominate, along with your full name, address, and telephone number: This email address is being protected from spambots. You need JavaScript enabled to view it.
We have some special prizes for three lucky voters. One will receive twenty-five Text Classics, courtesy of Text Publishing. Two other voters will receive two-year complimentary subscriptions to ABR Online.
'ABR has also contributed to elevating the status of the short story with its annual Jolley Prize.' – Blanche Clark, Herald Sun
---
You may be interested in reading the shortlisted stories from previous years.
More information about all our past winners is available here.
We also recommend you read our list of Frequently Asked Questions before contacting us with a question about the Jolley Prize.
Entries for the 2015 Jolley Prize will officially open in December. Keep up to date with the latest developments on the prize, as well as other interesting ABR news and giveaways, by signing up to our newsletters.