Theatre
The Comedy of Errors
A waddling production of a breakneck farce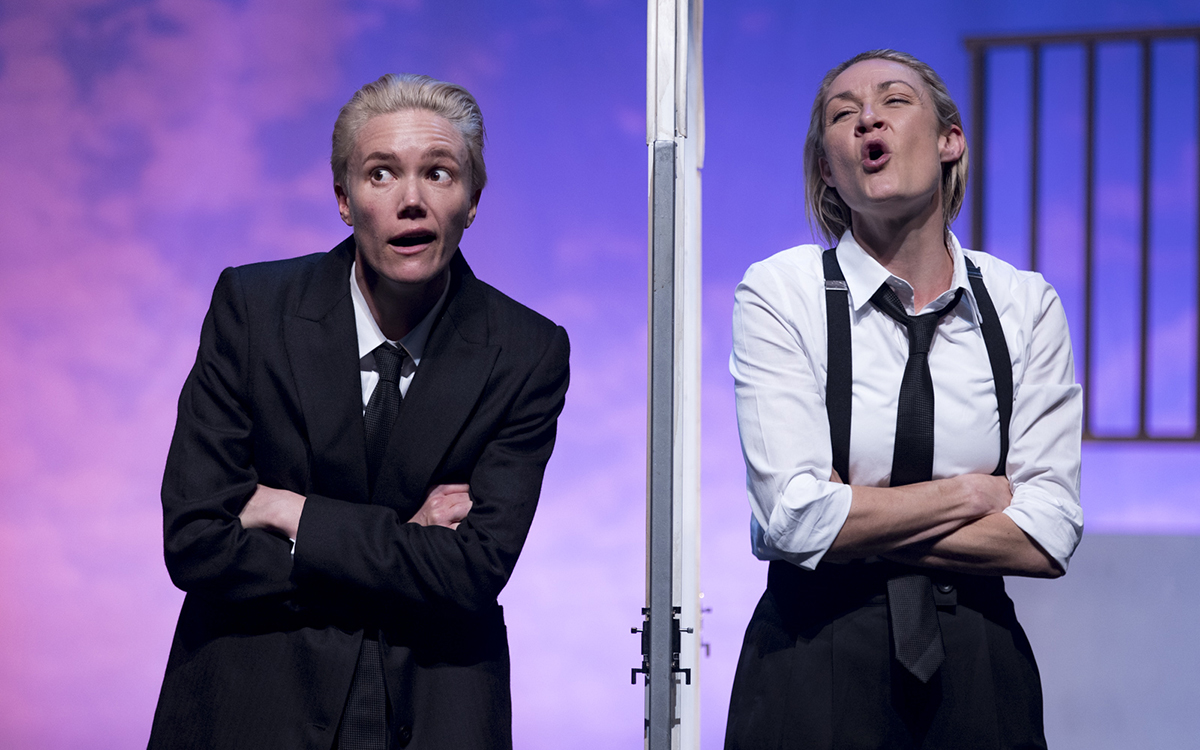 One thing is certain: Shakespeare's The Comedy of Errors is flat out hilarious, and if it isn't funny enough on stage, it's the fault of the production. His only farce, it is often thought to be an early work, but it is surely far too assured to be written before 1594. It's entirely free of the striving Marlovian rhetoric that hampers the Henry VI plays (commenced in 1591), and it is cleaner, cleverer, and more convincing than The Taming of the Shrew (probably before 1592). It is based on Plautus's Menaechmi, an ancient Roman play about the confusion that occurs when one identical twin unknowingly stumbles into the city of the other identical twin. Shakespeare doubles this confusion by adding a second set of identical twins, and chaos naturally ensues.
Twins are a staple of comedy and horror, perhaps because they tap so directly into our fears of individuation, of doppelgängers and the precariousness of selfhood. We know who we are largely because of how we are perceived, so if we can't be differentiated, how can we know who we are? Shakespeare articulates this beautifully when he has one of the twins say, 'I to the world am like a drop of water that in the ocean seeks another drop.' This melting of identity that occurs when one steps into the city is a key motif of the play; formlessness can be alarming, but it can have its pleasures too. Little wonder the play is populated with courtesans and charlatans, merchants, heavies, and nuns. Imprisonment could be around one corner, salvation the next.
The play opens with a notoriously long expository monologue from the merchant Egeon (Maitland Schnaars), who explains the shipwreck and subsequent estrangement of his family that sets up the narrative. Suffice to say, there is now an Antipholus of Syracuse (Skyler Ellis) and his servant Dromio (Julia Billington), and an Antipholus of Ephesus (Felix Jozeps) and his Dromio (Ella Prince). The Syracusian Antipholus is single, but his counterpart in Ephesus has a wife Adriana (Giema Contini), who in turn has a sister, although in this production that role has been transposed into a brother, Luciano (Joesph 'Wunujaka' Althouse). That will prove important, people; keep up!
Director Janine Watson, herself a fine actor for Bell Shakespeare, sets the play in a multicoloured, neon-lit urban playground reminiscent of Havana by way of Miami – although it's probably unwise to dig too deeply into the implications of that. More important is the zest and playfulness of the mood, aided enormously by Hugh O'Connor's terrific set and costume design. Kelsey Lee's lighting is vibrant and dynamic. Watson peppers the action with cute dance moves and synchronised group work, which brings jollity but can also seem superfluous.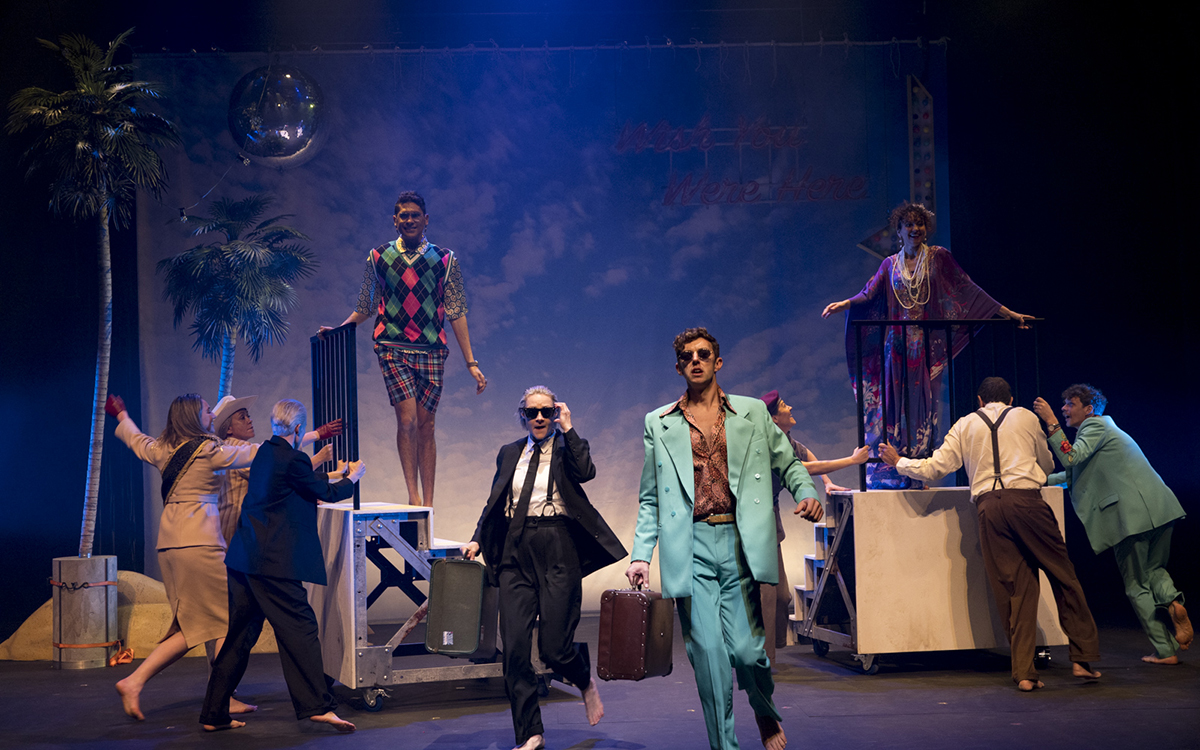 Joseph Althouse, Julia Billington, and Skyler Ellis in Bell Shakespeare's The Comedy of Errors (photo credit: Brett Boardman)
The biggest problem with these additions, however, is that they badly slow the pacing. The Comedy of Errors is Shakespeare's shortest work and it needs to be fast, preferably dizzyingly so. The entire play is an extended example of dramatic irony, where the characters are all bewildered but the audience knows precisely what is happening; this means you can play it at breakneck speed without confusion setting in. As the play progresses, and Shakespeare throws in quacks and abbesses, arrests and exorcisms, the sensation of a fever dream takes over, and complications gather into a tight knot. But Watson's production flatlines late in the piece, and the unravelling – typically divinely wacky – is slow and laborious.
The opening is tricky for any director. Stephen Sondheim spoke of his problems with out-of-town tryouts for A Funny Thing Happened on the Way to the Forum (1962), where the opening number 'Love is in the Air' set the audience up for a romance instead of the farce they were expecting. It was only when he changed that number to 'Comedy Tonight' that the audience knew to laugh, and the production became a hit. The Comedy of Errors opens in tragic mode, with the despondent, grieving Egeon sentenced to death by the Duke of Ephesus (Alex King). Glenn Elston, in his Australian Shakespeare Company production earlier in the year, brilliantly cut this long speech up and parsed it out, so that it took Egeon almost the full length of the play to explain the backstory. Here, Watson leans into the darkness, and the effect is deathly, especially with Schnaars so stilted and leaden. It's certainly no way to open a farce.
The other significant change Watson makes is with gender. She turns the Dromios into women, which works well enough. Billington and Prince are both excellent, so physically alike you have to concentrate to tell them apart, and yet beautifully differentiated in character and personality. Prince is hilariously twitchy and sly (she'd make a magnificent Puck) and Billington is wide-eyed with wonder. Transposing Luciana into Luciano must have looked good on paper, but the result on stage is a resounding misfire. Ellis does a reasonable job making this foray into homosexuality feel natural, but Althouse does very little with the part, and the subsequent muddying of the themes – sexual confusion isn't the identity entanglement Shakespeare has in mind – completely undercuts the comedy.
Watson can be congratulated for provoking the play, for pushing at its limits, but the result is a production that waddles when it should run. That sublime ending, when all the confusions fall away and a family is reunited, should be like sudden sunlight through a thick fog, dazzling because so unexpected. Here it feels like an inverted bathos, a slip in tone from the mildly amusing into the outright mawkish. It's a production full of errors, but nowhere near enough comedy.
---
The Comedy of Errors (Bell Shakespeare) is being performed at the Arts Centre Melbourne until 23 July 2022. Performance attended: 15 July.
This review is generously supported by the Copyright Agency's Cultural Fund.