Theatre
The Amateurs
A medieval to modern morality play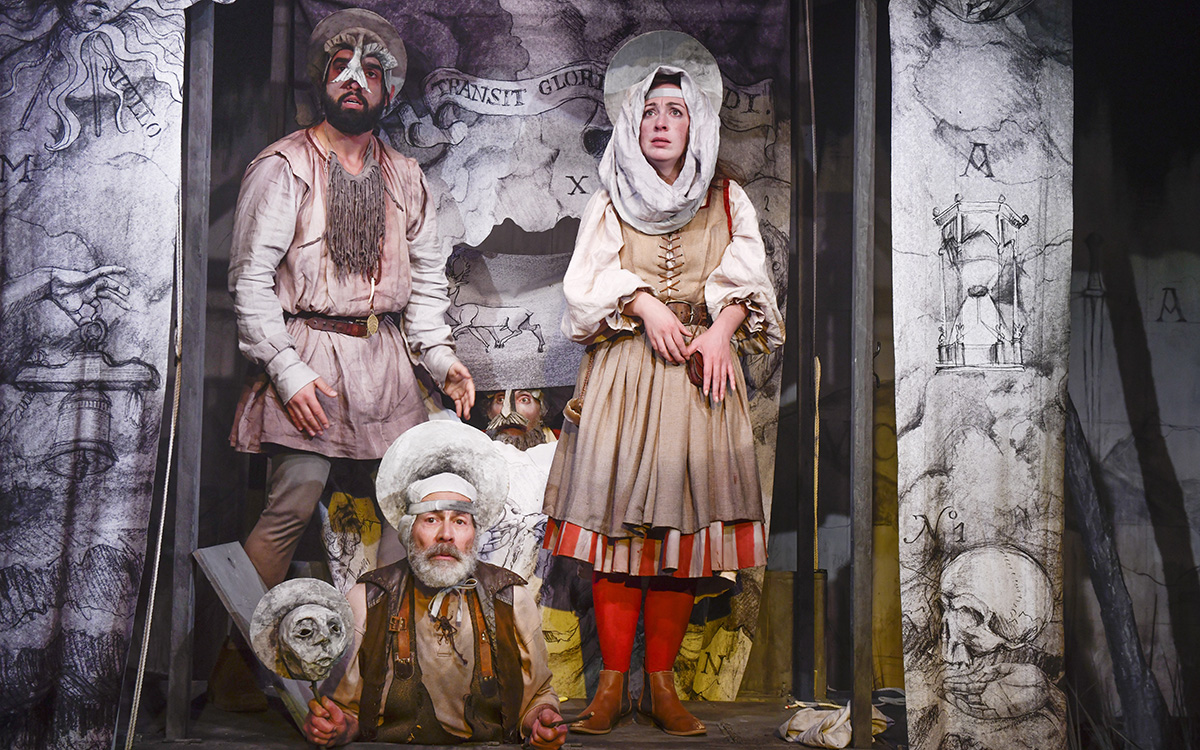 It opens outside the tiny wooden box that is Red Stitch's St Kilda home; the actors come towards us with torches blazing, in medieval masks. What follows is a brief pageant, a morality play that breaks down when one of the players falls victim to a mysterious pestilence – although it's clear from the catch in the other actors' voices that this contagion is not entirely unexpected. The actor drops, and his sister must be wrenched from his fallen body before she too succumbs. The plague is about, and all anyone can do is run.
American playwright Jordan Harrison's The Amateurs had its première in 2018, before our own great pestilence descended like some vengeful deus ex machina, closing theatres around the world, disrupting them still. This seems incredible given how appallingly relevant its themes are, how resonant the play feels, stretching its dramatic tendrils backwards as well as forwards in time. A bunch of desperate actors traversing a blasted wasteland, trying to outrun an unseen but deadly virus? It's our contemporary experience writ large.
Once the audience settles into the theatre proper, we meet the actors behind those masks: medieval players in a travelling show on their way to make a deeper impression on a Duke than they did the previous year. Larking (Dion Mills) is the bossy, perennially disappointed director, who also fittingly plays the figure of God. He is carrying on a vaguely covert tryst with Rona (Olga Makeeva), who isn't sure whether he's the father of her unborn baby. It could be Gregory (Brian Lipson), the 'effects man' who builds the props and theatrical devices that distinguish the company from other travelling shows. Brom (Darcy Kent) is the solid hero type with the booming voice cast as Noah in the new 'flood play' the company is working on. Hollis (Emily Goddard) is the grieving sister from the prelude, anxious about the future and straining against her role as Noah's wife, a hopelessly underwritten part she wants to bolster with some script changes.
For a while, the play stumbles about amiably (and often hilariously) as the actors deal with the typical pitfalls of putting on a play: the disastrous rehearsals, the silly doubling of parts required with the loss of cast members, the interminable squabbles and irritations that come with any theatrical endeavour. The key figure here is Hollis, whose desire for some kind of dramatic agency threatens to crack open the conventions of acting, to introduce psychology and motivation into the stock characterisation of the medieval mystery play. It feels like Keith Robinson and Tony Taylor's The Popular Mechanicals (1992) via Monty Python and the Holy Grail (1975).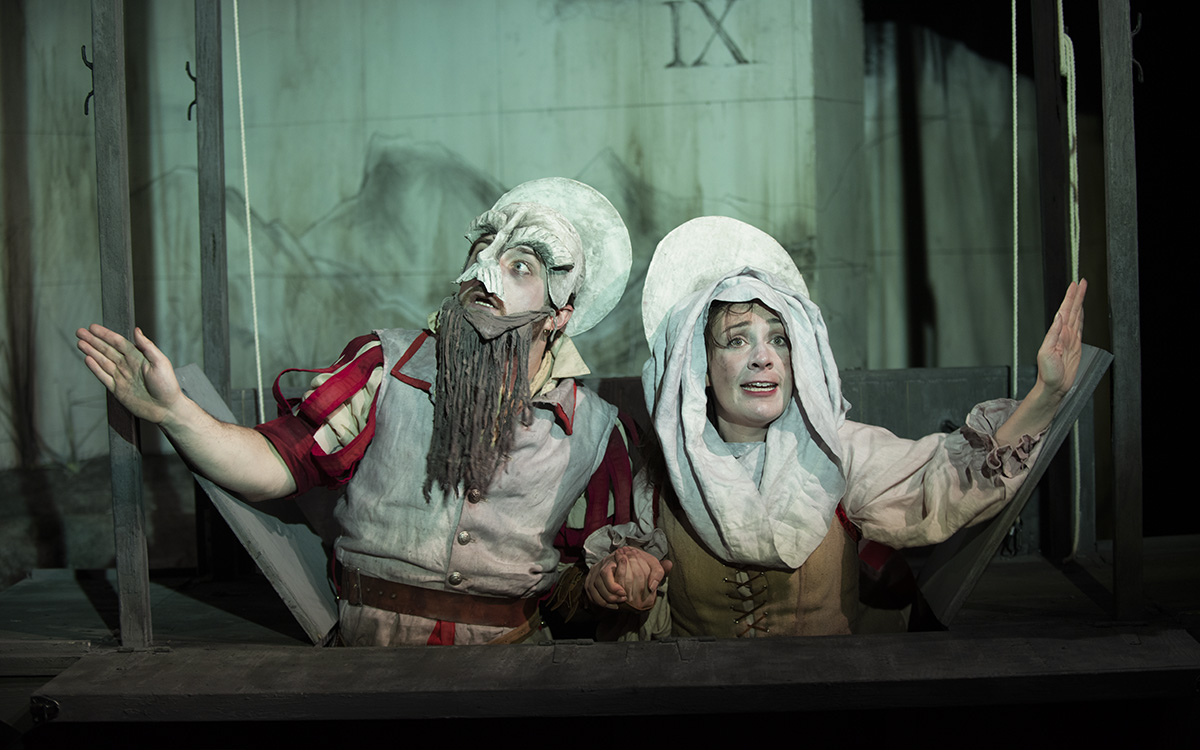 Darcy Kent and Emily Goodard in The Amateurs (photo courtesy of Red Stitch Theatre)
Suddenly, the fourth wall comes crashing down and Lipson transforms into a highly knowing meta-theatrical representation of the playwright himself. Harrison gives us a kind of lecture on the play he's currently interrupting, as well as a charged biographical detail from his own life: his high-school teacher, a closeted gay man who consciously or subconsciously revealed his sexuality to Harrison via an open diary entry, eventually finding happiness as an 'out' gay man, only to die of AIDS. It's that pesky pestilence again, cutting swaths through lives, a reaper drunk on his own death cult. The Amateurs becomes something else entirely here, a treatise on art and mortality, on agency and free will, on the bleak but necessary reckoning of Nietzsche's claim in Thus Spake Zarathustra that 'God is dead'.
It could all be rather chaotic and crowded without a sure directorial hand, so it seems an inspired choice to bring in the inestimable Susie Dee for the job, in her main-stage directorial début for this company. Dee is a master at theatrical gesture, and the physical demands the play makes on the actors are effortlessly negotiated. She handles the tonal shifts with an assurance that would seem uncanny if it weren't so natural, so that the play hurtles along, simultaneously bright and profound. Dann Barber's set and costumes, their rough-hewn elegance and wit, are absolutely central to the effect; along with Rachel Burke's moody, responsive lighting and Ian Moorhead's complex sound design, they create a fully realised and beautifully textured world.
The cast – unsurprisingly from this actor-led company – is superb. From Mills's pomposity and Makeeva's ratty irascibility to Khisraw Jones-Shukoor's soulful Physic and Kent's moving Brom, the performances pulse with a humanity stretched to breaking point. It feels unfair to single out anyone in a show so dependent on this concept of the ensemble, but Lipson and Goddard are both astonishing. The former brings his trademark halting, spluttering intensity to the role of Harrison and a gloriously daggy mischievousness to the underestimated Gregory. Goddard weaponises her cracked voice and wonderfully expressive eyes, drawing a character both deeply traumatised and powerfully resilient.
Resilience, that weary refusal to lay down and die despite the world crushing you from all sides, is the key motif in The Amateurs. It energises the entire stage. The rough theatre is a theatre born of necessity, hastily assembled even as the waters rise. Melbourne's, and indeed Australia's, independent theatre scene has suffered as much as any industry from a pandemic only glimpsed in the margins of this play, but somehow this sublimely funny, hardy production speaks to a way forward and out. Get in line, two by two, for this one. It just might bear us aloft.
---
The Amateurs (Red Stitch) is being performed at Red Stitch Theatre from 28 June until 24 July 2022. Performance attended: 2 July.
This review is generously supported by the Copyright Agency's Cultural Fund.