Film
Elvis
Baz Luhrmann's signature maximalist style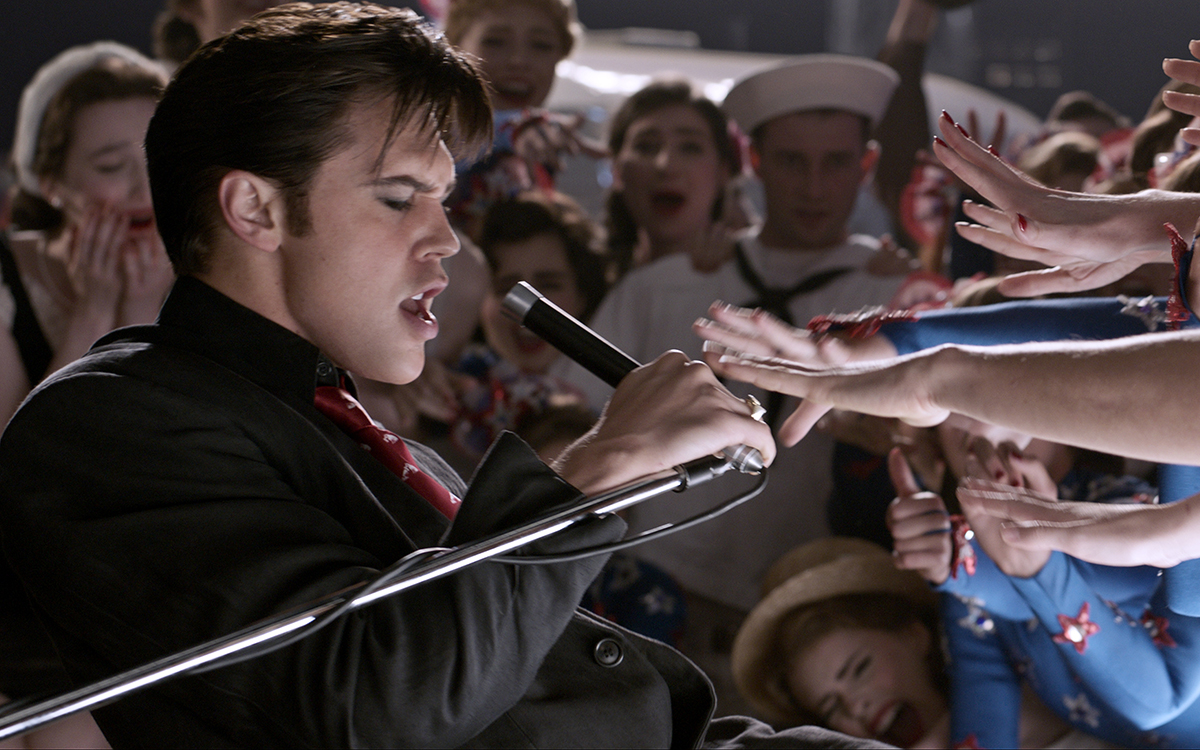 Crafting a biopic is a near-impossible act of curation; of the hundreds of thousands of hours that make up a person's life, which two and a half will accurately sum up their entire existence? Some recent attempts, like the excellent Steve Jobs (2015) or the Judy Garland biopic Judy (2019), limit their slice of life to a handful of defining moments and allow the viewer to extrapolate from there, essentially opting for quality over quantity – a mantra no one would ever accuse director Baz Luhrmann of adopting.
Elvis, Luhrmann's epic retelling of the life and times of the King of Rock 'n' Roll, does the exact opposite, trying to cover as much of Elvis Presley's life as possible, as fast as possible. And not just Elvis's life, but also that of his unscrupulous manager, Colonel Tom Parker – along with the civil rights movement, the rise of counterculture, and a four-decade stretch of twentieth-century US history. By necessity, this means that entire phases of Presley's admittedly whirlwind career (he was only forty-two when he died in 1977) are lost in an endless barrage of superimposed montage, while key relationships form and fade in two lines of dialogue and ten years flash by in forty-five seconds of screen time. I suppose one advantage of the film's breakneck pace is that it mercifully speeds us through its ham-fisted script, never allowing us to linger too long before we're catapulted towards another sumptuous, eye-popping spectacle (courtesy of Mandy Walker's glitzy cinematography and Catherine Martin's gorgeous costuming).
By far the film's most bizarre ploy is the decision to frame Presley's life story as a fever dream from Colonel Tom Parker's deathbed. Played by Tom Hanks in some intensely distracting Nutty Professor-esque prosthetics, Parker is the film's villain but also its narrator, the carnival boss who sees the young Presley as the ultimate sideshow attraction, gets his hooks into him, then never lets go. Parker's prominence in the story is never fully realised or reckoned with – for every scene of him vilely exploiting his ward, there's another hellbent on depicting him as a big, misunderstood teddy bear. Luhrmann, who has always fervently aligned himself with the artists, lovers, and dreamers of the world, fails to make it clear whose side he's really on here – the evil ringmaster or the performing lion in a gilded cage.
Hanks may be the perfect physical embodiment of the film: a first-rate performer in a worthwhile project doing his level best beneath three inches of extraneous affectation. In fact, it's hard to think of another instance where Luhrmann's signature maximalist style has been so unnecessary, or done such a disservice to his own material; there's a far more traditional rise-and-fall biopic buried in here somewhere, and you can't help but wonder whether it's the better film. This is never more apparent than in certain scenes where it feels as though Luhrmann takes a step back and allows his cast to take the wheel for a minute or two.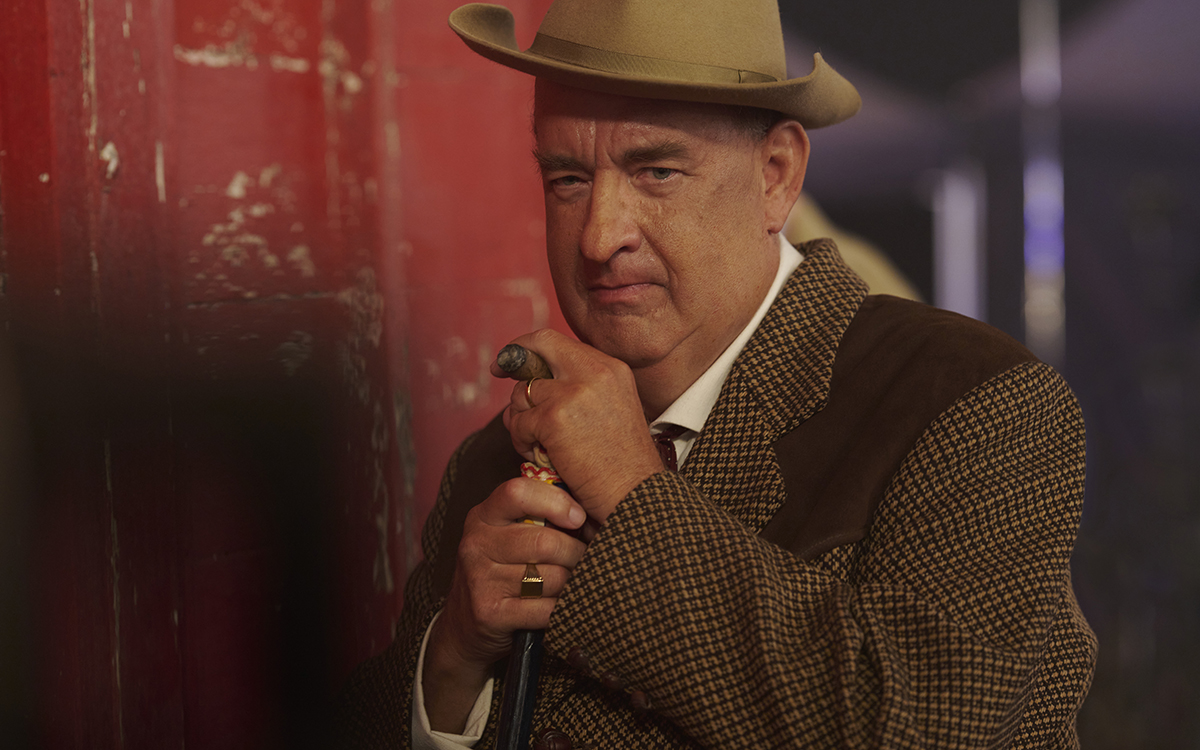 Tom Hanks as Colonel Tom Parker in Warner Bros. Pictures' Elvis (picture courtesy of Warner Bros. Pictures)
While it's debatable as to whether Hanks's performance belongs in a hall of fame or a house of mirrors, there is no denying the power and appeal of Austin Butler as Elvis. He is simply extraordinary. Taking on the job of impersonating a man who has already spawned a worldwide industry of impersonators is no mean feat, but beyond the accuracy of his Southern drawl and the feverish energy of his dancing, Butler brings mischief, pathos, wonder, and remorse to the role – making you wish even more that the film were fully focused on him and less on the odious huckster who was later found to have committed gross financial abuse against his client. Though many supporting roles receive little more than a few minutes' screen time, there's not a poor performance among them – from Elvis's parents (Helen Thomson and Richard Roxburgh) and his wife Priscilla (Olivia DeJonge), right down to David Wenham as Hank Snow and Kelvin Harrison Jr as B.B. King.
Besides casting, the other area in which Luhrmann delivers is the musical numbers. Two sequences in particular – one an outdoor concert at Russwood Park and the other at the end of Elvis's 1968 Christmas special – are stylistically focused and emotionally giddy in a way the rest of the film never matches. Even still, these moments work better in isolation than as part of the overall narrative – it may be that they work so well precisely because they momentarily pull us out of it. The Russwood sequence caps off a protracted first act that tries to grapple with Presley's debt to Black culture and musicians – was he a staunch ally, or the King of cultural appropriation? – but Elvis has neither the depth nor the patience to engage with the matter fully. Later, the film frames Martin Luther King Jr's assassination as a moment of personal reckoning for Presley, a scene indicative of the film's second act in which Elvis is shoehorned into a whistle-stop tour of 1960s American history the same way he was shoehorned into Forrest Gump. How many films by now, I wonder, have featured a room of sullen Americans smoking around a television while a news anchor announces the death of Bobby Kennedy? Do we really need another?
It takes almost two hours for the film to arrive at what it could have been all along, finding a clearer purpose and settling into a more assured rhythm and tone as Elvis begins his lengthy (and terminal) tenure in Las Vegas. He's lured there by the prospect of returning to what he loves: performing for an adoring crowd (or, 'performing for YOU', Colonel Parker's voiceover insists, oddly attempting to implicate us, the modern-day audience, in the King's ultimate downfall). In these scenes, the film wears its themes, and its heart, on its diamanté-encrusted sleeve. If Elvis had gone the Judy route, this could have been the whole movie – call it Elvis in Vegas – a critical but somewhat more contained chapter in the man's life from which we could then reflect on his fuller legacy. As it stands, Elvis is a cursory look at a complicated icon, aiming for timeless authenticity but arriving at passable impersonation.
---
Elvis (Warner Bros. Pictures), 159 minutes, opens in cinemas 23 June 2022.