Film
Lost Illusions
Capturing Balzac's troubled humanism on film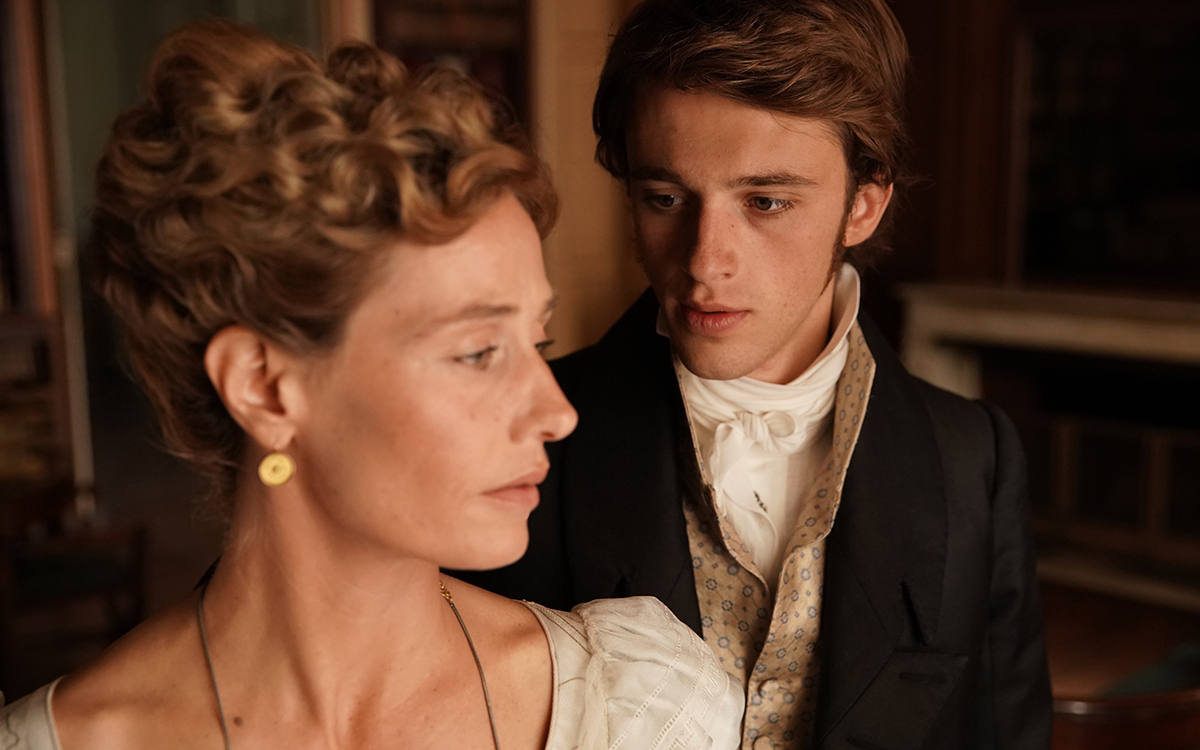 Xavier Giannoli calls Lost Illusions less an adaptation of Honoré de Balzac's three-volume novel (1837–43) than a transfiguration, comparing it in form to Max Richter's celebrated reworking of Vivaldi's Four Seasons. Richter's 'Spring' appears in the film, and a famous quote from Oscar Wilde finds its way into the dialogue, signalling Giannoli's intention to remake the novel in a way that expresses its 'spirit and modernity' without betraying the original.
Lucien (Benjamin Voisin), an aspiring poet, leaves his provincial town on the arm of his patron and lover Mme de Bargeton (Cécile de France), hoping to make a name for himself in Paris. Abandoned by her, he must make his own way in the teeming city writing reviews for the Corsaire, one of many newspapers that sprang up in Paris during the Bourbon Restoration. He discovers an underground world devoted to profit and deception, where art and reputations are bought and sold. Under the tutelage of the Mephistophelian subeditor Etienne Lousteau (the devilishly charismatic Vincent Lacoste), Lucien sets about making enemies. Following the guiding principle that you must be feared to be successful as an art critic, he uses his literary talent to praise or crush writers and artists, selling his loyalty to the highest bidder. One of the funniest and most dispiriting scenes is where Lousteau teaches Lucien the cynical art of criticism, that anything positive you can say about a book can be turned into something negative – and vice versa.
A stark contrast is visually established between the sterile, ordered, exclusive world of the Royalists and the chaotic, debauched, egalitarian world of the republican newspaper men. One is ruled by divine right, the other by money. Lucien finds a home and a purpose in the latter, but aspires to belong to the former. The home is the cut-throat world of critics and journalists, the purpose is revenge on the Royalists who snubbed him because of his common origins. Done with Mme de Bargeton, Lucien falls for courtesan and boulevard actress Coralie (Salomé Dewaels), whose rise to stardom as a Racine heroine he facilitates through carefully directed threats and well-placed bribes.
Paris of the Restoration is precisely and poetically evoked. Meticulous attention to detail captures the splendours of its spirit, language, spaces, and fabrics, and the miseries of those who fall on the wrong side of the ones who make history. This precision is enhanced by a phantasmagorical vision. The film's predominant realism is punctuated by surreal images such as an overhead shot of Lucien floating above a banquet table, and an extreme close-up of his eye widening with awe at the new world before him.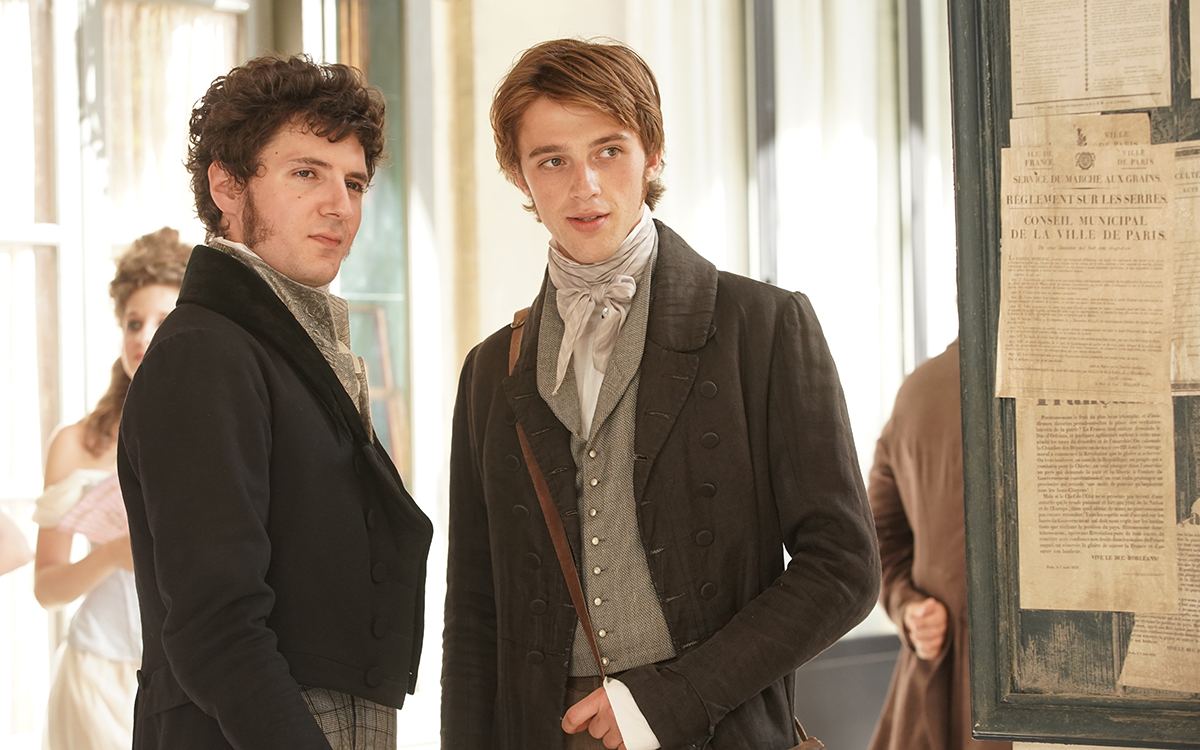 Vincent Lacoste as Etienne Lousteau and Benjamin Voisin as Lucien in Lost Illusions (image courtesy of Palace Films)
Lost Illusions is fast-paced for a costume drama and very literary; long passages of narration accompany shots of Lucien and Lousteau as they move rapidly and easily through the Parisian demi-monde. The film is about movement – spatial, visual, and social. Giannoli's camera is supple and fluid, moving like blood through the city's veins, sweeping us along with it, from dark and turbulent newspaper offices and loud smoke-filled cafes to vertiginous balconies of popular theatres and opulence of opera houses and aristocratic salons. There is a clear debt to Max Ophüls, particularly the whirling ball scenes of Le Plaisir (1952) and Madame de (1953). Like Ophüls, Giannoli achieves a pictorial rhythm which is more than just movement for its own sake but rather establishes the dynamism of a new society operating at full tilt.
Giannoli assembles an experienced supporting cast around the young Voisin who is solid as Lucien; his sensitive, expressive face captures well the shift from naïve, idealistic provincial poet to cynical Parisian journalist and the struggle between the two. France brings a quiet pathos to Mme de Bargeton, a woman who inhabits two worlds (the provinces and Parisian high society) and finds a home in neither. Gérard Depardieu gives a robust performance as the illiterate publisher Dauriat, who judges a work of art not on its merits but on its potential to generate profit. The surprise is Canadian actor–director Xavier Dolan as Lucien's frenemy, celebrated young novelist Nathan d'Anastazio, a composite of three characters from the novel, who functions as a foil to the corrupting influence of Lousteau. Dolan's nuanced performance perfectly embodies the artist who knows what he must do to make it but who nonetheless maintains a strong belief in the primacy of art over money.
There is a contemporary feel to Lost Illusions, despite its setting, but then again Balzac has a strangely modern feel because as a novelist he was outlining the birth of a society, the ethos of which is still with us today. The depiction of the press as the driver of social values and manipulator of public opinion has obvious resonances with the media of the twenty-first century. 'Fake news' and 'alternative facts', which journalists of the Restoration called 'ducks', have their origins in the fabrications and scandals generated by critics whose singular purpose was to profit by making or breaking reputations.
Curiously, there are few well-known adaptations of Balzac compared to other writers of his stature. This may be due to the difficulty of adapting narration – the cornerstone of Balzac's literary art – as compared to simple description to film. Giannoli has discovered – one might even say founded – a Balzacian cinema in which camerawork and voice-over narration combine to create a swirling sociological portrait of nascent capitalist society. Balzac was appalled and fascinated by this new society, something that Giannoli's film reflects. Like Balzac, Giannoli avoids moralising in favour of what he calls the 'troubled humanism' of the great novelist. When forced, however, to choose between art and profit, both come down on the side of art.
---
Lost Illusions (Palace Films), 141 minutes, is released on 23 June 2022. There are advance screenings this weekend (18–19 June) at selected cinemas.