Festivals
The Milk of Dreams
The return of the Venice Biennale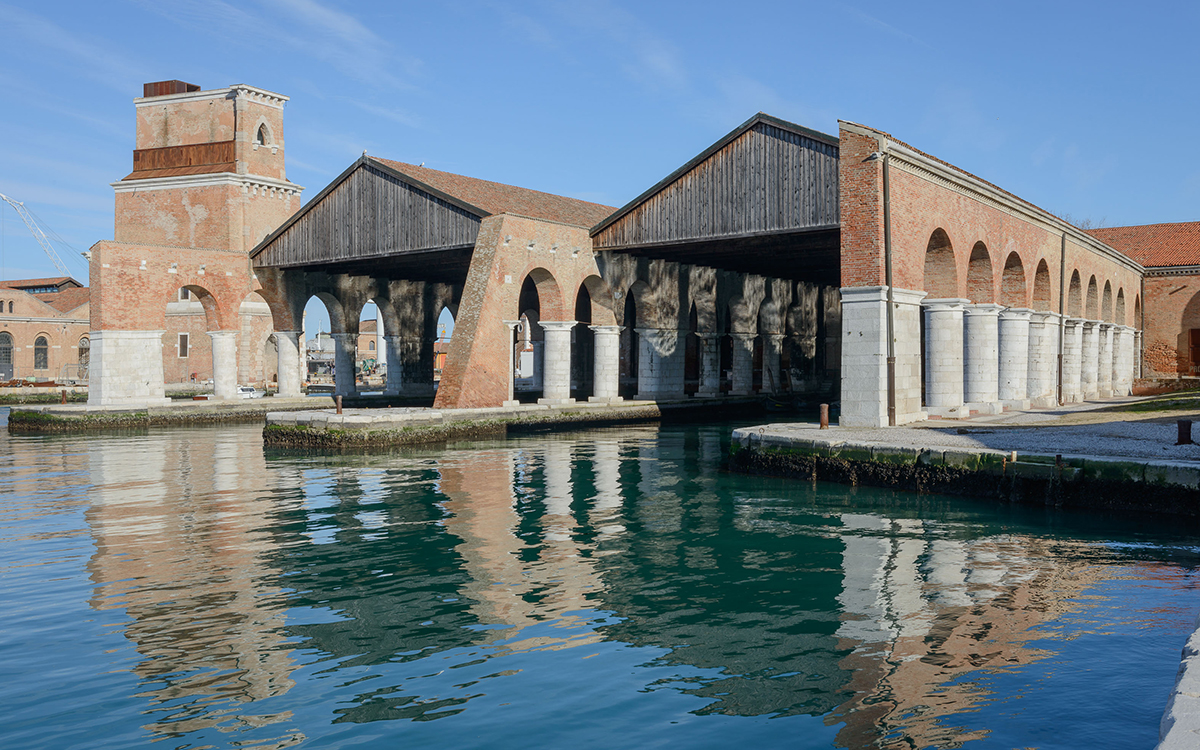 The 59th Venice Art Biennale is an invitation to imagine. After the pandemic caused the event to be postponed for just the third time in its 127-year history (the other two instances being the two world wars), there was hope at the beginning of the year that this would be 'the Biennale of rebirth', marking a return to some kind of normal. Amid widespread global crisis, this could easily be dismissed as an optimistic goal. Yet in responding to the permanent state of emergency that has become the hallmark of our era, the 2022 Venice Biennale emphasises the power of human imagination as an essential resource. Moreover, it provides an opportune reminder of how art allows us to envisage 'new modes of coexistence and infinite new possibilities of transformation' by creating magical and surreal worlds that are thrilling, humorous, occasionally disquieting – and always insistent upon hope.
The centrepiece of this year's Biennale – the International Art Exhibition entitled The Milk of Dreams – is underpinned by notions of transformation and metamorphosis. Curator Cecilia Alemani has assembled works by 213 contributors, and for the first time in the event's history the majority of works are by women and non-binary artists. Borrowing the title from a book of phantasmagorical fairy tales by Surrealist artist and novelist Leonora Carrington (1917–2011), Alemani seeks to invoke 'a world free of hierarchies, where everyone can become something else, where humans, animals, and machines coexist in a symbiotic relationship'. Using Surrealism as a conceptual framework is an astute choice, for women played a major role in the movement and were particularly effective in upsetting traditional artistic hierarchies. The movement's openness to different cultures, traditions, and forms of life is also a central source of inspiration, particularly as the Exhibition itself makes a deliberate and important departure from tradition: rather than being a showcase of the most recent artistic production, the 59th Biennale is chronologically unrestricted and instead organised around three central themes.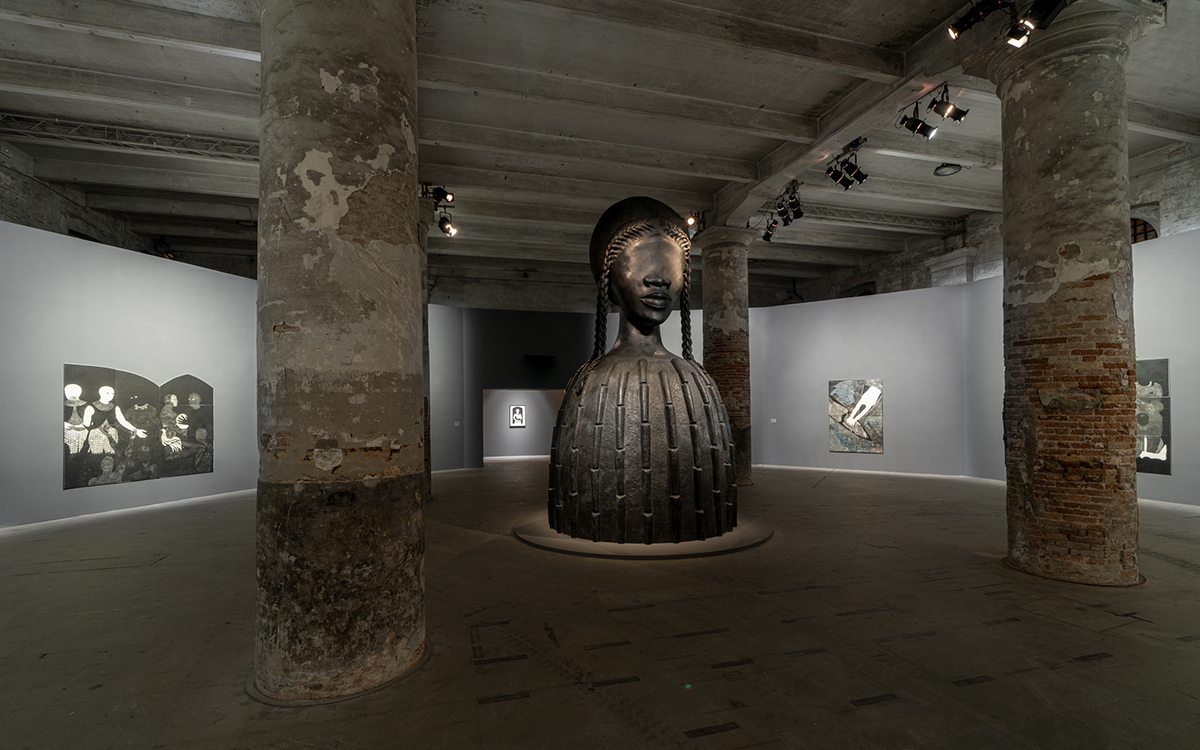 Simone Leigh, Brick House, 2019 (photo credit: Ela Bialkowska, courtesy of La Biennale di Venezia)
The first of these is the representation of the female body and its metamorphosis, often evoked as a survival strategy. This line of enquiry is powerfully introduced with Simone Leigh's Brick House (2019), a monumental bronze bust of a Black woman that dominates the entrance into the Arsenale venue. In merging a female figure with a dome-shaped architectural structure, Leigh – who received the Golden Lion for Best Participation at The Milk of Dreams – casts the female body as a dwelling, a refuge, and a source of transformation. Elsewhere, Katharina Fritsch's Elephant (1987) stands as a conceptual counterpart, equally imposing in its size and captivating in its precise and anatomically correct execution. As a species with matriarchal organisation, the elephant further emphasises the Exhibition's focus on female perspectives, while also evoking themes of captivity and confinement.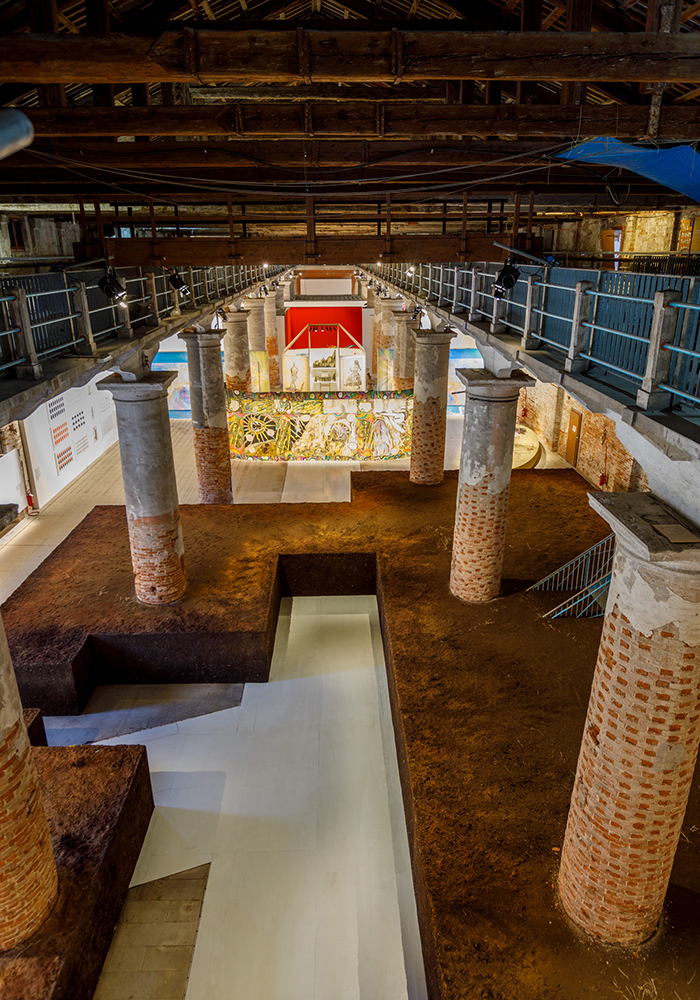 Delcy Morelos, Earthly Paradise, 2022 (photo credit: Roberto Marossi, courtesy of La Biennale di Venezia)
Fritsch's Elephant also announces our relationship with the environment and treatment of other species as the second major theme. Delcy Morelos's Earthly Paradise (2022) – a site-specific installation in the form of a large maze – is a multi-sensory tour de force. Working with a mixture of soil, clay, cinnamon, cocoa powder, and tobacco, Morelos allows the perfumes of these materials to permeate the space as she invites visitors to consider how we use the earth as a resource to which we will all ultimately return. Similarly remarkable is the work of Aage Gaup, an artist and activist from the Sámi community that is indigenous to the northern areas of Norway, Sweden, Finland, and Russia. Gaup's Sculpture I & II (1979) is a minimalist wooden structure that combines a modernist sensibility with Sámi cosmology in a reflection on the precarious legal status of indigenous communities and the erosion of cultural practices rooted in a close connection with the land. Our discord with the environment is further emphasised through a series of seven delicate realist paintings (2013–20) by Jessie Homer French, in which the powerful wilderness of America's West Coast is transformed into a toxic hellscape – the suggested future consequence of unyielding armed conflict.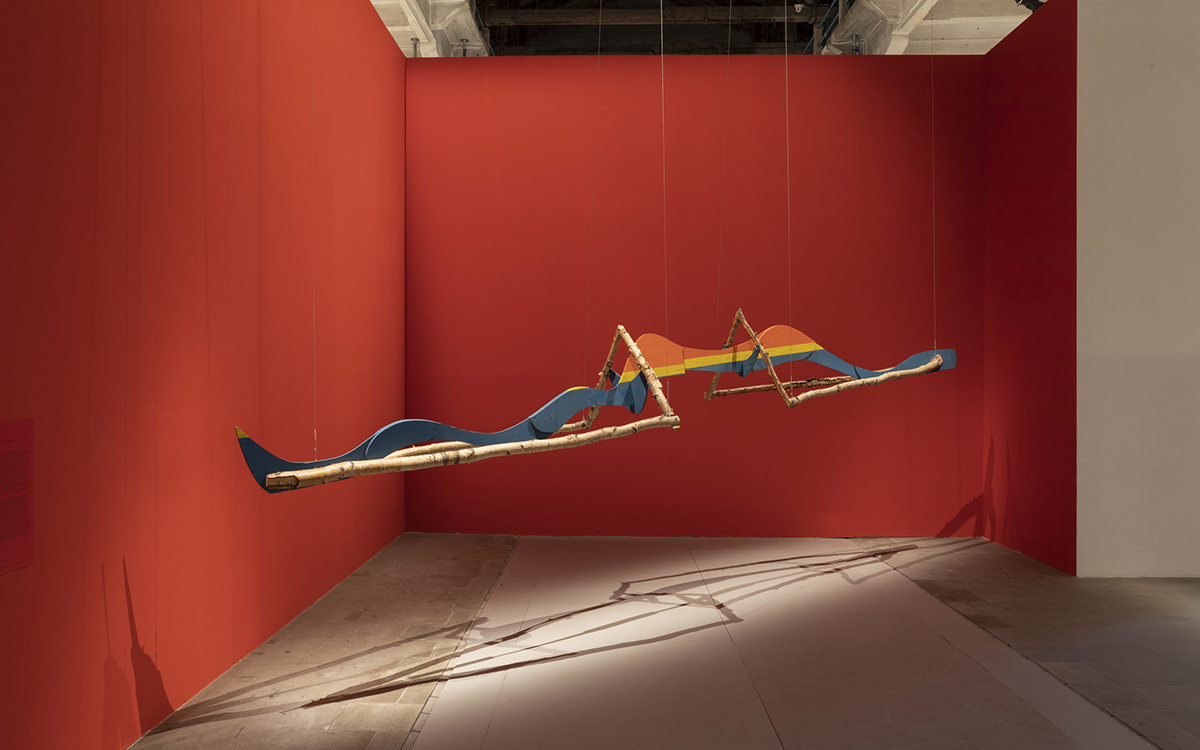 Aage Gaup, Sculpture I & II, 1979 (photo credit: Roberto Marossi, courtesy of La Biennale di Venezia)
The relationship between individuals and technology, and the associated concept of post-human metamorphosis is the third and final theme. Introducing this section is a stunning group of biomorphic sculptures by Marguerite Humeau (2022). At once futuristic and primordial, these figures give visitors the impression of having suddenly stepped into the set of a science fiction film. Equally captivating is Geumhyung Jeong's Toy Prototype (2021), in which parts of a mechanical structure are laid out on a table in a seemingly infinite series of rows that evoke an anatomy lesson fit for the robotic age. The line between human and machine blurs almost entirely towards the end of this section, with Lynn Hershman Leeson's Missing Person, Cyborg (2021) revealing a naturalist portrait of woman produced by artificial intelligence, the only clue as to its true provenance a series of small red digits left on the print.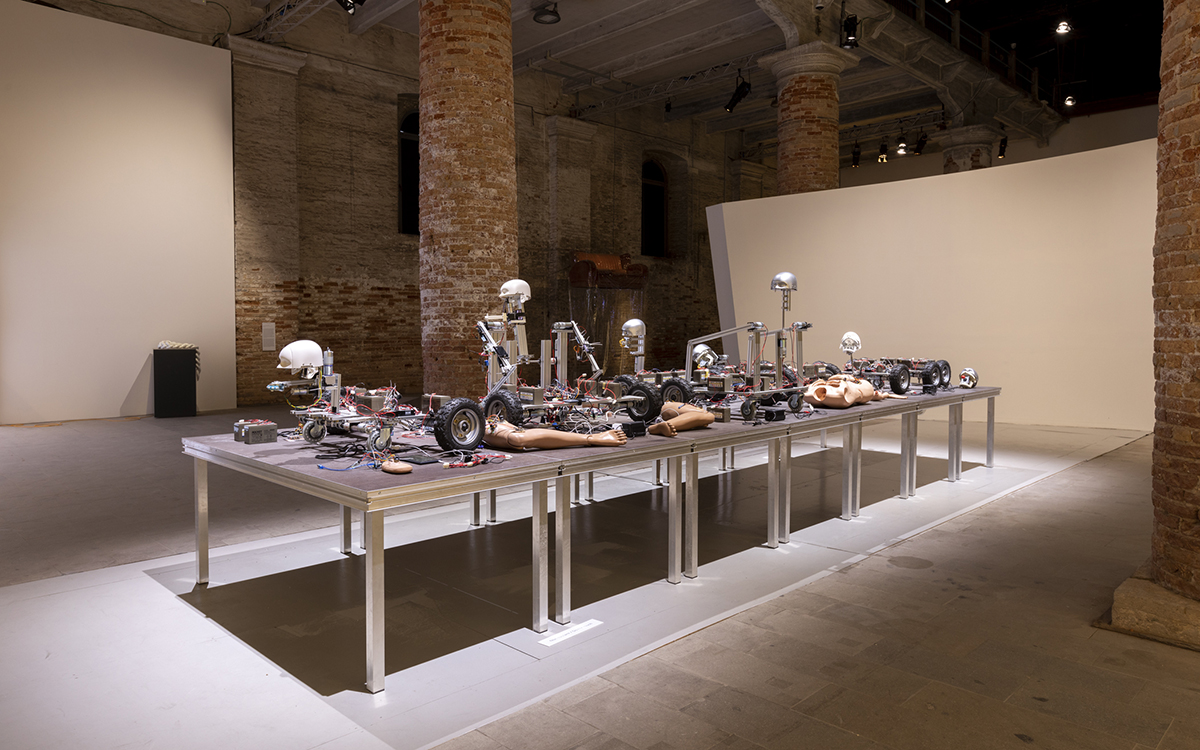 Geumhyung Jeong, Toy Prototype, 2021 (photo credit: Roberto Marossi, courtesy of La Biennale di Venezia)
The transhistorical approach taken by Alemani permits the inclusion of women artists from earlier eras as a way of redressing their chronic underrepresentation at the Biennale to date. This correction is further highlighted by the inclusion of five 'time capsules', which are deployed strategically throughout the Exhibition. These mini-exhibitions include a reprisal of the 1978 Biennale exhibition of Visual and Concrete Poetry by women artists – the first such show dedicated to women's creative production – along with sections inspired by the Surrealist movement, avant-garde technophilia, and the work of esteemed science fiction writer Ursula K. Le Guin. Each of these historic interventions invited the visitors to pause, reflect, and consider central themes from a deeper, transgenerational perspective.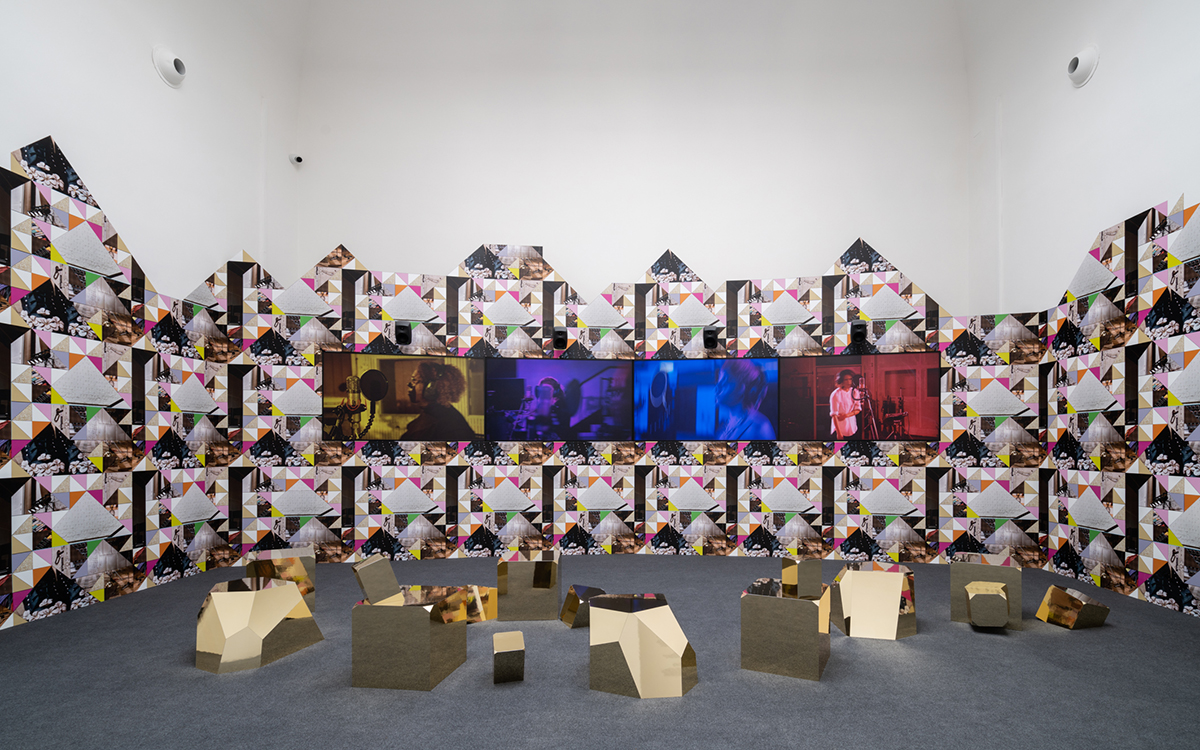 Pavilion of Great Britain, Sonia Boyce: Feeling Her Way (photo credit: Marco Cappelletti, courtesy of La Biennale di Venezia)
As is customary, the International Art Exhibition is complemented by individual shows hosted within the various national pavilions that are congregated predominantly within the Giardini area. With eighty nations competing in 2022, the Golden Lion for Best National Participant was awarded to the British Pavilion, which housed an installation entitled Feeling Her Way by Sonia Boyce. This is an intricate piece, comprising large screens that project the voices of five Black British female musicians, combined with geometric wallpaper and freestanding decorations, although its logic and symbolism are somewhat overwhelmed by the vibrant surroundings. The French Pavilion, by contrast, leaves a strong impression, with a beautiful exploration of the connections between film, fantasy, and memory in Dreams Have No Titles by French-Algerian artist Zineb Sedira. A further stand-out is the Singaporean Pavilion, with Shubigi Rao's piece Pulp III: A Short Biography of the Banished Book taking the form of a book, a film, and a paper maze to provide an exquisite exploration of forgotten libraries, lost languages, and contested narratives.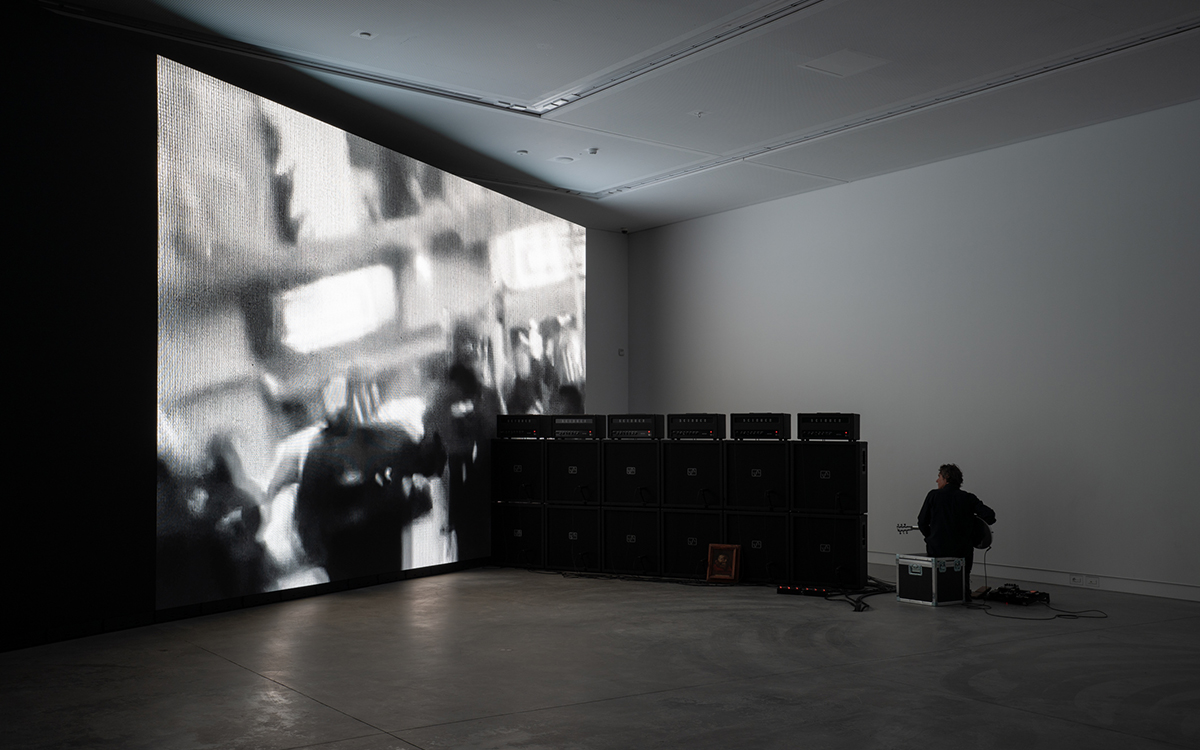 Pavilion of Australia, Marco Fusinato: DESASTRES (photo credit: Marco Cappelletti, courtesy of La Biennale di Venezia)
While the concentration of pavilions can make it challenging for individual shows to stand out, the Australian Pavilion does an exceptional job of announcing its presence – indeed, you can hear it before you see it. This work – a piece by Marco Fusinato entitled DESASTRES – is performed live throughout the duration of the Biennale, with Fusinato using an electric guitar to improvise slabs of noise that synchronise with a deluge of images appearing on a floor-to-ceiling screen. A combination of 'death' and 'disaster', the title is drawn from the two initial terms used in an internet search that generates images for the piece. This title is, of course, also layered with art historical and cultural references, evoking Andy Warhol's silkscreen series depicting accidents and catastrophes along with Francisco Goya's etchings Disasters of War, here reformatted for the doomscrolling era. Guitar on his lap, Fusinato faces the screen with his back turned to the audience, echoing a familiar compositional strategy where a back-turned figure serves to transport the viewer into the space of the image. This amplifies the hypnotic effect of the loud reverberating sound and strobe-like flickering of images depicting riots, natural calamities, and virus-transmitting rodents. The result is mesmerising, with visitors left wondering how to break free from the artist's spell.
It is precisely this spell of art that will remain with visitors. Whether or not a Biennale of rebirth, the 2022 event is most certainly a reminder of the power of art to inspire, to (re)imagine, to be open to different possibilities – and to forge alternatives in response to a seemingly foreclosed future.
---
The 2022 Venice Biennale continues until 27 November 2022.
This article is generously supported by the Copyright Agency's Cultural Fund.