Film
A Hero
Asghar Farhadi's profoundly insightful new film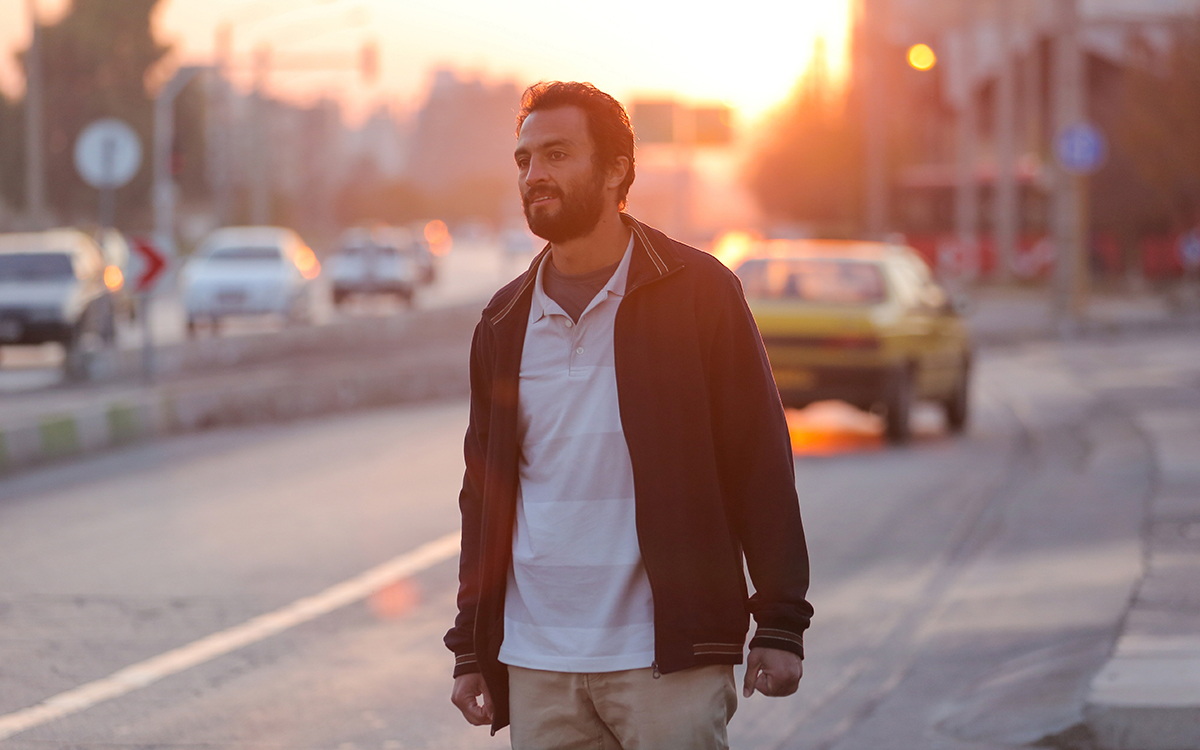 Some directors leave their fingerprints on a finished product through a trademark visual style, a particular musical taste, or a recurring ensemble of actors. Others embody the notion that when something's truly well made, the handiwork is invisible. Such is the case with Asghar Farhadi, two-time Oscar-winning writer and director of A Separation (2011) and The Salesman (2016), who continues to ride the crest of the Iranian New Wave with A Hero – meticulously studied, profoundly insightful, and expertly executed right through to its impeccable final frame.
'Down-on-their-luck protagonist finds a bag of gold' is by now a ubiquitous cinematic premise – see Fargo, Money For Nothing, Shallow Grave, No Country For Old Men, A Simple Plan, and so on. In these films, the money is almost always kept, drawing attention from mobsters and the authorities, and inevitably leading to bloodshed. But in A Hero, our protagonist decides to return the loot. There are no cops, no robbers, no shootouts, and yet somehow, tellingly, the fall-out feels even worse.
Our 'hero' (a clever title indeed) is Rahim Soltani (Amir Jadidi), a calligrapher and sign-writer currently doing time in debtor's prison for failing to repay a loan to his ex-father-in-law, Bahram (Mohsen Tanabandeh). While on two days' permitted leave, Rahim plans to cash in a bag of gold coins found by his girlfriend Farkondeh (Sahar Goldust) and to use the money to chip away at his debt. After some setbacks, however, he forms a different idea: he'll find the owner of the bag, return the coins, and engineer it so that both his creditor and the prison wardens are aware of his good deed, in the hope that this selfless act might restore his and his family's honour. Remarkably, the plan begins to work; Rahim appears on television and in newspapers, becoming the new golden boy at the debtors' jail, a shining example of the system's rehabilitative potential. But in a society where virtue is the highest currency, no good deed goes unscrutinised. Rumours soon begin circulating about the provenance of the gold and how it came into Rahim's possession.
What makes this all so interesting is that Rahim is no conman – an opportunist, perhaps, but certainly not a villain. For such an intellectual and verbose film, Jadidi gives a beautiful physical performance, with large, hopeful eyes and a perpetually optimistic smile. While others suspect his gentle disposition may be a cunning act ('I've been fooled by his hangdog look before,' one character says), Rahim is, by all accounts, a good man. He loves his family, he loves his son, Siavash (Saleh Karimaei), and he wants to repay his debts. But Rahim's innate kindness also makes him an easy pawn for others. The wardens want to use him as their mascot and take full credit for his moral rehabilitation, especially in the wake of a recent suicide at the prison. A charity that raises money for inmates sees him as their newest enterprise. And a local council wants to verify every detail of Rahim's story, forcing him to expound on all the little white lies he's told along the way. Throughout all this, Bahram is at pains to point out that he is still technically the wronged party, despite now being slandered in the media as some 'bastard creditor'. Bahram's argument, and it is a valid one, is that the squeaky wheel is getting the grease here; if he had found a bag of money and returned it, nobody would blink an eye. But because of his situation, Rahim represents a tidy redemption arc, a pleasing soundbite, a satisfying headline. A Hero has a lot to say about our obsession with optics, and the appearance and performance of goodness being valued over goodness itself.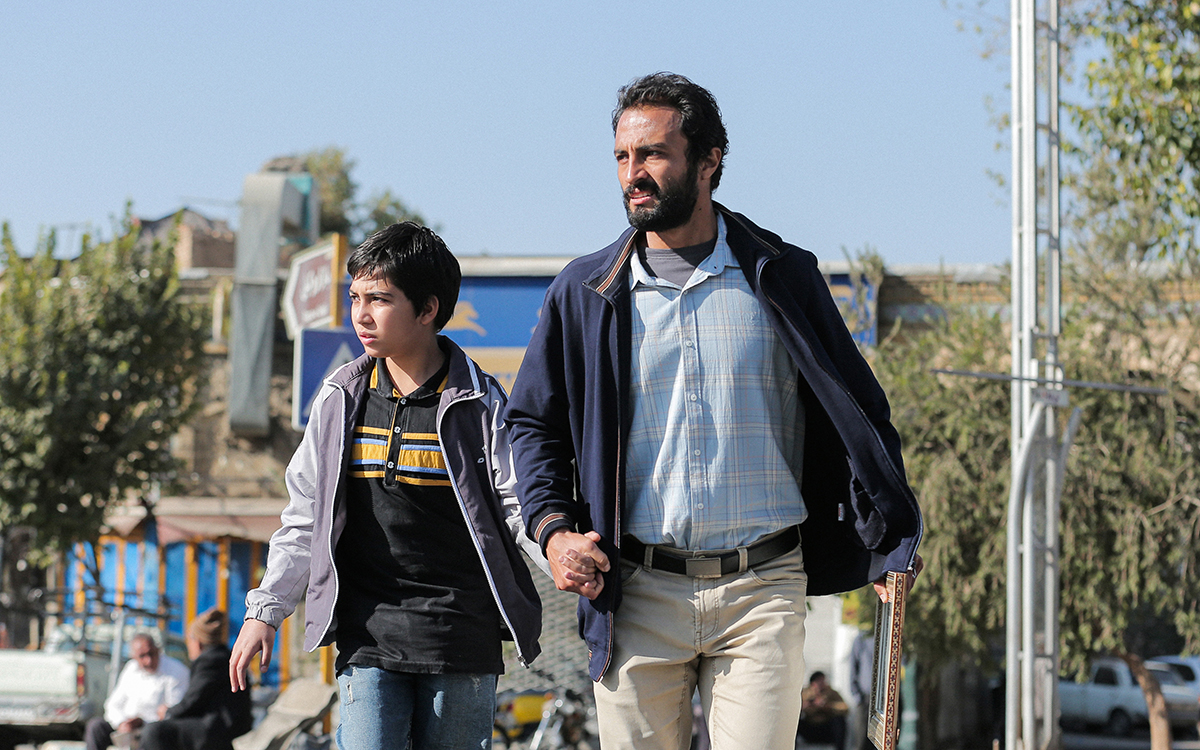 Amir Jadidi as Rahim Soltani and Saleh Karimaei as Siavash Soltani in A Hero (photo credit: Amirhossein Shojaei)
It would be all too easy for a film with such complex social quandaries at its heart to get up on a soapbox and spell it all out for us – but the filmmaking in A Hero is masterfully restrained. There are no monologues, no flashbacks, no manipulative musical cues (in fact, there's no score at all). Instead, Farhadi takes each individual story thread and patiently, meticulously entangles them, leading to protracted sequences of almost unbearable tension as Rahim and his family struggle against the moral quicksand they find themselves in. It's not until the film's second half that you realise just how many traps Farhadi has laid for his characters along the way – you could almost call him a sadist if he weren't such a profound humanist.
Recent years have seen more and more stories about desperate characters in Sisyphean struggles against debt – from the Safdie Brothers' nerve-wracking Uncut Gems to Netflix's splashy but engrossing Squid Game. It's a fitting topic for Farhadi, who is compelled to explore the invisible machineries of duty, control, and oppression that bind people – and societies – together. With modest arthouse budgets, and under a heavily censorious regime, still he manages to create films with more tension, compassion, and introspection than many Western filmmakers could ever hope to – even if they had all the money in the world.
---
A Hero (Hi Gloss Entertainment), 127 minutes, is coming to cinemas 9 June.