Film
Dear Thomas
The Buddenbrooks of East Germany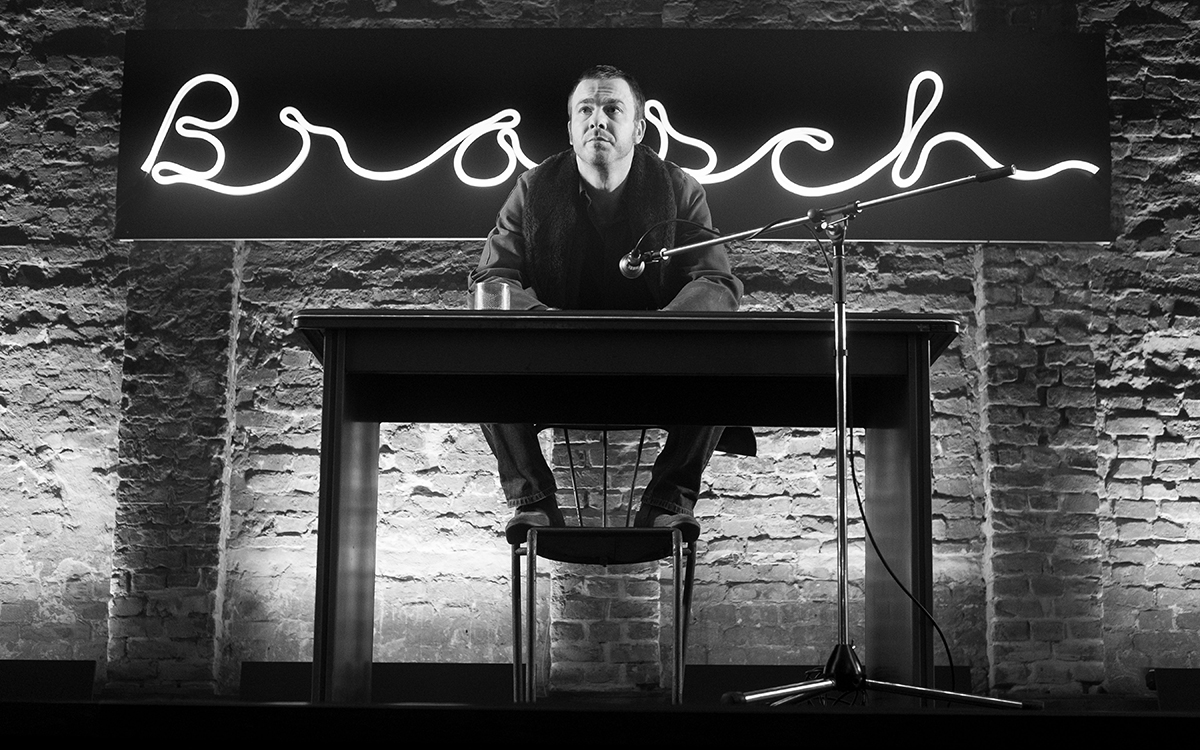 Will this biopic be the film that reintroduces German author and filmmaker Thomas Brasch to the world? Perhaps. Something is indeed afoot. Brasch and his family – his three siblings are also notable figures in literature and film – have been the subject of three films in the last decade. Besides Dear Thomas (Lieber Thomas, 2021), currently screening the German Film Festival, we have The Brasch Family (Familie Brasch, 2018) and Brasch: The Wishes and Fears (Brasch – Das Wünschen und das Fürchten, 2011). Yet beyond a core of literary completists, the profile of the Brasch family – sometimes called the Buddenbrooks of East Germany – remains negligible.
A political critic in both socialist East Germany and capitalist West Germany, Thomas Brasch (1945–2001) was at once an insider and a misfit: Horst Brasch, his father, was a true-believing bigwig in the East German state apparatus and continually disappointed by his rebellious son; once Thomas left East for West in the mid-1970s, he published with significant houses (such as West German literary and intellectual mainstay Suhrkamp Verlag) but remained committed to a socialist politics that saw him refuse the traditional role of the Western-besotted 'dissident'. Famously, Brasch thanked the East German film school for his education while standing on a podium in Munich accepting a prize in that arch-conservative West German state, leading to harangues and boos from the audience (look it up on YouTube).
This makes for solid biopic fare: drama at home and fractious geopolitics, all set on the stage of postwar Germany. Indeed, beyond Oedipal tensions, the Brasches represent a microcosm of Germany's contradictions after 1945: the parents, exiled Jewish communists come back to the East with resolve to build socialism; the children, rebellious '68ers with bohemian and anti-system tendencies. These themes have already been explored in The Brasch Family documentary and younger sister Marion's bestselling book Ab jetzt ist Ruhe (From Now On, Silence, 2012).
Dear Thomas begins at the cadet school in Naumburg, where Thomas will spend four years as an unhappy high school student and non-conformist junior member of the National People's Army. It quickly moves forward to Thomas's university days in Berlin, where his magnetic intellect and charisma draw fellow students and the attention of suspicious functionaries. Thomas also enjoys no shortage of trysts, hookups, and relationships. The film lingers on these a little too lovingly, as it one-sidedly relishes the sight of liberated young socialist women. If that sounds prudish, or Prussian, it points to the film's weak treatment of female characters: there's too little, and too much, fleshing out of these figures. Even Katarina Thalbach (played by Jella Haase), an actor who emerges early on as Thomas's main love interest, is lightly sketched despite her centrality to his life. A defence of the film here might be that this is just how Thomas treated his partners, but this hardly justifies uncritically continuing the tendency of male artists to narcissism and self-involvement. Thomas is undeniably the film's centre, as his career takes him from underground East Berlin to Stasi prison for anti-Soviet sentiment to significant success in West Berlin, plus excursions to New York, after his first mainstream book, and to Cannes, with his film Angels from Iron (Engel aus Eisern, 1982).
Director Andreas Kleinert – another accomplished cultural figure from the former East – unfurls this story across 150 minutes. No doubt this will test the patience of those not wholly invested in the life and times of a German intellectual from the second half of the twentieth century. Still, Kleinert shoots in the black and white that established his reputation in Paths in the Night (Wege in die Nacht, 1999) and Neben der Zeit (1995). He offers a stylish and attractive feature that goes beyond the established clichés of drab East German life, even if it falls into the 'film about a writer' tropes – furious long nights at typewriters and romantic spurts of textual inspiration scrawled on napkins and mirrors. The best that can be said about the latter is that this seems to check out biographically: Brasch was a prodigious writer (and translator of Shakespeare and Chekhov into German), and some sort of Stakhanovite typewriting sessions must have taken place over the years.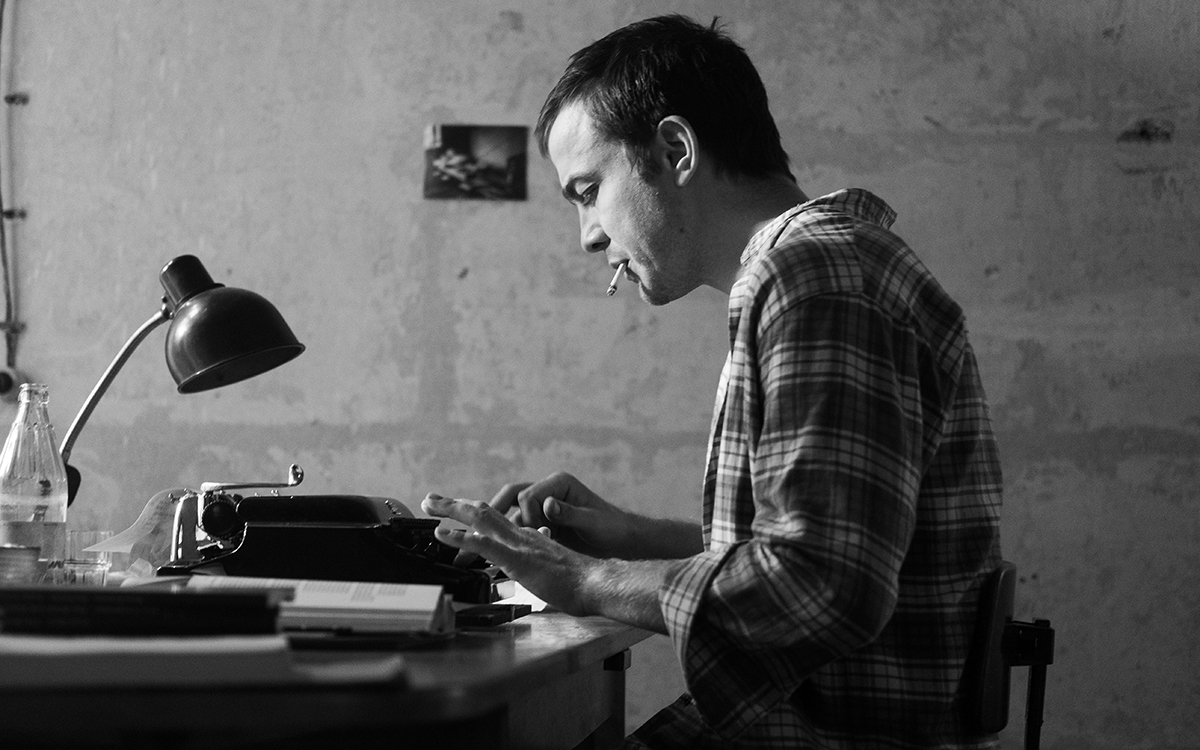 Albrecht Schuch as Thomas Brasch in Dear Thomas
Kleinert tells the story chronologically, interspersed with imaginative sequences, with a fairytale or wish-fulfilment quality. The film is structured around a statement from Brasch that we hear in the opening frames: 'I don't want to die where I live, but I don't want to go where I'll die, I want to stay where I've never been.' These clauses, used later as intertitles to mark the film's chapters, help us move with the implacable Brasch. Thomas was ultimately unclaimable for either East or West Germany, but after the Wall fell and the cultural front of the Cold War went with it, his public persona fell away. The film ends with a coda, in which we see Thomas working on his unfinished and unpublished novel about the postwar Gladow gangsters in Berlin – already the topic of his Angels from Iron feature but never seen in print.
Dear Thomas features excellent performances, particularly from Albrecht Schuch – also born in East Germany – as Thomas. Schuch, a rising star in German film and television, has been seen in some of the country's best productions of recent years, including System Crasher (Systemsprenger, 2019), Bad Banks (2018–20) and Fabian: Going to the Dogs (Fabian oder der Gang vor die Hunde, 2021), as well as a forthcoming film adaptation of Clemens Meyer's novel Dark Satellites about precarious work in the former East (published in translation by Fitzcarraldo Editions, 2020). Expect to see him springboard into international productions from here, including a big-name Netflix production of All Quiet on the Western Front due later this year. Schuch, who resembles Thomas Brasch, moves easily between the role's demands as an earnest, precocious author in the East and charismatic night owl of West Berlin's bohemia. Jella Haase is also good as Katarina, Brasch's longstanding (or long-suffering) partner and herself a famous actor seen in The Tin Drum (Die Blechtrommel, 1979), which screens in the classics program at this year's German Film Festival.
Kleinert's film has been heralded in Germany and stands nominated for twelve categories in the German Film Awards (including best director, screenplay, supporting actress, actor, cinematography, editing and film). Thomas Brasch, meanwhile, was celebrated at Berlin's International Literature Festival in 2021. Ironically, however, none of his works is readily available in English. And his Cannes-worthy and prize-winning films – his second feature, The Passenger: Welcome to Germany (Der Passagier: Welcome to Germany, 1988), stars Tony Curtis – cannot be streamed outside Germany. With its striking style and strong performances, Dear Thomas may yet signal a shift in cultural fortunes twenty years after Brasch's death.
---
Dear Thomas (Palace Films), 150 min, is screening nationally as part of the German Film Festival from 4–19 June.