Theatre
Hamlet
On the path to redemption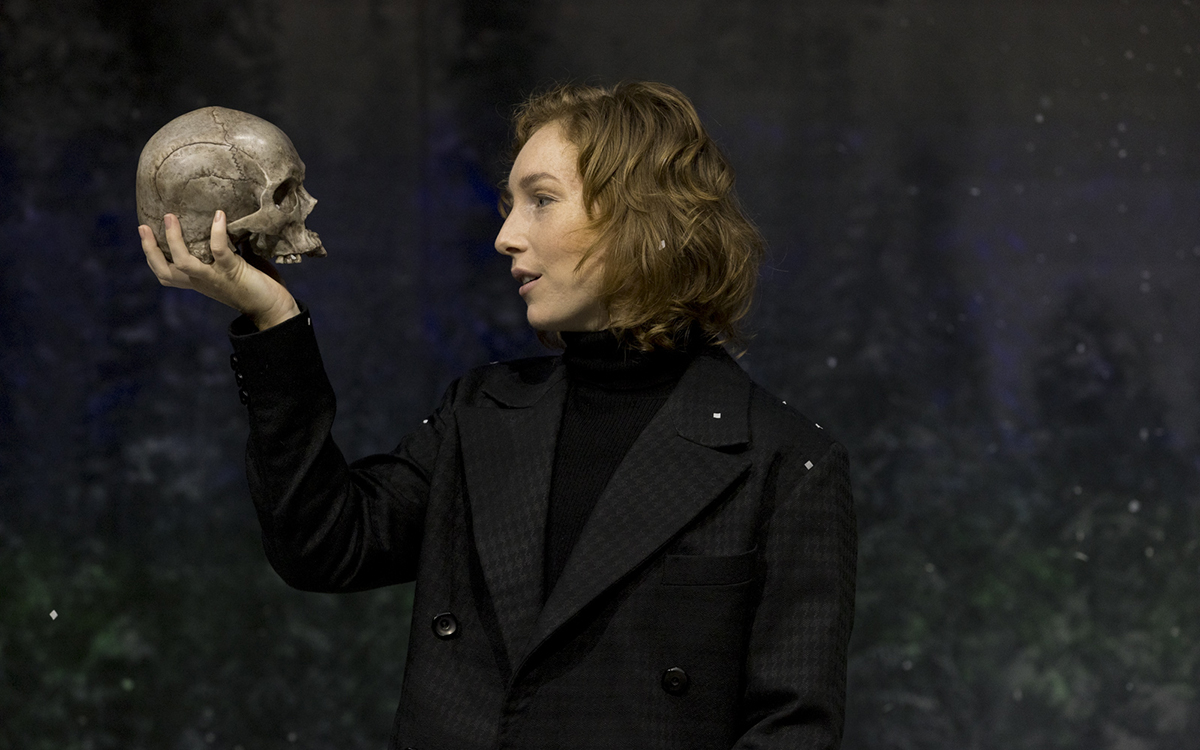 Back in 1991, Bell Shakespeare opened their very first season with Hamlet, starring John Polson and directed by John Bell himself; it deliberately highlighted the Australian vernacular, almost over-emphasising the flat vowel sounds and local cadences over the fruitier delivery we inherited from the British. It had a gritty contemporary setting, and garishly over-the-top costumes. It also wasn't very good. Polson's anti-heroic bad boy might not have been quite as awful as Brendan Cowell's turn in 2008, but the attempt to create a specifically Australian playing style ground against the text's loftier intimations. It seems we, and the company, have come a long way.
Peter Evans took over Bell Shakespeare's reins in 2016 and has proved to be a workmanlike director. He knows when to pull back aesthetically and let the play breathe. He has set this production in a stylish Denmark, circa 1960, all lounge suits and mid-century modern furniture. Snow falls almost constantly, drifting elegantly across the actors' faces before blending into the white shag-pile carpet. It gives proceedings a muted melancholy, although the Cold War espionage theme could have been accentuated, given that Hamlet is a play of eyes and ears, of spies and sparrows. Anna Tregloan's design is coolly sophisticated and wonderfully integrated, a world away from the shoddy design of the company's early years.
The other key improvement is the actor playing the Dane. Harriet Gordon-Anderson is, to my mind, the first professional actress to play the role on a main stage in this country, and she is spectacular. Those first notes of grief hit hard, like a ball of anguish the young prince has been shining to a glint, and he spends considerable portions of the play in a fog of loss and pain. This is Hamlet as existential loner; none of his relationships seems nourishing or sustained, even with Horatio (an excellent Jacob Warner). But then the players arrive, and Rosencrantz (Jeremi Campese) and Guildenstern (Jane Mahady) too, and Hamlet seems to rally for a fight. Gordon-Anderson brings a sparkling wit to these scenes, while nursing her bitterness and danger.
She handles the central monologues with an effortlessness and a calm determination, unfussy and all the more moving for it. There is perhaps less a sense of the character's dazzling breadth of intellect, that feeling that Hamlet's thought processes could go anywhere, largely because Gordon-Anderson so thoroughly unknots them for us. We know and understand what this prince is thinking, which makes the question of Hamlet's madness a moot one: far from insane, he feels like the most rational person in this irrational world. The late tilt into the spiritual, when Hamlet defies augury and finds his 'readiness', is magnificent. This is a Hamlet who doesn't need flights of angels to sing him to his rest: he closes his own play, alone at the front of the stage, and the rest is silence.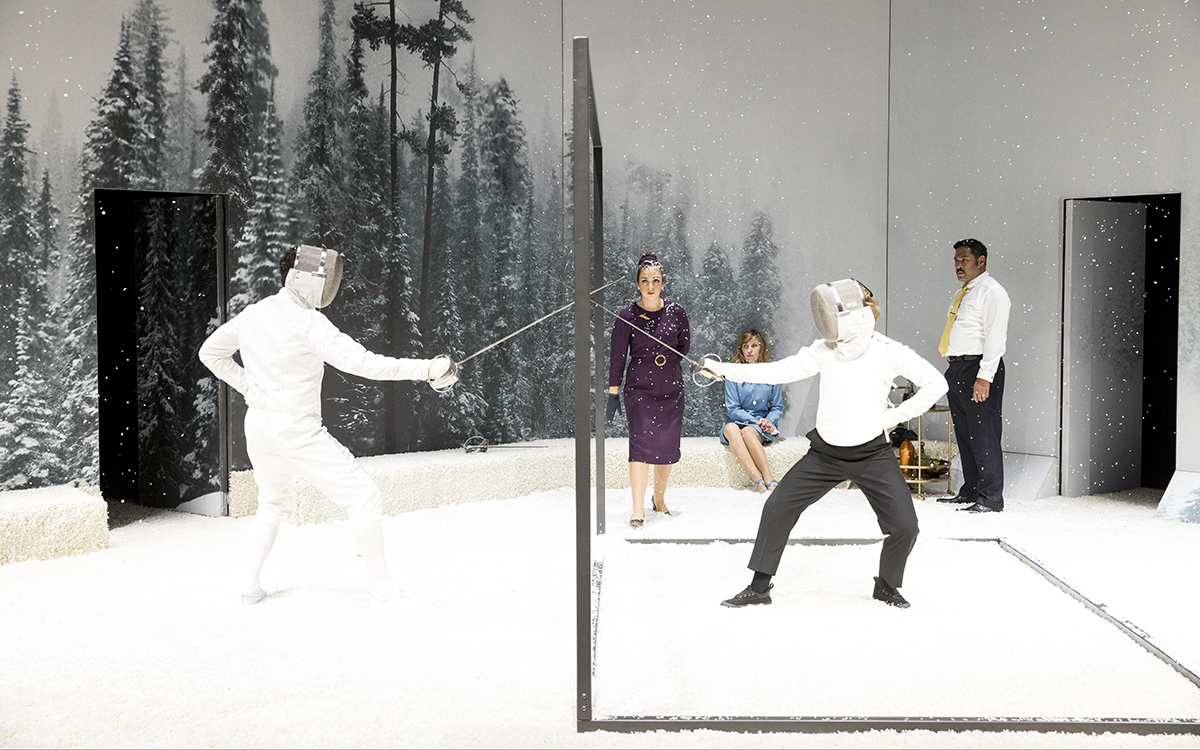 Jack Crumlin, Eleni Cassimatis, Lucy Bell, Harriet Gordon-Anderson, and Ray Chong Nee in Hamlet (photograph by Brett Boardman)
The remainder of the small cast is mostly excellent. Ray Chong Nee brings a bone-weary melancholy of his own to Claudius, a sense that this 'king of shreds and patches' is harbouring his own existential terrors to mirror Hamlet's. Lucy Bell is superb as the increasingly ragged Gertrude; she plays her as a woman of considerable moral stature who has paid too little attention to the fox in her own coop. Rose Riley is a spiky, deeply felt Ophelia; she keeps the fire of her love alive long enough to immolate herself on it. Robert Menzies, initially rather subdued as the prating Polonius, develops his antipathies nicely. His 'very like a whale' exchange with Hamlet is brilliantly droll and testy.
While Evans brings a powerfully unifying tonal register – a sense of a liminal world poised delicately above the abyss – it must be said he flubs some key dramatic moments, often through poor blocking choices. Ophelia's admittedly tricky funeral scene is awkwardly staged and doesn't land emotionally. The closet scene, this time with Gertrude behind the arras and Polonius in full view, feels like an unnecessary experiment gone wrong. And the staging of The Mousetrap, where Hamlet's play within the play catches the conscience of the king, is a gross misfire, Claudius merely standing and walking out where he really needs to bluster and choke his way across the stage. It is a mark of some fine acting that these stumbles don't seriously threaten the production's overall effect.
And what of the gender-blind casting? On one level, Gordon-Anderson's performance is so natural, even 'to the manor born', that her gender feels utterly unremarkable; her mid-length red hair, her stylish black skivvy, and her casually androgynous mannerisms mean the audience can easily forget we are watching a re-gendered role. On another level, the casting subtly reminds us that Hamlet, like all of Shakespeare's tragic heroes, conceals a profound ambivalence towards women, is beholden to outmoded ideals of manhood and masculinity, and has to shed the toxicity he has inherited from his father's lost world if he is to finally achieve his goal. His journey is, as Harold S. Wilson put it, 'to recognise his true role as the instrument of justice rather than the dispenser of it', to not so much wrestle the fates to the ground as have them sweep through him, to ultimately 'let be'. Gordon-Anderson's poised, humanist reading of the Dane seems to dispatch the self-indulgent posturing of past Hamlets altogether. On this current road to redemption, as part of Bell Shakespeare's thirtieth anniversary season, she seems the perfect man for the job.
---
Hamlet (Bell Shakespeare), directed by Peter Evans, is running from 28 April to 14 May 2022 at the Arts Centre Melbourne. Performance attended: 10 May.
This review is generously supported by the Copyright Agency's Cultural Fund.