Opera
Voss and The Turn of the Screw
Two outstanding adaptations of literary classics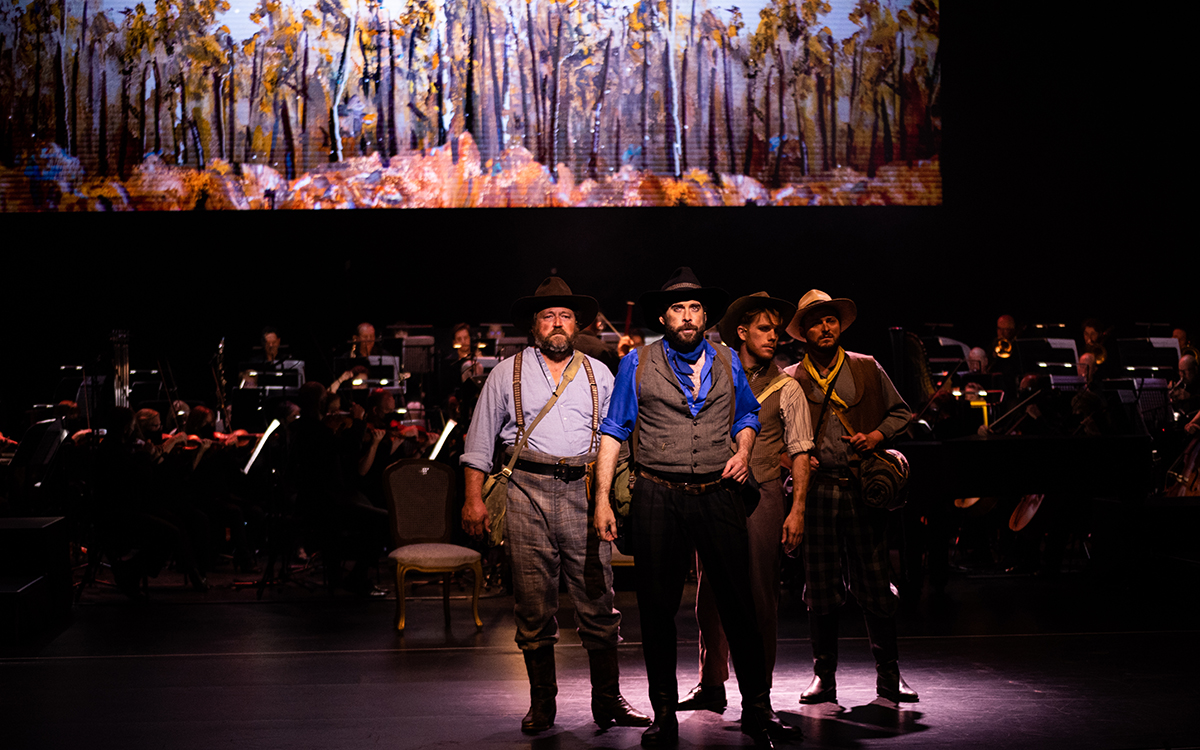 'What we do not know the air will tell us'
(Laura Trevelyan in Voss)
In the program for the première of Voss in Adelaide in 1986, David Malouf observed:
No libretto can reproduce the novel from which it is drawn. A novel, especially a great one, is itself: unique, irreplaceable. The best a libretto can do is reproduce the experience of the book in a new and radically different form, allowing the form itself to determine what the experience will be.
With characteristic self-effacing modesty, Malouf downplays the crucial role of the librettist in opera. Of course, there are countless poor libretti, but this certainly does not mean that the final opera will be a failure. Verdi's Il Trovatore is often accused of having a weak and confusing libretto, but it provides a framework for some of the most brilliant music and high-powered drama Verdi ever wrote.
The two operas I attended in early May cannot be accused of substandard libretti. Malouf's adaptation of Patrick White's pivotal novel Voss (1957) is a masterpiece, in many ways the equal of its illustrious source; while Myfanwy Piper's translation of Henry James's ambiguously enigmatic tale The Turn of the Screw (1898) is an outstanding adaptation, providing a platform for some of Benjamin Britten's most effective dramatic music, and contributing to an undisputed twentieth-century operatic triumph.
I do not need a map. The map is in my head … I have imagined it. Now it must be found. It is a country in search of its spirit. I am that spirit. I will make my own map. The country is mine. I have only to walk into my kingdom. (Johann Ulrich Voss)
It seems fitting that two of Australia's most outstanding novelists, White and Malouf, would 'collaborate' in virtual terms on what many regarded as the Great Australian Opera, derived from the Great Australian Novel. But, of course, there is the music; Richard Meale, one of the leading Australian composers at the time, constitutes the third part of the trinity.
Music in opera often functions at the expense of the words. This is brilliantly illustrated in the transcendent 'Garden Scene' in Act One. Voss sings Goethe's poem Jägers Abendlied, and Laura's reaction to the song is ambiguous: 'That was very – German, sir.' Voss counters: 'There is no translation', to which Laura responds: 'I know. Poems will not bear it. They remain themselves. We lose the words but catch the music.' Music is frequently seen as offering access to essential truths more effectively than the opaque medium of words: 'Like torn up bits of paper you scatter words,' Laura sings.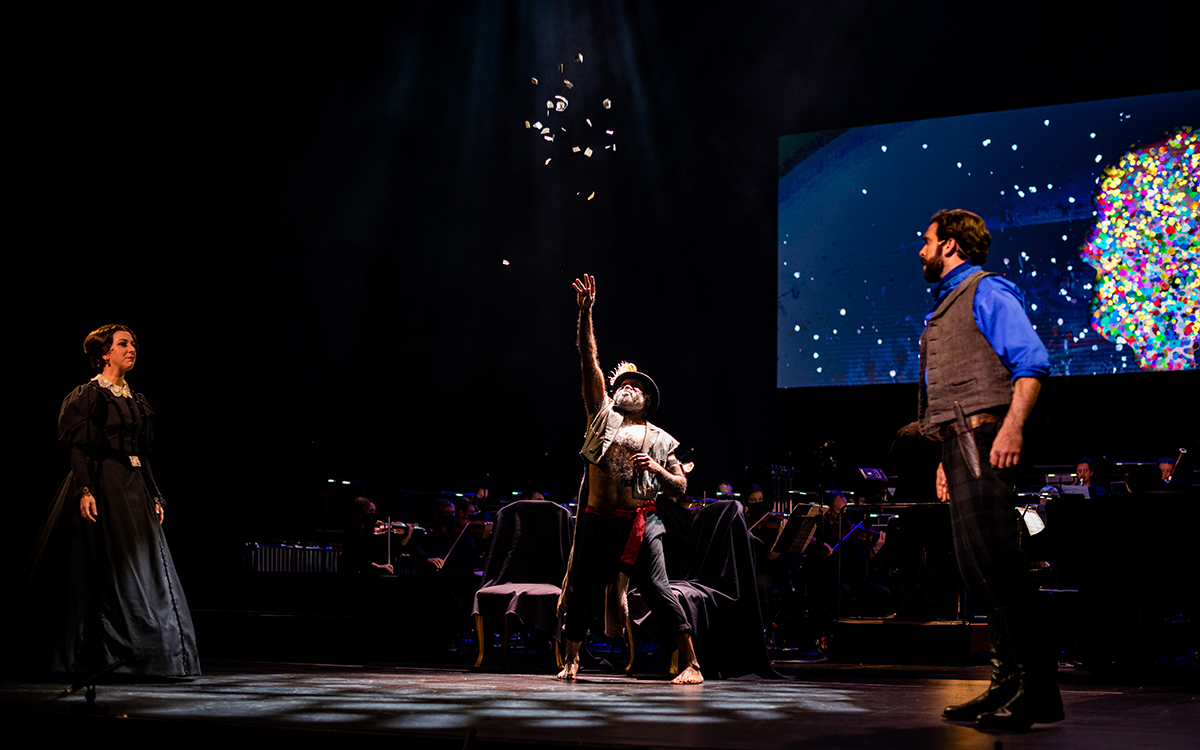 Emma Pearson as Laura, Trevor Jamieson as Dugald, and Samuel Dundas as Voss in Voss (photo credit: Soda Street Productions)
This exchange is emblematic of a central concern of Voss: the power of supra-verbal communication. The second half of the opera depicts Voss and Laura communicating solely through dreams and visions, separated as they are by vast distances. Voss acknowledges in Act Two: 'Wörter haben keine Bedeutung' ('Words have no meaning'), and his words are literally scattered when Dugald tears up his letter to Laura.
So does this remarkable opera still retain its potency in a concert performance? Well, the music certainly has the capacity to sustain interest over two hours without the visual element. However, director Stuart Maunder has done an excellent job in positioning and moving the singers in the playing space in front of the orchestra. They are 'off book', so interact with each other in a naturalistic and convincing manner, effectively using the large space to establish relationships between characters. A constantly evolving projection at the back of the stage provides a vivid visual analogue of the events.
Samuel Dundas was an imposing figure, both physically and vocally, in the title role. His voice has a rich, dark, even quality, and there is an impressive intensity and suppressed violence in his performance. Occasionally, there was some strain in the upper register – the role places great demands on the singer. Emma Pearson was very fine as Laura. This is a soft-grained, beautiful voice, used with great musicality and intelligence; the focused sound and excellent diction project well into the theatre. Pearson also has a warm and engaging stage presence essential for this role. The garden scene with her and Voss was a highlight of the performance – surely one of the truly great scenes in all Australian opera.
Voss is a 'grand' opera in its artistic aspiration, reflected in the large number of roles. They were filled with some exciting young and more established singers. Nicholas Jones as Harry Robarts stood out with his vibrantly fresh and appealing tenor. His final aria before his death was most affecting. Jessica Dean and Mark Oates as Belle and Tom brought clean tone and clearly drawn characterisation. Pelham Andrews, Michael Petruccelli, and Joshua Rowe made up the rest of Voss's doomed party, all providing strong and focused performances. The Sydney characters included Cherie Boongaart, Jiacheng Ding, Jeremy Tatchell, and Rachel McCall, all impressive in their variety of characterisations.
The Aboriginal characters, Dugald and Jackie, played by Trevor Jamieson and Elijah Valadian, are an integral part of a staged production. Their enigmatic silent presences provides a significant 'commentary' on the events – a powerful aural signifier of Aboriginal dispossession. Unfortunately missing in this semi-staged version were their dances, which are an important element in the intricate choreographic structure of the opera, all reinforcing the theme of non-verbal communication.
Richard Mills, a great champion of Voss, drew some outstanding playing from the orchestra. It is a score of great variety, with ravishingly beautiful music interspersed with driving, percussive rhythms and jagged orchestral outbursts, demanding much from the players. Meale, criticised by some as 'reneging' on his modernist credentials with Voss, observed in 1987:
Voss is based on the honesty of its expression. That is why it took no posture – why perhaps for some people it's stylistically strange because it merges between tonal matters and non-tonal matters … All I tried to do was to write something that was aesthetically true to the drama.
All credit to State Opera South Australia, in collaboration with Victorian Opera, for finally managing to perform the opera after two false starts due to Covid. But there remains a tantalising frustration that this remarkable and important work has not been staged since its first production, which was revived in Sydney (1986 and 1990) and Melbourne (1987). Surely this performance is an anguished cry from the outback for ultimate fulfilment on the stage.
Kanen Breen as Peter Quint and Max Junge as Miles in The Turn of the Screw (image courtesy of State Opera of South Australia)
Preceding Voss was the final performance of The Turn of the Screw (★★★★). On paper the vast Festival Theatre is not an ideal venue for this eerie, oppressive chamber opera, but potential limitations were imaginatively overcome. James's tale has inspired a small industry of scholars who endlessly test the 'reality' of the two ghosts, Peter Quint and Miss Jessel. James knew exactly what he was doing, describing his tale as 'a piece of ingenuity pure and simple, of cold artistic calculation, an amusette to catch those not easily caught'. The tale is elaborately and theatrically structured as a series of events preceded by premonitions and succeeded by analysis and interpretation, while the screw of ambiguity is increasingly tightened. James drew on his experience writing for the theatre, despite his signal lack of success on the London stage.
Myfanwy Piper's libretto transposes James's pronounced melodramatic elements into an intricate textual and dramaturgical framework; Britten's complex musical response evolves out of the ubiquitous 'screw' theme, a note row used tonally rather than serially. Each scene is connected by fifteen musical variations, musically matching that of James' strategy, ratcheting up the tension as the tale unfolds.
The opera was premièred in Venice in 1954 and many regard it as the composer's finest operatic achievement. As with James's tale, Piper and Britten's interpretation of the tale has occupied the critics over the years. Piper somewhat disingenuously insisted that neither she nor Britten chose 'to interpret the work, only to recreate it for a different medium'. Any adaptation, however, is by its very nature an interpretation.
The fact that the ghosts in the opera sing, as opposed to their silence in the tale, does suggest, if not unequivocally confirm, their actual presence. They are crucial to the theme of the corruption of innocence, the major theme in the tale, and a thematic concern that pervades the whole of Britten's oeuvre. This is made explicit at the beginning of Act Two when Quint and Miss Jessel both sing Yeats's line: 'The ceremony of innocence is drowned'. Noteworthy is the fact that both Voss and The Turn of the Screw use a piano as an effective aural analogue of quotidian experience, while the orchestral instruments provide access to another dimension – a process of interiorisation and exploration of characters' psyches.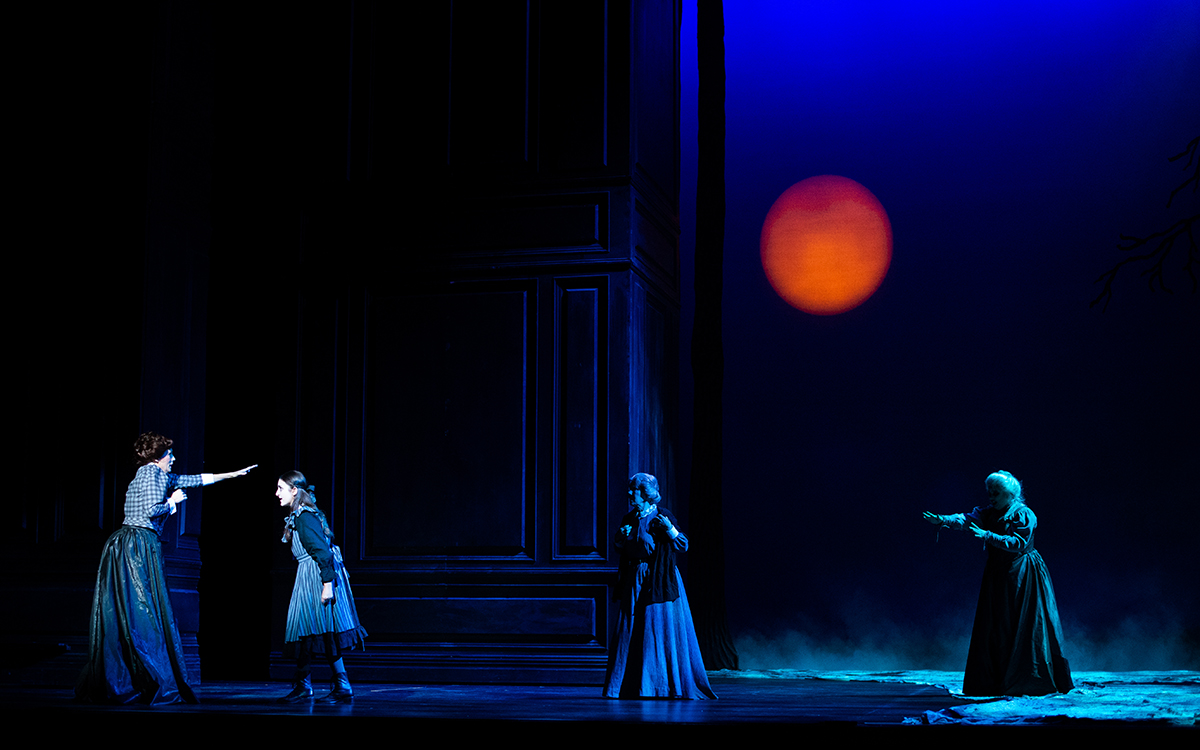 Rachelle Durkin as the Governess, Elizabeth Campbell as Mrs Grose, Fiona McArdle as Miss Jessel, and Eliza Brill Reed as Flora in The Turn of the Screw (image courtesy of State Opera of South Australia)
SOSA's performance is one of the recent operatic highlights for this reviewer. Rachelle Durkin as the Governess was outstanding. It is difficult to imagine her interpretation being surpassed, her unsettling stage presence establishing the ambiguity from the outset. Her voice captures the many emotional nuances of the character, fearlessly meeting the undisputed challenges of the role. She appears as the epitome of a Victorian governess in her elegant costumes; her physical expressiveness and flashing eyes crucial in her superlative performance. Her warm voice and soaring tone filled the theatre, but it was her expressive, nuanced, softer singing that thrilled most. Durkin also provides an object lesson in unforced operatic diction.
Kanen Breen was excellent but occasionally lacked the suave vocal beauty of a truly terrifying Peter Quint, particularly in the frightening melismatic wooing of Miles. His menacing stage presence added much to the sense of impending doom. Elizabeth Campbell, as always, was a stalwart and vocally fine and sympathetic Mrs Grose, while Fiona McArdle as Miss Jessel revealed a lovely soprano of limpid beauty as well as a strong stage persona. The two twelve-year-olds – Max Junge as Miles, Elisa Brill Reed as Flora – made potent contributions to the success of this performance, completely believable in their seemingly innocent ambiguity.
The stage sets by Roger Kirk were a constant powerful presence. At first, the sheer size of the looming wooden panels seemed rather too impressive for James's Bly in Essex, but the way in which the sets were expertly repositioned on the cavernous stage created many effective playing spaces and provided a wide range of visual contrasts. Lighting by Trudy Dalgleish was striking throughout, providing seamless transitions between scenes and facilitating the sudden, disconcerting appearances of Quint and Miss Jessel while enhancing the febrile emotional tone of the opera.
Paul Kildea (Britten's biographer) conducted with deep understanding of Britten's demands. The thirteen-piece chamber orchestra is essentially a group of virtuosic soloists, but Kildea had complete control of this complex score. Finally, Stuart Maunder as director deserves huge accolades in tackling this extremely confronting work, particularly with its disturbing themes being so relevant at the present time. He used the large stage creatively, so that the claustrophobic atmosphere was constantly present. The direction of the singers was faultless. There was an emotional clarity in the build-up of the governess's growing awareness that something was awry at Bly, and the final moments of the opera were heartrending and devastating. At no point was there a slippage into stereotypes that can easily occur; rather, it was a relentless build-up of psychological intensity. In the final analysis, Maunder, Kildea, and all the forces made it plain that The Turn of the Screw deserves its secure place in the operatic repertory in a performance that will linger long in the memory.
---
Voss (State Opera of South Australia and Victorian Opera) was presented in the Festival Theatre, Adelaide Festival Centre on 7 May 2022. The Turn of the Screw (State Opera of South Australia) was presented in the same theatre. Performance attended: 6 May 2022.