Opera
La Traviata
A revival of Elijah Moshinsky's production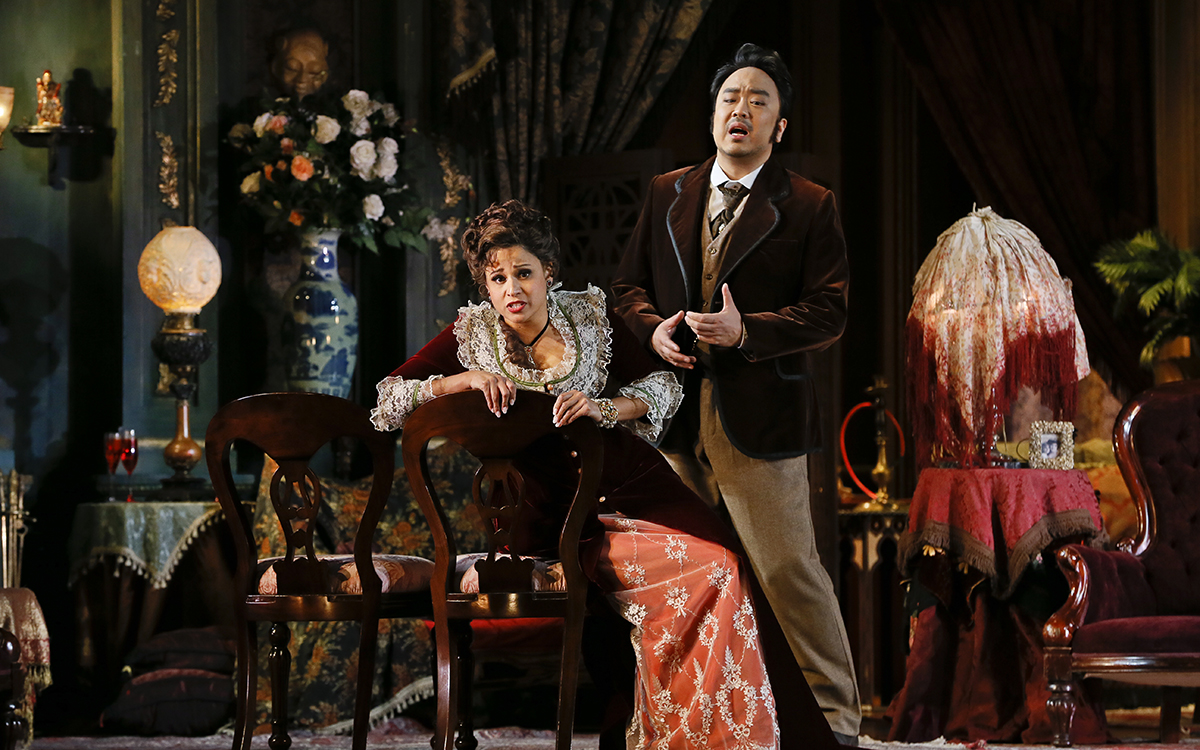 Opera Australia's Melbourne season began on 4 May with a revival of Elijah Moshinsky's 1994 production of La Traviata, often seen here before. The season ends on 28 May, with eight more performances. It's a short work, with four scenes each about thirty minutes long, ideal for those new to opera or keen for melodic relief from election discord.
The opera is based on the play La Dame aux camélias, by Alexandre Dumas fils, first performed in 1852, just a year before the première of Verdi's masterpiece in Venice, with Francesco Maria Piave's inspired libretto. (The play was adapted from Dumas's 1848 novel of the same name.) How fast they moved in those days; what dash and freedom they had.
It's easy to see why the company has turned to Moshinsky (the prolific director who died in January 2021) for its Melbourne return. This is a perfectly straightforward version of La Traviata. Highlights are the final act and the second scene in Act II, though Flora Bervoix's drawing-room, as conceived for the tiny Sydney stage, will always look pinched on the big Melbourne one, cramping the style of the lady revellers as gypsies and the men as matadors and toreadors.
Only the first scene in Act II is misconceived. The new lovers – Violetta Valéry (our traviata, our 'fallen woman') and Alfredo Germont, younger than she, more respectable – have moved to a house outside Paris after the raptures of Act I. This tight scene, with more comings and goings than a silent movie – complete with avuncular blackmail and a Dear John letter – is set, or should be set, in Violetta's drawing-room. Instead, Moshinsky relocates it to the garden, with leaf-dropping effects – this is the autumn season after all! Whenever Violetta has some chore to perform – a servant to summon, a heart to break – she must dart inside like a distracted hostess, or like a stricken Siegfried reaching for his water bottle.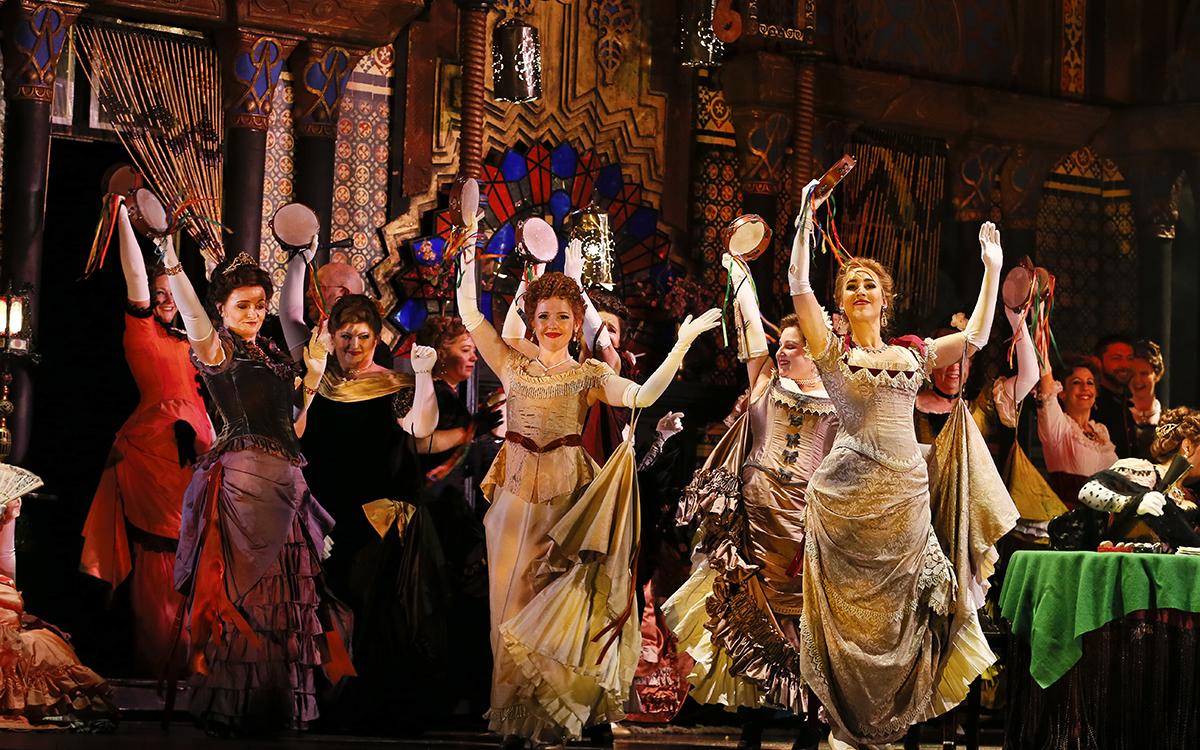 The Opera Australia Chorus in La Traviata (Photo Credit: Jeff Busby)
The performance began quietly – too softly for a vast theatre with such a dull acoustic. Conductor Renato Palumbo drew some fine playing from Orchestra Victoria (notably the strings and the brass), but his tempi were drearily and drainingly slow throughout. The principals suffered from this want of tension and brio. This was especially the case during Giorgio Germont's Act II aria, 'Di Provenza', which threatened at times to stop.
Ho-Yoon Chung, our Alfredo, was vocally missing. Alfredo – ardent, drippy, quick to jealous fury – is one of Verdi's least sympathetic tenors, but he has some fine music, especially the two duets with Violetta. None of this came across. At times Chung was barely audible from row R in the stalls. He's no actor either; his gestures became increasingly desperate (much sawing of the air with his hands, etc.). Surely the national company has at its disposal local tenors who could sing the part better than this. They might even be grateful for work during a pandemic.
Mario Cassi has clearly sung the role of Giorgio Germont often. He looked the part and sang with gusto – rather too much of it at times.
Overall, the direction was wanting, notably during Violetta and Germont's great scene in Act II, when Alfredo's father persuades Violetta to relinquish Alfredo in order to enhance his children's marital prospects. Done well, feelingly, adultly, this long scene is as good as anything in Verdi's operas. (Few who heard Joan Sutherland and Joan Carden perform it opposite Robert Allman in the early 1980s are likely to forget it.) But the two singers must engage – must actually look at each other – and this they failed to do. The whole thing felt like an irksome meeting with a dogged accountant. (Constantine Costi was the 'revival director'.)
But this is Violetta's opera, and Stacey Alleaume, who has sung it before, rose to the occasion: quite literally at the end of Act I, when she capped 'Sempre libera' with a brilliant E Flat, not the high A in Verdi's score. There were other fine moments throughout: her daringly soft singing during the prayer-like passage when Violetta, having accepted Germont's terms, hopes that his vestal daughter will remember her sacrifice ('Dite alla giovine'); her vocal command during the brilliant ensemble that ends Act II; and a meticulous 'Addio del passato'. Many Violettas flag throughout the night – this is a notoriously difficult role – but Alleaume drew on all her reserves in the final minutes as Violetta, on the brink of death, Alfredo restored to her, feels joyful, reborn. It was every bit as affecting as any assumption of this mighty role should be, and Alleaume thoroughly earned her standing ovation.
---
La Traviata (Opera Australia) continues at the State Theatre, Arts Centre Melbourne until 28 May 2022. Performance attended: 4 May.