Music
St Matthew Passion
An exhilarating performance of J.S. Bach's plea for mercy and forgiveness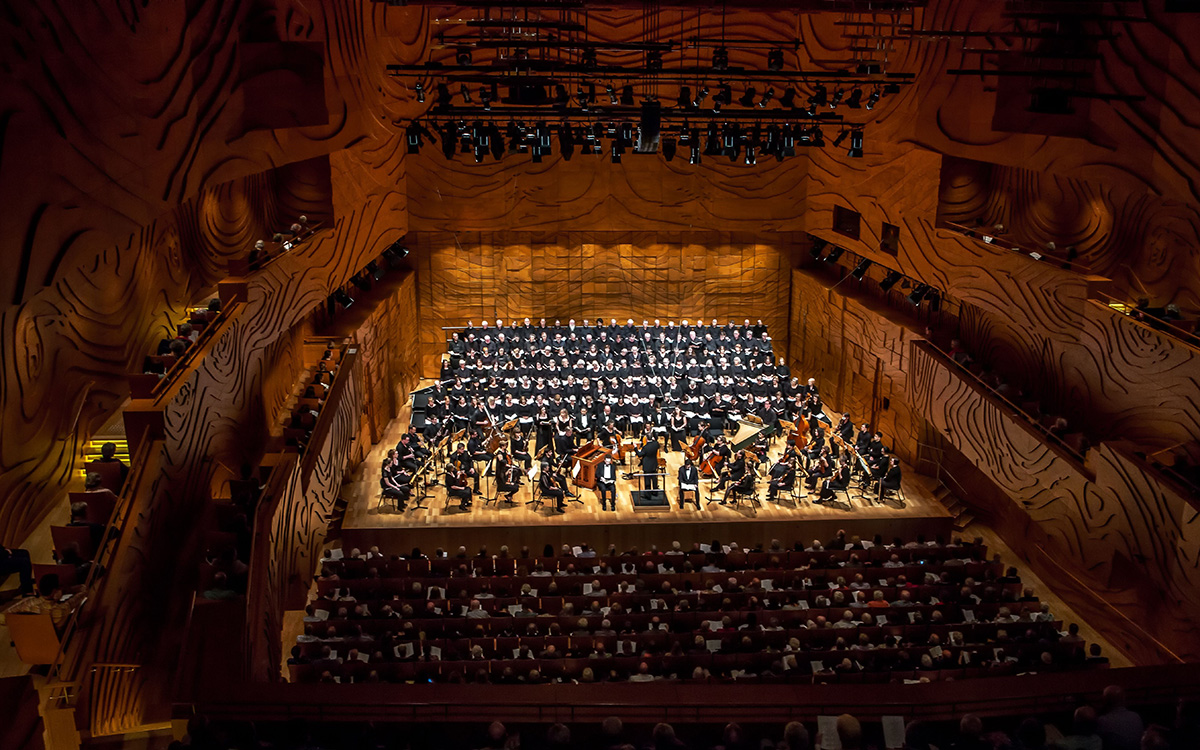 There are some circumstances that shift a musical performance into another dimension of significance. Mstislav Rostropovich playing Bach's cello suites in Berlin on 11 November 1989, two days after the fall of the Wall, is perhaps the twentieth century's most vivid example.
On Good Friday in Melbourne, as poignantly perfect an autumn afternoon as one could conjure, the Recital Centre celebrated the return of a full audience to a musically starved city with the Melbourne Bach Choir and Orchestra's offering of the St Matthew Passion. Conductor Rick Prakhoff, speaking with modest dignity from his concert platform, listed the continuing effects of the pandemic on his singers and musicians: some choristers in isolation; the Ripieno choir reduced from eight to five; tenor Andrew Goodwin ill and unable to perform the pivotal role of Evangelist, for which he is celebrated. Robert Macfarlane, stepping in at short notice, was welcomed with applause. Prakhoff paused, smiled, then told his audience, 'My father was born in Kyiv.' He added a few more words of family background, dedicated the performance to the people of Ukraine, then turned and lifted his baton.
Bach's Matthew Passion is a musical marathon, not a work to be carried by sentiment, and neither Prakhoff nor his musicians were angling for sympathy. Tenor Robert Macfarlane made no acknowledgment of the illness that had recently debilitated him, and when, after hours of fine vocal acrobatics, he showed fleeting moments of strain late in the second half, I believe the entire audience liked him the better for it – human vulnerability in dramatic verisimilitude, befitting the work.
Prakhoff gave his audience the full Passion, almost three hours of it – not a single recitative, aria, chorus or chorale shirked or omitted (I discovered to my dismay how many passages in my battered Schirmer and Novello scores were struck through, presumably to enforce tighter, or even censored, performances). You can always tell when an audience is growing restless, but on this Good Friday there wasn't a whisper of foot shuffling. The only extraneous sound came from the discreet turning of pages, warranted in that it enabled the audience to follow the program's translation of the texts. Martin Luther's German rendering of Matthew's Gospel (for the Passion it is chapters 26 and 27), is pithy and concrete, so it would be a loss not to grasp how fully the tenor-Evangelist's plain recitative contrasts with the subjective (often first-person) lyricism of Picander's (Christian Friedrich Henrici's) libretto for the Passion's many arias and choruses, or with the Lutheran chorales that buttress the work, grounding it in Bach's German liturgical tradition while at the same harmonically subverting any orthodox certitudes (Bach's Leipzig congregation was not encouraged to sing along).
The performance history of the Matthew Passion is occluded somewhat by (diverting) conflicts among scholars. What première date? Probably Good Friday, 1727. But maybe it was 1729. Location? That we do know – the Thomaskirche in Leipzig (which is where, as it happens, Robert Macfarlane studied). The size of Bach's choir/choirs and orchestra/orchestras seems to have been determined in part by the dimensions of the organ loft – or maybe not. Bach's contract as Cantor in Leipzig stipulated that the music he wrote and performed should be conducive to devotion. No operatic Italianate histrionics presumably. Whatever the conditions of his employment, try to imagine Bach's being constrained. Try stopping a great river in flood.
For this Melbourne performance, Prakhoff had rich resources at his command, Covid-caused gaps notwithstanding. His double choir, with the clarion vocal strand of the Ripieno singers on the upper-side balcony, numbered over one hundred, and sang with admirable ensemble and dynamic flexibility. His deft orchestra, physically divided on stage into first and second parts, was extended in texture by organ (Donald Nicholson) and harpsichord continuo (David Macfarlane). Reidun Turner on the viola da gamba gave a dark rhythmic pulse to the work, notably in the great bass aria 'Komm, süsses Kreuz' ('Come, sweet cross'). Turner's mid-performance tuning of the instrument added another of those human moments that make one treasure live performance.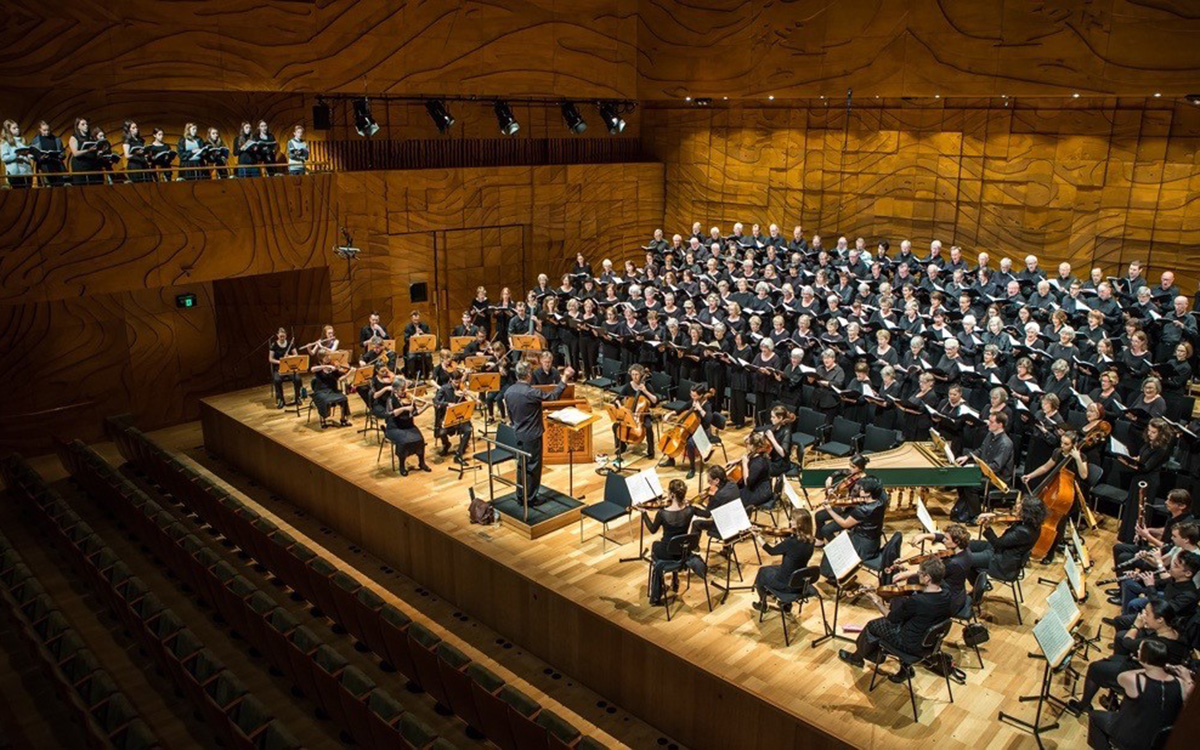 (photograph courtesy of Melbourne Bach Choir)
I have emphasised the words of Bach's Matthew Passion because I have wondered how a twenty-first-century audience responds to a work of (admittedly complex) religious conviction. Does the music – that great surge of melody – from the presaging 12/8 pulse of the opening Exordium, 'Kommt, ihr Töchter' ('Come, ye daughters'), to the famous last dissonant chord of the concluding chorus – effectively carry its audience? I don't believe it can be as simple as that, even though the music has its profound and etching effect on the brain. How many of Friday's audience are still being haunted by orchestra leader Madeleine Easton's limpid violin solo gliding 'con molt'espressivo' over and through mezzo-soprano Sally-Anne Russell's glorious rendering of the aria 'Erbarme dich' ('Have mercy')?
But that soaring aria follows immediately after the Evangelist's stark, consonantal voicing of Peter's betrayal of Jesus ('Und alsbald krähete der Hahn' – 'And at once the cock crew'), and his multi-note dissolve into Peter's remorse ('Und ging heraus und weinete bitterlich' – 'And he went out and wept bitterly'). What Bach's music and Picander's words do together is expand the specific instance of betrayal and remorse into a universal human plea for mercy and forgiveness. I kept being reminded of the moral stature of Nelson Mandela and his consequent ability, with Desmond Tutu, to establish a truth and reconciliation process for South Africa. In Bach's Matthew Passion, the play between confronting biblical narrative and reflexive, universal but also personal, response in the arias and choruses – to injustice, to guilt, remorse, or to complicity with what we now call extra-judicial killing, is constant and extraordinary. It lifts the work out of time and specific doctrinal context without in any way blunting or reducing its specific German and Protestant character.
The music is astonishing: building, circling back on itself, echoing, transforming, rivetted by dramatic transitions between recitative, arioso, aria, chorus, and chorale. Prakhoff kept a brisk pace (for comparison purposes you might sample Karajan's super-legato stateliness). If I was startled by some of the Prakhoff's attack (especially in the chorales and the beginning of the final chorus), the logic became apparent when the movements swelled or diminished as the drama dictated. It was an intimate, human-scale performance, for all the grandeur and depth of its musical resources. Bass-baritone Adrian Tamburini was a vigorous, credible Jesus, never bound in the orchestral caul (the 'halo') of accompaniment that can etherealise him in some performances. His vigour made Jesus's final unorchestrated cry, in Aramaic, 'Eli, Eli, lama asabthani?', and the Evangelist's bald scan of it, 'That is: my God, my God, why have you forsaken me?', all the more devastating.
There were other unexpected enchantments. For the first time, courtesy the orchestra's splendidly articulate woodwinds, I caught intimations of natural birdsong – an apotheosis of twitter – in the alto recitative and aria, 'Buss und Reu' ('Penance and remorse'). Did Bach's Leipzig Spring sound like this? Melbourne's autumn certainly did. The mimetic notes came again during soprano Jacqueline Porter's liquid gold aria, 'Aus Liebe' – 'Out of love'). In a narrative of capture, suffering, trial and death, beauty and exaltation have their place. The line of connection between Bach and Schubert seemed very direct.
It is almost three hundred years since Bach wrote the Matthew Passion and gave it to his Leipzig world. That he retained and carefully preserved the manuscript suggests that he understood the significance of the work in his own oeuvre, but also for posterity. Posterity did not immediately treat his monumental composition with equivalent care. It lay unperformed for a time, reminding us of the fragility of our cultures, of our cultural heritage. This month I saw images of a Ukrainian crucifix, carved out of wood in a style reminiscent of Dürer, being hauled by townsfolk into improvised safe-storage, away from Russian bombs. What music, I wonder, will come out of this present carnage?
Melbourne's Good Friday audience did not wait for the Passion's final chord to dissolve and die away. They burst into an immediate clamour – of pent-up energy, of gratitude, perhaps, for the restoration of something precious (we are fortunate to have these dedicated Bach exponents), and of the kind of exhilaration that can only come from a shared experience of timeless, transcendent grace and musical profundity.