Art
Sidney Nolan: Myth Rider
The evolving themes of one of Australia's leading twentieth-century artists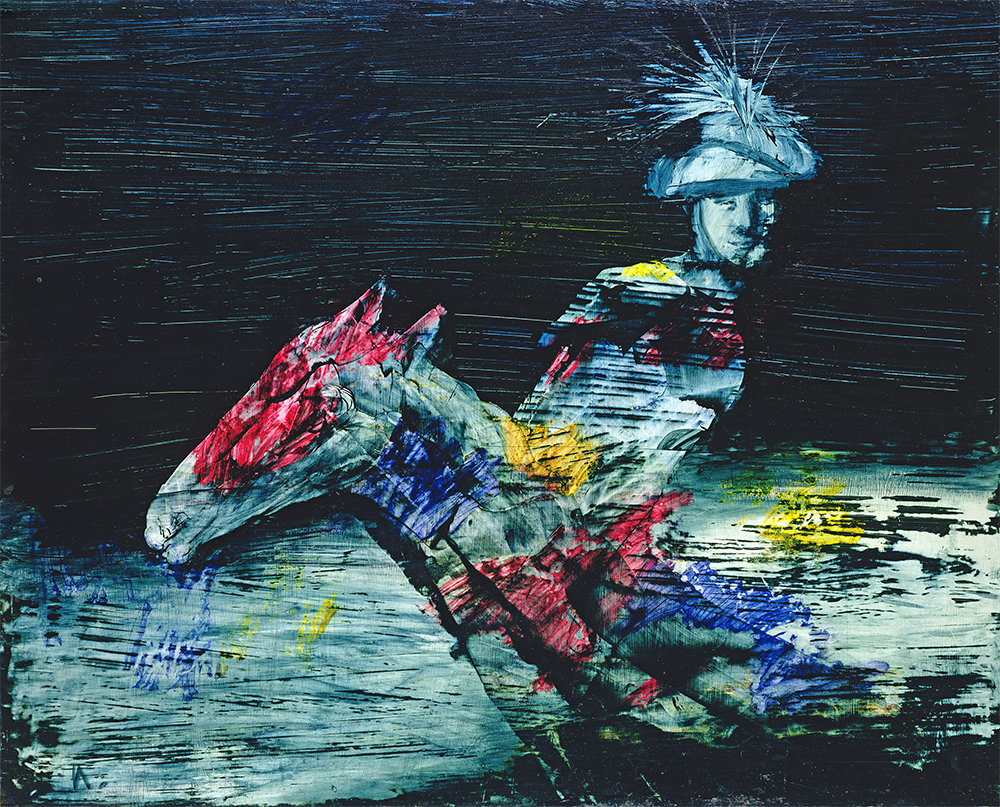 This is a beautiful, thought-provoking, and timely exhibition about the enduring power and relevance of myth to humanity. In fact, visitors get two exhibitions in one, in the way that TarraWarra Museum of Art does exceptionally well: with contemporary art speaking back to Australian modernism – the original core of the museum's permanent collection.1
Sidney Nolan: Myth Rider fills the main gallery spaces with twenty-two paintings and eighty-seven works on paper dating from 1955 to 1966, charting the artist's epic treatment of the Trojan War, its parallels with the Gallipoli campaign fought over much the same terrain, its origins in the ancient Greek myth of Leda and the Swan and the relevance of all this to his own time. Then, beyond those grey-walled rooms, a shaft of daylight beckons and in the end gallery, overlooking the Yarra Valley landscape, Heather B. Swann: Leda and the Swan – quiet, exquisite, almost monochromatic in comparison with the rich red, blue, gold, and green of Nolan's PVA Ledas – punches like a steel fist in a silk glove. Both exhibitions are curated by TarraWarra's Anthony Fitzpatrick.
Nolan's painting The Myth Rider (1958–59), seen for the first time in an Australian art museum, is not only the eponym but a lynchpin for the exhibition, with its entwined and evolving themes: a ghostly Anzac soldier in his iconic slouch hat, rather boyish, slightly dreamy-looking, on his horse – an emblem of forces beyond control – emerging from darkness and lit from within. The creation of a modern Gallipoli myth began before the Anzac survivors even left Turkey, and Nolan remembered reading in C.E.W. Bean's The Anzac Book of 1916 a poem that includes the lines:
Homeric Wars are fought again
By men who like old Greeks can die;
Australian backblock heroes slain,
With Hector and Achilles lie.
Nolan and his first wife, Cynthia, now based in England, spent five months on the Greek island of Hydra over the European winter of 1955–56, where fellow expatriates George Johnston and Charmian Clift remembered him 'quite obsessively immersed in our copies of Homer's Iliad and Robert Graves's Greek Mythology'.2 Nolan knew that Leda, the mortal princess seduced – or raped – by a swan who was really Zeus, fatefully birthed Helen of Troy among her hatchlings. He studied the Mediterranean landscape and the wine-dark sea; he looked at Ancient Greek vase paintings and sculpture. A year later, he travelled to Gallipoli – not an easy thing to arrange in those days, with the battlefields still under military control. Numerous drawings from this period, in oil paint or water-based pigments over wax crayon on shiny coated paper, make explicit links between ancient and modern soldiering and the ubiquity of war.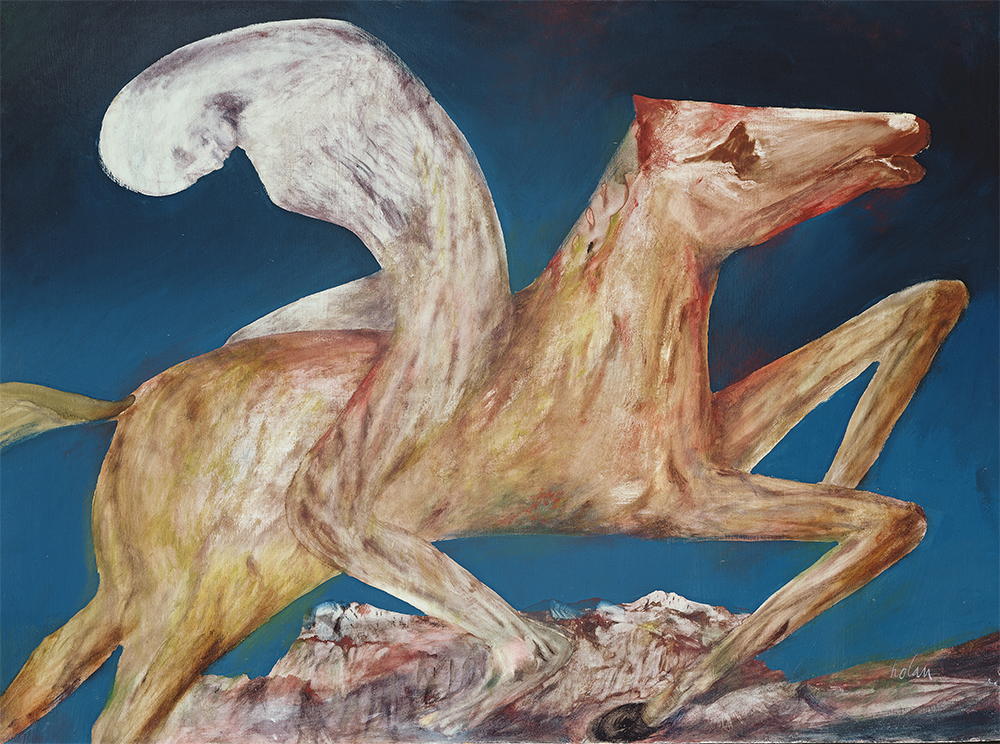 Sidney Nolan, Pale Figure on a Horse 1956, oil and enamel paint on composition board, 91.5 x 122.0 cm. Private Collection © The Trustees of the Sidney Nolan Trust / Bridgeman Images. Copyright is now managed by the Copyright Agency. Photo © Agnew's, London / Bridgeman Images
Nolan's Gallipoli subjects are comparatively well known in Australia, because in 1977 he donated 252 works to the Australian War Memorial in memory of a younger brother who drowned accidentally on service in 1945, just before the end of World War II (Nolan himself was conscripted and went absent without leave from the army in 1944). Paintings from his 'Leda and Swan' series are not unfamiliar (he painted dozens altogether and works on paper appear often on the art market), but they have not been seen en masse, as here, since his hugely successful solo London exhibition in 1960, 'Leda and the Swan and Other Recent Work'. At the time, Stephen Spender: 'What he seeks to create is a mythology made up of a great many stories, legends and actions, affirmations of human courage and suffering, identical as actions and feelings and truths, without respect to when and where they took place.'3 The period covered at TarraWarra marks the artist's transition from the Australian to the international stage. Fitzpatrick's superb selection of works reveals the extraordinary range and richness of historical, visual, and literary sources that Nolan mined and reimagined and made his own. His catalogue is both scholarly and eminently accessible, with shorter essays by David Hansen and Sarah Midford, and his wall texts provide just the right amount of information to enrich the powerful visual experience.
Directly opposite The Myth Rider hangs Leda and Swan, 1958. Their colour palette and technique are the same: painted on Masonite-type hardboard laid flat, primed with white and splashed with dry pigments in primary colours; then the thick, dark-coloured film of PVA swept across and finally scraped back to reveal the human and animal forms. Reproduced in the catalogue, these two images – apparently painted only three weeks apart – seem even more clearly part of the same stream of consciousness. Seen in photographs side by side, a vapour trail from the soldier's galloping horse appears to extend across into Leda's hair as she lies beneath the thrusting swan. Standing between the paintings in the gallery, I felt enveloped by drama.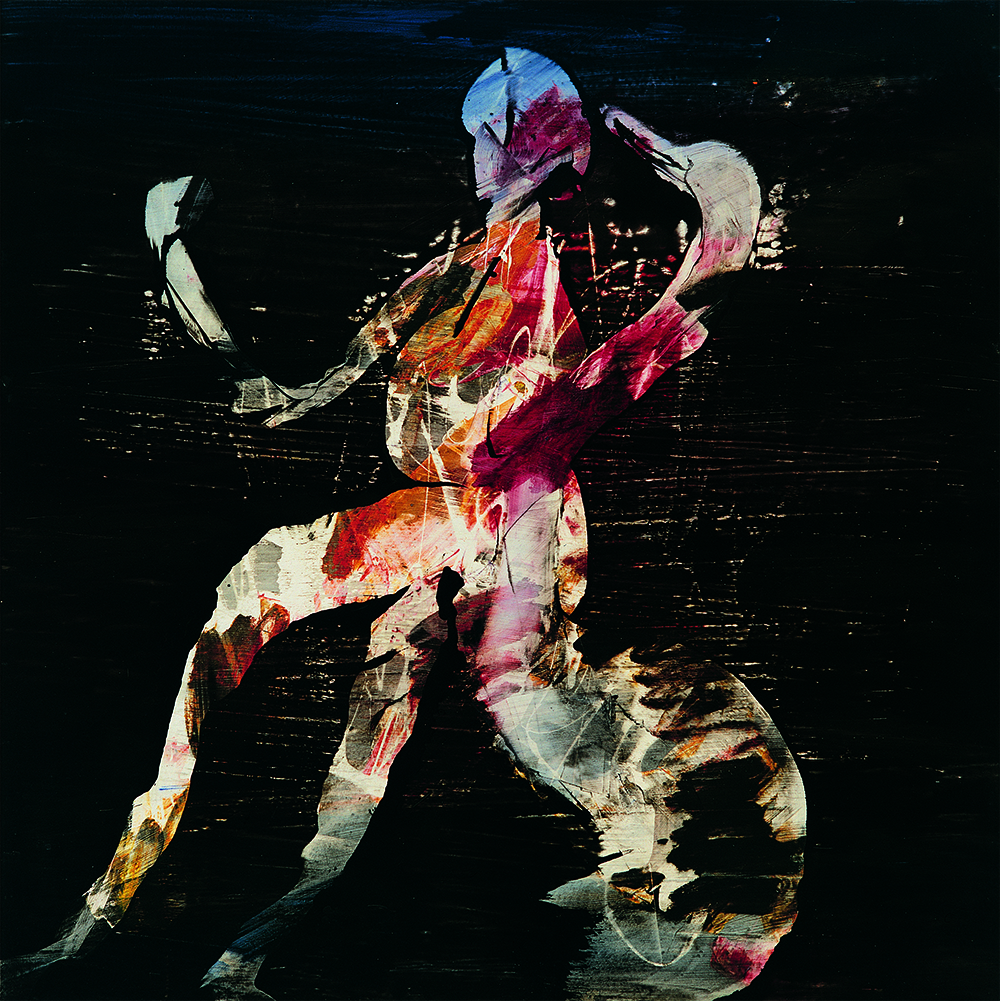 Sidney Nolan, Leda and Swan 1960, polyvinyl acetate on composition board,121.5 x 121.5 cm. TarraWarra Museum of Art collection. Gift of Eva Besen and Marc Besen AO 2001 © The Trustees of the Sidney Nolan Trust / Bridgeman Images. Copyright is now managed by the Copyright Agency.
Most of the other Leda paintings in the exhibition were completed over just a few weeks in 1960, in New York and in London. As Geoffrey Smith's meticulous catalogue checklist shows, Nolan often inscribed exact day and month dates on his works. (Smith and Fitzpatrick have made revelatory use of Nolan's papers in the National Library, available to the public only since 2018, with fascinating contemporary photographs and documents included in the exhibition.) As Cynthia Nolan recalled: 'During the day he painted on the floor … seizing a short-handled squeegee and slashing and wiping, cornering and circling like a skater, until another painting was completed. For the moment he had left the Gallipoli theme. Now over and over again he was painting Leda and the Swan. Sometimes the woman was bloody, the swan very savage. Often the figure was ambiguous, incidental, unidentified, the swan was not. At night he would usually continue on the large boards, or work on paper, for he was having a run.'4
The sense of Nolan 'having a run' is key to understanding his art: working day and night after months or even years processing thoughts and inspirations; painting – usually to music – like a skater or, as he said himself, a boxer, 'quicker than you can think'. Seen one after another around the gallery, the Leda images appear almost as stills from a film: one leading to another, the tempo changing, wings beating, breast heaving, the figures entangled or apart.
Spender wrote in 1960 that Nolan's mythology comprised 'affirmations of human courage and suffering', but by 1966, when he completed the harrowing six-panel Troy – Dragging of Hector and nine-panel Inferno, his vision was less affirmative and increasingly tragic. He had been deeply affected by the ruins he saw in postwar Europe. The Cold War, Korea, Vietnam, and the looming possibility of nuclear catastrophe all confirmed his mythopoetic sense of human history as a never-ending cycle of conflict and uncertainty. Elwyn Lynn, artist and good friend, wrote at the time, 'he believes civilization is in peril'.5 Half a century later, in 2021, visitors to this exhibition may feel the same; and yet inexorable force can bring about renewal. Nolan once remarked that myths are what art is for. As Fitzpatrick tells us, he also believed that art can work as consolation and reparation.
---
Sidney Nolan: Myth Rider is showing at the TarraWarra Museum of Art until 6 March 2022.
References
1. https://www.twma.com.au/story/ | TarraWarra Museum of Art was founded by Eva Besen AO and Marc Besen AC, collectors of Australian art primarily from the 1950s to the 1980s. It opened to the public in 2003.
2. George Johnston, 'Gallipoli Paintings', Art and Australia, vol. 5, no. 2, September 1967, p. 466.
3. Catalogue introduction for 'Sidney Nolan ­– Leda and the Swan, and other recent work', Matthiesen Gallery, London, 16 June–16 July 1960.
4. Cynthia Nolan, Open Negative – an American Memoir, Macmillan, London, 1967, p. 224.
5. Elwyn Lynn, 'Assessing Sidney Nolan: His December 1972 Exhibitions in London', Quadrant, vol. 17, no. 2, March–April 1973, p. 13, quoted by Anthony Fitzpatrick in Sidney Nolan: Myth Rider, TarraWarra Museum of Art, 2021, p. 37.