Television
Firebite
A First Nations vampire thriller
AMC+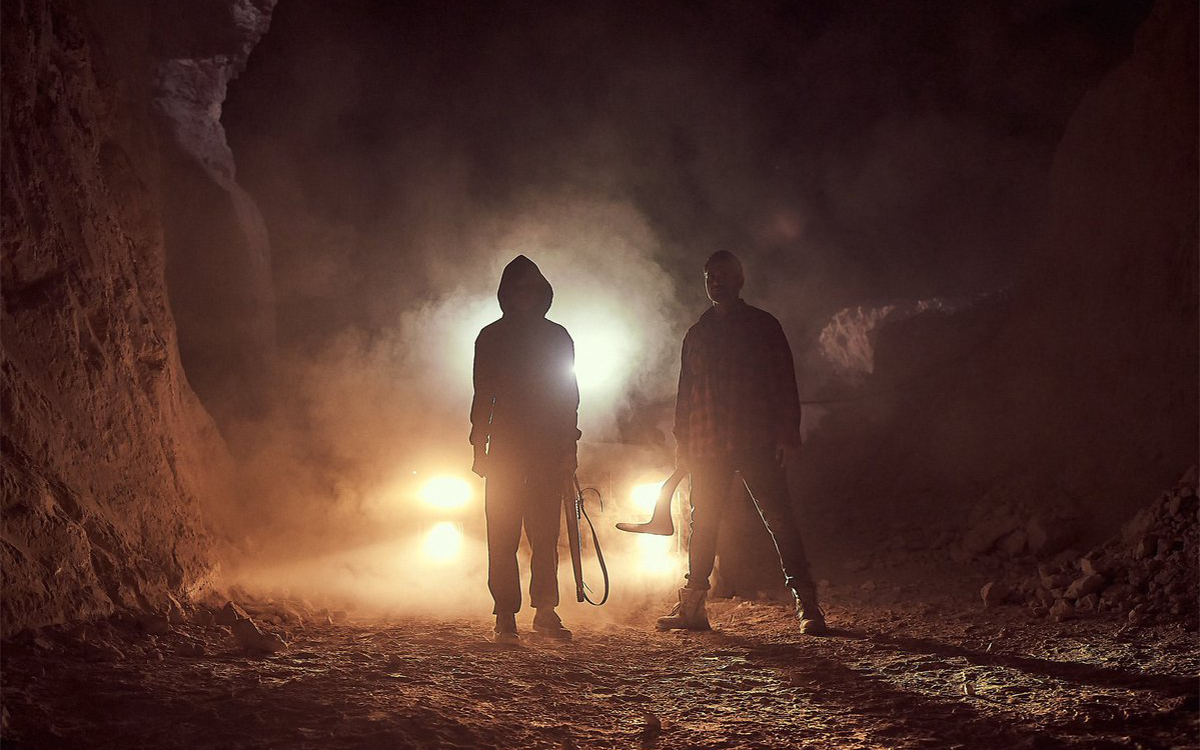 Eleven vials of smallpox virus were transported to Sydney on the First Fleet by Surgeon John White1. In the crucible of a filmmaker's mind, this historical fact is forged into fantasy, the vials transmuted into eleven vampires, let loose to suck the lifeblood out of the local people. When that filmmaker is Warwick Thornton (Sweet Country, Samson and Delilah), this monstrous cargo becomes a metaphor to explore the atrocities of colonialism and their emotional sequelae, all wrapped in the idiom of genre. This is Firebite, an Aboriginal vampire thriller television series, co-created by Thornton and Brendan Fletcher (Mad Bastards) and co-directed by Thornton, Fletcher, and Tony Krawitz (The Tall Man).
In Firebite, eleven vampire kings with a penchant for Indigenous blood were unleashed in 1788 to build colonies and wreak havoc; a legion of Indigenous Blood Hunters has fought back for over two centuries, until only one of the eleven kings survives. Only a king can make new vampires and this king has come to Opal City, a remote desert mining town, to regroup for a comeback. The last remaining Blood Hunter, Jalingbirri (Kelton Pell), is close on his trail; he is an old warrior determined to destroy the colony and save his people, as the tally of missing Aboriginal people across the desert continues to rise. When the old man succumbs to the marauding vampires, the last line of defence is two unlikely heroes: a reckless, semi-alcoholic vampire hunter, Tyson (Rob Collins), who kills vampires with a number-seven killer boomerang to the heart, and his adopted daughter, Shanika (Shantae Barnes-Cowan), a stroppy teenage girl with a terrible trauma in her past but a warrior spirit leading her on.
The eight-part series draws on familiar tropes of vampire lore, to which the creators add new elements to satisfy vampire fans. There is a wild, raucous energy in the schlocky violence and grotesque humour underscored by a raw all-Australian rock music score. Thornton says that it's 'obnoxious' and 'a bit silly, but there is a serious undertone about colonisation, blood […] and greed'. As Fletcher says, when new vampires are made, 'they are overtaken by vampire desires and all they want to do, in a kind of crazy way, is drink blood and preferably First Nations blood. The reason that concept worked for us is that the theme of the whole show is colonisation. [It's about] that idea of your body being colonised, and you lose your words, you lose your identity, you lose your sort of sense of consciousness.'
It would be hard to imagine a genre more apt than the vampire genre for conveying some of the ruthless violence and atrocity in Australia's history. The generic conventions allow the filmmakers to push the malevolent bloodlust to excess in ways that a more sober production could not and to use horror to conjure something of the dread of being invaded by fiends in human form. The filmmakers revel in this ghoulish monstrosity but lurking in the shadows is always the genocidal act of bringing smallpox to Australia and the unanswered question of why the virus was brought to Sydney by the British. Some historians argue that it was brought here in order to inoculate new-born children; others, such as Henry Reynolds, point out that 'everyone, particularly military people, knew that smallpox could have a dramatic effect on war and campaigns and battles', and smallpox had been deployed by the British as a biological weapon against native Americans a quarter of a century before the First Fleet arrived in Sydney Cove. Thornton is unequivocal: 'they obviously did that to wipe out the Indigenous population'.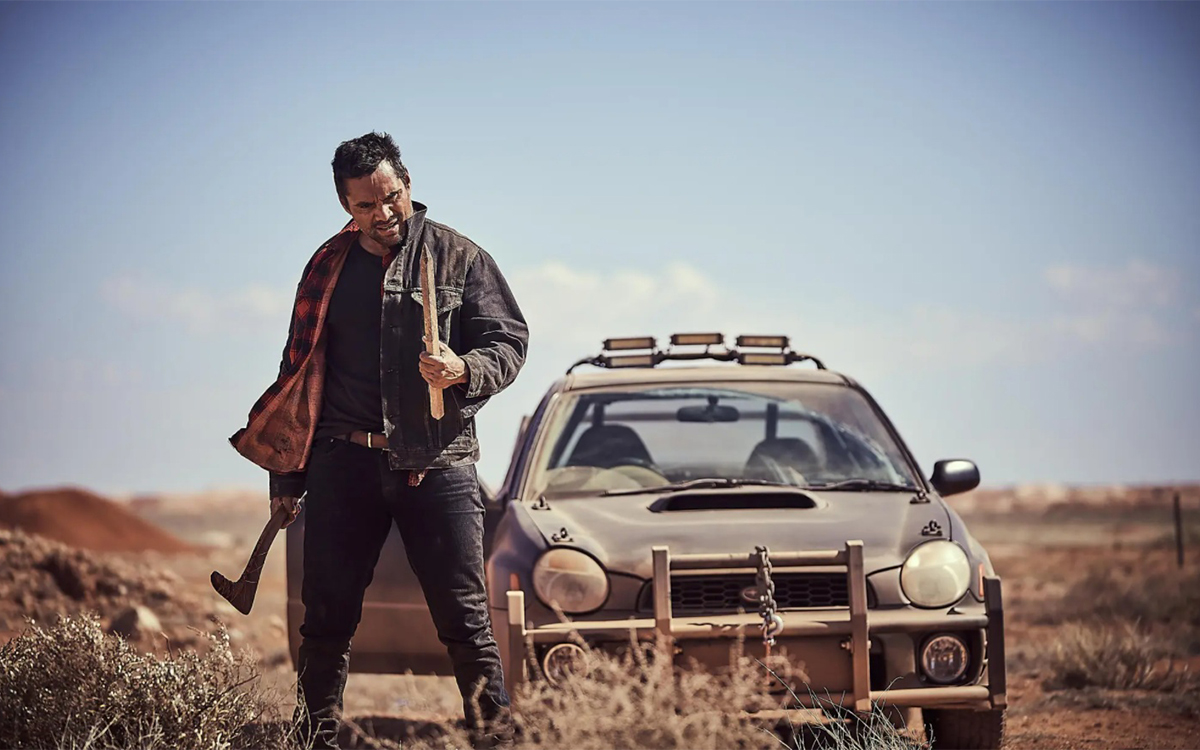 Rob Collins as Tyson in Firebite (photograph by Ian Routledge/AMC+)
Setting Firebite in the South Australian desert gives it the feel of a frontier. Much of the series was filmed in Coober Pedy, which Thornton describes as 'the most beautiful man-made disaster in the world'. Abandoned mine shafts pockmark this ravaged terrain, a post-apocalyptic patchwork of gaping holes and piles of mullock as far as the eye can see. Over 250,000 open shafts drop down to a network of tunnels and underground caverns: a landscape made in heaven – or hell – for a colony of suckers that shelter underground in the day and emerge at sunset to seek out their prey, dragging them down to be hoarded as bleeders, a reservoir of blood to be drawn at will to feed the colony.
The rise and fall of the sun punctuate Firebite: at sunset, the vampires shoot up from their lair to roam above ground; at sunrise, they dive back down. These structured repetitions give Thornton, as director of photography, an excuse to shoot in the magic hour when the colours of the desert are at their richest and most varied – dusky purples, olive greens, rusty browns, and touches of pink set against an immense horizon. With a long history of filming in Central Australia, Thornton knows how to film the desert, how to capture the constantly varying hues and the spectacular gloaming skies. Thornton and Fletcher also bring a passion for the road to the iconography of the series: cars and bikes trek constantly across the landscape in extreme long shots, carving a line across the expanse of the desert as they stir up plumes of dust glowing bright in their wake, backlit by the sinking sun. When cars venture into the minefield at night, headlights illuminate piles of white waste that rear up like a network of huge glowing ant mounds, a surreal, abstract, sculptural landscape. The country features here as much as the narrative does.
Producing the series in South Australia during border closures and lockdowns posed many challenges, but the producers were able to secure a stellar cast, including Callan Mulvey, Ngaire Pigram, Yael Stone, Kelton Pell, Tessa Rose, and Natasha Wanganeen. Locals with no previous acting experience complete the cast, both Indigenous community members and burly miners, giving depth and character to Opal City. With a team of established and emerging First Nations writers on board, Firebite is a mark of how diverse and well established the First Nations film industry in Australia has become, from its early beginnings, when nobody would screen Indigenous material, to this wild, crazy, inventive series that is fully commissioned by an American studio.
---
Firebite launches on streaming platform AMC+ on 16 December.
1 The importation of the viral material on the First Fleet by Surgeon John White is well documented in the historical record, based on the journals of marine officer Watkin Tench.